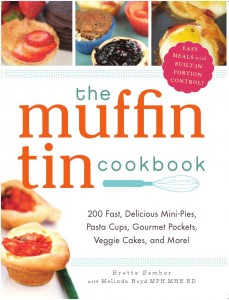 My friend, Brette Sember, has a new cookbook out! In The Muffin Tin Cookbook, she shares recipes for appetizers, side dishes, entrees, and dessert — all made in muffin tins. Today, though, she's here to talk snacks. Here's Brette.
###
My kids are in their teens now, but I swear I still have crumbs at the bottom of my purse from all the snacks I've packed over the years. I'm still hitting the pantry for portable snacks before picking up youngest from school and shuttling him to lessons, practice, meetings, and medical appointments. Easy on the go snacks are like gold in my kitchen. But I don't want anything packaged, processed, or that is not "real" food. My solution is to cook snacks in my muffin tins. Yes, muffin tins. Not only do they allow you to make individually portioned snacks, but silicone muffin tin liners are non-stick, colorful, and reusable—the perfect way to transport snacks.
Muffin tin cooking is a great way to get kids interested in cooking and eating healthy foods, too. They love choosing the liners, arranging food in the cups, and seeing the transformation when it comes out of the oven. There's something about food that is round, small, and perfectly shaped that appeals to kids.
Bring these handy snacks to feed your hungry kids on the go!
Smoky Popcorn Cheese Snacks
Makes 6
5 cups popped popcorn
2 tablespoons melted unsalted butter
⅛ teaspoon salt
¼ cup grated Parmesan cheese
¼ cup shredded Cheddar cheese
½ teaspoon smoked paprika
Preheat oven to 350°F and prepare 6 jumbo muffin cups with silicone liners (use regular size silicone liners if you can't find jumbo: the recipe will just make more servings).
Toss popcorn and other ingredients in a bowl, then divide among the muffin cups.
Bake for 5 minutes, or until cheese has melted.
Peanut Butter and Jelly Muffins
Makes 9
¼ cup sugar
½ cup crunchy peanut butter
1 egg
¼ cup buttermilk
1 tablespoon light cream cheese
¼ cup skim milk
1½ cups flour
1 teaspoon baking powder
¼ teaspoon salt
½ cup chopped peanuts, plus whole peanuts for topping
3 tablespoons jelly or jam (any type you prefer)
Preheat oven to 400°F and prepare 9 regular muffin cups by spraying with cooking spray.
Beat sugar and peanut butter until combined, then add egg, buttermilk, cream cheese and milk.
Beat in dry ingredients, then stir in peanuts.
Divide into 9 balls.
Use your thumb or finger to create a deep hole and place 1 teaspoon jelly in each hole.
Seal up the hole and place seam side up in the cups.
Lightly press 2−3 whole peanuts on top of each.
Bake for 12 minutes until a cake tester comes out clean.
Brette Sember is the author of the newly released The Muffin Tin Cookbook, as well as The Parchment Paper Cookbook and The Organized Kitchen. Her web site is BretteSember.com and she blogs at MarthaAndMe.net and NoPotCooking.com.