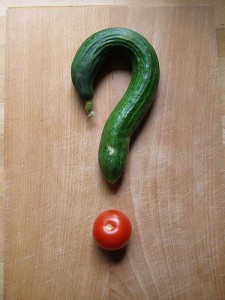 I am one of those people who finds it hard to follow exact instructions. I'm more than willing to experiment, whether it be in the kitchen, the garden, or at the craft table. I'm always surprised when an editor wants me to add three more steps to a 17-step how-to article. Some of those steps seem so obvious to me. Most times, I can get from point A to point C without having point B spelled out specifically for me. What I've discovered through my writing is that while I can see the logical next step or imagine what adding pepper might do to a recipe, many people can't. But that doesn't mean they shouldn't try!
I'm going to step off an a little educational tangent. When kids (and adults) are taught by rote memorization and the focus is on "correct" test answers, they get no extra points for being creative or for exploring alternatives. After years of striving to find the "right" answer, it can be really, really hard to step out of that pattern and experiment. (This assessment will come as no surprise to those of you who know I've written a book on creative problem solving.)
We recently had a guest who really made us aware of our own tendency to toward curiosity. My kids noticed that our guest was very by-the-book in everything he did. He was raised in an environment that required him to follow directions and produce a specific item just like the sample. Experimenting with alternatives made him uncomfortable. We discussed the fact that while our guest was most comfortable with black and white answers, our own philosophy leans more toward experimentation. We are a "what would happen if…?" family.
How does this relate to sustainable living, you ask?
What would happen if…
    …we added the sour poi to our bread dough?
Result: We salvaged the poi that was too sour for our taste buds, eliminating waste and making a pretty decent loaf of bread.
    … I tried to make a grab and go version of oatmeal?
Result: One of our favorite breakfasts.
   … I used watermelon rind instead of zucchini in my favorite relish recipe?
Result: Hamburger relish in the pantry, less waste.
    … I planted my sweet potato peelings?
Result: A bed full of sweet potato slips ready to be planted.
The thing is, without experimentation, we just never know. And so often, it doesn't cost much beyond the willingness to take a risk. Sure, I might have wasted a few dollars in ingredients if the watermelon rind relish recipe hadn't worked out. But now I know it does, and from here on out I'll save money by not buying relish at the store. I figure it's worth a little risk now and again. If it doesn't work out? I don't consider it a failure at all. I've simply learned that one of my ideas won't work – that way.
Are you comfortable experimenting? Or do you tend to stick to what you know will work? Have you stepped out of your comfort zone lately?
Photo: Flickr user erix! under Creative Commons