I tend to be less "Doomsday prepper" and more interested in living a more self-reliant lifestyle in which we count on ourselves instead of depending so much on others. It's a different kind of emergency preparedness, but one that fits our lifestyle. I suppose you might consider us practical preppers.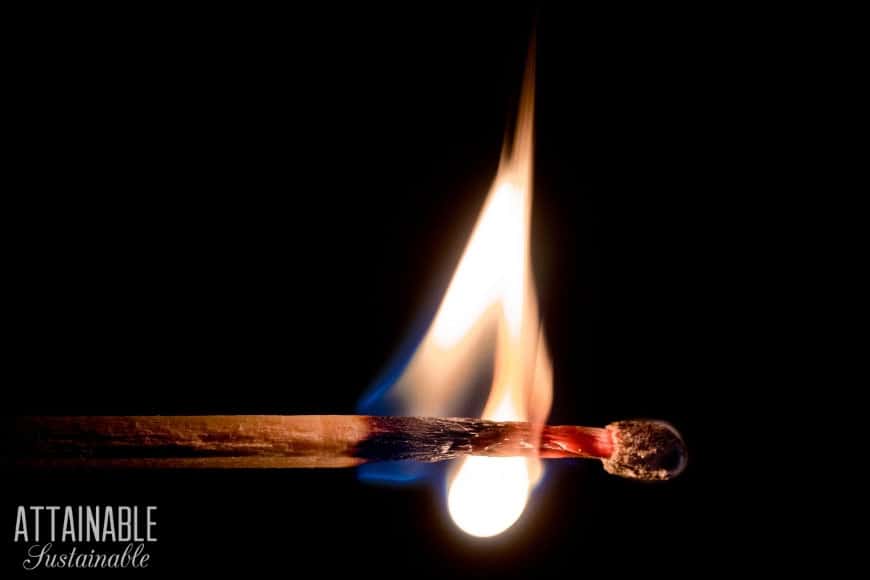 Preppers who are practical
This topic came up on a local self-sufficient living list and I was impressed with what Sue Barnett had to say. It is a bit localized, but I think that no matter where you live you'll find something to think about as you plan – or update – your emergency kit.
Availability vs. expense
Unless were are under siege of war, I don't see a lot of items just disappearing. But they surely [will be] more and more expensive to buy or maintain. There will come a point where you find you cannot afford them, and thus cannot afford to live here. Sadly many people have already reached that point and moved to the mainland. But those people are only putting off total bankruptcy by living some place where it is cheaper rather than learning to be more self-sufficient. Being dependent upon things like propane, lamp oil, generators and gasoline, canned goods and imported food, power tools, etc. is inviting downfall. In my opinion, it would be wise [to] gradually wean oneself from such dependency.
Case in point was the comment about using a water producing machine. Now you are dependent upon a commercial product that needs maintenance and uses electricity. That translates into cash expenditures. While one may be able to afford that now, do you know how to live comfortably without it? Having that knowledge and willingness to do it may become vital. Personally I prefer to store my water in glass one gallon and liter jugs. This frees up money in the budget for other things and makes me more self reliant.
Expanding knowledge in case of emergency
While I indulge in the use of power tools and equipment now, I have taken the time to learn how to live without them. I have experimented with using other forms of power – animal, treadle, bicycle, etc. I currently use wood for cooking livestock food and could easily use it for my own meals, and often do! I use solar for electricity, and although that will require cash input sometime in the future, it has taught me to be frugal with my electric use. Plus I have no monthly electric bills. I use catchment water even though I could hook up to county if I wanted to. I have learned about solar for cooking and water heating.
Take a Peek Inside My Book!
Get a free excerpt from my book, Attainable Sustainable: The Lost Art of Self-Reliant Living! You'll also get my free weekly newsletter, complete with recipes, gardening tips, and a little peek at what's going on around here — both the zany and the mundane.
A practical prepper's food and lifestyle changes
I have gradually cut my ties with imported food. If your are concerned about the future and are able to garden at all, I would suggest at least learning about it. Food will become costly, as prices are already going up.

Stockpiling: my suggestion would be to be careful. I made mistakes in the past by not taking into account that I was changing my lifestyle. As I weaned away from commercial food I found myself with boxes of canned goods I no longer wanted. So now I try to be more careful to stockpile only those things I'm sure I will need.
Also be careful about items that deteriorate. Vog and moisture ruined some of my things and taught me to take extra steps in the storing process. On my own stockpile list are hand tools, basic resource items such as specialty nails, screws, latches, locks, chain, rope, lithium grease, oil, and things that I cannot make myself. Medicine and medical supplies for both humans and animals.
Bleach, baking soda, soaps. I have a few slabs of paraffin. Buckets. Tarps and rolls of plastic sheeting (a pleasant indulgence on my part). Clothing and blankets. Kitchen pots/pans and kitchen hand tools. Lumber. PCV pipe. … I try to think of what items I use frequently that I cannot make myself. And I try to envision projects I may need in the future, such as a hoop house to grow food in, repairs to the house, etc. I already have a nice library of how-to books. And I have acquired a secure source of firewood.

I would suggest gradually switching your lifestyle to becoming more self reliant now instead of waiting until you're at the point of fiscal disaster. Even little changes can free up cash better spent elsewhere.
Becoming practical preppers
I have to agree with Sue. If we continue to lead a lifestyle that includes lots of packaged foods, convenience items, and pretzels, then sure, it's going to be hard to do without in the event of an emergency. It's what we'll be used to and anything less than what we're used to will feel like a hardship.
On the other hand, if we alter our habits so that many of our needs can be met locally on a day to day basis – from our own gardens to knowing a farmer – it will be much easier to adapt in a less than ideal situation. Becoming more self-reliant is good for us in emergencies and day to day life – not to mention better for the environment. Shifting our thought process and expectations allows us to be more practical in our efforts to be "preppers."
Have you seen this list titled 100 Items to Disappear First? It's a collection of items that, in case of serious emergency, are likely to disappear first. Now, I don't know who created this list or how accurate it is, but it's worth a look. If nothing else, just to make you think. (While I think some of these items are absolutely of value for emergency situations, others (see list item 82) make me raise my eyebrows a bit.)