We have an abundance of bamboo available to us, so it makes sense that we'd use it as a building material for garden projects.  It's sturdy, readily available, comes in a variety of sizes, and it's free. And this bamboo trellis uses a building method that's a little bit unusual!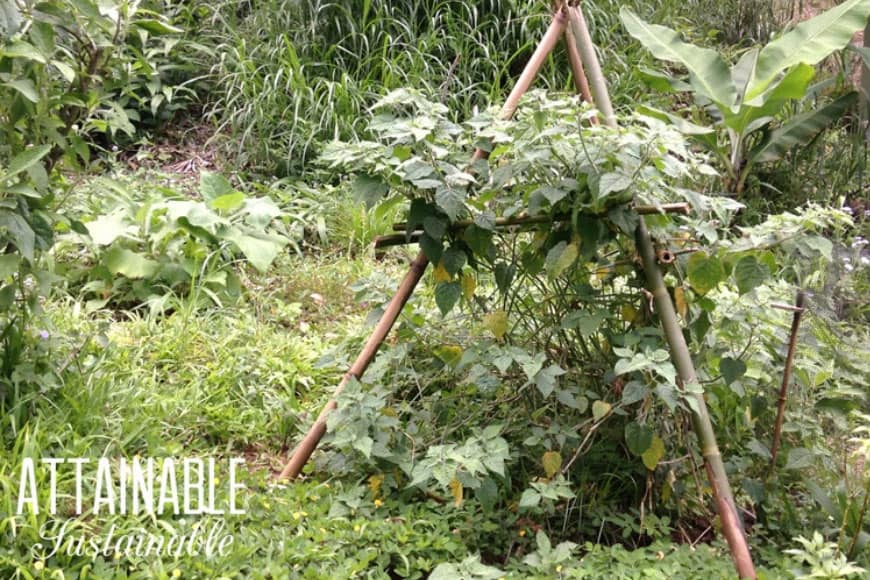 The seemingly simple bamboo trellis has given use trouble in the past, though.  We've lashed them with jute twine. We've lashed them with nylon cord. And we've made them with baling wire. With all three methods, the binding gave out before the bamboo, falling victim to our humid climate. 
This generally happens when the plant climbing the trellis is at its absolute best, causing much woe in the garden.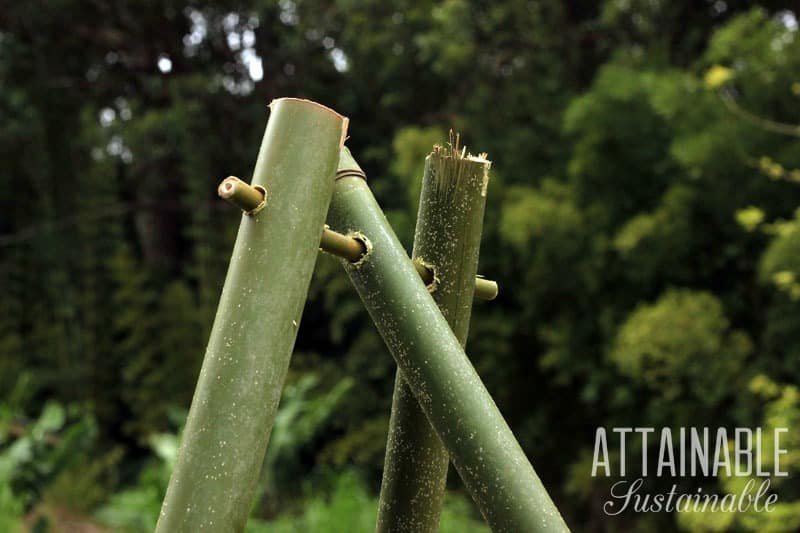 My son came up with a solution, though. Instead of using a material that ages at a different rate than the bamboo, he figured out a way to make a bamboo trellis entirely out of bamboo.
Instead of wrapping and lashing the bamboo poles, he made them with bamboo pins. By drilling holes and inserting a smaller piece of bamboo to secure the top, as well as at the sides to reinforce it, we now have a trellis that will eventually decompose, yes, but all at the same rate. 
Grow Some Greens!
Ready to grow fresh greens, no matter WHERE you live? Sign up for my
FREE quick-start guide and start growing some of your own food!
---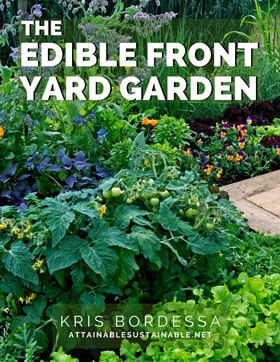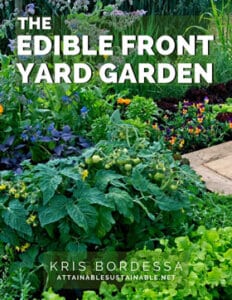 The Edible Front Yard Garden
Does your homeowners association prevent you from growing food in the front yard? What if they never even KNEW? My ebook, The Edible Front Yard Garden will show you how!
---
Build a Bamboo Trellis
Step one: Choose and cut your bamboo poles. You'll want poles with a 1″ to 2″ diameter. Height will depend on what you're trellising. (Mine are 4′ – 5′ tall.)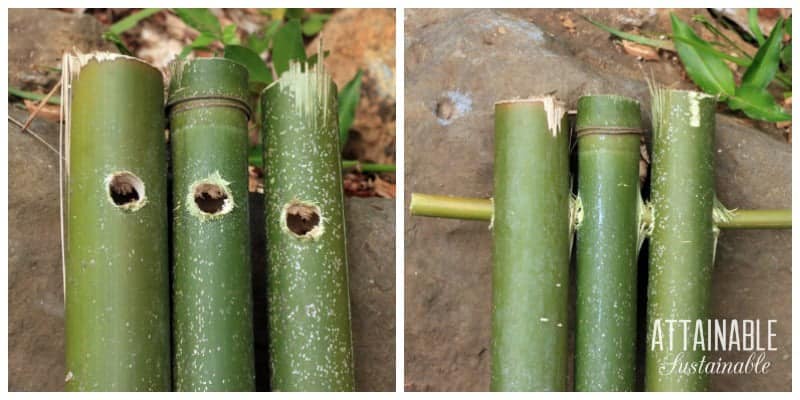 Step two: Drill a hole near the top of each pole an equal distance from the top of the pole, as shown. I used a 1/2″ drill bit here.
Step three: Cut a small length of bamboo that will fit through the holes you've drilled. The pin shown above is just slightly smaller in diameter than the 1/2″ holes. You'll see in one of the images below that my son used a 1″ drill bit for his holes with a substantially smaller pin. This gave his bamboo trellis a bit of flexibility, so that his poles are aligned in more of a "twist."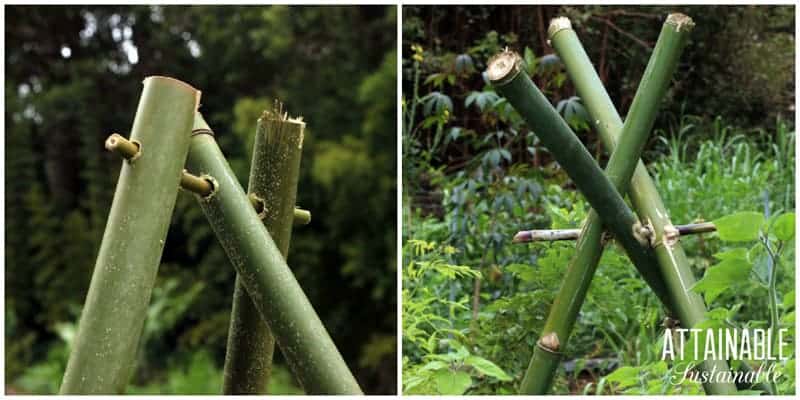 Step four: Stand your trellis upright. Measure the distance between each set of poles, and cut a piece of bamboo (similar in diameter to your uprights) that's about 8″ longer than your measurement to allow for overlap. Holding the bamboo in the place you plan to attach it, mark where you'll need holes: One in each end of the crosspiece and one in each upright.
Step five: Drill holes where marked. (We use a cordless drill so we can do this right in the garden.)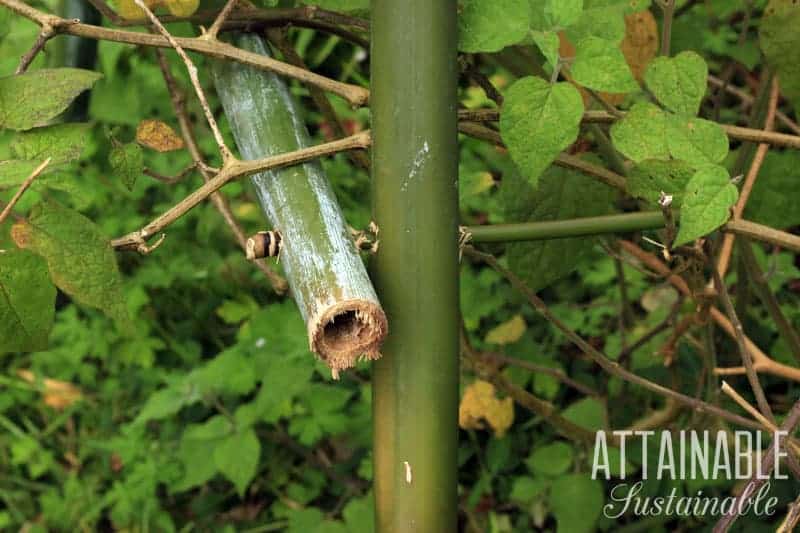 Related: Grow an Upside-Down Tomato to Save Space
Step six: Cut two pins and use them to secure the first crosspiece in place. Repeat steps four through six with the two remaining sides of your bamboo trellis. So far, we've only made trellises with one row of crosspieces, but you could certainly add more.
Working with Bamboo
Bamboo is very sturdy but you can see that it tends to shred a bit when cutting or drilling it because it's so fibrous. A hacksaw seems to be the best way to cut bamboo for a cleaner edge, but my son cut these with a chainsaw. The rough edges don't bother me.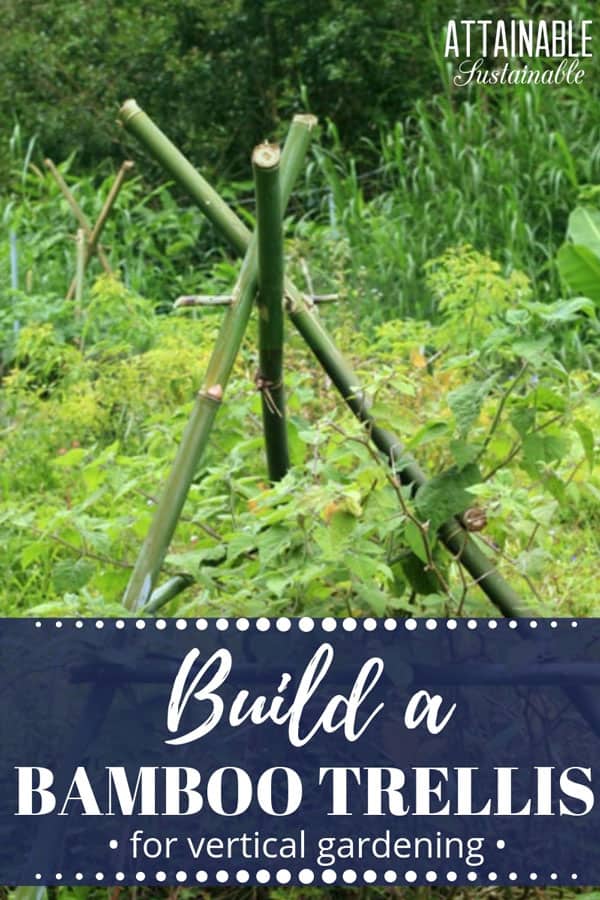 Need some more ideas for creating vertical growing space? Check these out!