This blueberry jam recipe for canning is a flavorful way to preserve fresh blueberries while they're in season. For a pectin-free refrigerator jam option, scroll to the bottom of this post!
Homemade strawberry jam is another favorite for filling the pantry with delicious flavors.
Whether you've lucked into some fresh blueberries at the market, or you're harvesting plenty from your own blueberry bushes, this recipe results in a delicious jam with a lower sugar content than most store bought jams.
Spread this blueberry jam on toast, use it to top waffles or pancakes, or use it in a peanut butter and jam sandwich.
Easy blueberry jam recipe
I really want to stress for you that making jam at home is not difficult! If you can follow directions, you can do this. If you don't want to can the jam for a shelf stable product, you can freeze it. You'll just need to make sure to allow enough headspace for safely freezing the jars.
5 Easy Steps to Transform Your Pantry!
Ready to switch from store bought to homemade? Let me help you make some changes! Grab my FREE five-part guide to getting started.
🍯 Ingredients
Blueberries – Fresh blueberries are the star of this recipe! Start with ripe berries and mash them to make a fruit pulp. You can do this by hand with a potato masher, or give them a quick zip in the food processor. No fresh berries? You can certainly use frozen blueberries.
Sweetener – I used honey for this recipe, but you can opt to use sugar as well. The quantities differ a bit, so be sure to check the notes in the recipe card below.
Lemon juice – Use bottled lemon juice to assure that the resulting pH for this recipe falls within safe canning guidelines.
Ginger – This is optional but highly recommended! The freshly grated ginger gives the blueberry jam a nice zippy, rich flavor.
Pectin – This recipe is made using Pomona's Universal Pectin. This is the only pectin I use anymore as it allows me to use much less sugar. The standard pectin brands use an obscene amount of sugar in my opinion, often requiring equal amounts of sugar and fruit!
---
The Handcrafted Pantry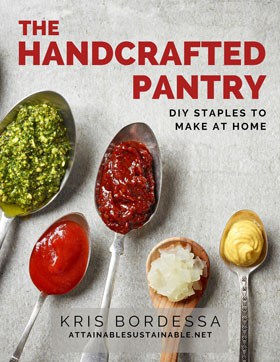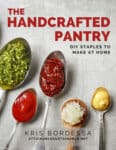 Ready to DIY your pantry with healthier ingredients? Check out my ebook, The Handcrafted Pantry! Filled with delicious recipes for some of your favorite condiments, snacks, and toppings, it's the guide you need to start skipping packaged products and embrace homemade.
---
🥣 How to make blueberry jam from scratch
Start by measuring out the berries. You'll need about seven cups of fresh berries to make enough mashed fruit for this recipe. Mash the berries, then heat in a large saucepan along with the lemon juice and calcium water.
Combine the pectin with the sweetener, making sure it's thoroughly combined.
When the berry mixture is boiling, add the sweetener to the mix, stirring for a minute or two to assure that the pectin is well distributed. Return to a boil and it's done!
🥘 Canning jam
You'll need special canning jars, lids, and rings (read more about canning equipment here) to make this jam shelf-stable, but the process isn't difficult.
Once the jars are filled, you'll process them in a water bath. What this means is you'll put the filled and sealed jars of jam into boiling water and heat them for ten minutes. This assures that the jars will seal well.
Hot tip: Boil some extra water in a saucepan or electric kettle as you're working. If you need to top off the water in the canner, you won't cool down the water too much.
Remove the jars to a towel-covered countertop and allow to cool fully. As they cool, you'll hear the little "tink" sound of the jars sealing. Store any unsealed jars in the fridge and use those first. (This is unusual, but it does happen once in awhile.)
Remove the ring from each sealed jar, rinse to remove any jam residue, and store (without the ring) in the pantry.
Here's a more detailed look at canning jam and jelly.
★ Did you love this recipe? Be sure to give it a star rating below! ★
Easy Blueberry Jam Recipe for Canning
Yield:
10 quarter-pint jars
Processing Time:
10 minutes
Fill your pantry with jars of this delicious blueberry jam with ginger. Spread it on toast for a taste of summertime all year round!
Ingredients
4 cups crushed blueberries (about 7 cups fresh berries)
1/4 cup lemon juice (bottled)
2 teaspoons calcium water (Pomona)
1/2 cup honey
2 teaspoons pectin (Pomona)
1 tablespoon ginger (optional)
Instructions
PREP FOR CANNING
Fill a canning pot with water, set the lid in place, and heat on high heat until boiling. It can take awhile for the water to come to a boil, so get it started before you begin making the jam.
Gather the jars you'll use, making sure each is clean and free of nicks in the rim, which could impede sealing.
Bring a small pot of water to a simmer and turn off the heat. Drop the rings and lids into the water and leave them there until you're ready to screw them onto the filled jars.

MAKE THE CALCIUM WATER
Combine ½ teaspoon calcium powder (from the small packet in the box of Pomona's pectin) with ½ cup water in a small jar.
Screw on a lit and shake until well-combined. You'll have more than you need for this recipe.
Store the excess in the refrigerator for use in making additional jam or jelly recipes.
MAKE THE BLUEBERRY JAM
Measure the crushed berries, lemon juice, and calcium water into a large saucepan; bring to a boil.
Meanwhile, combine the sweetener with the pectin until it's thoroughly combined.
When the berry mixture comes to a boil, stir in the pectin and sweetener, stirring vigorously for 1 to 2 minutes to dissolve the pectin while bringing the jam back to a boil. Remove from heat when the jam boils.
CANNING THE JAM
Ladle hot jam into quarter-pint, half-pint, or pint sized jars, leaving 1/4" head space. A canning funnel makes this easy.
Wipe jar rims to remove any jam that may have spilled. A clean rim is essential to a good seal.
Set jar lids in place. Screw bands on finger tight.
Use a jar lifter to gently submerge jars into hot water in the canning pot. Water should cover the top of the jars by an inch. The water will cool somewhat in reaction to the addition of the jars. Return the water to a simmer and then set the timer.
Process for 10 minutes 0-1,000 feet altitude; add an additional minute for every additional 1,000 feet in elevation.
Remove jars from water using the jar lifter and transfer to a solid, towel-covered surface. Allow to cool for 24 hours.
Check seals. Lids should be solid and pulled down tight. (if they flex and pop, the jar didn't seal; put unsealed jars in the refrigerator and use those first).
Remove rings and wash outsides of jars. Store in a cool, dry place.
Notes
If you'd prefer to use sugar, use 3/4 cup to replace the 1/2 cup of honey.
The pH for this recipe (as made above) tests at 3.5.
Nutrition Information:
Yield:

40
Serving Size:

1 tablespoon
Amount Per Serving:
Calories:

38
Unsaturated Fat:

0g
Sodium:

3mg
Carbohydrates:

9g
Sugar:

9g
🥫 Blueberry jam recipe with no pectin
Not everyone wants to can their jam. This blueberry jam recipe differs from the one above and makes a small batch that can be stored right in the refrigerator. You'll gobble this up before it has a chance to go south.
Since the recipe below is not a recipe for canning blueberry jam, you can be a bit experimental with the flavors. (It's important not to alter recipes when preserving food for long-term pantry storage.)
This recipe calls for adding cornstarch as a thickener. If you'd prefer not to use it, you can simply eliminate that step and cook the blueberries over low heat for longer. As the liquid evaporates, the jam will naturally thicken.
Two ways to make this blueberry jam recipe
You can make this refrigerator jam on the stovetop or in your Instant Pot. There are directions below for both; choose the method that works best in your kitchen!
Ingredients
3 cups blueberries
3/4 cup granulated organic cane sugar, or 1/2 cup of honey
2 tablespoons lemon juice
2 tablespoons organic cornstarch
2 tablespoons water
STOVE TOP INSTRUCTIONS:
Combine blueberries, sugar, and lemon juice in a large saucepan.
Cook over medium heat, stirring often, for 20-25 minutes or until blueberries are soft.
Whisk cornstarch and water together in a small bowl. Add to cooking blueberries, stirring constantly until mixture is thickened (about 5 minutes).
Remove from heat and allow to cool.
Ladle into a storage container. Refrigerate until ready to serve.
INSTANT POT INSTRUCTIONS:
Combine blueberries, sugar, and lemon juice in pressure cooking pot.
Lock the lid in place and select high pressure and 3 minutes cook time.
When beep sounds, turn off pressure cooker and allow to sit, sealed, for 10 minutes.
After 10 minutes, release any remaining pressure with a quick pressure release.
Whisk cornstarch and water together in a small bowl. Add to blueberries in pressure cooking pot.
Bring to a boil using the sauté function, stirring constantly until mixture is thickened (about 5 minutes). Remove from heat and allow to cool.
Ladle into a storage container. Refrigerate until ready to serve.
Originally published in August 2018; this post has been updated to include a recipe suitable for safely canning blueberry jam.