Need a healthy snack on the run? These smoky cheddar popcorn snacks are easy and inexpensive to make. They might just help you skip a fast food stop.
Cheddar Popcorn Snacks
These easy-to-make cheddar popcorn snacks are flavored with real cheese — both parmesan and cheddar — and a bit of smoked paprika. Bring these handy snacks along to feed your hungry kids on the go!
My friend, Brette Sember, has a new cookbook out! In The Muffin Tin Cookbook, she shares recipes for appetizers, side dishes, entrees, and dessert — all made in muffin tins. Including these cheddar popcorn snacks.
Here's Brette:
My kids are in their teens now, but I swear I still have crumbs at the bottom of my purse from all the snacks I've packed over the years.
I'm still hitting the pantry for portable snacks before picking up youngest from school and shuttling him to lessons, practice, meetings, and medical appointments. Easy on the go snacks are like gold in my kitchen.
5 Easy Steps to Transform Your Pantry!
Ready to switch from store bought to homemade? Let me help you make some changes! Grab my FREE five-part guide to getting started.
Healthy snacking
But I don't want anything packaged, processed, or that is not "real" food. My solution is to cook snacks in my muffin tins. Yes, muffin tins. Not only do they allow you to make individually portioned snacks, but silicone muffin tin liners are non-stick, colorful, and reusable—the perfect way to transport snacks.
Related: How to Organize Your Country Kitchen
Muffin tin cooking is a great way to get kids interested in cooking and eating healthy foods, too. They love choosing the liners, arranging food in the cups, and seeing the transformation when it comes out of the oven. There's something about food that is round, small, and perfectly shaped that appeals to kids.
Related: Make These Gluten-Free Apple Cinnamon Muffins for Breakfast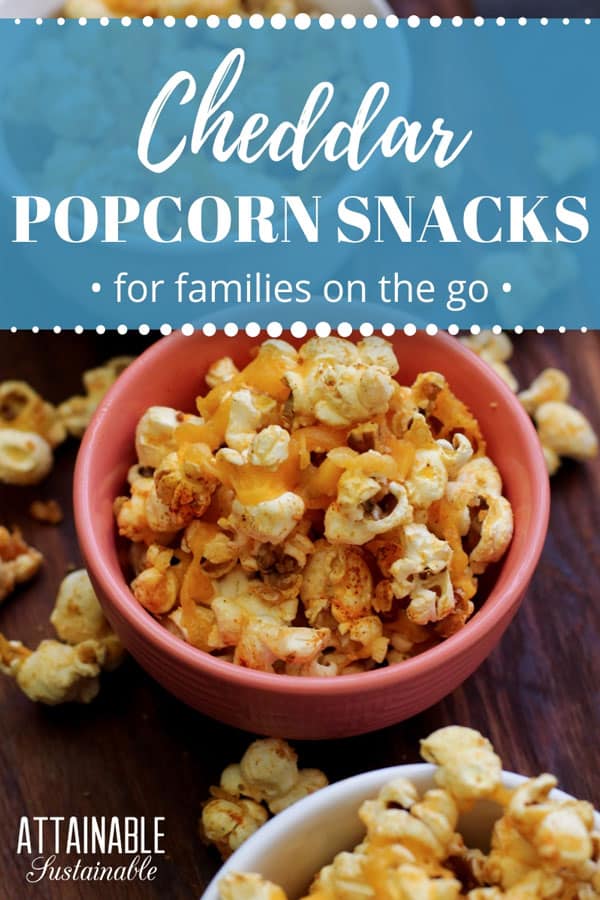 ★ Did you make these cheddar popcorn snacks? Don't forget to give it a star rating below!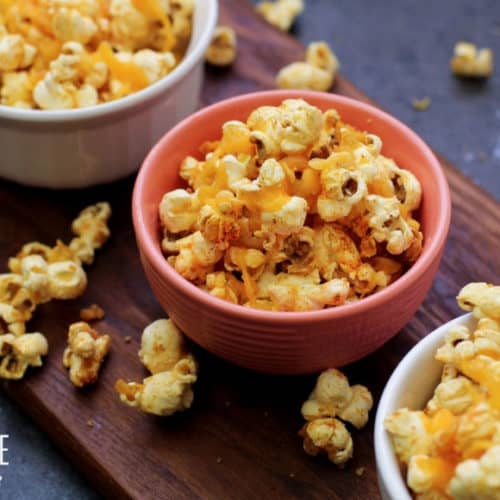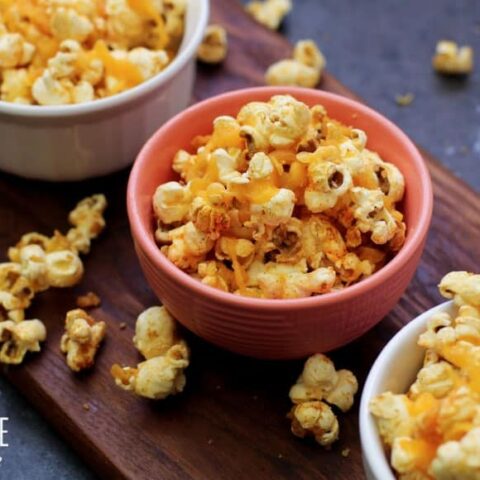 Smoky Cheddar Popcorn Snacks
Need a healthy snack on the run? These smoky cheddar popcorn snacks are easy and inexpensive to make. They might just help you skip a fast food stop.
Ingredients
5 cups popped popcorn
2 Tablespoons unsalted butter, melted
¼ cup parmesan cheese, grated
¼ cup cheddar cheese, shredded
½ teaspoon smoked paprika
Instructions
Preheat oven to 350°F and prepare 6 jumbo muffin cups with silicone liners (use regular size silicone liners if you can't find jumbo: the recipe will just make more servings).
Toss popcorn and other ingredients in a bowl, then divide among the muffin cups.
Bake for 5 minutes, or until cheese has melted.
Notes
Note from Kris: Regular muffin tins work just fine, too.
Nutrition Information:
Yield:

6
Serving Size:

1 grams
Amount Per Serving:
Calories:

552
Total Fat:

8g
Saturated Fat:

2g
Unsaturated Fat:

0g
Cholesterol:

9mg
Sodium:

142mg
Carbohydrates:

101g
Fiber:

17g
Sugar:

1g
Protein:

17g
The Muffin Tin Cookbook
With a collection of 200 easy-to-make recipes, The Muffin Tin Cookbook is a boon for busy parents! If these smoky cheddar popcorn snacks or peanut butter and jelly muffins appeal to you, you'll love the other 198 recipes Brette includes in her book!