Building a recycled pallet chicken run is a great way to create cheap chicken coop extension for your hens. It's essentially a DIY pallet fence, secured to their chicken coop.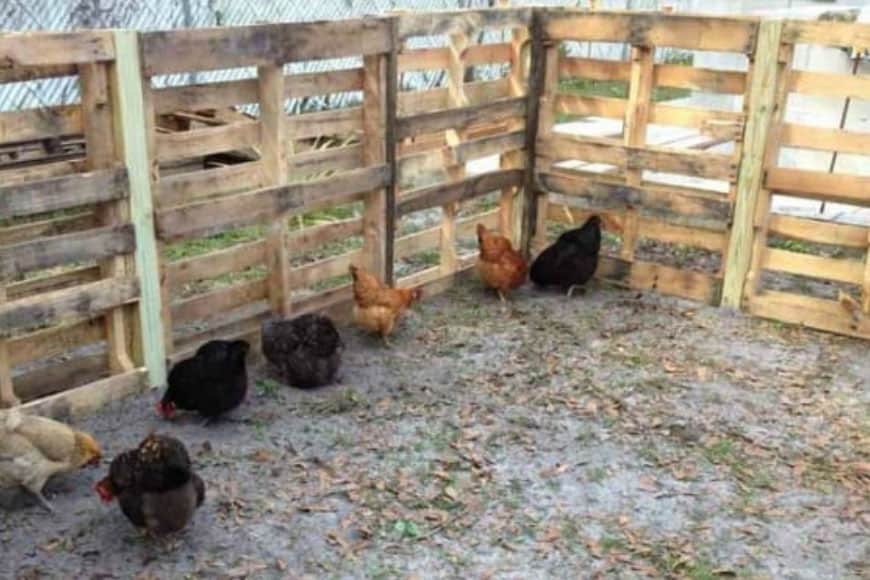 You know how they say once you become a homeowner, the projects never stop? I'm pretty sure that applies to a homestead (no matter how large or small) as well.
The latest project at our backyard homestead was building a cheap chicken run out of pallets. Why pallets? Because they're pretty readily available for free. A pallet chicken run seemed like the best way to extend the area for our girls.
Although our chickens do have a roomy outdoor area that's completely enclosed, I still feel like they don't have as much space as they need. We don't have the option to let them free range in our yard because we don't have a fence at the property line. We needed to extend our space.
Accommodating my chicken run ideas
Originally, I was going to put two more 4′ x 8′ garden beds next to the two beds I already have, but I decided to sacrifice that growing space for the chickens to create a pallet chicken coop extension for them. (I did manage to convert the tops of the pallets into small garden planters, though.)
I built a few grazing boxes in the run to allow fresh greens for the girls, too.
Take a Peek Inside My Book!
Get a free excerpt from my book, Attainable Sustainable: The Lost Art of Self-Reliant Living! You'll also get my free weekly newsletter, complete with recipes, gardening tips, and a little peek at what's going on around here — both the zany and the mundane.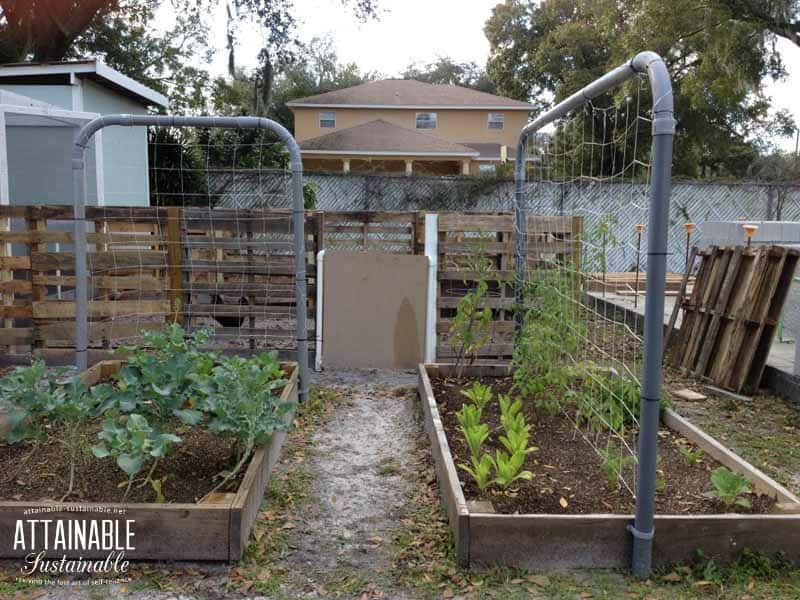 We're on a tight budget and I wanted to try and come up with a creative way to use free resources, so I thought of pallets. Oh, the glorious pallet with it's 2,304,982 uses. We picked the nicest looking pallets we could find and started building a pallet chicken coop extension to give them more room to roam.
Recycled pallet chicken run
You'll need:
pallets
4′ x 4′ posts to ensure the sturdiness of the enclosure
screws; 4″, 3-1/2″ and 2-1/2″ (we used Primeguard Exterior Screws by Grip Rite)
drill gun
measuring tape
level and string, optional
post hole digger, optional
Sizing the pallet chicken run
Then, measure your pallets to figure out how to lay them out to fit your space. Keep in mind that you may need to cut a pallet in half to make it fit your area like we had to. Determine what size opening will work best for you for your gate. We used an opening of 32″ — consider the possibility of moving large items in and out of the fenced area.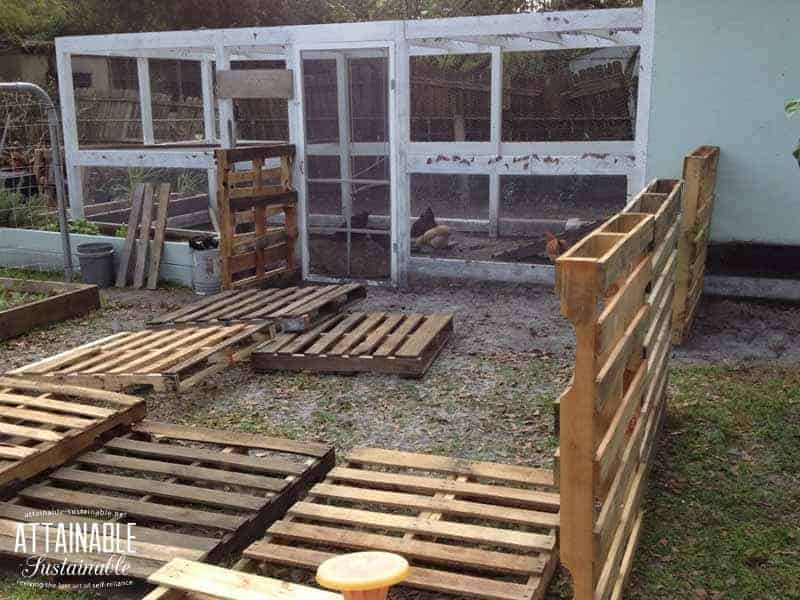 Depending on how technical you want to be, square up the "fence line" using a string and level. The grade of your land will determine the level of your fence-line. We dug out and added dirt as needed at each pallet to accomplish our level fence.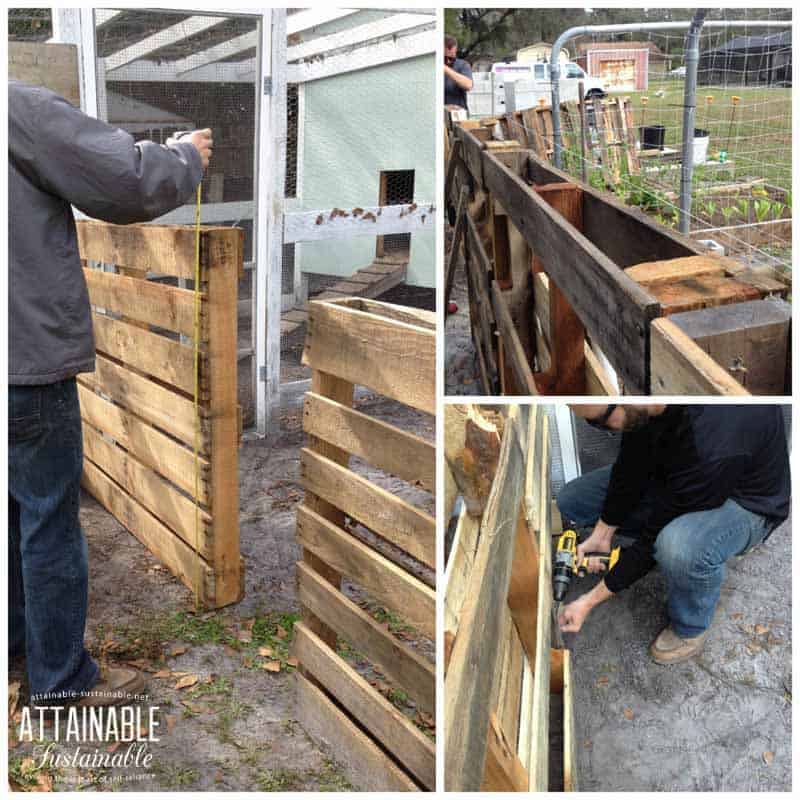 Related: How to Make a DIY Chicken Swing
Connecting the pallets
Now that you have laid out the pallets, it's time to fasten them together.
We connected the first pallet to a 4″ x 4″ off of our existing chicken run, then secured a second pallet in place by butting it right up to the first.
Choose your screws  according to the thickness of the two pallets together. Drill screws into multiple places of the pallet (top, middle, bottom) to secure them together.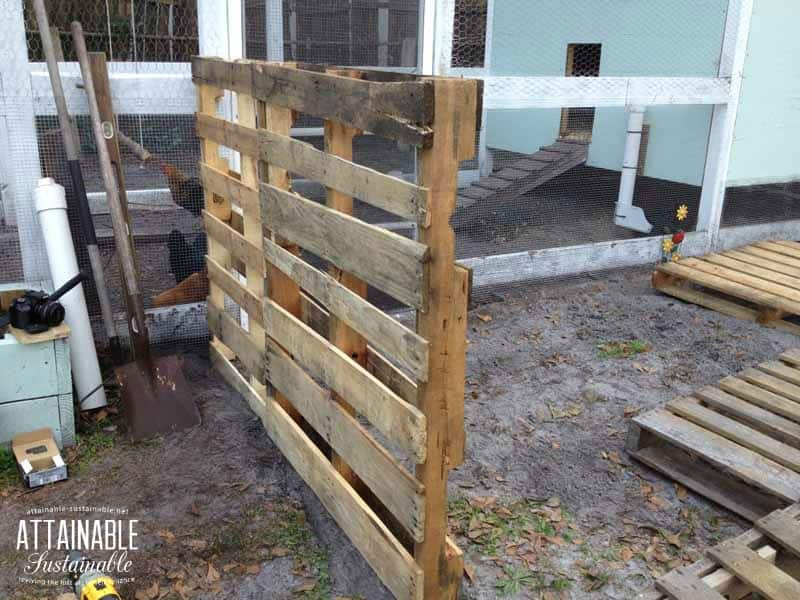 I would not use more than two pallets without adding a 4″ x 4″ securely in the ground to ensure your structure has adequate stability.
Use a post hole digger to make a 12″ deep hole for the 4″ x 4″.
Pack soil around the base of the post with the end of a shovel so it's nice and stable. Screw the post and the pallet together.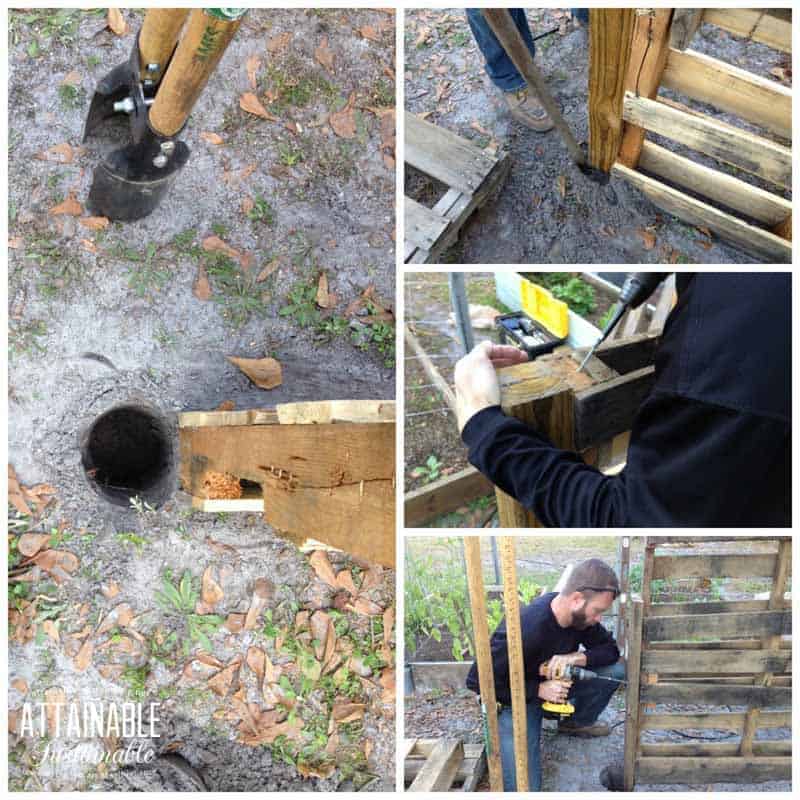 Repeat, adding two pallets then a post until you've completely enclosed your area. Right now we have a make-shift PVC gate (basically a frame made of PVC pipe with plywood screwed to it) but we'll eventually make a framed gate for the pallet chicken run.
Improving the pallet chicken run
I have plans to turn the tops of the pallets into planter boxes for chicken and people friendly herbs, ornamental and edible flowers for the bees/butterflies, and veggies like lettuce, kale, and spinach that do great with shallow container planting.
I'll also use the ground at the base of the pallets to plant hardy veggies and flowers. The chickens will be able to eat the tops off, but their scratching feet won't be able to destroy them.
DIY pallet fence keeps them in – mostly
Note: My smallest girl did squeeze through the bottom of a pallet that was missing a plank. She was definitely living the high life on the other side of the fence.
To ensure there are no escapees, make sure the bottom of the pallets have minimal space in between each plank. You may need to add an additional plank like we did to cover the hole up. Also, if you're concerned with your girls flying over the pallets, consider adding poultry netting around the top perimeter.
Once the enclosure was done, I joked to my husband that this area is big enough for a goat or a pig. He rolled his eyes at me. Okay, maybe we won't get a goat or pig but definitely MORE chickens now that building a pallet chicken run is part of our skill set!