Consider planting urban fruit trees in pots or as part of your front yard landscape for an edible garden. Landscaping with fruit trees allows you to harvest food from even a small space garden.
If you're trying to get the most out of your grow space, consider these vegetable crops that are pretty enough for the front yard!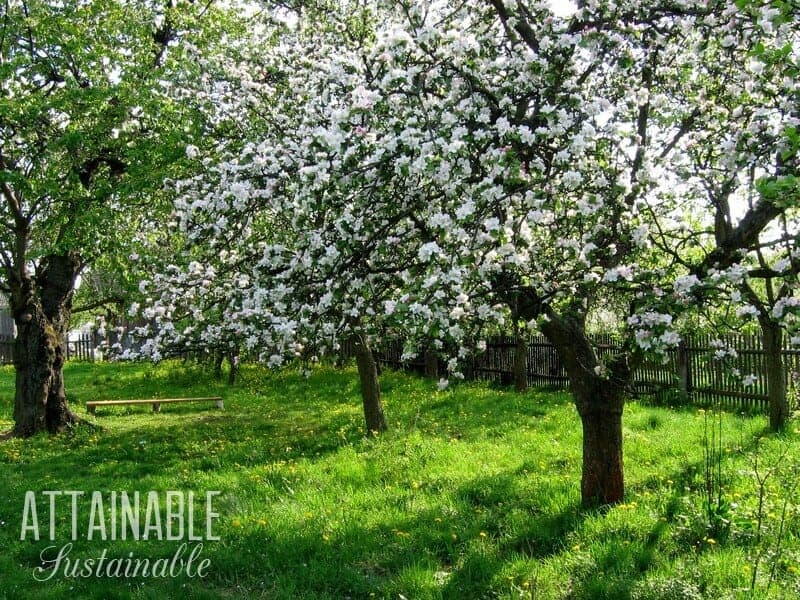 An edible landscape is essentially an aesthetically pleasing design that incorporates productive crops. Growing fruit trees as dual-purpose landscape plants is a great way to make the most of the space you have. Pretty blossoms in the springtime, fruit in the summertime, and a tree to create shade or structure within your garden!
Why some people don't plant fruiting trees
Fruit trees are no different than many non-fruiting landscape trees, with one exception: They provide a harvest. To me, that sounds fabulous. If a tree is taking up space in my yard, better that it offers up some fruit. But not everyone wants to deal with harvesting fruit. (It's likely that those people are not here reading this, though!)
In designing public spaces, there's a hesitancy to use fruiting trees because of the mess factor. If a tree fruits and nobody is there to harvest that fruit, it will fall to the ground.
Fruit on the ground is unsightly and can draw undesirable insects and rodents, or become a tripping hazard. These are valid concerns for commercial and community spaces, though it does seem like a missed opportunity.
Grow Some Greens!
Ready to grow fresh greens, no matter WHERE you live? Sign up for my
FREE quick-start guide and start growing some of your own food!
Why not plant productive trees, creating an edible landscape with the intention to harvest the fruit for local food banks? That seems like a great use of common areas and medians.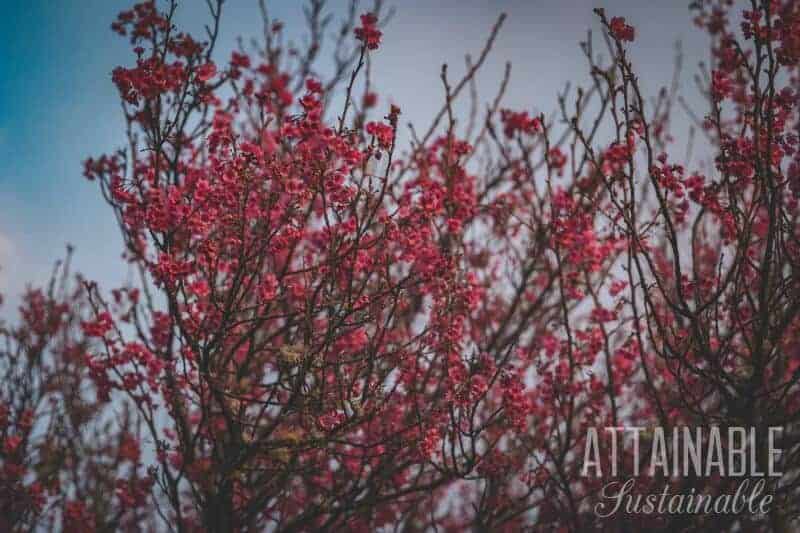 Related: Small Vegetable Garden Ideas: What to Grow to Make the Most of Your Space
---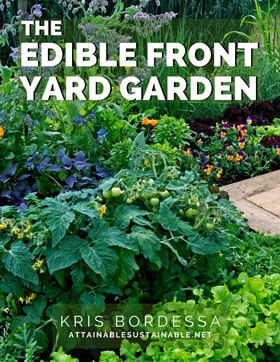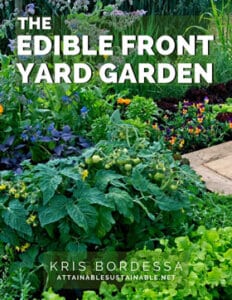 The Edible Front Yard Garden
Does your homeowners association prevent you from growing food in the front yard? What if they never even KNEW? My ebook, The Edible Front Yard Garden will show you how!
---
List of fruit trees for an edible landscape
Apple – The spreading branches of a mature standard-sized apple tree are perfect for sitting under. Beautiful white and pink blossoms in the spring are slightly fragrant. Harvest, late summer and autumn. [Read more about growing apple trees here.]
Banana – Ranging in size from a few feet tall to more than 20′ tall, there is a wide selection of banana varieties available to backyard growers. Choose small banana plants (see here for some options) for container growing.
Bananas require a warm climate, but some intrepid growers plant them in large containers and move them into a protected area during cold winter months.
Cherry – Non-fruiting or "ornamental" cherry trees are frequently planted for their gorgeous blossoms. Opt for a fruiting variety for more bang for your buck. Harvest, early summer
Citrus – An evergreen tree for frost-free climates, citrus trees like orange, tangerine, and lemon are year-round beauties. Harvest, winter.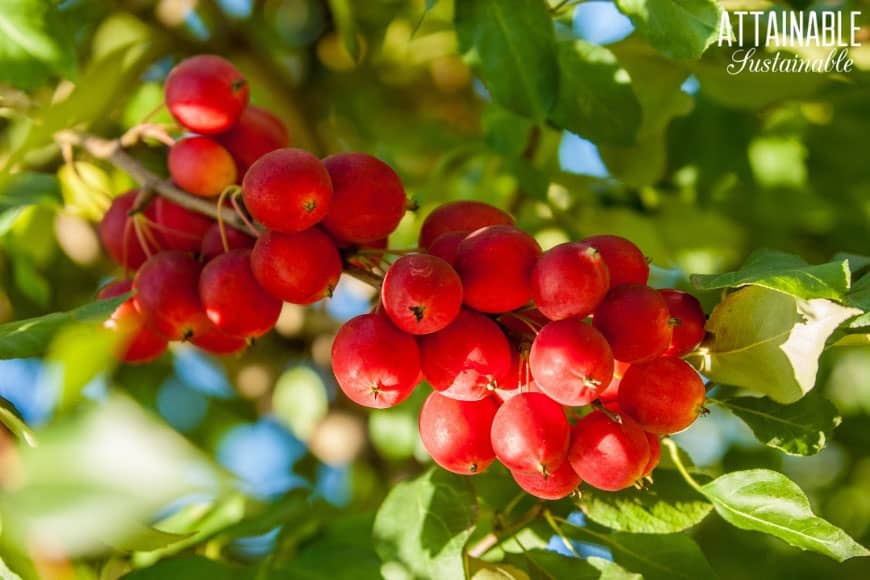 Crabapple – Less commonly known than standard apples, crabapples are edible and there are some pretty compelling reasons to plant one. You can read more about planting and growing this fruit tree here.
Fig – The oversized leaves of a fig tree offer a tropical look to the landscape. Many fig varieties offer two harvests per year. Figs are easy to grow in pots, too.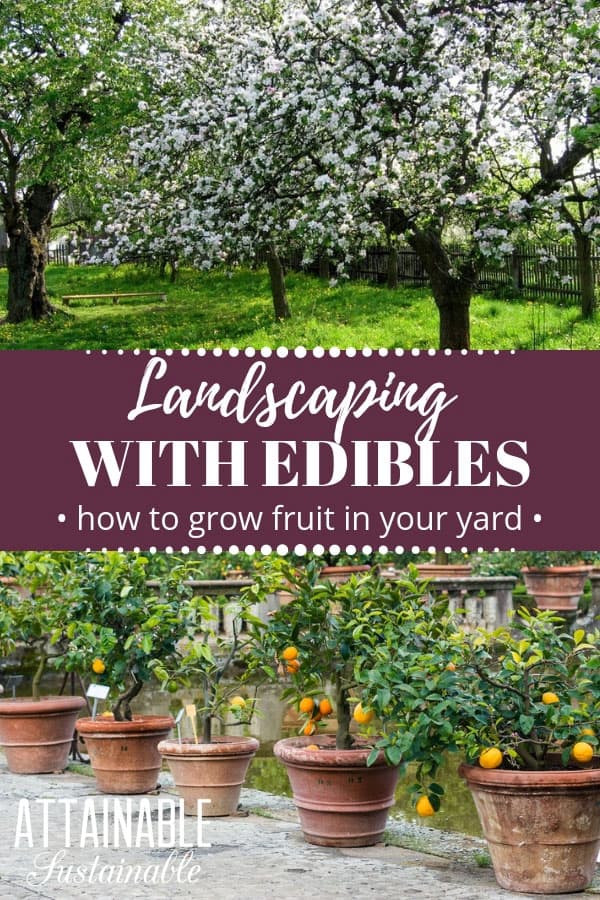 Mulberry – With large fruit resembling blackberries, a mulberry tree can serve several purposes in your edible landscape. The fruit is excellent, if a bit hard to harvest. It can also act as a lure to draw birds and squirrels away from other ripening fruit. Try planting one in an area where the dropping fruit can provide fodder for chickens so that any fruit you don't harvest will go to feed your flock.
Nectarine – The dark, slender green leaves of a nectarine tree make it a summertime beauty. Harvest, late summer. Here's how to start a nectarine tree from seed.
Olive – An evergreen tree with fine leaves, olive trees are great landscape plants and people often plant them for their beauty rather than the fruit. Olives need to be processed before they are edible.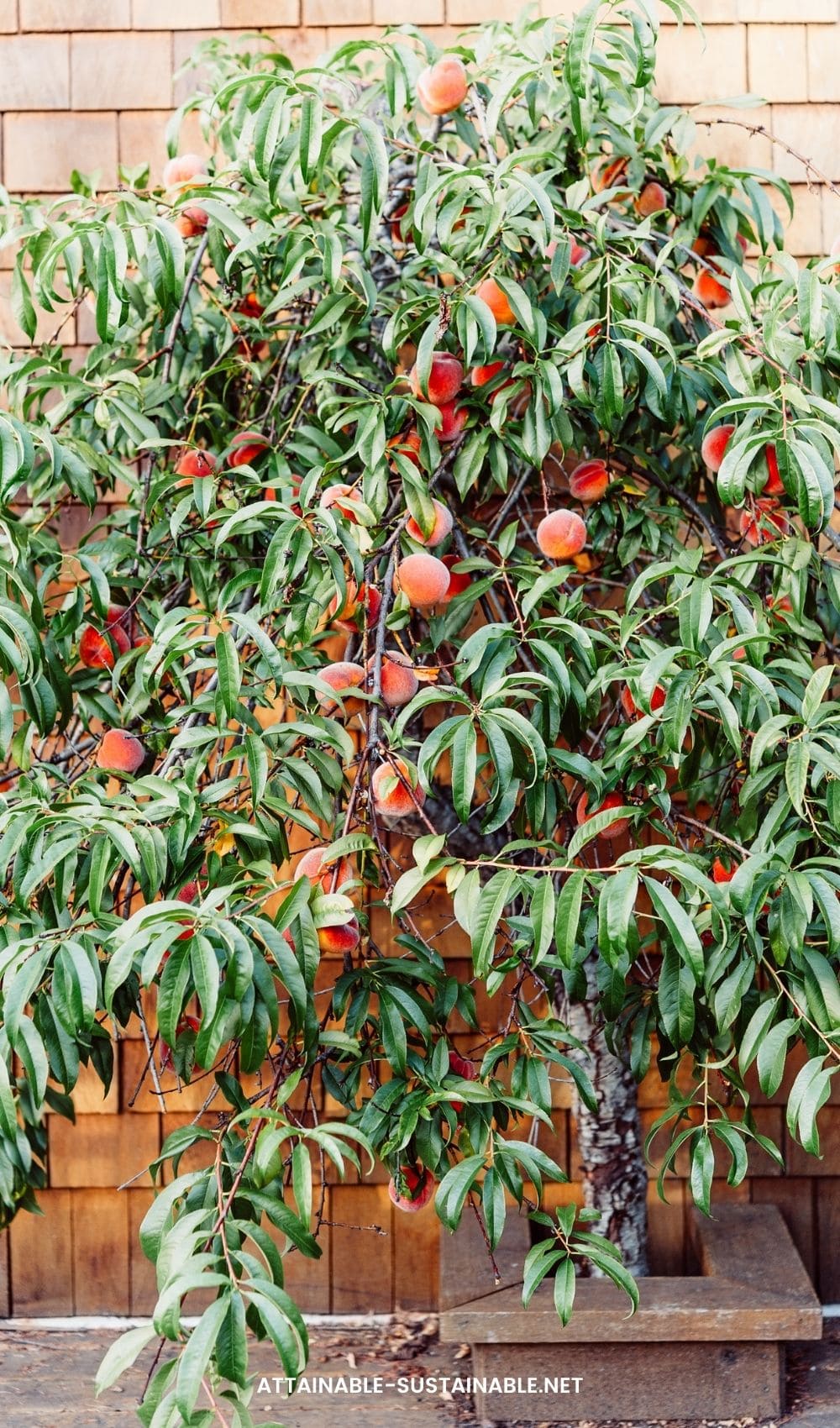 Peach – The fuzzy fruit of this summer-bearing tree is delicious fresh out of hand, but if you have plenty, consider preserving some for the pantry. The trees grow similarly to a nectarine and offer pretty pink springtime blossoms.
Pear – In addition to delicate spring blossoms and a tasty crop, pear trees offer fall color to your yard as well. Harvest, late summer.
---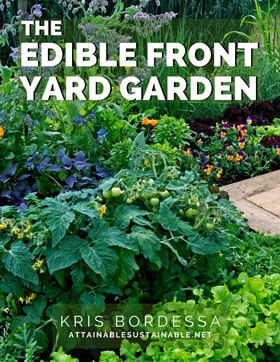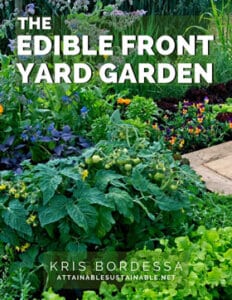 The Edible Front Yard Garden
Does your homeowners association prevent you from growing food in the front yard? What if they never even KNEW? My ebook, The Edible Front Yard Garden will show you how!
---
Persimmon – A beautiful tree with spreading branches, persimmons are most noticeable in the fall when the leaves drop and bright orange fruit remains. Harvest, autumn. Here's more on growing a persimmon tree.
Pineapple guava – A small tree or upright shrub, this evergreen produces bluish green fruit. It grows we ll in cool coastal locations. Harvest, summer.
Plum – Desirable for their vivid pink spring blossoms, flowering plum trees are used frequently as a landscape plant. You can have similar beauty plus a great harvest by choosing a fruiting plum. Harvest, late spring and summer.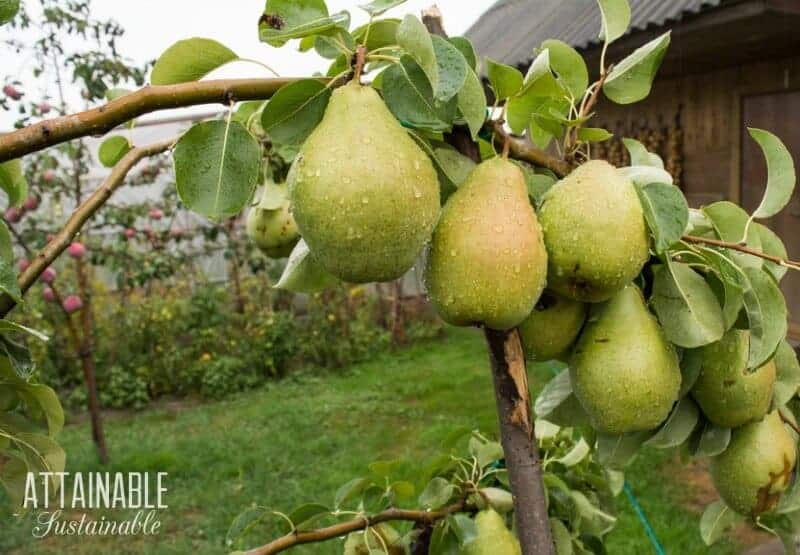 Related: 15 Smart Gardening Hacks to Save You Time and Money
Size matters
Fruit trees come in four different sizes: Standard, semi-dwarf, dwarf, and less commonly, super-dwarf. This means that you can choose a tree that will fit your space perfectly. When considering the options on the list of fruit trees above, decide which size tree will work best for your space. For urban areas, small fruit trees are probably the most sensible.
Standard fruit trees need a fair amount of space and are a good choice if you're hoping for high branches that will provide shade.
Semi-dwarf trees are great for incorporating into a garden bed as a visually upright specimen.
Dwarf varieties are great if you're an urban gardener. Plant them directly in the ground or in pots.
Super dwarf trees are great for really tight spaces like apartment balconies. There are not as many choices available in this miniature size, unfortunately.
Choosing a dwarf tree variety will not impact the size of the fruit. A dwarf tree doesn't mean a smaller apple; it just means that the size of the tree itself (and thus the quantity of fruit) will be reduced, making it a perfect urban fruit tree option. They're ideal when growing fruit trees in pots. This is done by grafting various fruit varieties onto a rootstock that produces small trees.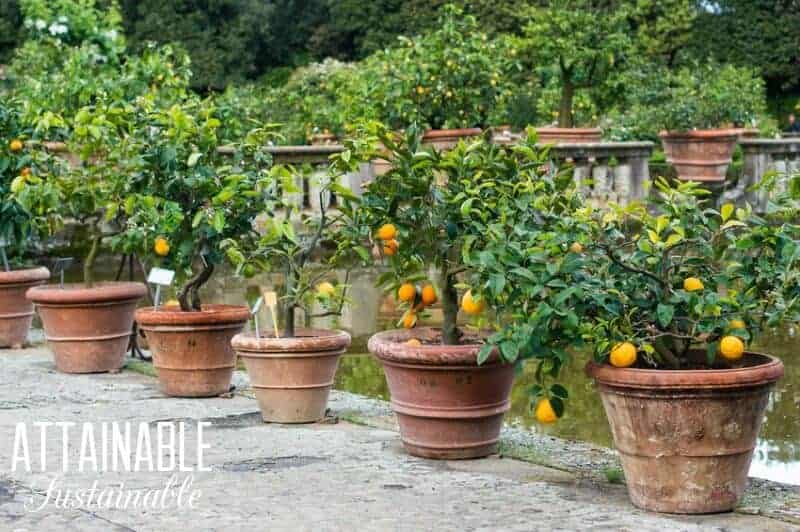 Growing fruit trees in pots
If you want to add a tree to a patio area or need to be able to move certain warm weather varieties inside for the winter, growing fruit trees in pots might be the solution. Dwarf and super-dwarf varieties are the best option for growing in containers. The trees stay small and compact.
Choose your container
A 10-15 gallon container will work for most dwarf varieties and is a good size if you need to move your tree. A half oak barrel will give the roots a bit more space to spread out, but can be heavy to move. Be sure your container has a hole or two in the bottom so excess water can drain. Grow bags (the largest size) would be another good option.
Soil and fertilizer
Choose a good quality potting soil. Your potted urban fruit tree will be growing in a confined space; make sure it's as healthy as possible. Fertilize your tree every couple of weeks during the growing season with compost or manure tea. I like to spray fruit trees with liquid kelp every few weeks, too. See more about planting bare root fruit trees here.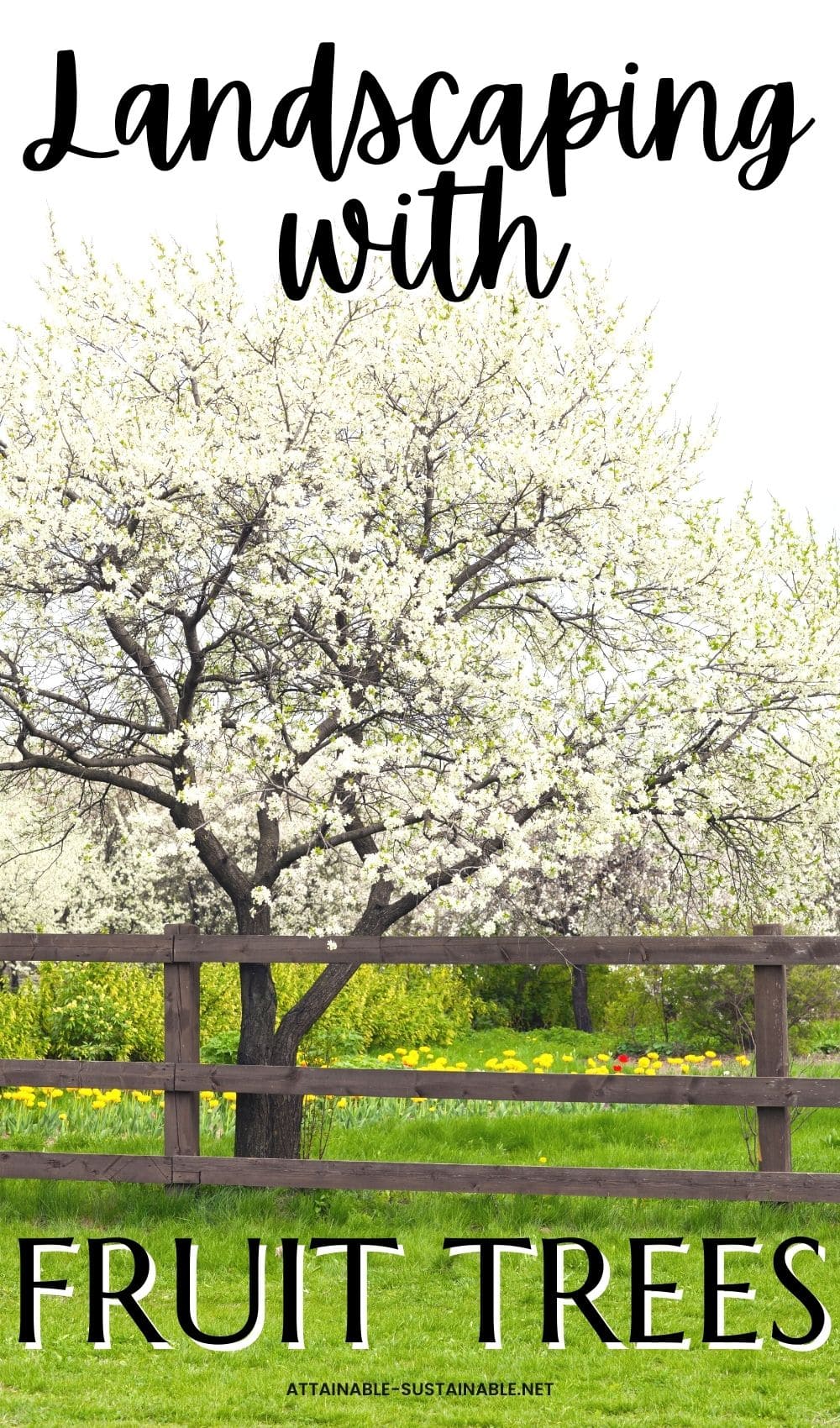 Adding fruit trees to an edible landscape
Adding a fruit tree or two to your yard or garden is pretty easy, but there are a couple of things you should think about before diving in and landscaping with fruit trees.
Chill hours
Basically, urban fruit trees need cold weather to triggering flowering (and thus fruiting). Some varieties need more than others. In my not-so-chilly region, I have to seek out fruit trees that are "low chill" varieties. You'll need to determine how many chill hours (the average number of hours below 45 degrees Fahrenheit) you get each winter.
Pollination
In order for fruit to set and grow to maturity, the blossom needs to be pollinated. This is why it's so important to encourage bees and other pollinators in your garden by planting flowers or creating a hospitable environment. This goes for garden crops as well as fruit trees. Bees carry pollen from one bloom to another, helping to pollinate each.
Fruit trees are sometimes self-fertile, meaning that pollination can happen with just a single tree. This is most common with stone fruit like peaches, nectarines, and apricots. Others require cross-pollination between two trees. Choose two trees within in the same species that bloom at the same time and plant them within 50 feet of each other.
Placement
Be sure to situate your small fruit trees in an area that won't be negatively impacted by dropping fruit. Likewise, be sure that you take maintenance into consideration when landscaping with fruit trees. You'll need access to prune and harvest your crop!
Seasonality
One other thing to consider is what fruit is in season when. If you plant ten fruit trees that all produce fruit during the summer months, the rest of the year will be pretty lean as far as fresh fruit. Instead, think about planting a variety that will ripe across the seasons. Read more about seasonal fruits for some inspiration when choosing urban fruit trees for your yard.
Originally published in February 2017; this post has been updated.