You've probably noticed that using essential oils is all the rage lately. Bloggers are blogging about them, your co-worker assures you that essential oils cured her [insert sad medical condition here], your neighbor has invited you to an essential oils party, and essential oil classes and groups are popping up both on your screen and in your community.
Now don't get me wrong; I'm a fan of essential oils. Lavender, tea tree, peppermint; they're the basics that I pull out regularly.
I use citronella oil in my mosquito repellent and patchouli for when I'm feeling particularly hippie. And honestly, I'd like to know more about how to use essential oils to get the most out of them — I think they're a valuable tool for a healthy medicine chest.
But despite the hype, I think we have to be careful. Using essential oils is not a cure-all.
And frankly, no matter what you've heard, there are just some home and farm problems that using essential oils can't solve.

Using essential oils can't…get dinner on the table any faster.
Home cooked meals are the basis of a more self-reliant lifestyle.
Take a Peek Inside My Book!
Get a free excerpt from my book, Attainable Sustainable: The Lost Art of Self-Reliant Living! You'll also get my free weekly newsletter, complete with recipes, gardening tips, and a little peek at what's going on around here — both the zany and the mundane.
The trick to feeding your family without resorting to takeout isn't frankincense; it's having an arsenal of recipes and meal solutions that you can turn to on those busy, stressful days that will happen no matter how much lavender oil you inhale.
If you need to get dinner on the table in an hour or less, check out these tried and true recipes:
Homemade hummus — You probably think of hummus as a snack, but it's high in protein and very filling. Serve it with some flatbread, kalamata olives, and feta cheese and it becomes a satisfying meal.
White chicken chili — Six ingredients and boom! A hearty dinner that will make your family think you've got a cape tucked inside one of your kitchen cabinets.
Chorizo soup — This spicy tomato based soup is one of my family's favorites.
Refried beans — Serve them by the bowl or wrapped up in a tortilla. Your call.
Slow cooker chicken tacos — It doesn't take much hands-on time to get this meal on the table.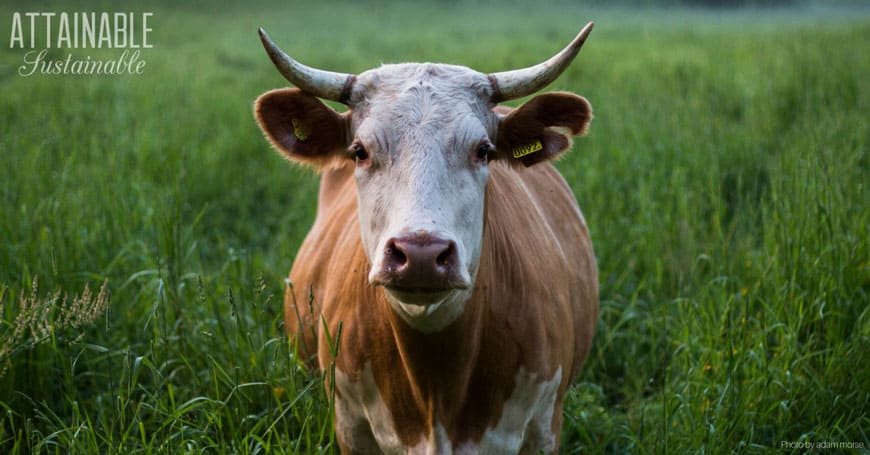 Using essential oils can't…help raise your goat or cow.
Milking is a chore that must be done daily. No skipping out 'cause you're tired or not feeling well, but with tips and tricks from those in the know, that morning (and evening) chore can become pure pleasure.
And sure, if it makes you feel pretty, splash on a bit of jasmine essential oil on your way out to the barn.
Make a milking stanchion — This will keep your girl – especially a skittish one – still while you milk her.
Introducing a new calf to mom — Sometimes it doesn't come naturally.
Essential oils can't…keep your chickens fed, watered, and secure
But you know who can? The folks over at the Backyard Chicken Project!
You won't find anyone over there suggesting that we diffuse a little lavender oil near the nesting box to ease egg-laying pains.
Nope, just good solid information that you can use to get your backyard chicken project started or to improve the one you've got.
Essential oils can't…do the laundry
Laundry is laundry is laundry. No amount of fragrance is going to lessen that chore. However, essential oils can make your homemade laundry detergent smell nice.
Once you've made that, though, you'll wade through your laundry piles a bit more efficiently with these techniques.
Brighten whites without bleach — If you're working to cut down on your use of bleach, here's a greener alternative.
Learn how to fold fast — I can almost guarantee that you're taking longer to fold t-shirts than you need to.
Skip the dryer sheets — Instead, make your own dryer balls to eliminate static cling.
Using essential oils can't…wash the cloth diapers
Many parents who are working toward a greener, more self-reliant lifestyle are using cloth diapers these days. If you're one of them, these links will give you some good solid tips for making that chore more doable.
Settle into a routine — Using cloth diapers requires a different skill set than regular laundry.
Using cloth diapers on a plane — Just plan for the tight space in your bag and the tight space for changing diapers. You and your baby will be clean and happy when you arrive.
Know how to fold 'em — There's more than one way to fold a diaper. Know which fold works best for your babe.
And essential oils definitely can't replace your daily coffee!
Right? Is there anything as comforting as a hot cup of coffee first thing in the morning? Or a nice little pick-me-up in the afternoon?
Stovetop coffee — You need to know how to make coffee if the power is out. Really.
Learn to make your favorite — If you're a fan of fancy coffees, save the single use cups and skip the junk by learning to make your own.
Now. I hope you were able to tell that I typed this up, tongue in cheek.
I know some very lovely bloggers who have jumped on the essential oil bandwagon, many of whom are cautious in what they promise.
If you're interested in adding to your collection of essential oils, I hope you'll take some of the advice you find online with that proverbial grain of salt. Be smart about it!