Save (and savor) garden fresh goodness with these fermented pickles. A combination of cucumbers and squash give these pickles a unique flavor profile and they're a great way to use up those prolific zucchini!
Try these easy refrigerator bread and butter pickles, too, while the garden is abundant.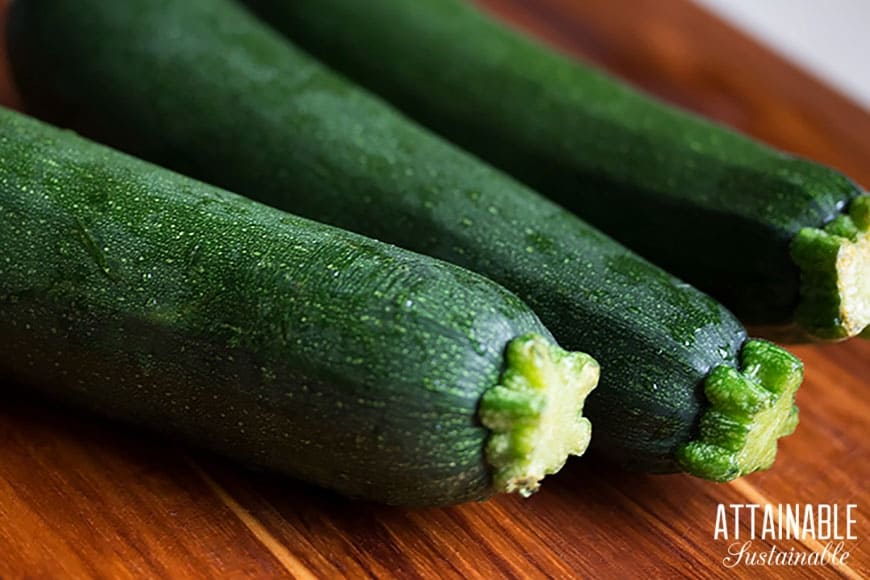 I stood at my kitchen table the other day, hot from the Texas sun and just a bit overwhelmed by a pile of garden produce.
I do some canning and dehydrating, but my first food preservation love is fermentation. It's incredibly simple, healthful, and empowering in our journey towards sustainability.
Making pickles this way is a snap! In five minutes I had prepped entirely homegrown ingredients and completed the making of a gallon of pickles.
---
The Handcrafted Pantry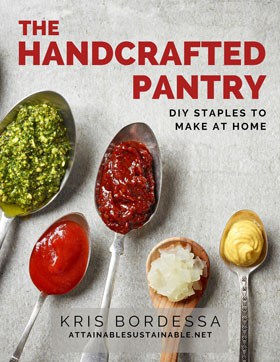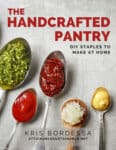 Ready to DIY your pantry with healthier ingredients? Check out my ebook, The Handcrafted Pantry! Filled with delicious recipes for some of your favorite condiments, snacks, and toppings, it's the guide you need to start skipping packaged products and embrace homemade.
---
5 Easy Steps to Transform Your Pantry!
Ready to switch from store bought to homemade? Let me help you make some changes! Grab my FREE five-part guide to getting started.
These pickles are alive with probiotics, enzymes, and lots of fun bubbles that my children love. They require no canning on these hot summer days and I can make a couple of quarts here or a few gallons there, depending on how much or how little I harvest.
These fermented squash raw pickles with cucumbers mimic the Kosher Dill Pickles so many of us grew up on.
With all of the flavor and the added bonus of having a living food to serve our family, I make these pickles from various garden vegetables all throughout the year.
I like to mix the ever-prolific summer squash in to this fermented pickle recipe; you can use zucchini or yellow summer squash. It's a great way to make fresh veggies palatable for picky eaters. A few pieces of cucumber pickle and a squash all go nicely on a salad or a sandwich and no one's the wiser.
Related: Kimchi Recipe: Get Your Ferment On
Traditionally Fermented Foods
These pickles are made through a process called lactic acid fermentation, a term many of us are becoming more familiar with.
I truly believe harnessing this natural food preservation method is a critical tool if we are to move towards sustainable and even regenerative ways of living. I believe this so wholeheartedly that I wrote a book about it.
Understanding the basic biology of fermentation and harnessing it for a sustainable means of food preservation (and production) is what Traditionally Fermented Foods is all about.
On our off-grid homestead we use the fermentation of vegetables, grains, dairy, beverages, and condiments as a means to live without refrigeration for these foods.
The recipes, inspiration, and information in Traditionally Fermented Foods encompasses how we do that.
Tips for Making Pickles
While you can pickle just about anything, there are a few key things to keep in mind for successful fermentation:
If you want crunchy fermented pickles, do not skip out on the tannin-containing leaves. If you can't get any from the list, a teaspoon of black tea per gallon does the trick.
Vary the amount of salt you use, depending on the temperature. I go in depth on this topic in my book, but generally speaking use a little less if it's cooler and a little more when it's warmer.
A cooler, slower fermentation is always preferred for flavor and texture.
You must do everything you can to keep the vegetables well below the level of the brine. Employ various homemade or purchased fermentation weights. Fill your jar only 80% full to leave room for excess brine and the weights.
With these brief points in mind, you can pickle just about anything with no fancy equipment – just salt, water, and whatever you are harvesting.
Municipal tap water
contains chlorine, which can inhibit fermentation, so be sure to use filtered or distilled water instead.
A Berkey water filter provides clean water that's free of toxins.
Great for making your drinking water free of chemicals, but perfect for fermentation, too.
More recipes for fermentation:
If you loved this recipe (and the idea of adding more probiotics to your diet!) there's so much more exploring to do!
These spicy fermented snap peas are a delicious addition to a salad, chop them in small bits and add to your deviled eggs, or serve them alongside a cold beer.
Try these fermented carrots with garam masala seasoning for something different.
Turn the heat up with this banana pepper hot sauce or this fermented hot pepper relish.
Try fermenting cauliflower to serve with your favorite sandwich.
★ Did you make these fermented pickles? Don't forget to give it a star rating below!
Fermented Pickles
Squash are always in abundance in the summer garden. Here's a unique (and easy) way to use them up and share the bounty.
Ingredients
2 Yard-Long or 4 average sized cucumbers
2-4 summer squash
6 garlic cloves, peeled
2 handfuls fresh dill or 3 Tablespoons dried dill weed
A handful of tannin containing leaves like oak, grape, mesquite
Filtered water as needed
Instructions
Place half of the garlic, half of the dill, and half of the red pepper flakes in a gallon-sized jar. (A repurposed sun tea jar works well.) You can also divide the ingredients between two half-gallons or four quarts. Chop the cucumbers and squash into large 1" pieces and add them to the jar(s) until they are half full.
Layer in the other half of the garlic, dill, and pepper flakes along with the tannin-containing leaves. Fill the jar 80% of the way with the remaining cucumber and squash pieces. Add the salt to the top of the vegetables. Pour in enough water to completely submerge the vegetables by 1/2 - 1 inch.
Place a fermentation weight on top of the vegetables to weigh them down to below the level of the brine. Heavier is better; these guys float.
Close the lid tightly onto the jar. Place the jar at cool room temperature to ferment for 1-3 weeks, aiming for a longer, cooler fermentation. During this time you will have to "burp" the jar to release some of the carbon dioxide that builds up as a by-product of fermentation. To do so, simply open the jar quickly but carefully, listen for the sound of pressure releasing, and then tighten it back up swiftly. Any time pressure appears to be building in the lid, repeat burping for the first week. After the first 7-10 days the fermentation process moves on to another stage and the carbon dioxide production tapers.
After a few days the brine will begin to look cloudy - this is a good sign! You can begin checking the pickles for tang and flavor after one week. If they are tangy enough, move them to cold storage in a cellar, basement, or refrigerator. They will keep for months if left unopened.
Notes
This recipe makes one gallon but the beauty of fermentation is that you can make any quantity. A good principle is enough veggies to fill your jar 80% full. Add herbs, ~2 Tablespoons of salt per quart of vegetable, and water to cover. When determining how much salt to use, opt for the lower end of the range if you are fermenting below 75 degrees. Use the upper end of the range if you are fermenting in hotter temperatures.
Nutrition Information:
Yield:

8
Serving Size:

1 grams
Amount Per Serving:
Calories:

23
Unsaturated Fat:

0g
Sodium:

313mg
Carbohydrates:

4g
Fiber:

1g
Sugar:

2g
Protein:

1g