These fermented sweet potatoes make an unexpected addition to your list of homemade probiotic ferments.
Looking for more fermentation recipes? There are 50+ ferments to try here!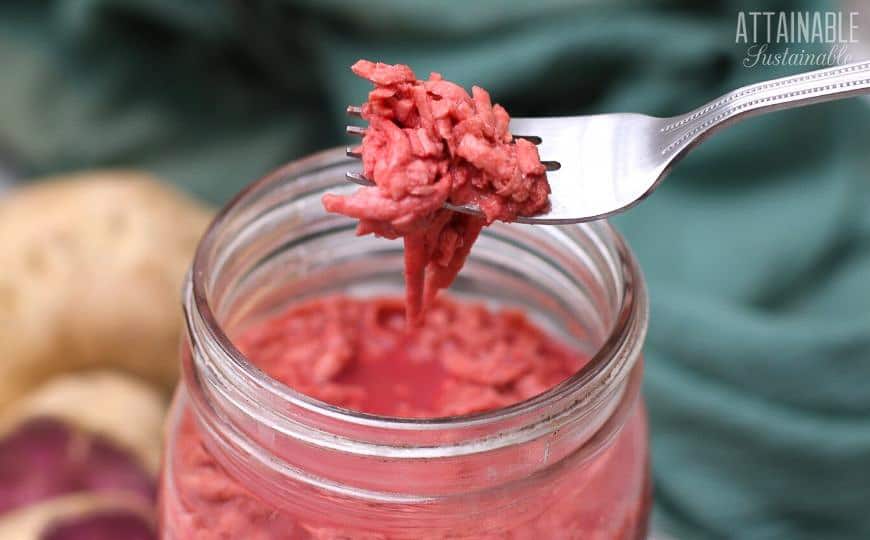 I started my fermenting journey several years ago. This recipe, though? Is one I wouldn't have dreamed up!
My friend Angi who blogs over at Schneiderpeeps has a brand new book out, called The Ultimate Guide to Preserving Vegetables. I received a copy for review purposes and when I saw this recipe, I knew I had to try it.
Making these fermented sweet potatoes
You might notice that my fermented sweet potatoes are decidedly…pink. That's because I started with our locally grown Okinawan purple sweet potatoes.
Angi's recipe utilizes more familiar orange sweet potatoes. You should use what you have readily available. The recipe will work with either!
5 Easy Steps to Transform Your Pantry!
Ready to switch from store bought to homemade? Let me help you make some changes! Grab my FREE five-part guide to getting started.
I used my food processor to shred the potatoes. If you don't have access to one, a regular grater will work just fine.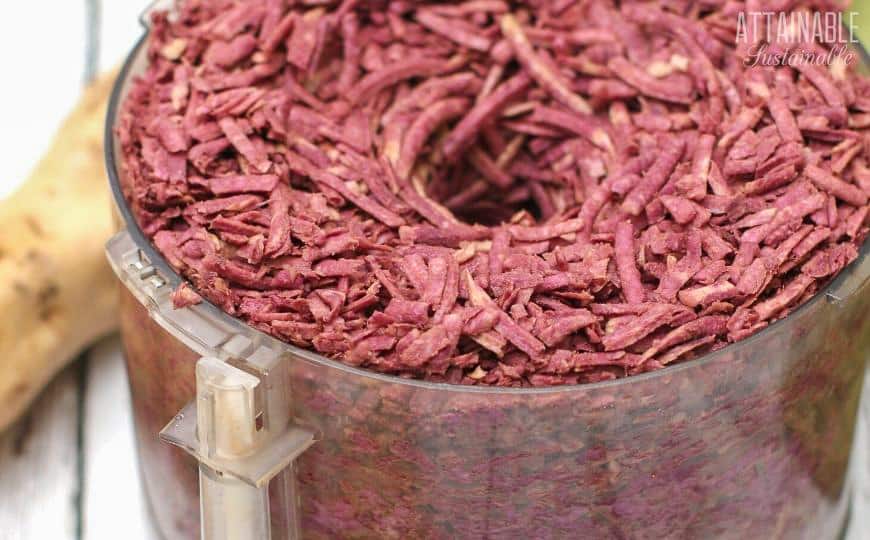 Packing the potatoes
When fermenting, it's necessary to remove all the air pockets around the vegetables in the jar. The sweet potatoes need to be completely submerged in liquid. In this case, you'll pack them in their own juices.
Much like making sauerkraut, I packed the grated sweet potatoes and ginger by pounding them down into the jar. (I use a large dowel for this.)
I found that the sweet potatoes didn't create quite enough juice. This will likely vary depending on the sweet potatoes. If you find you don't have enough juice after pressing them tightly into the jar, add just a bit of filtered water to cover. It's essential that the veggie pieces aren't exposed to air.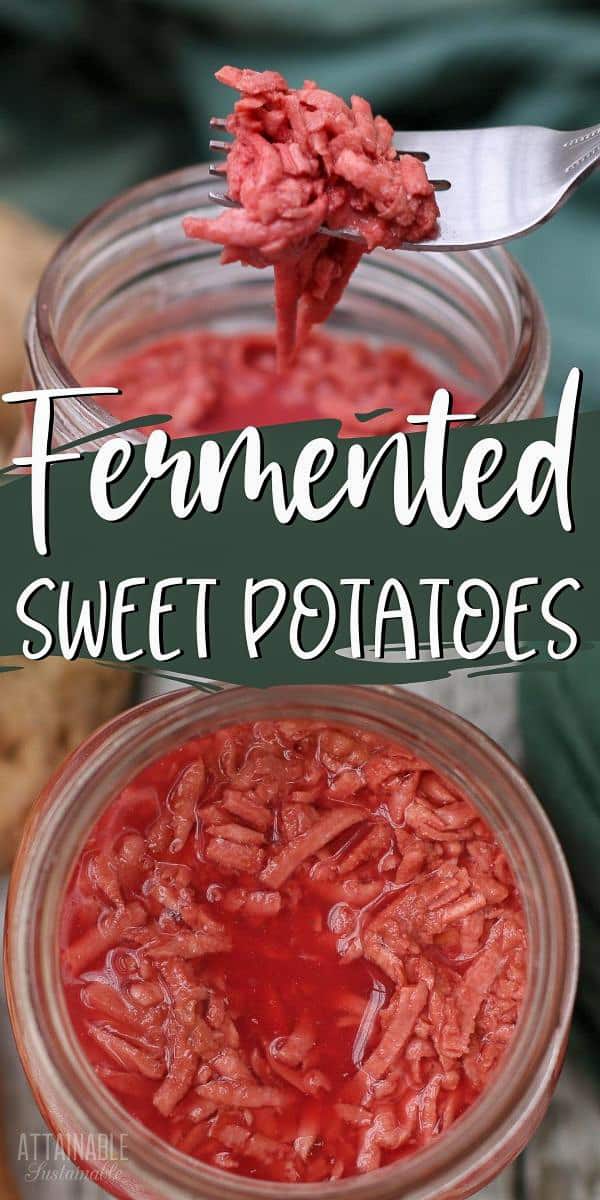 How do they taste?
These are an interesting ferment, compared to the sauerkraut and fermented cauliflower we make regularly.
The flavor of the ginger is evident in a spoonful, as is the sweetness of the potatoes. And of course they have the wonderful tang of a homemade ferment.
Because they're a starchy vegetable, the texture of the ferment is thicker than a green veggie ferment, which I might use as a side salad of sorts.
Preserving sweet potatoes this way allows me, instead, to use them as a healthy, probiotic-rich addition to potato salad, chicken salad, or even as a topping for a burger. They'd be good inside an omelette, too.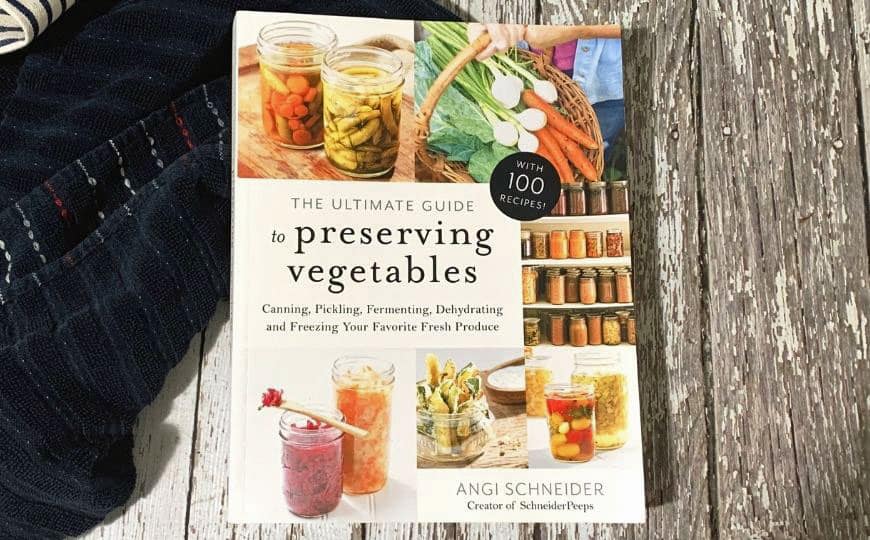 The Ultimate Guide to Preserving Vegetables
If you're delving into food preservation as a way to extend the harvest and "put food by" for the winter months, Angi covers a variety of methods in this beautiful book.
Those new to the idea of saving some of summer's abundance will feel immediately comfortable with her easy-to-follow instructions, whether you're keeping it simple with freezing or delving into water bath canning.
The book features 100 different recipes, with each type of produce — from green beans to spaghetti squash — getting its own space in the book. Angi discusses the best methods for preserving each, and includes several recipes for readers to try.
★ Did you make this recipe? Don't forget to give it a star rating below! ★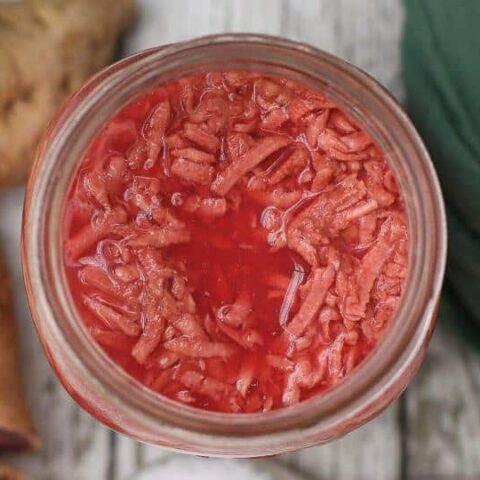 Fermented Sweet Potatoes with Ginger
Yield: 1 quart

Prep Time: 25 minutes

Fermenting Time: 5 days

Total Time: 5 days 25 minutes

Fermenting sweet potatoes extends their shelf life and imbues them with gut-healthy probiotics. Stir them into a potato salad, chicken salad, or top a burger with them.
Ingredients
4 pounds sweet potatoes, grated
1 tablespoon ginger, freshly grated
1/2 lemon, juiced and zested
1 tablespoon sea salt
Instructions
In a large bowl, combine the sweet potatoes, ginger, lemon juice and zest, and the salt. The vegetables should begin to release some of their juices and make their own brine.
Pack the sweet potato mixture and juices into a clean wide-mouth quart jar. Put a weight in the jar, make sure all the solids are covered in brine and put on a fermentation lid. put the jar on a plate or small cookie sheet to catch any overflow.
Set the jar in a cool place, out of direct sunlight, for 5 to 10 days. You can taste the sweet potatoes any time after 5 days. If they need to ferment longer, replace the weight and fermentation lid and ferment for a few more days.
When the ferment is to your liking, replace the weight and fermentation lid with a plastic storage lid and store the jar in the refrigerator for up to 9 months.
Notes
If you find you don't have enough juice after pressing them tightly into the jar, add just a bit of filtered water to cover. It's essential that the veggie pieces aren't exposed to air. 

Nutrition information is calculated on a serving size of 2 tablespoons.
Nutrition Information:
Yield: 30 Serving Size: 1
Amount Per Serving: Calories: 55Total Fat: 0gSaturated Fat: 0gTrans Fat: 0gUnsaturated Fat: 0gCholesterol: 0mgSodium: 233mgCarbohydrates: 13gFiber: 2gSugar: 4gProtein: 1g