When people talk about foraging and wildcrafting, I have to admit: I feel like I might have a foot forward. Because I live in Hawaii where temperatures are fairly mild year-round, I can forage for food here and net a variety of fresh produce and herbs, even throughout the winter months. (Though you might be surprised to hear that backyard foraging is somewhat seasonal here.)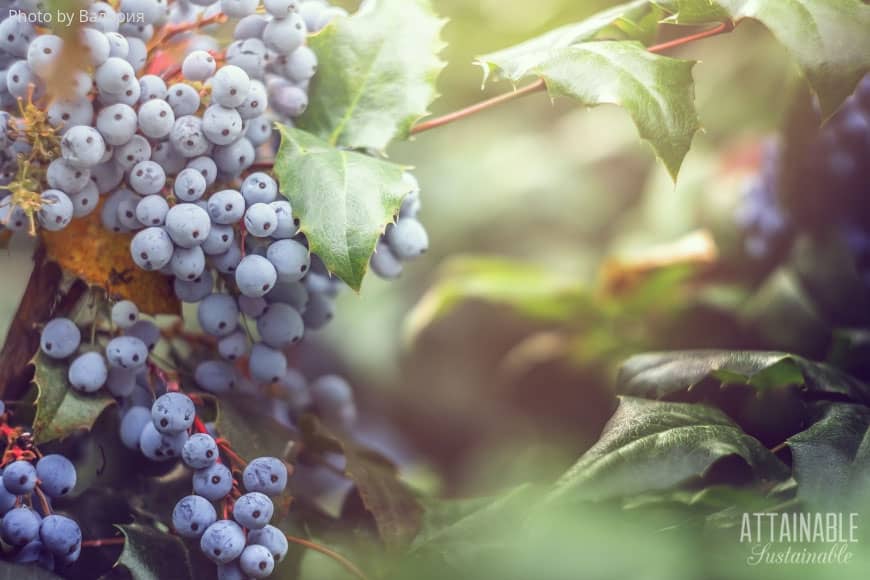 Just the other day I harvested some yellow guava growing alongside the road. Wandering the less tame regions of the island at this time of year also affords me the ability to forage for food like liliko'i (passion fruit), citrus, strawberry guava, mango, and nasturtium leaves.
But no matter where you live, if you get out into the wilds you might be surprised at the foods you can forage for your dinner table. I asked some of my blogger friends from different regions how they've embraced the idea of harvesting from the wild — and why. I hope you'll be inspired to research what you might have available in your region and experiment with wildcrafting!
Annie from Montana Homesteader — Backyard foraging in Montana (Missoula)
For us, foraging for food in our "backyard" is a way of life.
It is a way to harvest free organic foods to feed our family throughout the year as we strive to be more self-sufficient. While most people think of summertime as the best time for berry picking, there are still plenty of berries to be foraged at higher elevations.
At higher elevations, the huckleberry bushes' leaves are turning a brilliant red but there are still plenty of ripe huckleberries waiting to be picked. The wild elderberry shrubs are hanging full and offer an abundant harvest of vitamin packed berries. Oregon Grape berries can be found on the low growing shrubs.
Take a Peek Inside My Book!
Get a free excerpt from my book, Attainable Sustainable: The Lost Art of Self-Reliant Living! You'll also get my free weekly newsletter, complete with recipes, gardening tips, and a little peek at what's going on around here — both the zany and the mundane.
We also recently found Chokecherry and Saskatoon (Serviceberry) shrubs at higher elevations hanging full of ripe berries ready to forage. Wild rose hips can be foraged throughout the forests in the fall and even into the winter months.
It is amazing the variety of food you can wild harvest once you take the time to learn! (Image above: Oregon Grape)
Teri from Homestead Honey — Backyard foraging in Missouri (Kirksville)
When fall rolls around, we enjoy foraging for nuts! Some of our favorites include black walnuts and hickory nuts. Hickory nuts have such a delicate, delicious flavor – it's no wonder that the squirrels love them so much!
We also enjoy foraging in our regional "backyard" for Autumn Olives (Elaeagnus umbellata). These bushes grow readily in disturbed soil, so they are considered invasive in many places, but we consider them an amazing source of free fruit! When their tart astringent fruit finally turns sweet, they make a fantastic jam.
We consider foraging for food to be yet another way to obtain the most ultra-local food possible for our family. Plus, it is a delicious and inexpensive way to celebrate the seasonality of our food sources. (Image above: Autumn Olive)
Cathy from Mother of a Hubbard — Foraging in Kentucky (Pikeville)
Central Appalachians have a history of making the most of our environmental resources, and this extends naturally into our history of foraging for food and wildcrafting.
Many native fruit trees, such as American persimmons and pawpaws, begin to ripen around the fall equinox, and we must get to the sugary fruits quickly before the opossums and raccoons find them.
Fall's cooler temperatures stimulate the germination and growth of cold-hardy greens, such as cress ("creasy greens") and chickweed. Many of these continue growing through winter into spring, offering fresh salads at a time when preserved foods dominate the dinner plate.
Plentiful black walnuts are known well beyond the region for their complex flavor, but hickory nuts are also highly desirable. Even though my city has several grocery stores with diverse and exotic food offerings, I continue to forage these native Appalachian foods.
Although I enjoy a global perspective afforded by my modern life, it is important to me to maintain my connection to place and to my ancestors. Foraging and wildcrafting allows the mutual accomplishment of these goals.
Of course, I also love good food, and there is no better food than that grown in my own backyard. (Image above: Hickory nuts)
Susan from Learning and Yearning — Backyard foraging in Pennsylvania (Clarks Summit)
Here in the northeast, fall is the time to forage for autumn olive, goldenrod, black walnut, chicory, crabapple, cranberry, dandelion root, Jerusalem artichoke, juniper, acorns, rose hips, sweet fern, wild grapes, yarrow, wintergreen leaves and berries, watercress, and more!
It's difficult to name just one reason to forage – there are so many! Foraging and wildcrafting for edible plants in Pennsylvania gives me one more chance to be outdoors. Fall is generally beautiful here. I love learning which plants are edible; it's truly a lost art. Feeding my family nutrient-dense food is important and wild food generally fits that bill.
Foraging for food, along with gardening, helps to keep me out of the grocery store and saves me money. I think, though, that even if none of that were true, I'd be foraging and wildcrafting. I have an innate desire to know plants — it's just part of who I am.
Connie from Urban Overalls — Foraging in Colorado (Fort Collins)
I have ready access to a fall favorite in our state: pine nuts from the Piñon tree!
While Piñons live along the eastern foothills of the state, they are most prolific in the west and southern part of the state. Locations include, but are not limited to: the Arkansas River Valley, western slope of Sangre de Cristos mountains, and even on the plains east of Trinidad.
For foragers, BLM (Bureau of Land Management) has two categories of harvesting that do not require permits. In either case, foragers are not allowed to sell what they harvest.
1) Incidental Use: eating the nuts as you harvest or for later that day.
2) Personal Use: In Colorado, foragers can harvest up to 75 pounds of these nuts for their personal use.
If people wish to sell what they harvest, they must obtain a Commercial Use Permit. For those looking to be more self-sufficient, harvesting these nuts is a great step in that direction. Piñon trees cover millions of acres in Colorado and are easily found across the western and southern parts of the state. Not only are they a great source of protein, but they are a tasty as well.
Our fall harvest wouldn't be complete without them. (Image above: Pine nuts)
So: Where do you live and what can you forage for at this time of year?