Make this frozen garlic bread recipe at home for a fast side dish. Skip the packaging and the weird ingredients that comes with ready made Texas Toast; make your own!
If you really want to make it from scratch, use a loaf of this homemade sandwich bread.
The freezer section of the grocery store has everything you could possibly want: Frozen waffles, frozen veggies, frozen whipped cream, frozen pies, and frozen garlic bread, aka Texas Toast.
The sheer convenience makes purchasing these things appealing. But when you count all the wasted packaging, the carbon footprint, and the addition of all the weird ingredients lurking in these supermarket frozen foods… well, it begins to not seem so appealing after all.
Homemade waffles are incredibly easy to make and can be frozen for later use. You can harvest your own veggies at the peak of ripeness and freeze them yourself in reusable bags or containers. Heck, even homemade whipped cream and pies are super easy to make — all of which you can freeze.
And frozen garlic bread, aka Texas Toast? Have you taken a look at the ingredients found on the ingredient label? Holy GMO and preservatives Batman!
5 Easy Steps to Transform Your Pantry!
Ready to switch from store bought to homemade? Let me help you make some changes! Grab my FREE five-part guide to getting started.
You're probably already making homemade bread so why not take the extra step by adding butter, garlic, and seasonings, then freezing the bread for later use?
The Handcrafted Pantry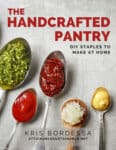 Ready to DIY your pantry with more wholesome ingredients? Check out my ebook, The Handcrafted Pantry! Filled with delicious recipes for some of your favorite condiments, snacks, and toppings, it's the guide you need to start skipping packaged products and embrace homemade.
DIY Frozen Garlic Bread
No weird ingredients
Less packaging
AND it allows you to have delicious garlic toast at your fingertips
Definitely a no-brainer!
Ingredients
Homemade Bread — Slice your Sandwich Bread nice and thick! You can also cut a loaf of French bread in half lengthwise for the perfect garlic loaf.
Butter — Allow the butter to come to room temperature for easy mixing. Salted or unsalted doesn't matter, just add salt or not, depending.
Garlic — Fresh garlic is key here! That's the best flavor when you want garlic bread.
Parmesan — Grate it yourself for the best texture.
Parsley — Once again, fresh! This is an easy herb to grow yourself.
How to Make Texas Toast
Spread out your bread on a baking sheet. Make sure it fits in your freezer!
Mix remaining ingredients in a bowl to combine.
Coat the bread with the butter mixture generously.
Freeze until solid, then store in a freezer container!
FAQs
Can I make garlic bread fresh?
You can go ahead and broil this without freezing. You'll just want to move it slightly further from the element and absolutely don't walk away as it will be done in less time than from frozen! It's perfect for meal prepping because you can spread all your toast and pop half in the freezer and half in the oven.
How should I prepare the garlic?
You can mince finely with a knife, or take it a step further and smash the dice with the side of your knife carefully. This will give you more flavor throughout without actually biting into a piece of garlic. Another option is to grate the cloves on a microplane. And of course, feel free to adjust the amount of garlic you use!
Storing Texas Toast
Make sure you've let the slices (or loaf) completely freeze before packaging. This way the butter will stay on the toast and not your storage container!
★ Did you make this frozen garlic toast? Don't forget to give it a star rating below! ★
DIY Ready-to-Heat Frozen Garlic Bread
You're probably already making homemade bread so why not take the extra step by adding butter, garlic, and seasonings, then freezing the bread for later use?
Ingredients
6 slices homemade bread, (cut into 1-1/2 inch slices)
6 Tablespoon butter, softened
1-2 garlic cloves, minced (amount depends on how garlicky you want your toast)
2 Tablespoons fresh parsley, diced
2 Tablespoons grated parmesan cheese
Instructions
In a bowl, mix together all ingredients except sliced bread. Spread generously on one side of your bread, placing slices on a baking sheet that will fit in your freezer.
Freeze for 20-25 minutes or until the bread has completely frozen. Place individual slices of bread in a freezer-safe storage container.
When you are ready to use your garlic toast, place each piece on a slotted broiler pan. Turn the oven to broil and place under the broiler for 3-5 minutes. DO NOT walk away or you will burn your toast. If you want, flip the garlic toast to make the other side crunchy.
Notes
You can use this same spread to make garlic bread by the loaf. Simply cut a loaf of French bread in half lengthwise and slather each cut side with the buttery mix. Run it under the broiler, just as you would the individual slices.
Nutrition Information:
Yield:

6
Serving Size:

1 grams
Amount Per Serving:
Calories:

86
Total Fat:

1g
Unsaturated Fat:

0g
Cholesterol:

2mg
Sodium:

476mg
Carbohydrates:

14g
Fiber:

1g
Sugar:

1g
Protein:

3g