Pulling your hair out over these underground garden pests? Here's what you need to know about pocket gopher control. Gophers are not a problem here in the islands, but as a longtime California gardener, I know how damaging a pocket gopher can be.
If you're new to gardening, you may not have given these underground pests much thought – yet. One minute, there's no sign of them; the next minute one of your pampered plants has completely disappeared. That's right; a pocket gopher can pull an entire bush bean or tomato plant into their hole! If they're working on a larger plant and can't pull it into the hole, they'll quietly gnaw the roots until the plant is damaged beyond saving. I've lost a fair number of young fruit trees this way.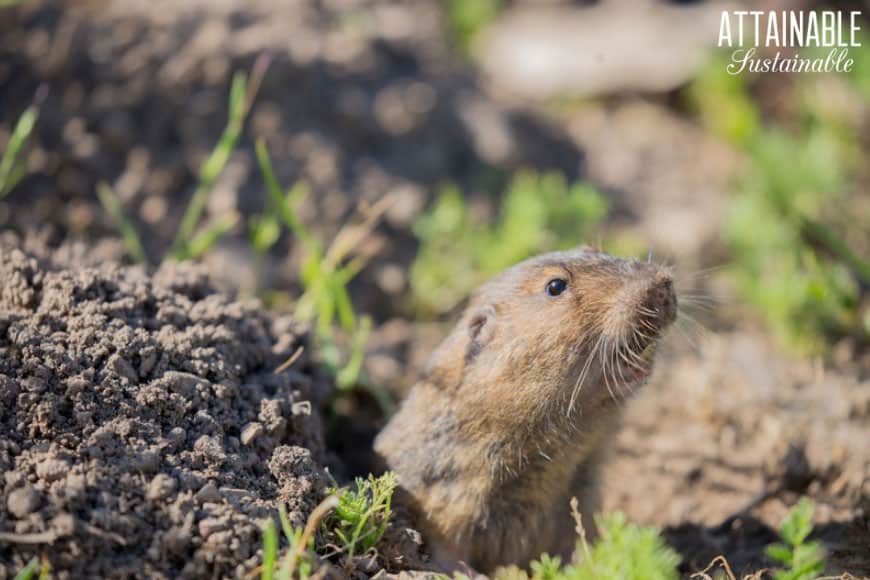 Is it a gopher?
Signs of gophers are easier to spot than signs of moles. You'll need to know the difference to have any success with pocket gopher control. Gophers leave behind mounds of dirt that can be up to 12" in diameter where they've pushed the dirt out of their tunnels. Moles leave long trails of slightly raised dirt across the ground's surface.
Moles can make a lawn unsightly and do occasional damage to plants as they tunnel by, but they're generally not as damaging as gophers. In fact, moles actually eat underground insects so technically, you could consider them to be "organic pest control."
Related: Natural Aphid Control in a Pesticide-Free Garden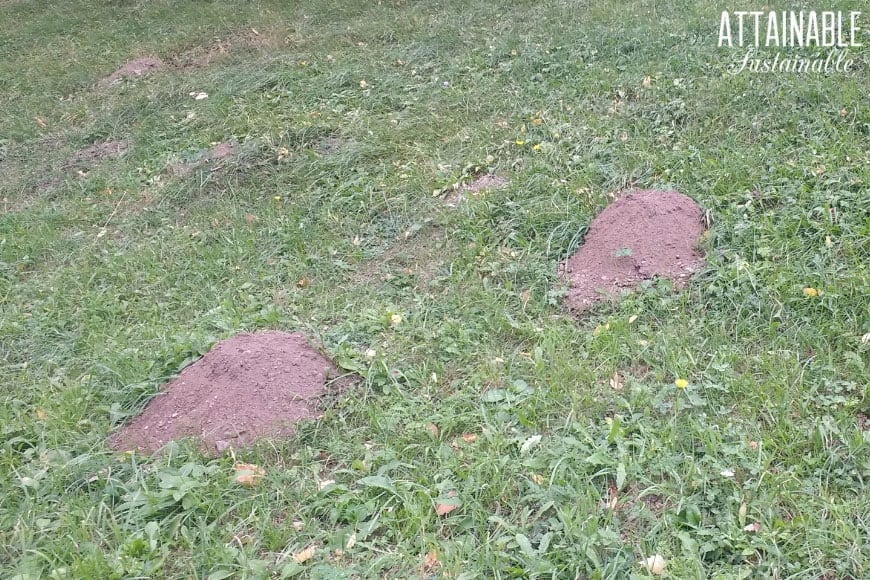 Grow Some Greens!
Ready to grow fresh greens, no matter WHERE you live? Sign up for my
FREE quick-start guide and start growing some of your own food!
Related: 7 Organic Pest Control Methods
Pocket gopher control
So, how's a backyard gardener to contend with pocket gophers? You've got to get rid of them! The tricky part is how. Some methods are, shall we say, tidier than others. For those of you with a humanitarian bent, there are sonic deterrents. These are the least likely to cause any harm to the furry pests, but also – in my experience – the least effective. Driving gophers over to the neighbor's property by making yours undesirable is just like sending them on vacation; eventually they'll come back home.
How to catch a gopher
I was much more successful with traps as pocket gopher control. It's not the gentlest part of gardening, but when the gopher population gets out of hand, I consider it something that must be done. I've always used Macabee traps, but my dad (who's a black belt gopher eradicator) has recently converted to the Black Hole Rodent Trap.
When you spot a fresh pocket gopher mound, notice that it's slightly horseshoe shaped. The gopher pushes dirt out of his burrow from the open end of the horseshoe. Dig a shovelful of dirt about 12" behind the opening and look for signs of a tunnel. You should see a small hole in the face of the dirt. Dig a bit more to uncover where the tunnel goes in two different directions. Once you've found the tunnel, it's time to place the trap.
Related: Pest Problems: Common Problems and How to Solve Them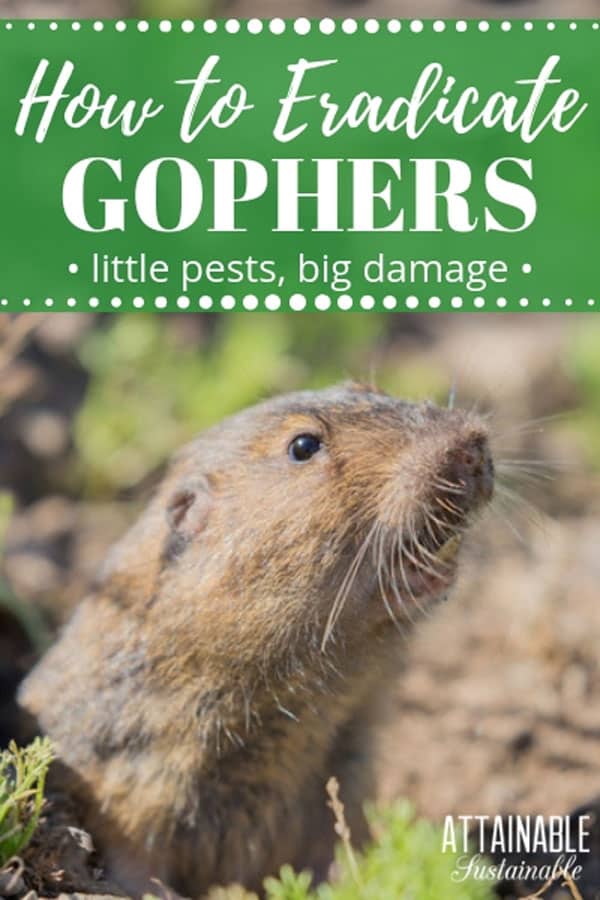 What to know about pocket gopher traps
With the Black Hole, you'll place the trap at the tunnel entrance – one in each direction – and seal it off with dirt, making sure that the vent is left uncovered. It's important that no light is visible around the trap. The business end of the Macabee traps need to actually fit inside the tunnel, so you may need to use a tool to gently make the tunnel wide enough (without collapsing it). Once in place, cover the tunnel opening with a big clod of dirt or sod to block the light. In either case, remember to rub the trap in loose soil, to disguise any human scent.
The pocket gopher is most active during the evening and morning hours, so I recommend setting the trap in the late afternoon and leaving it in place until the next morning. If you haven't caught a gopher in that amount of time, move on to the next mound.
Are gophers a problem in your region? How do you manage pocket gopher control?