It's not something many of us think about making at home, but homemade sunscreen made with natural ingredients is nourishing and protects the skin from the ravages of the summer sun. Here's how to make sunscreen at home.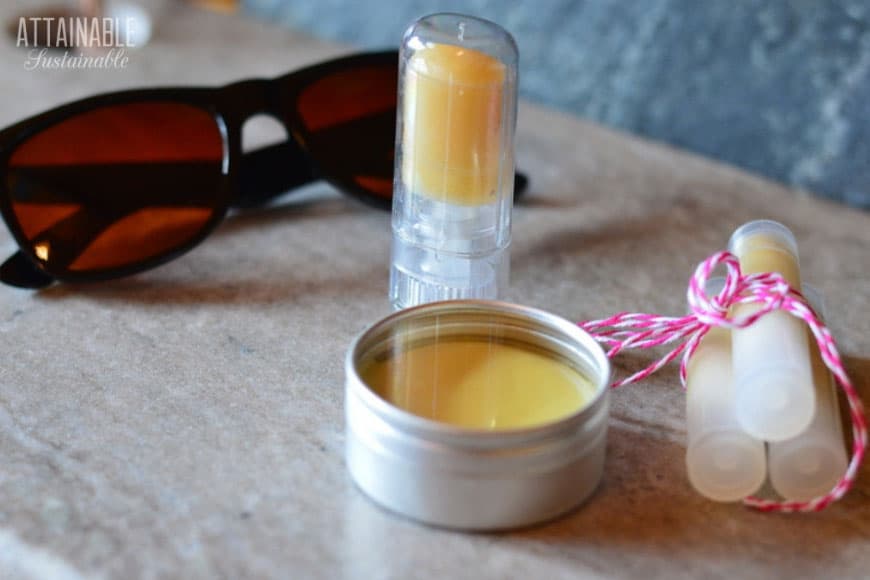 Summer vacation means time at the beach, in the garden, and at the park. The commercials and warnings have already started. We're told to wear sunscreen to protect against skin cancer. And many of us dutifully pick up a new bottle of SPF 30 or even SPF 50 expecting that it will solve the problem and let us live in the sun for the summer.
But non-toxic homemade sunscreen is better.
What's wrong with OTC Sunscreen?
Commercial, over-the-counter sunscreen products are pricey. Plus they feel gross on your skin so it's hard to get your family to use them.
Commercial sunscreen also contains toxic and carcinogenic ingredients like retinyl palmitate (a synthetic form of vitamin A that encourages malignant cells to develop), PABA, and oxybenzone, a hormone disrupting chemical that is absorbed through the skin. Oxybenzone is highly toxic to coral reefs and other marine life.
Take a Peek Inside My Book!
Get a free excerpt from my book, Attainable Sustainable: The Lost Art of Self-Reliant Living! You'll also get my free weekly newsletter, complete with recipes, gardening tips, and a little peek at what's going on around here — both the zany and the mundane.
UVA and UVB
The sun has two kinds of radiation that we are concerned about when choosing a sunscreen: UVA radiation and UVB radiation. UVA radiation is steady during all daylight hours. It's the deeply penetrating radiation that causes free radical damage and premature aging. UVB radiation is strongest between 11am and 1pm on sunny days. It's the radiation that allows your skin to produce vitamin D. It's also the radiation that gives you a suntan or a sunburn.
Most commercial sunscreens block only the UVB radiation. In fact, using these sunscreens inhibits the absorption of vitamin D by your body. At the same time, most sunscreens allow UVA rays to get through the barrier. UVA rays penetrate deeply into the tissue, below the skin, causing free radical damage, which can lead to premature aging and even skin cancer.
And since UVA rays don't cause sunburn, the damage may not be noticed until it's too late. The SPF of any sunscreen product only measures the UVB blocking ability of the sunscreen, not the UVA blocking qualities.
For protection from UVA rays sunscreen needs to include either titanium dioxide or zinc oxide, in a non-nano form. Nano particles may be absorbed into your skin. Non-nano zinc or titanium remains on the surface of your skin, where it can provide broad spectrum sun protection. Zinc or titanium work by both absorbing and scattering UVA and UVB radiation.
For a sunscreen to be broad spectrum it should include either titanium dioxide or zinc oxide. Of the two, zinc oxide has been found to be more beneficial in blocking UVA radiation than titanium. [1]
Should you skip sunscreen?
Some folks suggest skipping sunscreen entirely. This may be an option if you have a diet that is high in organic fruit and vegetables and you don't have a job that puts you out in the sun all day. Fruit and vegetable consumption increases the antioxidants in your body and helps your body deal with circulating free radicals that might cause damage to your cells.
But those with fair skin, those who work outside or spend time in the garden for long hours, and those with a less than adequate diet will benefit from using sun protection outside. Those under 18 should also be protected when they are out in the sun. Skin that is repeatedly damaged by sunburn is more susceptible to skin cancer later in life.
DIY Sun Protection
Wide brim hats and long sleeved shirts can help protect you from solar radiation. Cotton fabrics provide a sun protection factor (SPF) of 15. Another option is homemade sunscreen, using herbs [2] and natural ingredients. Natural herbal oils are rich in antioxidants. They not only protect but also help your body with its job of repairing at a cellular level.
This recipe for homemade sunscreen takes advantage of the natural SPF values [3] and antioxidant qualities of natural oils, beeswax, and butters. Lavender, calendula, raspberry seed oil, and vitamin E are high in antioxidants to repair free radical damage. The addition of zinc oxide is optional. Add it if you are spending a long time in the sun or you need a broad spectrum sunscreen to protect from both UVA and UVB damage.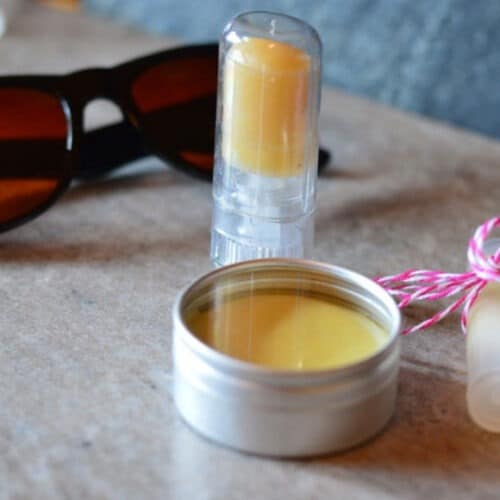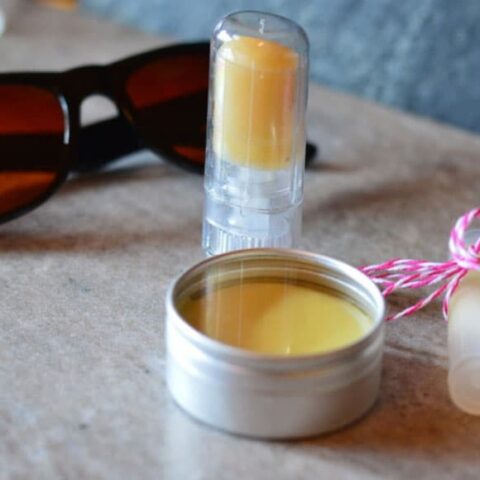 How to Make Homemade Sunscreen
This homemade sunscreen recipe nourishes and protects skin from the sun.
Ingredients
2 tbsp. beeswax
2 tbsp. shea butter
2 tbsp. calendula infused* virgin olive oil
1 tbsp. hempseed oil
1 tbsp. raspberry seed oil
1 tsp. vitamin E, natural source
25 drops lavender essential oil
Optional:
1 tbsp. zinc oxide, non-nano to increase the spf to 20
or
1½ tbsp. zinc oxide, non-nano to increase the spf to 30.
Instructions
Using a double boiler, melt the beeswax and shea butter in a glass jar, set in water.
Stir to combine the beeswax and shea butter. Add calendula infused oil, and hempseed oil to the jar.
Continue to heat and stir until the beeswax mixture combines with the oils.
Stir in raspberry seed oil and vitamin E. Stir to combine. Remove from heat as soon as the mixture liquifies.
Without the addition of zinc oxide this homemade sunscreen recipe has a natural spf of about 15 and offers protection from UVB radiation only.
To create a broad spectrum sunscreen and increase the spf, add zinc oxide to the recipe.
While beeswax and shea butter are melting, stir zinc oxide powder into the oils with a spoon.
Once the zinc oxide powder is moistened, use a stick blender to combine fully. Use a dust mask and gloves to protect from zinc oxide inhalation.
Pour the sunscreen mixture into a 4 oz glass jar or tin and label. For a handy sunscreen stick, you can pour the liquid into lip gloss tubes.
Notes
Yield 4 oz. (125ml) – spf 15 to 30
See instructions for making calendula infused oil here. 
Clean up:
Wipe out the excess oil from the jar with paper towels and discard. Then wash the jar with detergent and water. The jar and utensils should clean up easily.
Nutrition Information:
Serving Size:

1 grams
Amount Per Serving:
Unsaturated Fat:

0g
Using homemade sunscreen
This homemade sunscreen is oil based. It will feel a bit greasy going on but will quickly be absorbed by your skin. It is moisturizing. The zinc oxide blends in and won't leave a white paste on the surface of your skin. It is water resistant but may need to be reapplied with long sun exposure or after heavy sweating.
Where to get ingredients:
Mountain Rose Herbs carries all the ingredients except the raspberry seed oil and the zinc oxide, which can be ordered elsewhere online with a quick google search.
References:
Pinnell, S. R., Fairhurst, D., Gillies, R., Mitchnick, M. A., & Kollias, N. (2000). Microfine Zinc Oxide is a Superior Sunscreen Ingredient to Microfine Titanium Dioxide. Dermatologic Surgery, 26(4), 309-314. doi:10.1046/j.1524-4725.2000.99237.x
Kapoor S, Saraf S. Efficacy Study of Sunscreens Containing Various Herbs for Pro­tecting Skin from UVA and UVB Sunrays. Phcog Mag 2009;5:238-48
Saraf, S., & Kaur, C. (2010). In vitro sun protection factor determination of herbal oils used in cosmetics. Pharmacognosy Research Phcog Res, 2(1), 22. doi:10.4103/0974-8490.60586