Sometimes it's a meandering path of lessons and learning skills on the way to self-sufficient living. Especially small-scale backyard self-sufficiency. The thought of self sufficient living gets my heart pumping. It's like a big, indirect middle finger to our government and Monsanto. And I dig that.
Guest post by Loriel Adams.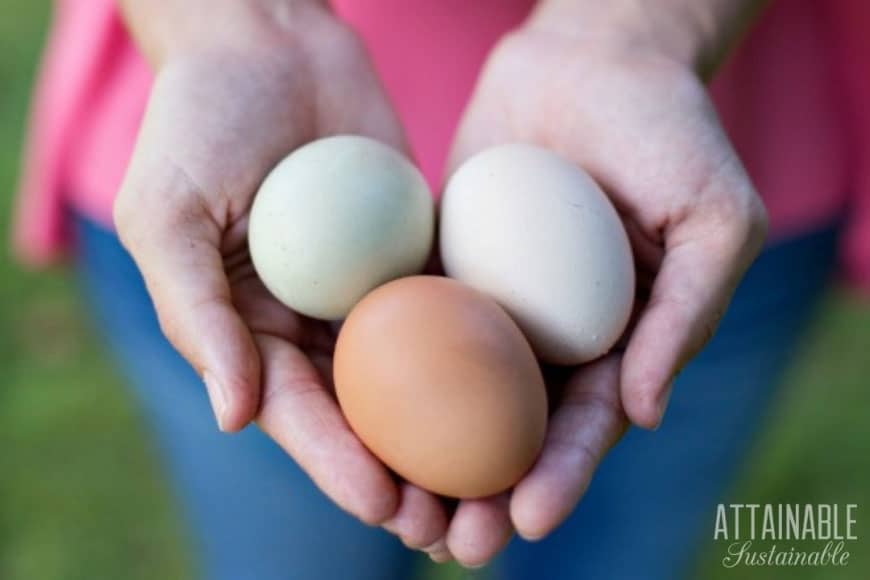 Not that I'm anti-government or anything. But there's the corruption and unbelievable ties between an organization that is supposed to be keeping us healthy and an organization that has questionable motives. I have read and seen the lengths these organizations go to in order to stop people who just want to become a little more self-sufficient and less dependent on these organizations.
I notice how everything is so well-orchestrated that many folks no longer think for themselves. And that, folks, is a problem.
Reading and seeing these things angers me but I wouldn't say that the anger is negative. I'd say that the anger translates into a passion that ignites my inner rebel, prompting me toward better backyard self-sufficiency. I can't help it; there's just a part of me that likes to rebel. I naturally like to go against what "mainstream" says is okay and the idea of "fighting" for something excites my soul.
Related: Living in Italy is a Far Cry From America's Excessive Ways
Take a Peek Inside My Book!
Get a free excerpt from my book, Attainable Sustainable: The Lost Art of Self-Reliant Living! You'll also get my free weekly newsletter, complete with recipes, gardening tips, and a little peek at what's going on around here — both the zany and the mundane.
I've been to my fair share of protests and rallies for our food freedom and awareness, but I think my true passion lies in doing something a little more indirect: Becoming self-sufficient. (Otherwise known as giving my small—but big—middle finger to those organizations that do not have genuine motives.)
What is self-sufficiency?
Self-sufficiency means many things to me.
The thought of buying less at the store and creating more from home makes me giddy.
The potential for reaping the overflowing bounty from a vegetable garden sown and harvested with my own two hands under constant onslaught from Florida bugs makes me giddy.
The idea of canning and preserving that fresh produce so I can enjoy the peak freshness when the season has passed makes me giddy.
The idea of caring for chickens in my own backyard, waiting long months to finally see that first egg makes me giddy.
The thought of keeping bees in my backyard, harvesting sweet golden honey, and creating a safe haven for the suffering pollinators makes me giddy.
The possibility of making homemade cheese, bread, and natural remedies using my own two hands—with ingredients from my backyard—makes me giddy.
The reality is, I'm not so good at backyard self-sufficiency
You could say that I've failed at it multiple times. I'm actually having a really hard time making these ideas a reality. I go to the grocery store more often than I like. It's incredibly hard to buy local, fresh veggies in Florida. This is the third season in a row that my garden did not produce anything brag-worthy.
Recently it was thanks to a large oak tree blocking all the sun to my veggies. Then some incredibly destructive caterpillars. (They seemed to multiply by ten when I picked them off and fed them to the chickens.) Those caterpillars demolished my healthy pumpkin plants and all nine cucumber plants.
I have no idea how to can or make preserves. In this neighborhood I am not allowed to have bees in my backyard.
Related: Homestead Living: 12 DIY Projects to do With a Few Friends
I have made bread from scratch (and surprisingly it turned out well) but I'm slacking on it. I don't have a dairy cow or goat which makes it harder to make my own cheese. Come to think of it, I really don't have much coming out of my backyard right now other than eggs. Which, I guess in the large spectrum of things is more than most folks.
It frustrates me, disappoints me, and at times makes me want to give up on my backyard self-sufficiency ideals.
But, that is not going to happen. I will push through the failures, find ways to make it better. And I'll continue to search for ways to give that middle finger to them and create a sanctuary of self-sufficiency with my own two hands.
Focusing on successful backyard self-sufficiency
With any failures, it's important not to dwell on them. Instead, we should focus on the successes, even if they are small. For me, my successes have been in raising eight beautiful chickens. They nourish my family and close friends with the best eggs we could ever have. I harvested a few lettuce leaves from my garden to make a salad.
Related: 13 Reasons to Grow Food in Your Yard
My rosemary bush has not died. We have rain barrels that need to be set up, but we have them. Entirely self sufficient? No. But we're moving forward. Although I go to the grocery store, 80% of what we eat is made with my own two hands. When it's available, I buy things in bulk from the few local farms in my area.
I preserve them by making spreads and freezing. My husband's grandmother has a canner and said I'm welcome to use it whenever I want. I am slowly building up my natural remedy arsenal so I no longer have to reach for store bought treatments.
The reality is that this whole self sufficient living thing is a journey.
As with any journey, it involves many setbacks along with the successes. What I've done so far doesn't seem like a lot to me. But it's the first couple steps in the right direction. One day I'll get there. Until then, I'll just enjoy the journey and ride the waves of life. Maybe you'll join me in this whole backyard self-sufficiency thing?