Raising chickens for eggs (or meat) is easy. Even so, take a little advice and avoid some of the mistakes I made when I first started!
Trying to decide between chickens and ducks? Read about how chicken eggs and duck eggs compare.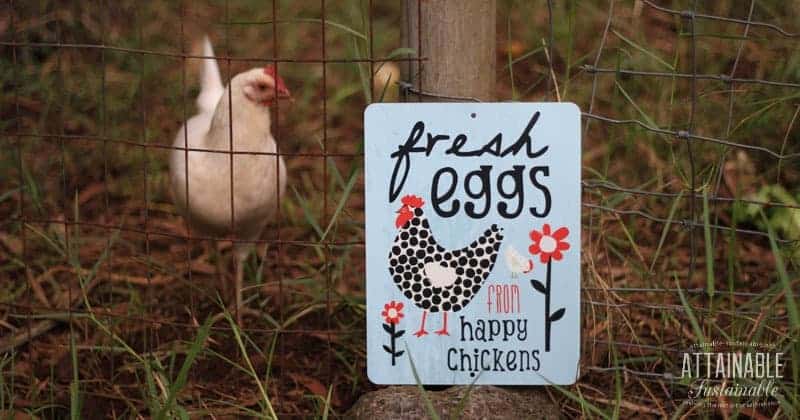 Raising chickens for eggs (and meat)
Urban chickens seem to be taking cities by storm — at least in the cities with reasonable codes that allow raising small livestock.
Even folks who have never raised farm animals are coming to realize that a handful of hens can easily be accommodated on a city lot and they provide both eggs and manure (for those urban gardens!). Why wouldn't you want to jump on this bandwagon?
Of course, there is a learning curve. In nearly 20 years of raising chickens for eggs, I've learned a thing or two — mostly by doing it wrong at first!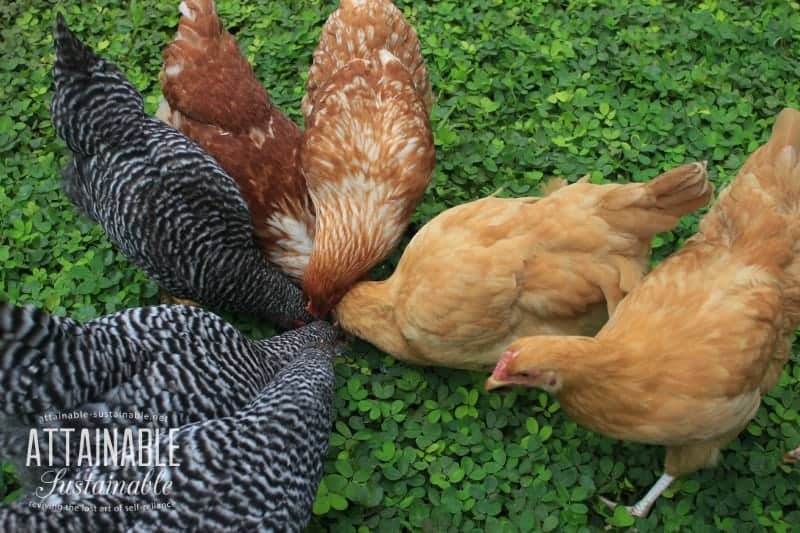 Take a Peek Inside My Book!
Get a free excerpt from my book, Attainable Sustainable: The Lost Art of Self-Reliant Living! You'll also get my free weekly newsletter, complete with recipes, gardening tips, and a little peek at what's going on around here — both the zany and the mundane.
Know your predators
My hens live in a very simple enclosure that protects them from wandering dogs. We're lucky that wandering dogs are really the biggest threat to my hens.
When a mongoose takes up residence nearby, he or she is primarily after eggs or small chicks. We try to keep the foliage cut back near the coop to discourage them from moving in, but when they do, we use a trap.
When we were raising chickens for eggs in another location, we battled skunks, raccoons, bobcats, and hawks, and we lost a fair number of chickens. Even though the girls were caged, some predators were wily enough to burrow under the fence.
Concrete blocks and wire are one way to really secure a coop. Or you might try installing one of these solar predator control lights. If you've got flying predators, you'll want to be sure to add an upper barrier to keep them from flying in.
Keep their food clean and dry
Don't be like me and make do by simply tucking feed bags inside the coop. I've lost so much chicken food over the years this way!
I finally got smart and added a small garbage can to my chicken coop. When I open a new bag of feed it goes directly into the can where it's protected from the weather. Keeping it contained like this also helps prevent mice and rats from hanging around.
Raising chickens for eggs can get expensive if you're wasting a lot of food. And that makes for expensive homegrown eggs!

Discourage mosquitos
Open water troughs—especially in my tropical climate—breed mosquitos. I kick myself every time I have to dump the chicken's water to eliminate mosquito larvae. It's a waste of water, plus it's one more thing that I really don't need to be doing.
I just need to make one of these. It's on my list of things to do.
Keep them contained
Gathering eggs means I have to enter the pen, fighting back the hens who would like to get out.. Once I'm in? They do their best to push their way out. They are impressively successful at this. Until now. (Sometimes it's the simple solutions that take so long to implement and make such a big difference.)
A simple hook and eye latch on the inside of the coop allows me to contain them while I'm taking care of business on the inside.
Make raising chickens for eggs as easy as possible
If you're building a chicken coop and nest boxes, take the time to add an access door that will allow you to gather eggs without actually entering the hen house.
Trust me. When you're in the midst of making a cake and realize you need a couple of eggs, you don't want to have to fight through a flock of hens who think you might have a tasty tidbit or risk stepping in poop.
You will thank me later.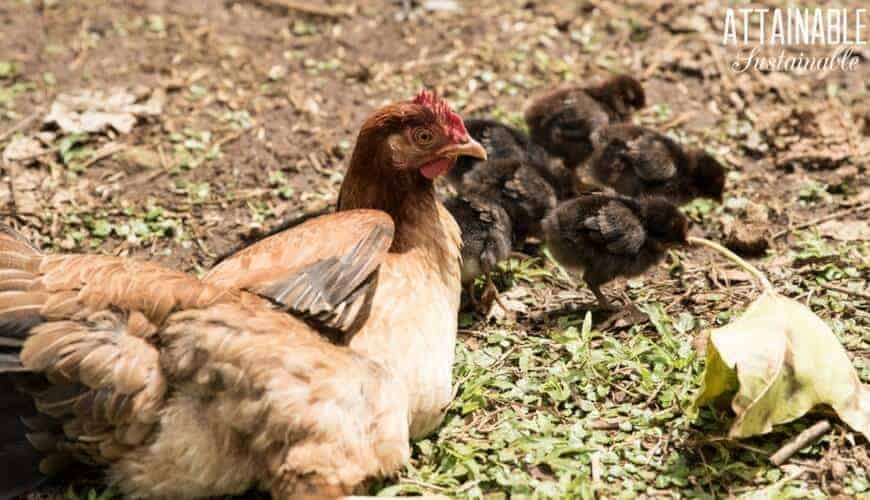 Don't overdo it
My first hen house had space for a half dozen hens and had, accordingly, a half dozen laying boxes. Overkill, big time.
Even though we eventually added more hens, we could easily have gotten away with just a couple of boxes. Sometimes the girls even like to share a nesting box.
Make it a slippery slope
Any level or flat surface in the hen house will be seen as a potential roosting place. Flat topped nesting box? They'll roost on it and poop all over. Feed container in the coop? Ditto.
After we built our six laying boxes (see above — overkill) we discovered very quickly that they needed a sloped top to prevent one big chicken-poopy mess. Raising chickens shouldn't require you to constantly clean up after them.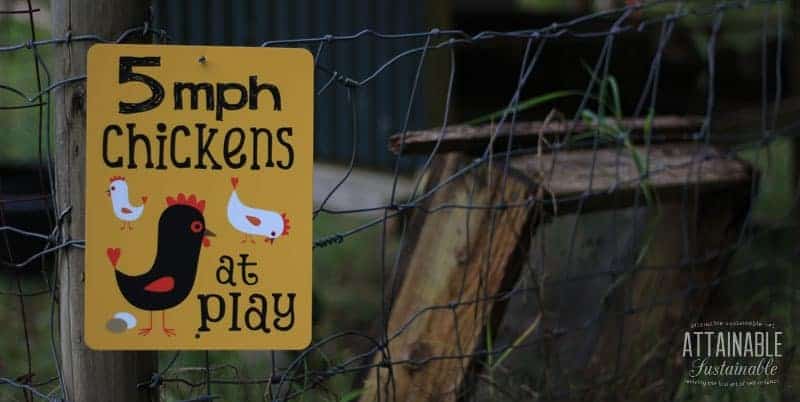 Have fun with your hen house
Have you ever met a chicken owner who didn't just love having hens? While I'm never going to go so far as to create a five-star coop like this for my girls, I'm not above adding a bit of pizazz to their digs.
And trust me: You're going to find that raising chickens is entertaining enough that you'll be spending more time in your coop than you expect, just watching the show.
These signs from Bainbridge Farm Goods? They make me smile. And not just because I love the quirky designs. They're designed and made in the USA, and printed with eco-friendly ink on aluminum made from recycled content.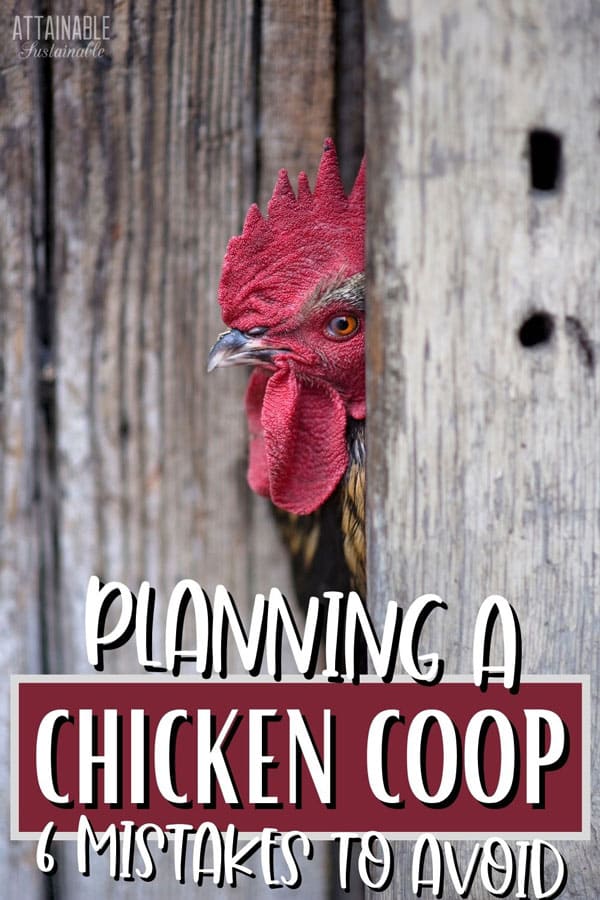 Hints & Tips for Keeping Chickens in Your Backyard
This post was originally sponsored by Bainbridge Farm Goods. They sent me several of their fun metal signs to embellish my chicken coop.
Originally published in November 2014; this post has been updated.