Raw honey is delicious, of course. That's reason enough to make sure you always have a few jars in the pantry. But there are some other ways to use it that might surprise you.
If you've got my book on your bookshelf, check out page 50 for an easy honey wheat sandwich bread.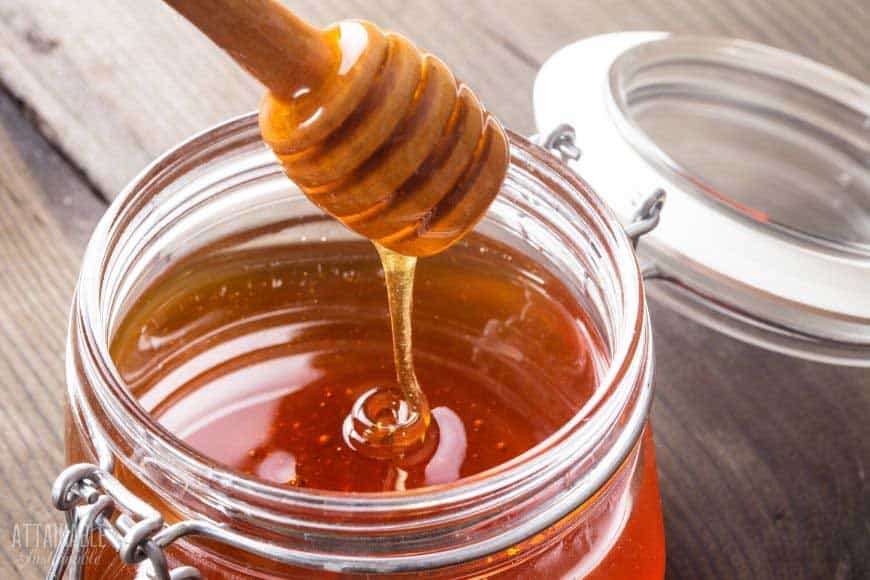 Honey has a shelf life that's mind-blowing. Archeologists have found perfectly good pots of honey in ancient Egyptian tombs. That's thousands of years! Stored in well-sealed jars, honey makes a great addition to emergency stores.
Over long periods of storage, honey can darken and will likely begin to crystallize, but it's still perfectly fine. If you do find yourself with crystallized honey, you can use it as is, or you can heat it gently by putting it in a container of hot water. This is a temporary fix, though. Once cooled it will return to its crystallized state.
What is raw honey?
Raw honey is unpasteurized honey. It hasn't been heated or processed in any way. It's usually strained when it comes out of the hive, but that's it. Some stores carry raw honey, but often what you find on the shelves has been pasteurized. Honey — raw or otherwise — is not considered vegan because it is produced by a living creature.
Enjoying raw honey at home
The first and most obvious way to use honey is as a natural sweetener for hot drinks. Personally I think that the flavor of honey is more enjoyable in tea than coffee, and reserve it for that use. Earl Gray tea with a little spoonful of honey and a splash of cream is delightful! Or make up a mugful of this golden turmeric milk and sweeten it with a spoonful of honey.
Free Printable Recipe Cards!
Let me send you a collection of recipe cards to help you get started with a homemade pantry! You'll also get my free weekly newsletter, complete with recipes, gardening tips, and a little peek at what's going on around here — both the zany and the mundane.!
I also use honey as the sweetener in my passion fruit gingerade. (It's so delicious!)
Lemon fermented honey is an excellent way to nourish your health with complex probiotics and the powerful antioxidant vitamin C. Combine fragrant Meyer lemons and raw honey into a syrup-y concoction that makes delicious food and medicine. You can also ferment garlic in honey.
Stir a tablespoon of honey into a third of a cup of peanut butter to make a healthy, protein-packed dip for apple slices. If necessary, use a bit of milk to thin the dip further. (This will depend on the thickness of your peanut butter.) This also makes a great spread for toast.
Important safety note: Honey shouldn't be given to children younger than a year old.
Infusing honey with herbs or flowers adds flavor and makes for great gift giving, too. My friend Colleen shares how to do that here.
Use it in canning to replace processed sugar. Honey is sweeter than sugar, so you can use about half as much. Try it in these chai spiced peaches or blueberry ginger spiced nectarines.
Make honey butter. Combine one cup of softened butter (I use salted) with a third of a cup of raw honey. Mix until combined. Spread on homemade cornbread or your breakfast pancakes.
Honey is the key ingredient in making mead (sometimes called honey wine). You can make mead in a variety of flavors, from plain honey mead to melomels made with fresh fruit, such as this strawberry mead.
Make these honey roasted figs as an appetizer for something a little bit different.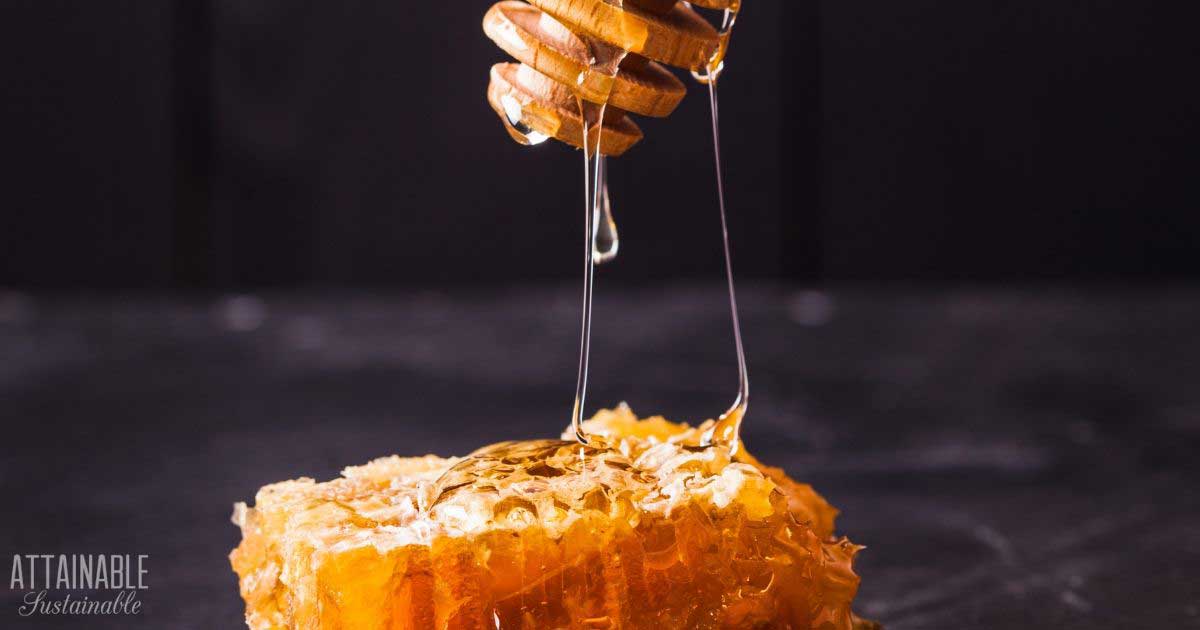 Honey based personal care
Using honey in soap making provides a lovely fragrance. This recipe uses both raw honey and beeswax.
Give yourself a DIY facial with a honey mask. Thoroughly wash and dry your face, then measure out about a tablespoon of raw honey. Use your fingers to spread the honey over your face and neck, avoiding the eyes. Allow the honey to sit for 15-20 minutes and then rinse off. Your skin will feel soft and moist, and the antibacterial properties of the honey may help improve acne.
These milk and honey bath melts are a nice way to pamper yourself, but they're great for gift giving, too.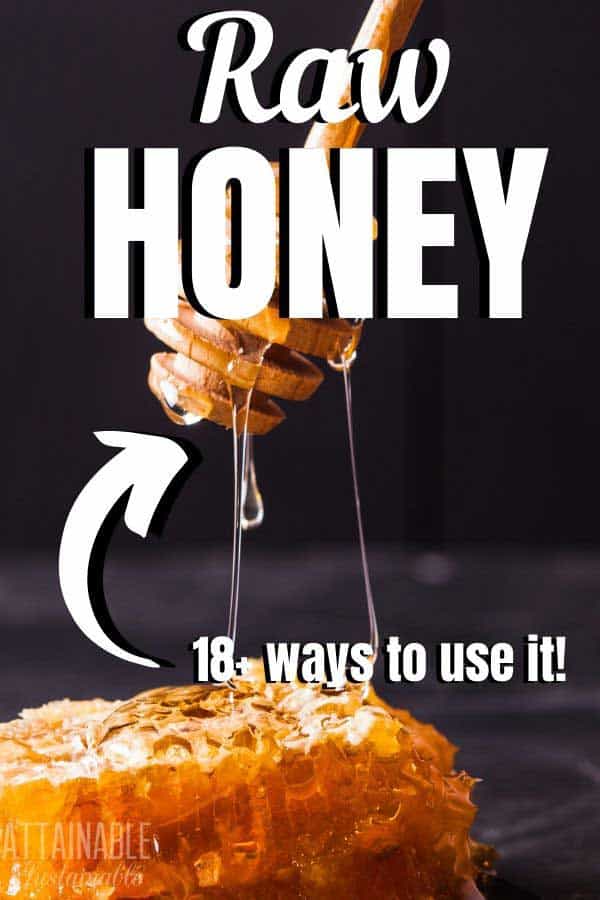 Raw honey's potential as a healer
Use raw honey to soothe a sore throat. You can take it "neat" straight off the spoon, or make up a batch of our favorite sore throat soother with ginger, turmeric, and lemon.
Add it to homemade elderberry syrup as a natural sweetener. (There's a recipe for making elderberry syrup in my book!)
Honey is antibacterial and antimicrobial.
The healing property of honey is due to the fact that it offers antibacterial activity, maintains a moist wound condition, and its high viscosity helps to provide a protective barrier to prevent infection. [Source]
Try raw honey for allergy relief. One study found that
Honey ingestion at a high dose improves the overall and individual symptoms of [allergic rhinitis], and it could serve as a complementary therapy for [allergic rhinitis]. [Source]
The Mayo Clinic says calls the idea of allergy relief anecdotal, but suggests that it has potential as a cough suppressant.
Honey has been studied as a cough suppressant and may have anti-inflammatory effects. [Source]
Manuka honey, often touted for its health benefits, is produced in New Zealand. It's a monofloral honey, crafted by bees from the nectar of the Manuka tree. Another study suggests that Manuka honey
could be studied to establish an alternative approach for the treatment of antibiotic-resistant microorganisms. [Source]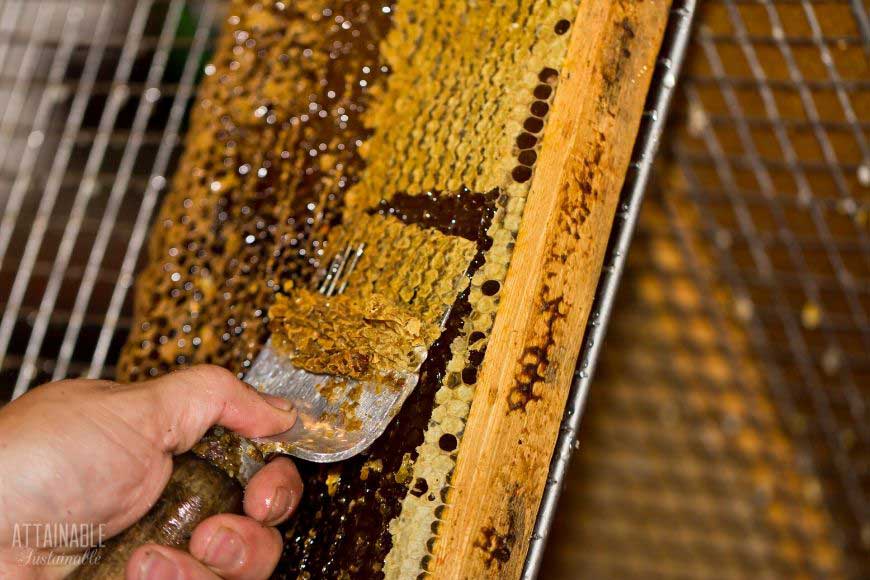 Harvesting honey
If the idea of keeping bees and harvesting your own raw honey intrigues you, head over here to read more about getting started with beekeeping. Keeping bees does require a certain commitment, but in addition to the wonderful supply of honey, you'll be able to harvest some of your own beeswax, too. Plus? Having all of those bees buzzing around is a great way to improve pollination in your garden.