I am going to go on a bit of a rant, here. And I'm going to call some of you—and me—out. I think you're making excuses about single use plastic. Excuses that keep you from making a real change. Change is hard, right?? But we need to change. We need to do better. We need to stop making excuses! It's time to reduce plastic use in our homes and offices.
Want to skip the rant? Jump to the tips!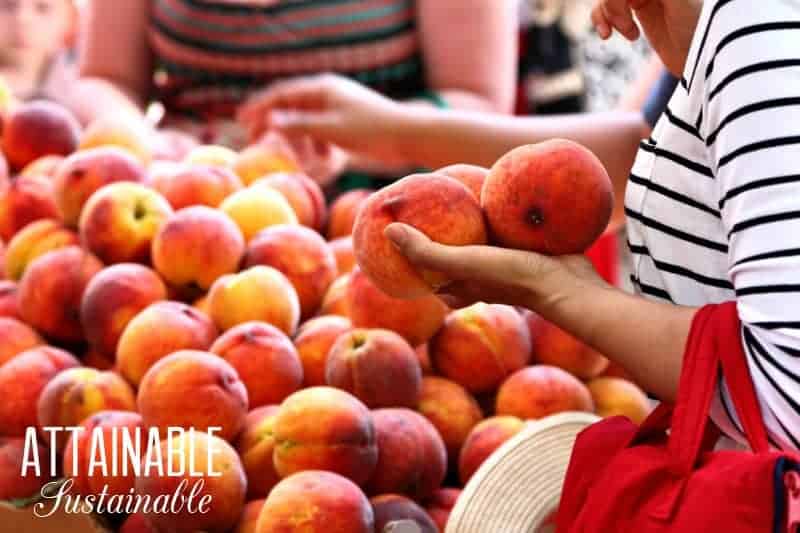 There are 425,000+ people on the Attainable Sustainable Facebook page. [UPDATE: 465K+] We have lots of conversations over there. Mostly, when we disagree we manage to do it politely, which I do appreciate. But one comment that keeps coming up and keeps setting me off is something along the lines of this:
It's okay; I recycle all of my single use plastic.
This is often said by someone who still purchases bottled water or soda. Or Keurig K-cups. Or flavored coffee creamer.
No, no, no, no, no!
First, there's this: Plastic is not easy to recycle. Then: Plastic is made of oil. The United States uses 12 million barrels of oil each year to manufacture plastic bags. And that's just plastic bags!
Take a Peek Inside My Book!
Get a free excerpt from my book, Attainable Sustainable: The Lost Art of Self-Reliant Living! You'll also get my free weekly newsletter, complete with recipes, gardening tips, and a little peek at what's going on around here — both the zany and the mundane.
We hear how dependent we are on foreign oil for our vehicles, but imagine how much of this oil we're using to manufacture plastic. The plastic manufacturing process releases toxins into the air (the plastics industry is responsible for 14% of these toxic emissions). Once manufactured, all of those plastic containers must be transported to factories that will fill them with shampoo or ketchup or itty-bitty scoops of coffee, then they're transported again to the grocery store where consumers like you and me buy it.
After spending their allotted time with you, those plastic containers that you recycle are picked up by waste management workers in their big, polluting truck. From waste management, that plastic has to be bundled up and shipped to a manufacturer to process. Once again we have toxic emissions and the cycle starts over again.
For me, that used to mean it was shipped on a barge either to the Pacific Northwest or Southeast Asia, but guess what? Our local recycling center has stopped taking plastic. People are upset about this, but I'm seeing it as an opportunity to change habits. If it's not easy to toss the single-use plastic salad container in the recycle bin — guilt free! — maybe humans will think twice about choosing that option.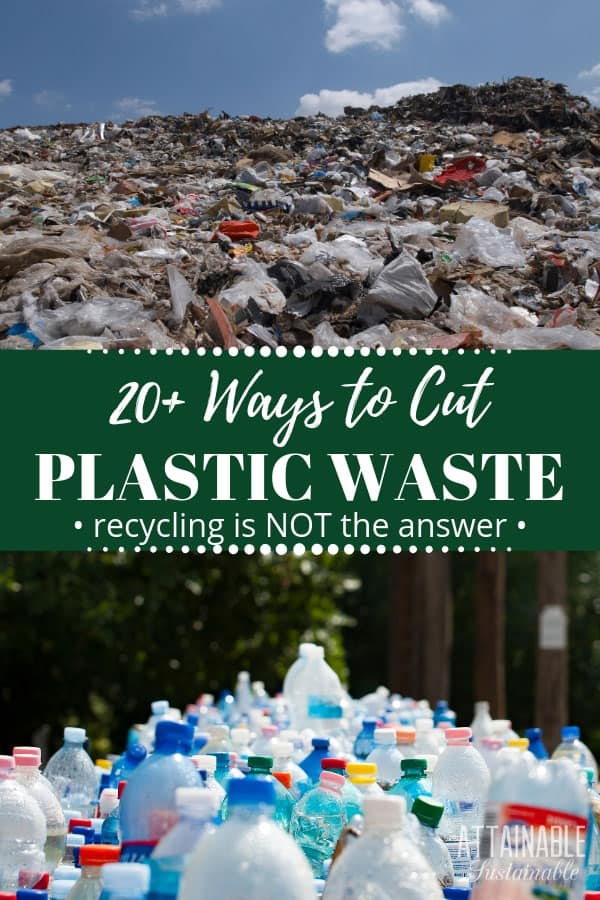 Recycling single use plastic is not the answer!
I understand that plastic is here to stay. And there are some great innovations in our world thanks to plastic. (Bike helmets come to mind.) But the idea of disposable, single use plastic is just wrong-headed. Think about it: These products are made specifically to be discarded. In what realm does this make sense??
Check out these statistics, courtesy of the movie Bag It:
We add 800 pounds of packaging (packaging!) per person, per year to the waste stream.
One million plastic cups are used on airlines every five minutes.
Americans spend twelve billion dollars on bottled water every year. Water! Something that you can get out of your tap for almost free. That doesn't come in disposable, BPA tainted plastic.
Two million plastic bottles are consumed in the U.S. every five minutes; less than 25% are recycled.
According to the United States Environmental Protection Agency, only nine percent of the total plastic waste was recovered for recycling in 2012. Let me say it again: Recycling is not the answer. And don't tell me that it's okay because you re-use the containers.
I hear that little story inside my own head, too, and I'm here to call us both out: Enough! Enough with the red party cups and plastic bags and picnic cutlery. Enough with the plastic bottles and yogurt containers and disposable razors. Sure, you should reuse the plastic containers you already have. But we need so stop bringing them into our homes in the first place. Enough! No more excuses. Only change. Ready? ::fist bump::
Let's write a different story
Recycling plastic containers should be a last resort. Instead of using that as an excuse that we're doing the right thing, we need to recognize that this is a broken system.
We've been sold on the idea that we need water in plastic bottles. That our fruits and vegetables must be wrapped in plastic. That Lunchables and individually wrapped cookies are are a mom's best friend. Recycling plastic makes it okay, we're told.
We need to rewrite this story and reduce plastic waste!
But how do we stop the plastic madness?
The first step in changing this plastic mess we're in is the hardest. (Ain't that always the way?)
We need to get in the habit of saying no.
Look at the products in your shopping cart; not just the product but at the packaging as well. Are you comfortable with the level of plastic and packaging? No? Then refuse to bring it into your home. Refuse that plastic shopping bag. Refuse the drinking straw that restaurants automatically bring. Stop bringing this unnecessary waste into your home.
Is zero-waste attainable?
Are you likely to ever reach the zero waste level? Maybe not. But every little effort helps. There are dozens and dozens of ways to reduce the amount of plastic that comes through your household, your life. Is there one item that you can pinpoint that would be an easy habit to break?
Another big step we can make is to recognize the term "single use." We've been conditioned to think that using something once then disposing of it is normal. Identify where single use plastic is creeping into your life and reduce what you bring home. Is it plastic shopping bags? Plastic bottles? Packaging? Once you recognize this, you can start to take steps to eliminate these items.
This video is eye-opening, watch it then scroll down for ways you can help.
20+ ways to reduce single use plastic in your life
1. Change your to-go habit.
Is a take out salad in a plastic container your daily lunch? Get in the habit of making a big salad a couple times a week and bringing it to work in a reusable container. Need a pick-me-up coffee every afternoon? Skip the disposable cup and bring your own. Just say no to drinking straws and plastic forks. (I carry a chopstick set in my purse so I can easily forgo disposable plastic utensils.)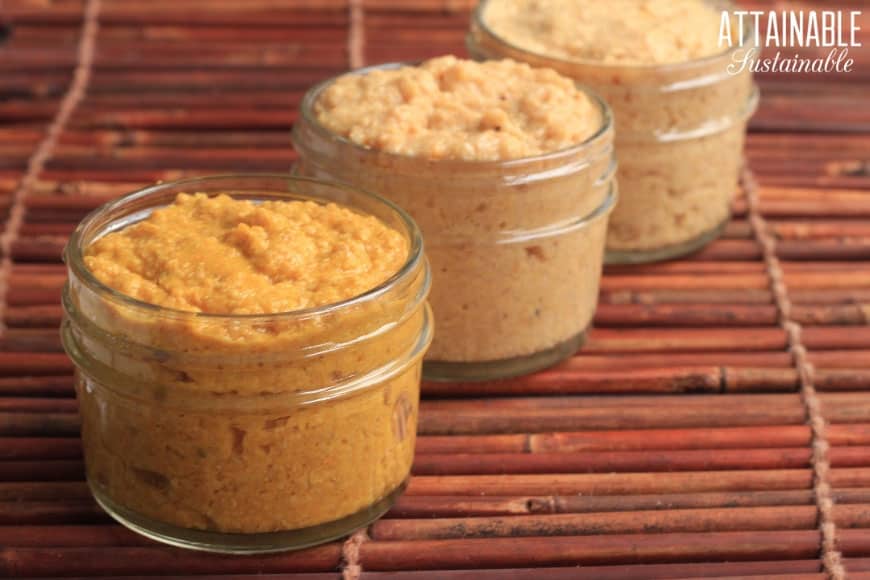 2. Make your own condiments.
Instead of bringing mayonnaise and mustard and relish home in plastic bottles and jars, learn to make your own. Same goes for salad dressings. Will you still be buying some ingredients in plastic? Probably. But it will be far fewer containers than if you were buying individual condiments.
3. Single use plastic has no place in coffee brewing.
For the love of all that is holy, if you are a rabid Keurig coffee fan (and I know there are lots of you!) go get a refillable K-cup. And while regular coffee filters are paper (not plastic) you can just as easily replace yours with a reusable version that will probably last your lifetime.
4. Stop buying individually wrapped snacks.
Seriously. From cookies to carrots, it seems like everything is available in pre-packaged portions these days, all wrapped in plastic. Take ten minutes at the beginning of the week and prepare your own snacks to fill reusable containers. You can even make your own Jello cups!
5. Find a butcher shop.
Instead of purchasing meat at the grocery store—where Styrofoam and plastic packaging abounds—make the effort to find a butcher shop. Many still wrap meat in butcher paper. Even if they don't do it as the norm anymore, they'll probably be willing to do so if you ask.

6. Change the way you store food.
Instead of using plastic containers to store leftovers, recycle glass jars for that purpose (or use canning jars). Just say no to plastic wrap and zipper top bags. Instead, try these beeswax wraps and reusable sandwich bags. And learn to freeze meals without the use of plastic containers. (Yes, it's possible!)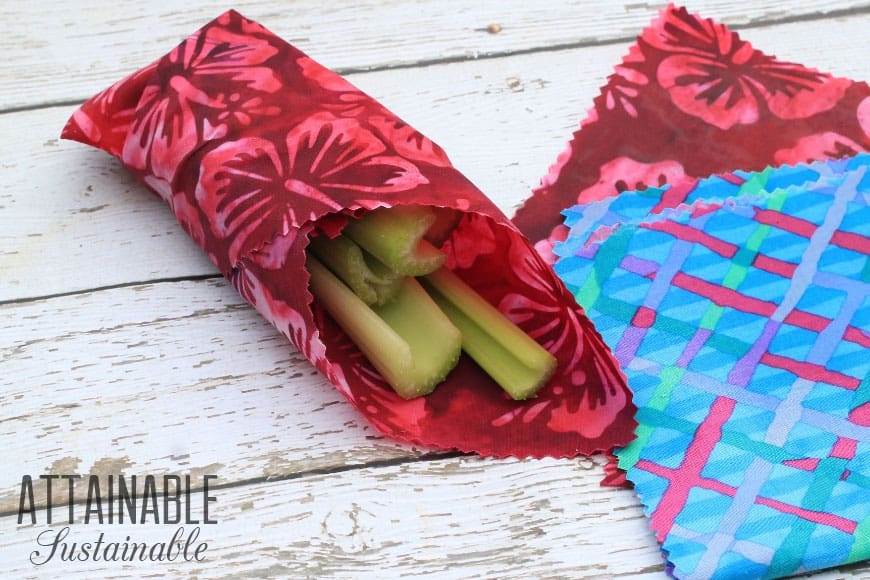 7. Make it a clean cut.
If you're still buying disposable razors, stop! Invest in a razor that allows you to replace just the blade. Try an old fashioned safety razor or a newer version with blade refills. Either way, you'll be tossing less plastic.

8. Shop without single use plastic.
While many states now have a plastic bag ban encouraging shoppers to bring their own bags to tote groceries home, the little plastic produce bags are still in use. Instead of using those, skip a bag altogether or make some of your own drawstring produce bags. Or whip up some of these small cloth bags for purchasing bulk spices.
9. Choose boxes instead of bottles.
Choose powdered laundry and dishwasher detergent that comes in boxes rather than the liquid that comes in plastic bottles. This is an easy switch to make to reduce your plastic use. Better yet, have a go at making your own non-toxic cleaning supplies.
10. Buy in bulk.
Instead of buying plastic packaged rice, granola, dry beans, or flour, pick these ingredients up in bulk and store them in reusable containers.
11. Take it to go.
If you're heading out to eat and anticipate having leftovers, bring along a container of your own. Yes, you might feel like your grandma showing up with your own containers. But isn't that better than the Styrofoam option?
12. Say no to plastic-bottled drinks.
Bottled water is quite possibly the biggest scam ever. Sure, there are a few instances that might warrant bottled water, but mostly? It's tragic. Get yourself a couple of travel bottles and get in the habit of bringing them with you. Recycling plastic bottles is not the answer. If the idea of breaking your soda habit hurts your heart, invest in a soda stream. Yes, there's some plastic, but it's a whole lot less than a daily soda habit will generate.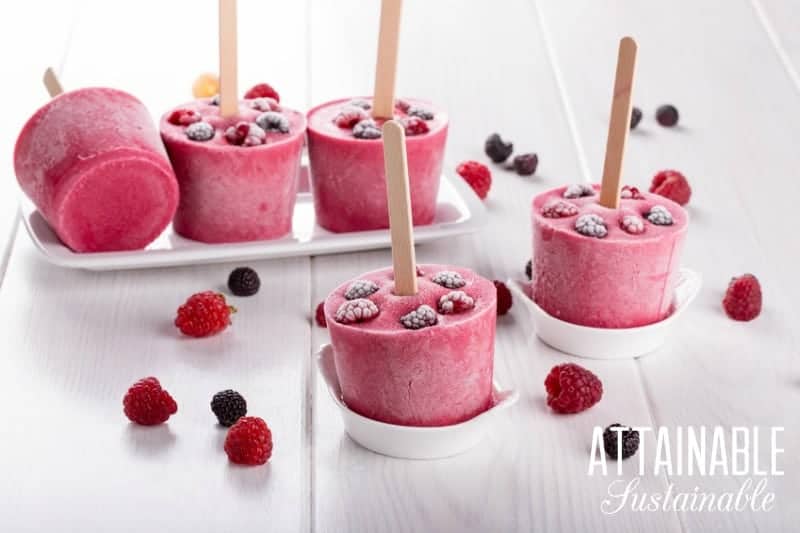 13. Cool off without the single use plastic.
You know how kids love popsicles? Especially those fake bright colored plastic tubes that start out liquid and freeze into summertime treats? These reusable silicone popsicle molds will let you replicate that experience and reduce plastic. If you're committed to not using silicone, stainless steel popsicle molds will do the trick. These popsicle recipes not only taste good, but nourish, too.
14. Ditch the dairy.
Well, not really. But in my household, dairy products like sour cream, yogurt, and cottage cheese—that come in plastic tubs—are our biggest sticking point. Short of getting a cow, what can we do? While I've successfully learned how to make my own yogurt, ricotta cheese, and sour cream, it does require buying milk. I have a cow share so I usually have a gallon of fresh milk to work with each week, but until she calves again, we're back to buying milk when we need want it.
15. Ship green.
Instead of choosing bubble wrap lined padded envelopes, opt for something like this that utilizes recycled newsprint as the padding. (Sadly, you won't find anything like this at the post office.) Ditto for packing a box to ship. Unless what you're shipping is really fragile, you should be able to get away with recycling newspaper as your padding. There's even paper tape that can be used as an alternative to plastic packing tape.
16. Switch to cloth diapers.
I know, this is a hard one for lots of you. Maybe a compromise: Use cloth diapers when you're home, and disposables only when you're out and about. There are some great diaper wraps that make it easier than the old-fashioned diaper pins. That will reduce your diaper waste a little bit. If you're really feeling like reducing plastic use by limiting diaper waste, look into elimination communication.
17. Green your picnic.
If you must use disposable plates—say at a picnic or outdoor party—choose plates that can be composted and then offer a place for guests to dispose of compostable items.
18. Give up gum.
Believe it or not, chewing gum is made of synthetic rubber and a plastic called polyvinyl acetate. Don't want to give it up? Check out these options for cleaner chewing gum.
19. Skip the single use plastic liner.
While you'll probably want a trash bag liner for some of your trash—the wet, gross stuff that can't be composted—other items can be placed directly into your trash container. Same with recyclables. No need to package them up in a plastic bag. Adopting this idea reduces the plastic you use on a weekly basis. And think about the irony here: You're buying these plastic bags for the sole purpose of throwing them away. Try lining your trash cans with newspaper instead.
20. Be festive and skip single use plastic decor.
Who doesn't love party decorations? But instead of using balloons, plastic streamers, and plastic tablecloths, get in it for the long haul. Banners like these can be used year after year. Invest in (or make!) several color schemes and matching tablecloths, and you'll never have to buy party decorations again. (I love these, too — what a fabulous way to salvage damaged or stained doilies!)
21. Buy secondhand.
There are a multitude of reasons to opt for secondhand shopping, and reducing your plastic use is just one. New items come wrapped in plastic or packed in Styrofoam. Even new clothes come with those little plastic price tag danglers and plastic stickers.
Along with this goes the "be patient" mantra. There are some things that you might decide you need right away—maybe they'll reduce your plastic consumption drastically—but others that can be added to a "watch for" list. Keep that handy in your wallet and scan it while on your thrifting adventures.
Originally published in May 2015 (I've been banging this drum for awhile…); this post has been updated.