In a world where we've become accustomed to purchasing just our favorite parts of the chicken — breast or thigh? — the humble whole roasting chicken takes a beating. But stretching a whole chicken into multiple meals can save you a bundle at the store. It might also mean that you can opt for a more expensive organic bird, as it did for us.
Check out these tips for serving healthy meals on a budget.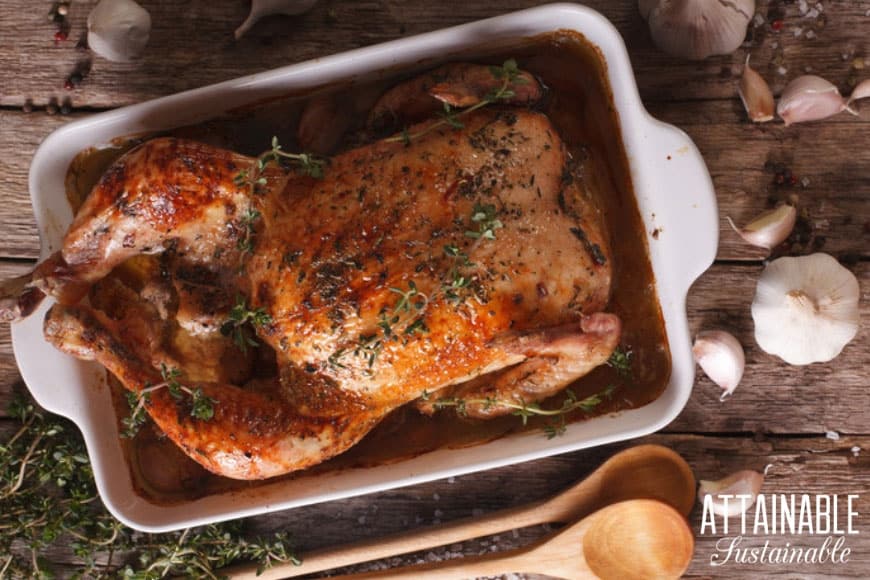 Finding balance
There are two different local farmers who raise fryers within an hour's drive of my house. Both keep their birds on fresh forage and I applaud each of them. One feeds with standard high protein chicken food. The other uses certified organic, non-GMO feed. (The next batch will be corn and soy free as well.)
These options are both more expensive than the organic chicken my grocery store carries, and quite a lot more expensive than store brand, conventionally raised birds.
I've tried fryers from both farms and I have to say: Wow. The flavor is phenomenal, making store bought chicken—conventional and organic—seem utterly tasteless. Both are good, both are locally grown, but here's what I decided: If I'm already paying over-the-top high prices for a roaster, I'd just as soon spend an extra buck or so per pound to have the GMO-free option.
Update: We're currently harvesting some of our own chickens when the rooster population gets out of control, so it's been awhile since I've purchased chickens from either of these farmers.
Take a Peek Inside My Book!
Get a free excerpt from my book, Attainable Sustainable: The Lost Art of Self-Reliant Living! You'll also get my free weekly newsletter, complete with recipes, gardening tips, and a little peek at what's going on around here — both the zany and the mundane.
Our own GMO-free fryers are quite tasty, but on the small side. My calculations for stretching a whole chicken are based on the larger chickens purchased from our local farmer.
I paid $28 for a GMO-free chicken
Twenty-eight dollars. It sure felt crazy when I wrote out that check, but I saw it as a chance to put my money where my mouth is. Let's be clear. I haven't completely converted to GMO-free chicken in my kitchen. But I do like to support my local farmers when I can.
I'm trying to eliminate GMOs from our diet as much as possible. But I'm also a fan of supporting local agriculture.
If I buy just one whole chicken from these hard-working farmers, I'm supporting their efforts, helping them to thrive in a business that they believe in wholeheartedly. And one that I believe in wholeheartedly. Plus, the trickle down effect means that if they feed their chickens non-GMO feed, they're helping to support grain growers who embrace varieties that have not been genetically engineered.
Certainly my family's buying habits won't change the world, but they might help send a message.
Stretching a whole chicken into four family meals
My $28 bird weighed about five pounds; bigger than the usual store bought fryer. My family of four includes myself, my husband, and our two young adult sons.
Meal 1 (four servings)
Roasted chicken, served with salad and veggies (four servings)
Following dinner, strip the meat from the carcass and refrigerate. Put the carcass and pan drippings into the slow cooker to make broth. [Detailed instructions for making broth here.]
Taking these two steps will make the rest of the week easier, as you'll have a lot of the prep work already done.
Meal 2 (four servings)
Meal 3 (four servings)
Added shredded chicken to quesadillas, salad, or sandwiches
Meal 4 (four servings or more)
Used remaining meat in an enchilada casserole
That's four different meals from one whole chicken
Now, the amount of chicken varied in each meal. We used more chicken per serving the first night than for subsequent meals, but these are still all meals that came from that $28 chicken.
Cost for each serving of chicken? $1.91
Not nearly as inexpensive as conventionally raised chicken on sale for 69 cents a pound, but even adding in the various side dishes and other ingredients—another dollar or two per serving at most, probably a whole lot less—each non-GMO meal cost us less per serving than a meal deal at McDonalds.
Stretching a whole chicken like this allows me to get as much mileage as possible from one bird.
Is buying chicken like this feasible for everyone?
Absolutely not. And it's a choice we shouldn't have to be making. We shouldn't have to pay more to opt out of frankenfood. But when I can, I'll order a chicken or two, knowing that somewhere down the line somebody might be getting a message. And maybe someday, GMO-free chicken will be the norm and affordable for everyone.
Hawaii Island folks, if you'd like to get in on the GMO-free birds, visit Punachicks online.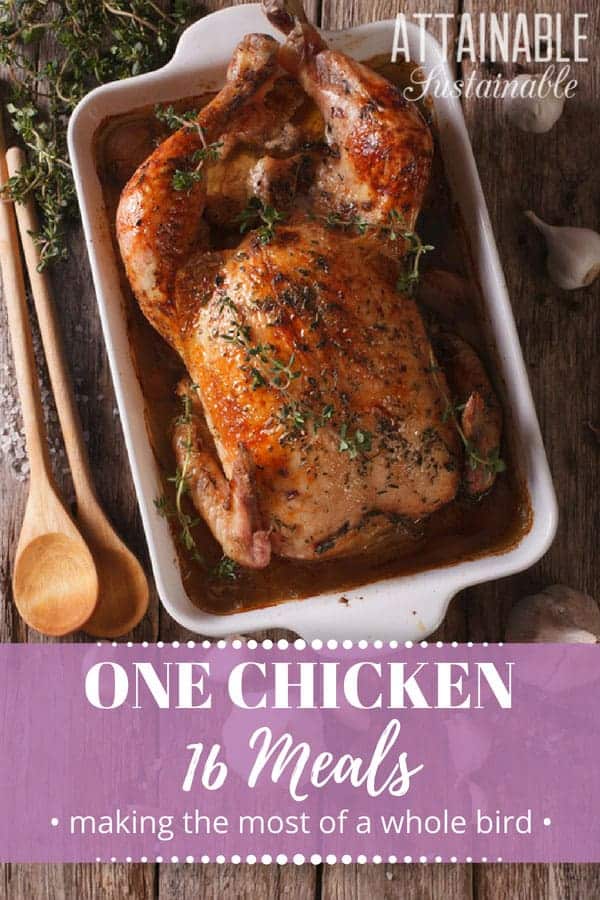 Originally posted September, 2013; this post has been updated.