This delicious and easy to make tangerine syrup is great to have on hand for adding instant flavor to recipes and drinks. Keep it refrigerated, or for longer storage, can it using a water bath process.
If you've got plenty of tangerines, make up a batch of this marmalade, too!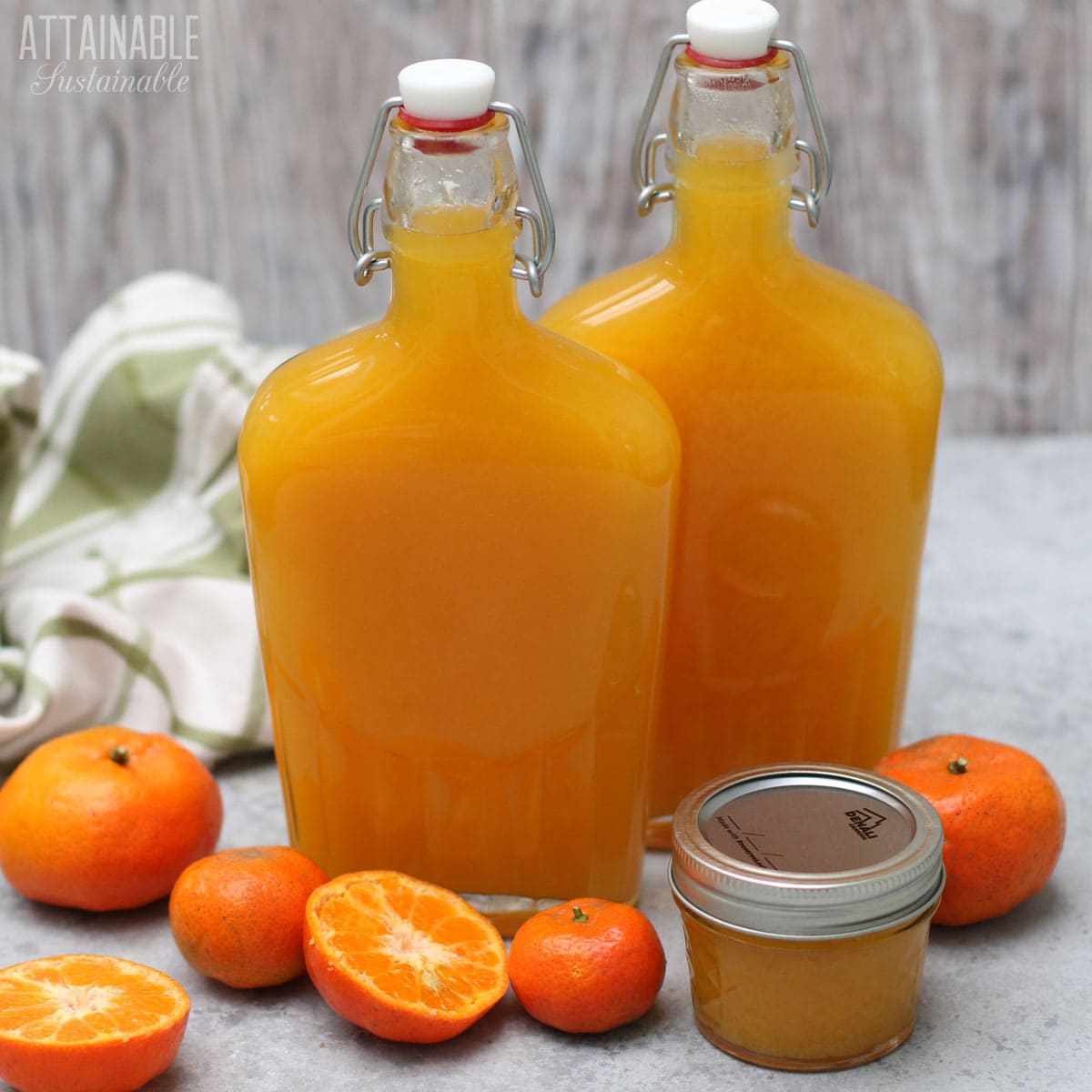 This easy simple syrup calls for just two ingredients — three, if you count the water required. It's a perfect way to stretch the flavor of citrus season.
Making Tangerine Syrup
You have two options when making this syrup. You can simply store it in the refrigerator and use it as you need it; it will last a couple months in the fridge. Or you can process it using the water bath canning method. This allows you to store the tangerine syrup at room temperature in your pantry. It will be shelf stable for up to a year. You'll find full instructions for both in the recipe card below.
Be sure to try this delicious peach syrup when summertime fruit is at its peak.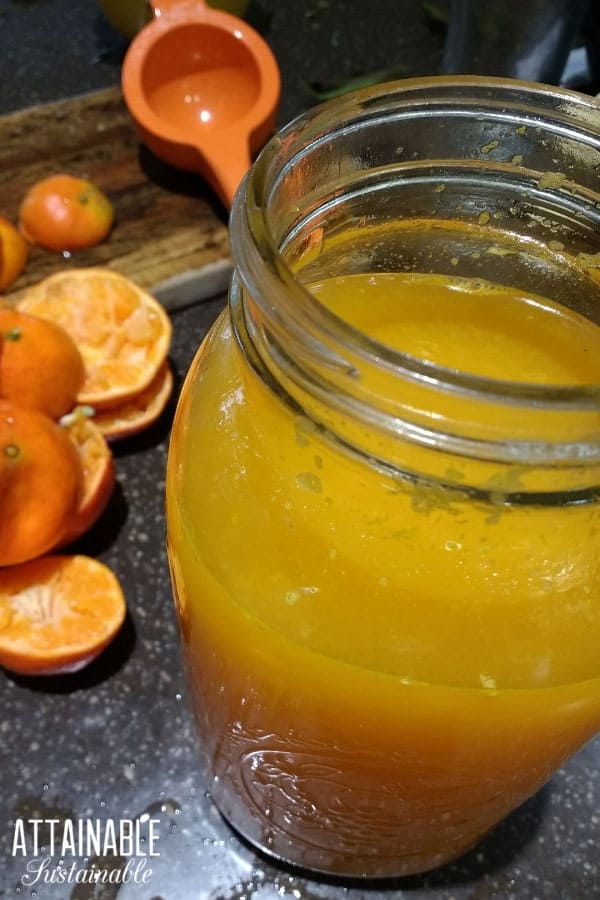 5 Easy Steps to Transform Your Pantry!
Ready to switch from store bought to homemade? Let me help you make some changes! Grab my FREE five-part guide to getting started.
Ingredients
Tangerine juice — The number of tangerines required to make 6 cups of juice will vary a bit based on the juiciness of the fruit you use. You'll need about 5-7 pounds of fresh tangerines.
Sugar — Use your favorite brand of granulated cane sugar. I prefer organic.
---
The Handcrafted Pantry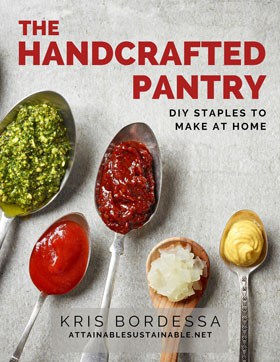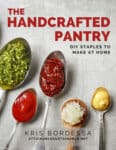 Ready to DIY your pantry with healthier ingredients? Check out my ebook, The Handcrafted Pantry! Filled with delicious recipes for some of your favorite condiments, snacks, and toppings, it's the guide you need to start skipping packaged products and embrace homemade.
---
Start by heating the sugar with water until it boils, then add the tangerine juice to the hot sugar mixture. Return the liquid to a boil and boil for one minute.
The mixture will foam a bit on the surface; use a spoon to skim that off.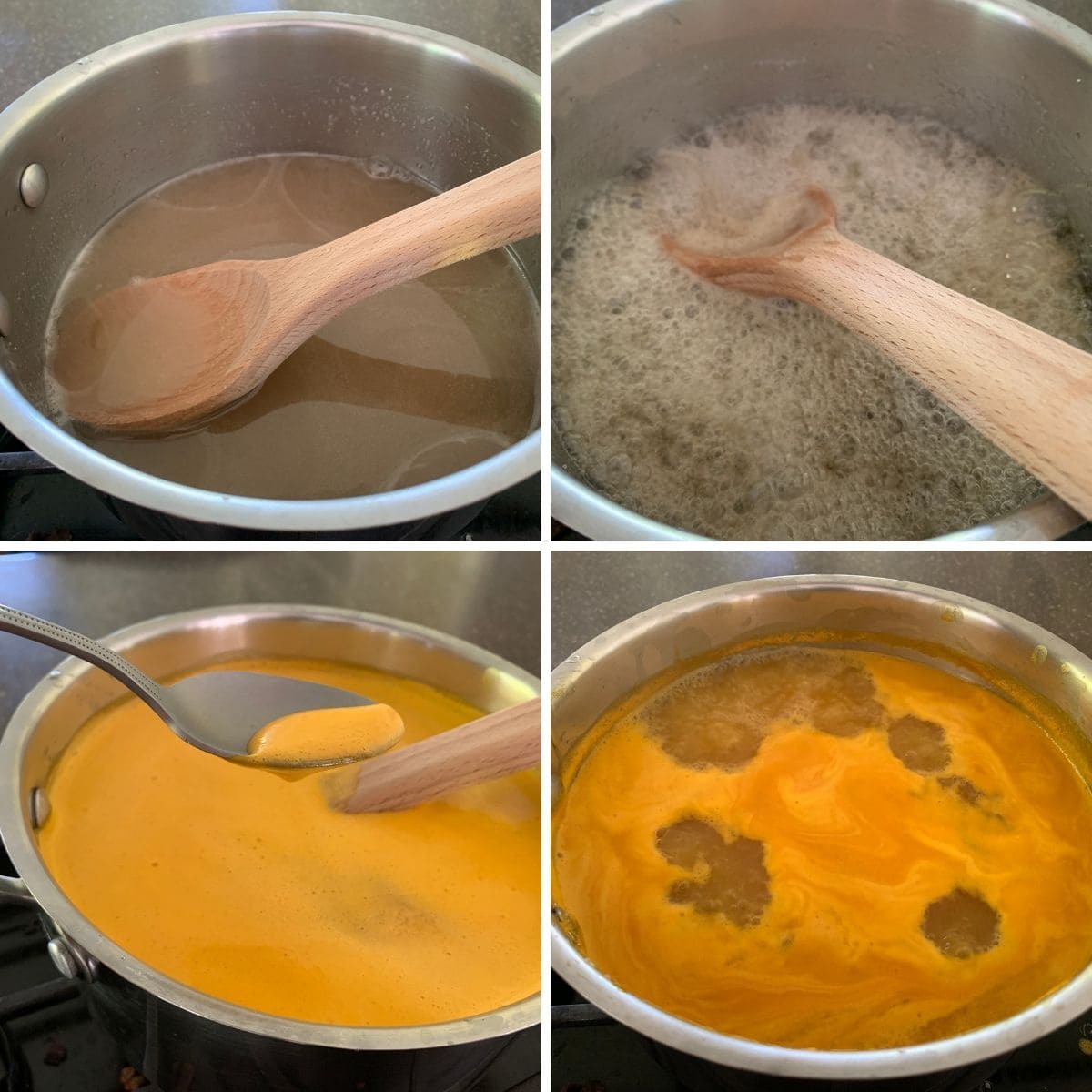 If you'll store this simple syrup in the refrigerator, allow it to cool and transfer to an airtight container.
If you'd like to make a shelf stable product, transfer the hot syrup immediately to canning jars and follow the process outlined below.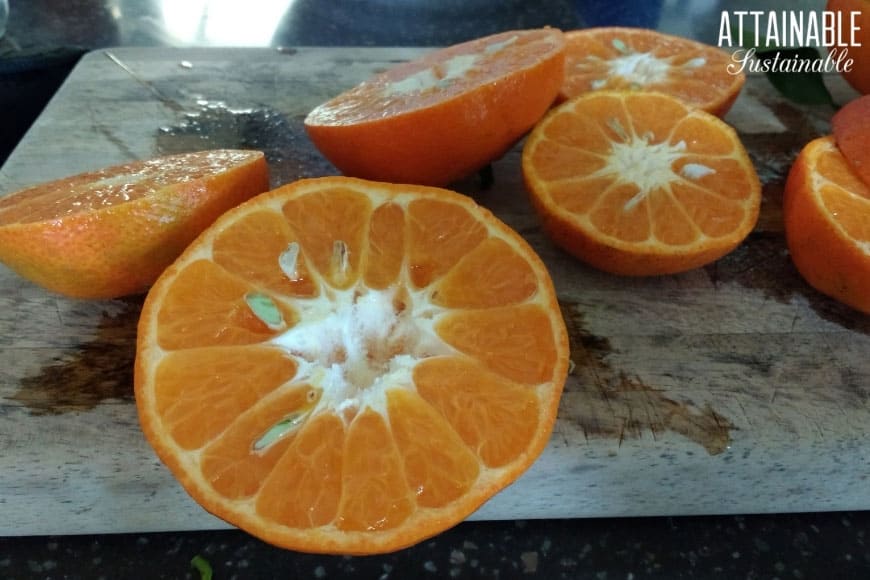 Canning tangerine syrup
You'll need special canning jars, lids, and rings (read more about canning equipment here) to make this syrup shelf-stable, but the process isn't difficult.
Once the jars are filled, you'll process them in a water bath. What this means is you'll put the filled and sealed jars of simple syrup into boiling water and heat them for ten minutes. This assures that the jars will seal well.
Hot tip: Boil some extra water in a saucepan or electric kettle as you're working. If you need to top off the water in the canner, you won't cool down the water too much.
Remove the jars to a towel-covered countertop and allow to cool fully. As they cool, you'll hear the little "tink" sound of the jars sealing. Store any unsealed jars in the fridge and use those first. (This is unusual, but it does happen once in awhile.)
🍅 Safety First!
Canning is an excellent way to preserve food for the pantry, but there are some important safety considerations to keep in mind. The recipes on this site have been made following safe canning procedures by a certified Master Food Preserver.
Know the difference between water bath canning and pressure canning. Low acid items must be pressure canned for safety.
Altering ingredients may change the recipe's pH, posing a safety issue. I highly recommend investing in pH paper to test your products for acidity level when canning. Note: For safe water bath canning, the Hawaii Master Food Preservers suggest a pH of 4.2 or lower in the tropics. In other regions, the recommended pH is 4.6 or lower.
Use the proper jars and lids. Never reuse lids, with the exception of the Tattler or Harvest Right hard plastic lids that are intended for such a purpose.
For more on canning equipment, please go here.
Remove the ring from each sealed jar, rinse to remove any residue, and store (without the ring) in the pantry.
How to use homemade tangerine syrup:
Add it to sparkling water for a citrus-y soda
Make a marinade
Sweeten granola
Stir some into salad dressing (this would be especially good in an Asian sesame dressing)
Mix into sugar cookie dough in place of vanilla
Related: Homemade Triple Sec: Indulging in Citrus Season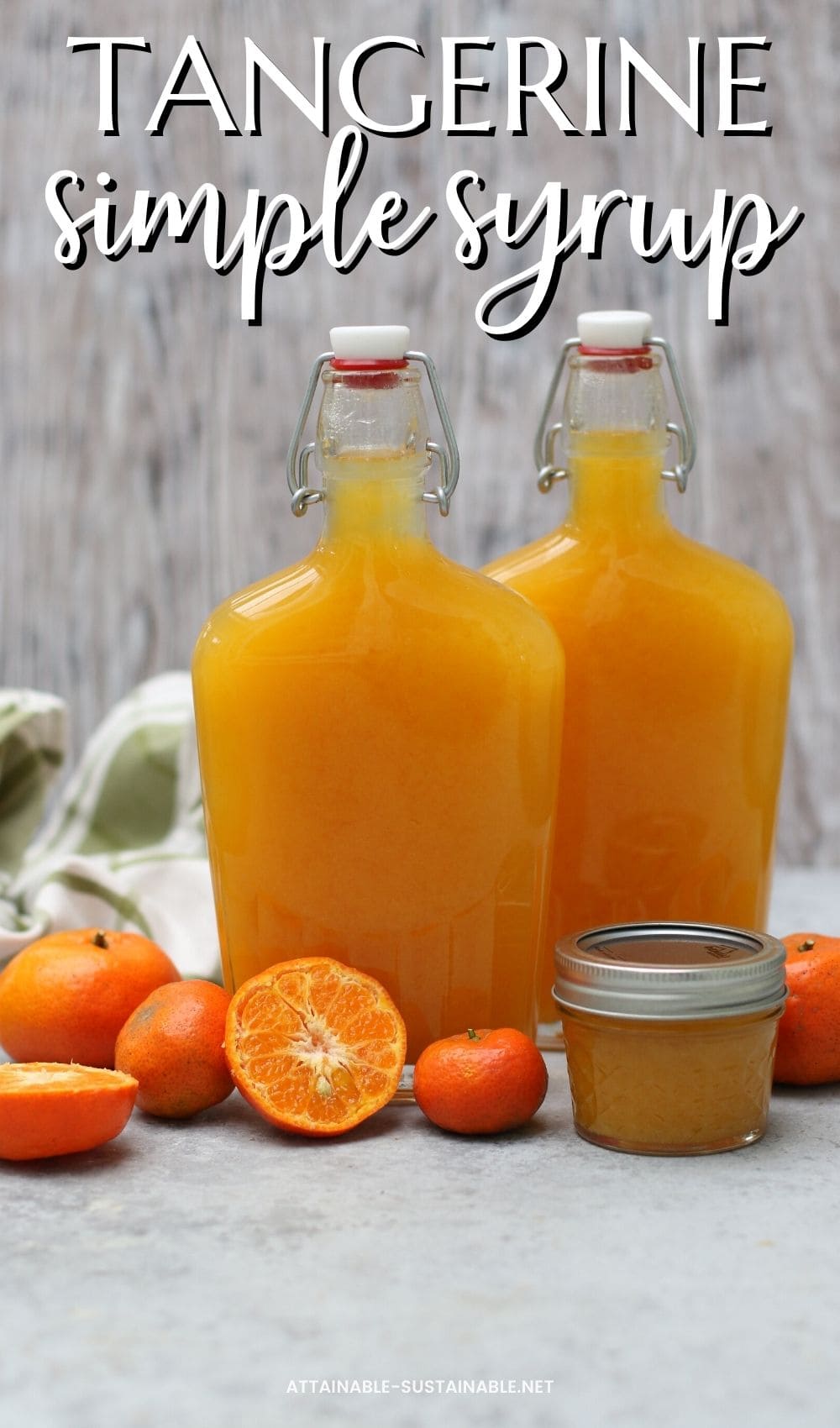 ★ Did you love this recipe? Be sure to give it a star rating below! ★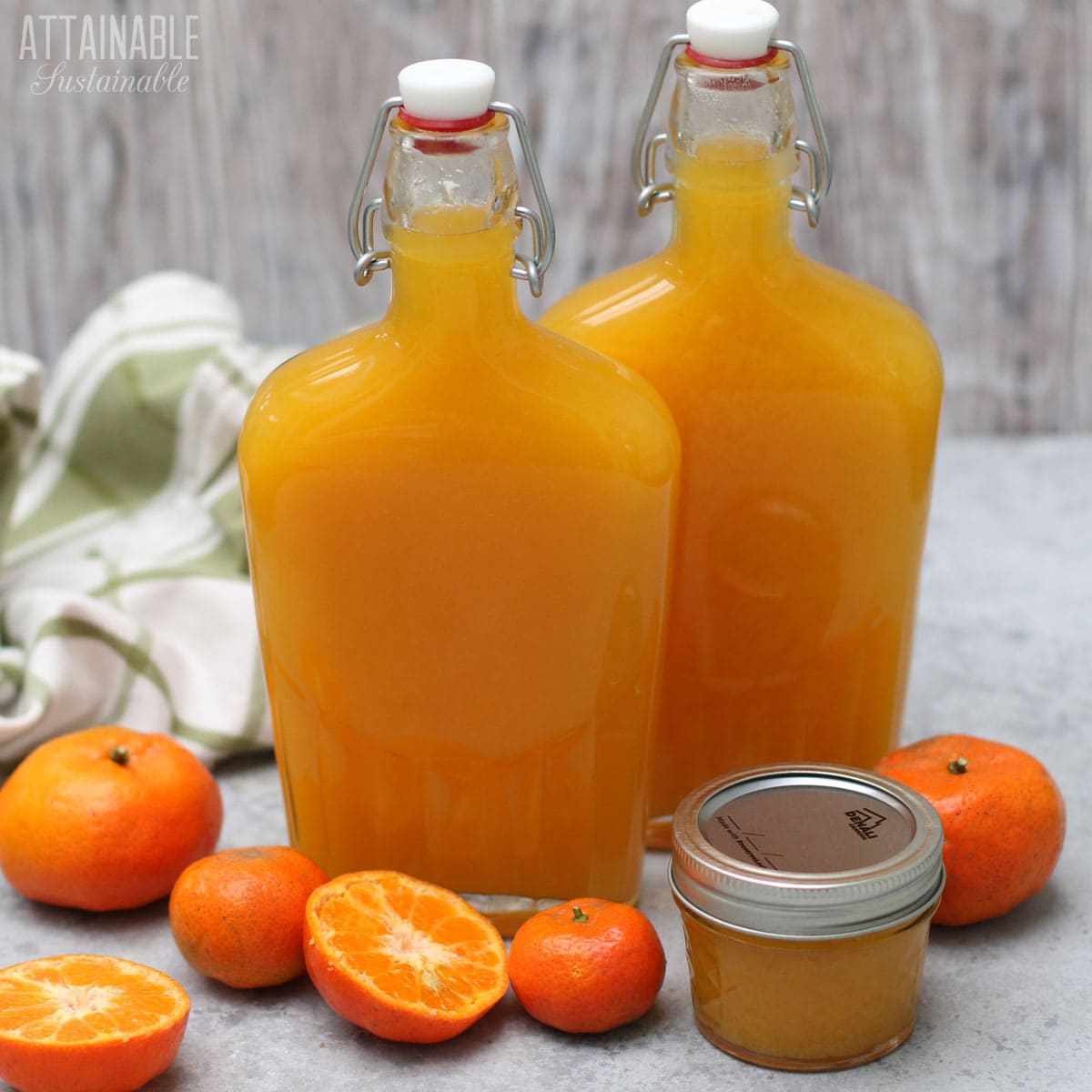 Tangerine Syrup
This tangerine syrup recipe calls for fresh tangerines. Make up a batch when citrus is in season and you can enjoy it for months!
Ingredients
3 cups granulated sugar
1 cup water
6 cups tangerine juice
Instructions
How to make simple syrup
Combine the sugar and water in a heavy sauce pan and cook over low heat until sugar dissolves.
Raise heat to medium and bring syrup to a boil.
Once the liquid boils, reduce heat and maintain the liquid at a low boil for 5 minutes. Stir occasionally to prevent scorching.
Add the tangerine juice and return to a boil.
The mixture will foam a bit on the surface; use a spoon to skim that off.
Remove pot from heat. Cool syrup and ladle into airtight containers.
Store in the refrigerator for up to three months, or process as follows.
CANNING TANGERINE SYRUP
PREP FOR CANNING
Fill a canning pot with water, set the lid in place, and heat on high heat until boiling. It can take awhile for the water to come to a boil, so get it started before you begin making the jam.
Gather the jars you'll use, making sure each is clean and free of nicks in the rim, which could impede sealing.
Bring a small pot of water to a simmer and turn off the heat. Drop the rings and lids into the water and leave them there until you're ready to screw them onto the filled jars.
CANNING THE SYRUP
Ladle hot syrup into quarter-pint, half-pint, or pint sized canning jars, leaving 1/4" head space. A canning funnel makes this easy.
Wipe jar rims to remove any syrup that may have spilled. A clean rim is essential to a good seal.
Set jar lids in place. Screw bands on finger tight.
Use a jar lifter to gently submerge jars into hot water in the canning pot. Water should cover the top of the jars by two inches. The water will cool somewhat in reaction to the addition of the jars. Return the water to a boil and then set the timer.
Process for 10 minutes 0-1,000 feet altitude; 15 minutes 1,001'-6,000' altitude; 20 minutes over 6,000'.
Remove jars from water using the jar lifter and transfer to a solid, towel-covered surface. Allow to cool for 24 hours.
Check seals. Lids should be solid and pulled down tight. (if they flex and pop, the jar didn't seal; put unsealed jars in the refrigerator and use those first).
Remove rings and wash outsides of jars. Store in a cool, dry place.
Notes
The number of tangerines required to make 6 cups of juice will vary a bit based on the juiciness of the fruit you use. You'll need about 5-7 pounds of fresh tangerines. 
This recipe tested at 4.0 pH, making it safe for water bath canning.
The syrup may separate in storage; simply shake it before pouring it.
Nutrition Information:
Yield:

30
Serving Size:

2 tablespoons
Amount Per Serving:
Calories:

71
Unsaturated Fat:

0g
Carbohydrates:

18g
Sugar:

18g
Originally published December 2011; this post has been updated.