Every spring, my love for herbalism is renewed tenfold. As the ground thaws and new life pokes its way out of the dirt, I'm blown away by the abundance that's available all around us. Using herbs for food, medicine, and even simply for their beauty reinforces this love for me. I try very hard not to take it for granted!
Spring yields some of the most delicious wild edibles imaginable.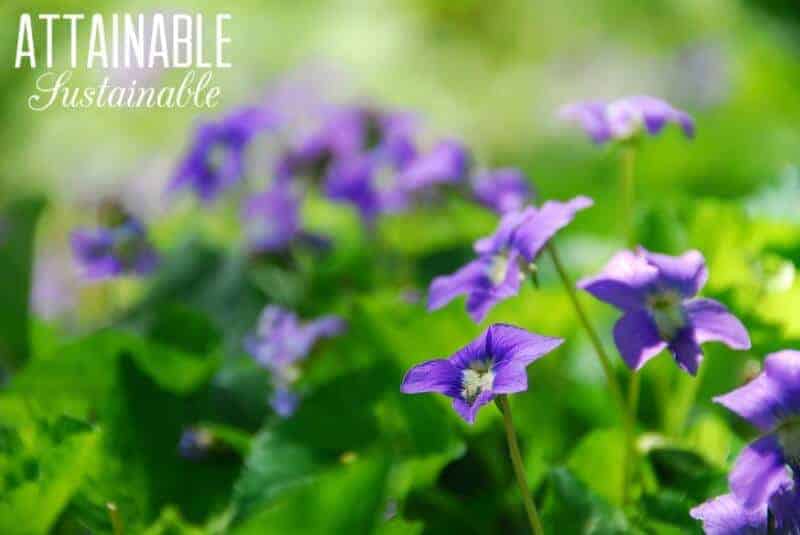 Some of my favorite wild edibles
Violets: The flowers are a beautiful garnish for salad. Violet leaves are good raw or cooked as well. I limit how many of these I serve to my brood; the high amount of saponins (soap like compounds) can be irritating for little tummies.
Nettles: Nettles produce throughout the spring, summer, and into the fall but they are at their most delicious and tender in the spring months. Cook them just like spinach, added to stews, or sautéed in oil. As they're cooked, they lose their "stinging" quality.
Chickweed: I absolutely love it in a salad with honey mustard dressing. It's one of my favorite edible "weeds!"
Plantain: While plantain has medicinal properties for wounds and burns, it's also a tasty edible. It can be eaten throughout its growing season, but if you want to try it raw, now's the time. It's more tender when it's young.
Dandelions: The entire dandelion plant, from root to flower, is edible. Roast the roots to make a tea that strongly resembles coffee (without the caffeine). Serve raw leaves in salad, added to smoothies, made into tea, added to soups, fried in fat, or used in any way you'd use any other green! Use the flowers this way too. I especially love frying them in fat or oil.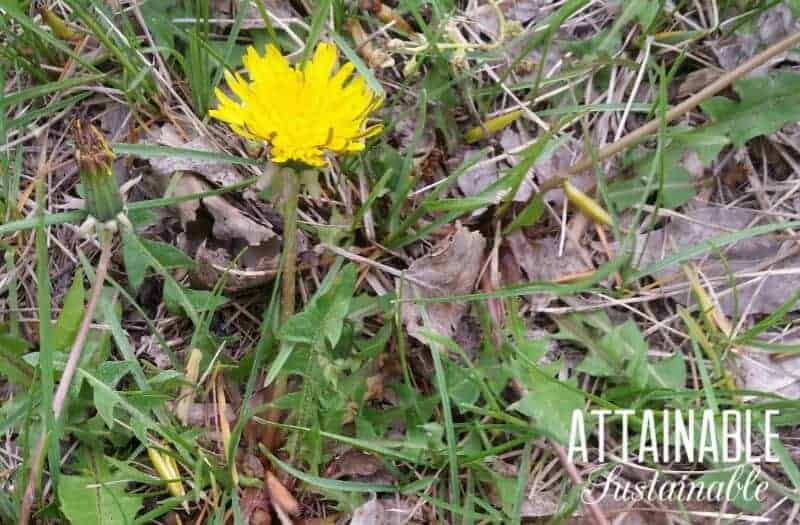 Gathering tips
When gathering spring edibles, make sure to avoid roadsides and public spaces. These get a lot of exhaust from road traffic and may be sprayed with pesticides. These chemicals are not good for us. Look for plants in your own backyard and untouched meadows and fields.
Be certain that you know what you're harvesting. Seek out an experienced forager or a local wild plant guide. You don't want to accidentally ingest something that could make you sick.
This year, the first two wild edibles I worked with were violets and dandelions. My children and I spent an afternoon picking flowers and greens. We made infused honey, tea, and this awesome dandelion pizza. Here's the recipe!
5 Easy Steps to Transform Your Pantry!
Ready to switch from store bought to homemade? Let me help you make some changes! Grab my FREE five-part guide to getting started.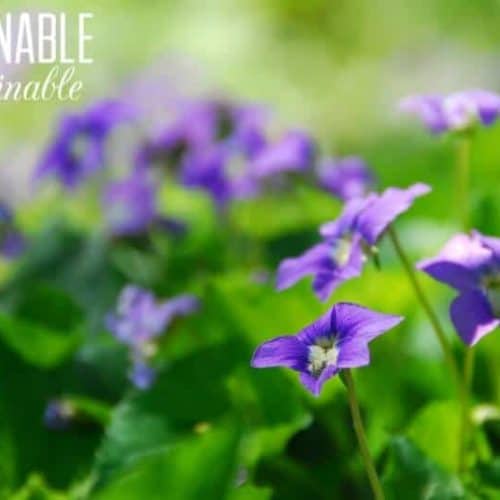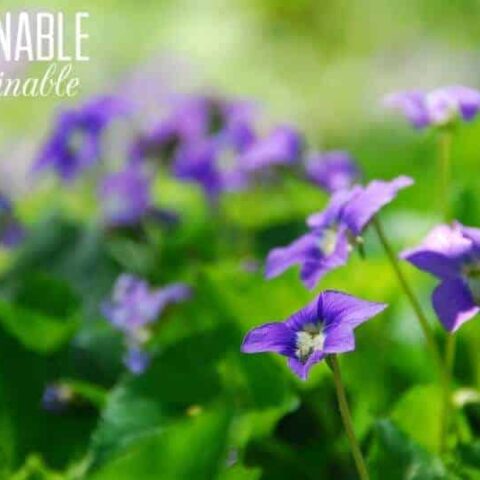 Dandelion Pizza Recipe
Check out your backyard for this pizza topping!
Ingredients
1 cup dandelion flowers and greens
1/4 cup heavy cream
2 T. of butter
1 T. minced garlic
1/2 tsp. fresh rosemary
1/2 tsp. basil
1 cup pizza or tomato sauce
2 cups mozzarella cheese
Instructions
Preheat oven to 425 degrees. Fry dandelion flowers and greens in butter over medium heat. As they get tender, add the rosemary, garlic, basil, salt, and cream. Continue cooking until the dandelions and leaves absorb the cream.
Arrange the flatbreads on a pizza pan and pop them in the oven for four minutes to crisp them up a bit.
Spread tomato sauce on the flatbreads, dividing it equally. Top with dandelions, leaves, and cheese.
Cook for six to eight minutes until the cheese starts to brown and bubble. Enjoy every bit!
Nutrition Information:
Yield:

4
Serving Size:

1 grams
Amount Per Serving:
Calories:

352
Total Fat:

19g
Saturated Fat:

11g
Unsaturated Fat:

0g
Cholesterol:

65mg
Sodium:

1347mg
Carbohydrates:

28g
Fiber:

4g
Sugar:

3g
Protein:

17g
★ Did you make this recipe? Don't forget to give it a star rating below!
You might also like: