This post may include affiliate links. If you make a purchase, I'll earn a small fee at no extra expense to you.
Guest post by Erin, formerly of Blue Yurt Farms
The homestead to do list is a living, growing thing that truly never ends…it just EXPANDS. When it comes to homestead living, a lot of the items on your to-do list are probably projects you can do yourself. But some things are not only easier with more hands helping, they're more fun! Which is why it's not surprising that more, and more homesteaders around the country are banding together with crop mobs and other homestead group gatherings to make light work with many hands!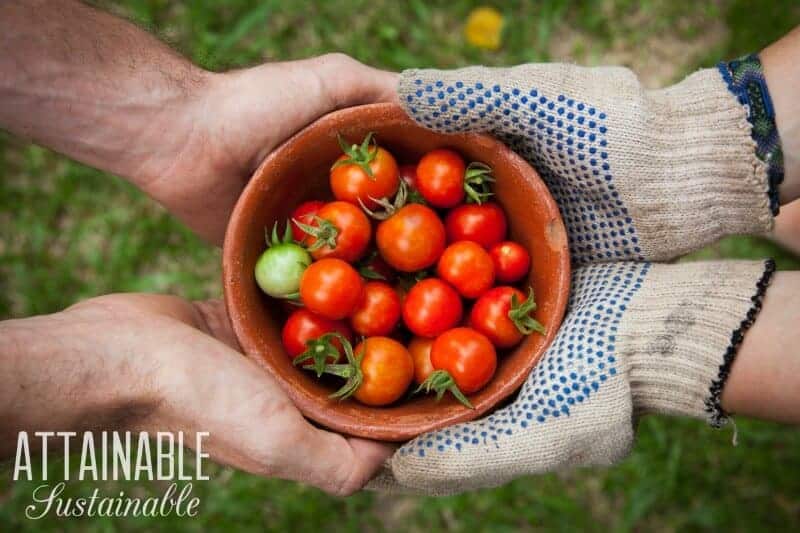 12 Awesome Group Projects for Homestead Living
BUILD A TOOL OR FEED SHED
You truly cannot have enough outbuildings on a homestead, especially sheds. They are so versatile and you can site them near where you'll need your tools or feed. (Here's a great post on how to build a tool shed)
JAM PARTY!
Depending on which fruit is in season, and how much you want to make of each variety, this can be a quick get-together or an all day event. Either way it's something you'll be enjoying and remembering all year long! One idea is to rotate around your homesteads, with different jams being made each time and split up amongst participants. That way you have lots of jam, but still plenty of variety! (Find plenty of inspiration in the Off the Shelf ebook!)
DIY CLEANING-PALOOZA
Not sure about making your own DIY cleaners, or perhaps stuck in a rut? Choose a few new recipes, gather the bulk ingredients (cost split evenly) and get some friends together for a DIY cleaning creation party! (Here are some great DIY green cleaning recipes)
BULK PICKLE MAKING DAY
A lot of farmers sell in-season produce in large quantities for a great bulk price. That's awesome, but 20 lbs of cucumbers can be a little daunting. Especially if you aren't an experienced pickler or canner! Get a few friends to go in on a bulk purchase, gather together and chop, season and pickle to your heart's content. (Here are 5 great pickle recipes to get you started)
FALL GARDEN PLANNING, PREP & PLANTING
This would be a great multi-series gathering, and lends itself well to seed sharing with your fellow homesteaders!
PERGOLA BUILDING PARTY
These are a great solution if you're lacking shade trees around your homestead. They also make great gathering places for cookouts, hangouts and naps. But arbors are a large job to tackle alone or even with just two people, especially if you have little kids running around. Get the tools and materials ahead of time, have friends over to help out and enjoy dinner under your new pergola! (Here's a great how-to post on building an easy, DIY pergola)
PALLET COMPOST BINS
While you could make these on your own, it's a great thing to combine with your fall garden project (see above), or with a few other smaller homestead tasks. Definitely a cheap, relatively easy project that will keep everyone motivated and excited to see their homestead living progress! (Check out this plan for a DIY pallet compost bin)
FREEZER MEAL COOK OFF
This is a GREAT group activity, but it does require planning. Amongst the group, choose the homestead with the biggest kitchen and then pick out your recipes. If this is your first time, try to not plan TOO big or you risk being overwhelmed or frustrated. For your first cook off, pick 5-8 different dishes and plan accordingly for shopping. Have everyone bring their own containers on the day of, and set up stations. Some people are happier chopping than stirring, others enjoy being the prep cook floater and helping out where needed. Most importantly you need a supervisor that can keep track of recipe amounts and cooking schedule. (Here are 50 freezer meals to get your planning engine going)
PLAN A U-PICK DAY
If you and/or your homestead friends have young children, this is a great outing to keep little fingers busy. It also works well as a 2-day gathering with the bulk pickle making day  or the jamming day (see above).
BUILD A WOOD FIRED PIZZA OVENJust think of all the yummy homestead gatherings you could host with one of these bad boys. It's not a project for the faint of heart, but there are plans all over the internet to help you get started. (Find out how here!)
FUN WITH CONCRETE
There are so many fun things you can make with concrete, all of which are relatively inexpensive. While some projects will be far too heavy to have everyone make their own at one location, there are quite a few fun projects you can do as a group and then take back to your own homestead when dry. (Check out these great DIY concrete projects)
PREP, PLANT & HARVEST GARLIC
This can be a year long project for you and your friends as you dive head on into homestead living. Choose a few varieties of garlic, and then break up your work days to include garlic bed prep prior to planting, planting and then harvesting the garlic. Fall garlic makes for a yummy harvest the following spring! And if you undertake that pizza oven, you could roast garlic fresh from harvest. Yum. Talk about full circle homestead living! (Read more about harvesting garlic here)
You might also like: