Do eggshells help in the garden? Absolutely! Using eggshells in the garden can boost your garden's productivity — and it won't cost a dime! They are a free byproduct of cooking in most households. Instead of tossing them in the trash, use eggshells to improve your garden soil and to deter pests.
Compost is another great way to boost your garden's productivity. Check out this beginner's guide to composting if you're new to the idea!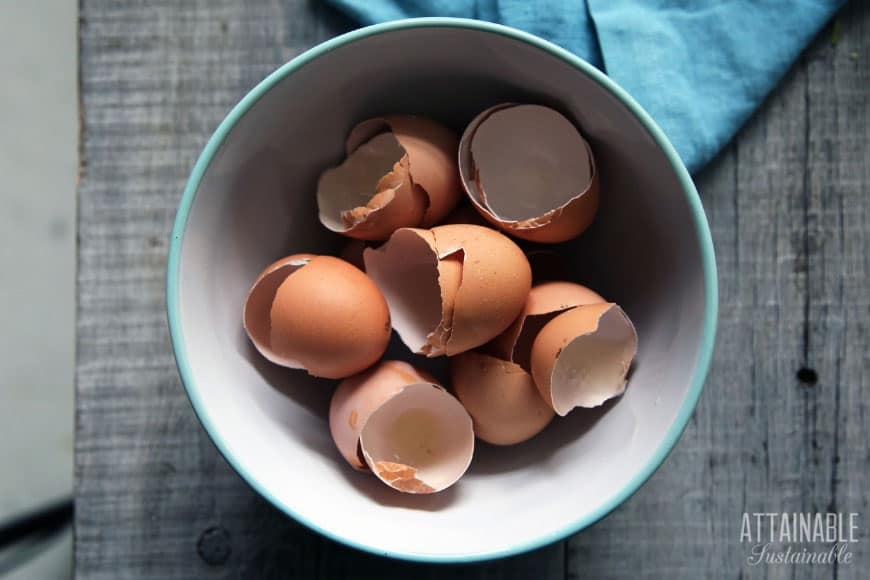 ---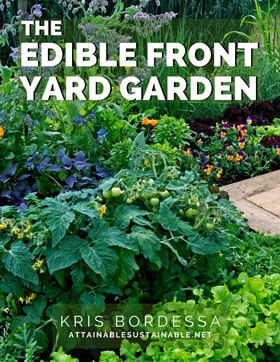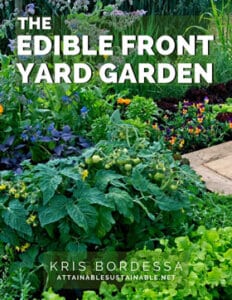 The Edible Front Yard Garden
Does your homeowners association prevent you from growing food in the front yard? What if they never even KNEW? My ebook, The Edible Front Yard Garden will show you how!
---
Using eggshells in the garden
Each time you crack an egg open, instead of tossing the shell into the trash, drop it into an open container that you keep in the fridge. I've always saved my shells, but my friend Susan suggested keeping them in the fridge; it works beautifully.
The cold air in the refrigerator helps to dry them out. As the shells fill the container, I simply push down on them to crush them and make more room. Once the container is at capacity, here's how you can use those eggshells in the garden.
Even when the winter weather keeps you inside, you can collect egg shells for use in the springtime.
Do you need to pasteurize eggshells for use in the garden?
No. However, I know a lot of people do. If that floats your boat, it's certainly not going to hurt.
Grow Some Greens!
Ready to grow fresh greens, no matter WHERE you live? Sign up for my
FREE quick-start guide and start growing some of your own food!
If you do decide to boil them before using eggshells in the garden, save the boiling water. It will have trace elements of calcium that's good for watering tomato plants.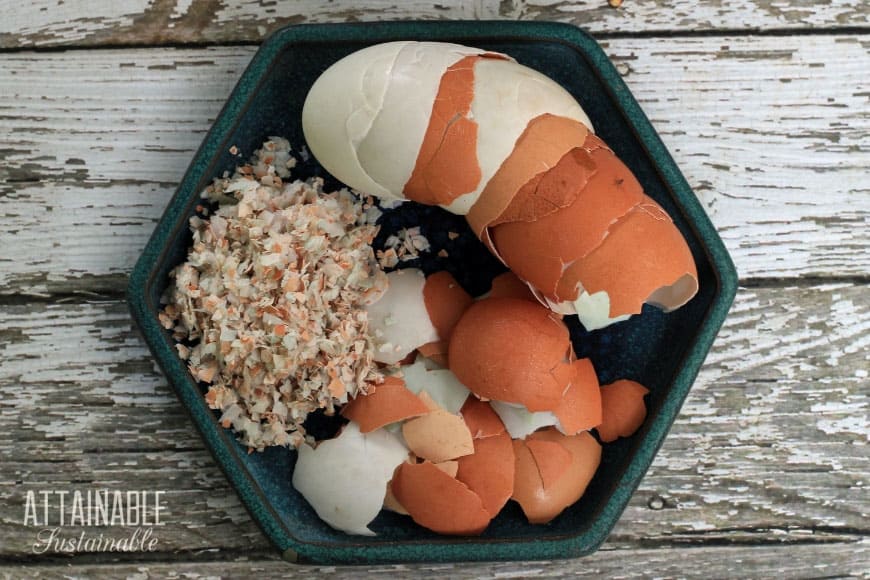 Using egg shells to improve soil
Eggshells can add calcium to the soil. Calcium is especially appreciated by tomato plants.
To get a calcium boost from the eggshells, you'll want to run them through a blender until they're very, very fine. Add a small scoop of finely ground eggshells directly to individual planting holes when you're planting your garden.
You can also use them to make water-soluble calcium as detailed here.
Boost compost
Can eggshells go in compost? Absolutely! Adding eggshells to your compost (this is the easiest composting method ever) will boost its mineral content. If you put egg shells in the compost nearly intact — in halves, say — they will retain their shape for a surprising amount of time, but don't hesitate to use the compost in your garden if the shells are still intact.
Eggshells that are crushed before being added will disperse in the compost relatively quickly and be less identifiable.
Related: Your Guide to Using and Safely Storing Fresh Eggs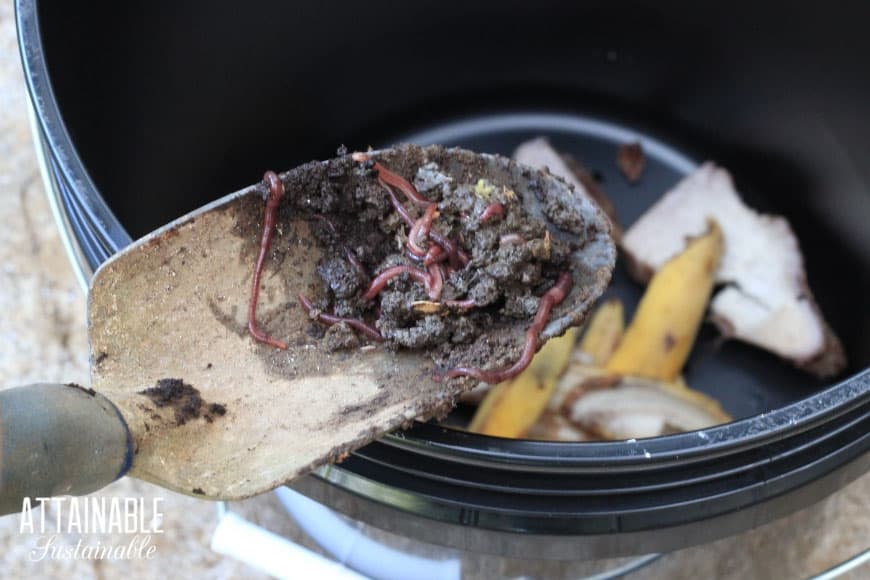 Create worm housing
I add "stacks" of eggshells to my worm composter pretty regularly and I've noticed that in time, these become chock full of worms. Now, I don't speak worm, so I'm not entirely sure what they're doing in there, but the shells must provide them with some sort of habitat they need.
Supplement chicken feed
This is kind of a roundabout way to use eggshells in the garden, but they'll get there eventually. I feed crushed eggshells back to my hens instead of buying oyster shells to supplement. They add calcium to their diet and it has never caused my hens to peck at their eggs. It just makes sense.
And those eggshells will make their way to your garden in the form of chicken manure.
Seed starting pots
To make your own seed starting pots from eggshells, fill each half with good potting soil and set them in an egg carton. Plant seeds in these DIY 'pots' and care for them as you would any other seed.
When the seedlings are big enough to go out in the garden, simply give the shell a little squeeze. This cracks the eggshell and allows the seedlings to send roots out through the eggshells and into the garden more easily.
Deter slugs and snails
Crush the shells into small bits, roughly 1/8″ in size. (This is an excellent job for kids. Just give them a rolling pin or wooden spoon and let them go to town.)
Sprinkle these crushed shells around the base of your plants. The sharp eggshells are said to deter slugs, snails, and other soft-bodied bugs from nibbling on your garden.
Does this actually work?
Well, I know people who swear by this method and others who say it doesn't work. I've found the method to be a bit hit or miss, but if you've got eggshells aplenty and more slugs than you want to deal with, it's worth giving it a shot.

Eggshells in the garden to deter deer
Eggshells are said to deter deer. I can't speak to this as I don't have a deer problem (anymore). But placing eggshells around tempting plants is supposed to deter deer as they don't like the smell.
Using eggshells in the garden like this might protect your crop from being nibbled!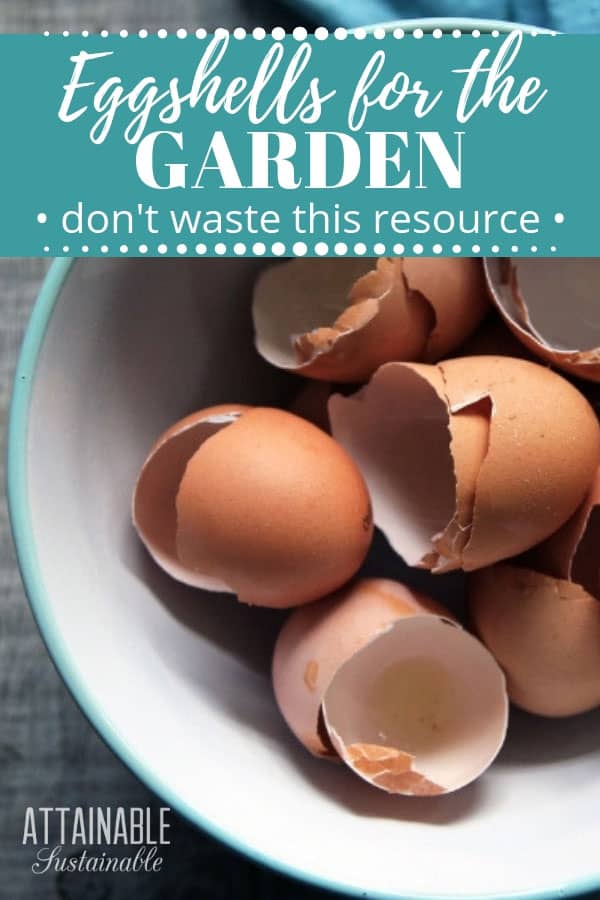 Originally published in 2011; this post has been updated.