An uncontrolled slug and snail problem can decimate a crop overnight. Organic slug control options eliminate these pests naturally for a healthy garden.
More on natural pest control here.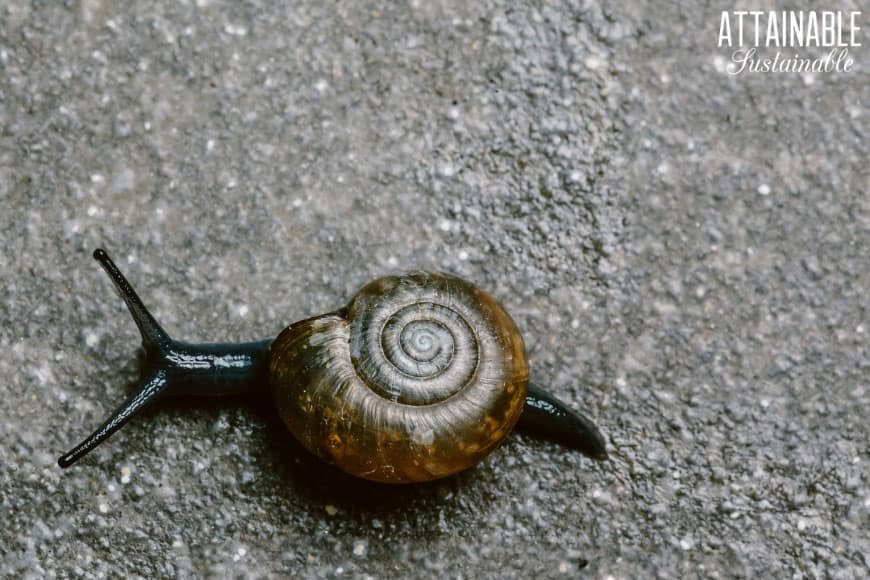 The slug and snail problem is one that most gardeners are aware of, but here in Hawaii they're an exceptional problem. Not only do they damage crops, they transmit something called rat lung disease. It's a rare* disease and one that is still being studied, but the general consensus is that accidental ingestion of tiny slugs (ick!) is bad, as is ingesting raw produce that's been slimed by slugs.
I've been working on a "slug protocol" that will rid the garden of these slimy pests without the added risk of poisons.
What do slugs and snails eat?
Slugs and snails are pretty indiscriminate feeders. Their preferences may vary a bit by species, but generally speaking they eat plant material. And that means your garden. They're especially attracted to young, tender seedlings, but they'll climb up larger plants to reach the desirable bits. Fresh tomatoes and strawberries will fall prey to uncontrolled slugs, ruining a bountiful harvest overnight. They'll dine on other things like lichen and mushrooms, too.

---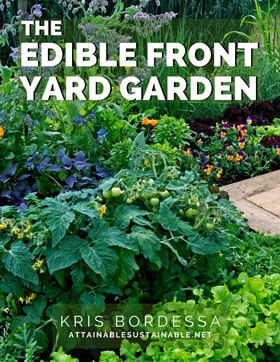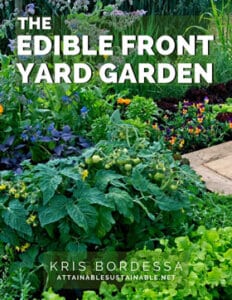 The Edible Front Yard Garden
Does your homeowners association prevent you from growing food in the front yard? What if they never even KNEW? My ebook, The Edible Front Yard Garden will show you how!
---
5 Ways to save your crop with organic slug and snail control
While it doesn't eliminate the pests, I start by growing my lettuce in containers – often hanging containers – to keep slugs off the salad greens we eat raw.
Grow Some Greens!
Ready to grow fresh greens, no matter WHERE you live? Sign up for my
FREE quick-start guide and start growing some of your own food!
Control slug and snail infestations by hand picking them
I've started going on weekly slug and snail hunts. (Psst! Hey, who's the nut job out there in pajamas wearing a headlamp??) No, it's not glamorous. In fact, it's pretty gross.
But since I've implemented this plan I've seen a huge reduction in how many slugs I catch in a night. I go out after dark with the aforementioned headlamp (PJs optional), a container with about an inch of either vinegar or salt in the bottom, and wooden chopsticks. As I spot slugs, I use the chopsticks to pick them up and drop them in the container.
When I first started this little organic slug control program, I'd pull 30-40 slugs out of the yard in half an hour. Now, it's more like 10-12. Plus? Picking up slimy slugs with chopsticks is great practice for my next Chinese dining experience.
Clean up
I've noticed that there are certain kinds of plant debris that really attracts slugs. The pink hibiscus blossoms seen above are like a 5-star buffet to my slugs, so I've taken to piling them in one place and waiting for the pests to move in.
I've had success with eggplant, too. I understand a cut potato or citrus will draw them in as well, but you'll likely need to experiment to see what draws slugs in your garden. Once the slugs have congregated on the materials, I use the chopsticks to remove them, leaving the bait behind. If you're more squeamish you could pick up the entire slug covered mess and toss it.
Stop their life cycle
I keep my eyes open for eggs when I'm working in the yard. If I can eliminate the slugs before they hatch, all the better. I usually find them when I'm weeding in an area with lots of debris. Slugs and snails lay their eggs in dark, moist places. Look for them under boards, stacked materials, or in and around your potting area.
Related: 7 Organic Pest Control Methods
Get ducky for organic slug control
I brought home some ducks earlier this year, and they are great at organic slug control, even right in the garden. So far they haven't done any damage to the garden crops, but I've definitely noticed a reduction in slugs and other pests. Here's how to get started with ducks at your place.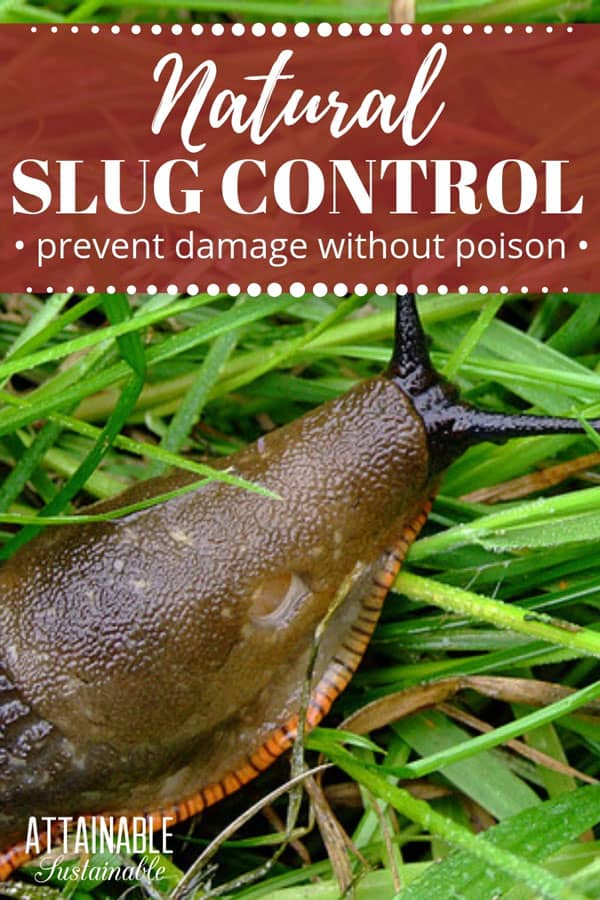 Use natural snail bait
I use Worry Free Slug and Snail Bait on a limited basis, right around the perimeter of my vegetable garden. This particular bait is made of iron phosphate and is considered safe around pets and children. Once a snail or slug ingests the bait, the iron phosphate causes changes in the pests that make them stop feeding.
Within a day or two of sprinkling the bait, I start seeing dry, dead slugs on the ground. The product I'm using comes in a cardboard box, though it looks like the company has switched to plastic. Sluggo is another iron phosphate slug bait that comes with less plastic in the packaging.
Diatomaceous earth is another option for reducing their numbers.
What hasn't worked
Chickens. My girls won't touch 'em. Or at least most of them. There seems to be one variety of slug that they find delicious, but they turn their beaks up at the rest.
Beer. Throw an organic slug control party and one or two might show up, but I have much more success with my slug hunting method.
Most physical barriers. I've yet to find anything that a slug won't crawl over to get dinner, though crushed eggshells can deter them.
*Rat lung disease is (so far) only found in Southeast Asia and the Pacific.
Originally published in August 2012; this post has been updated.