Growing lettuce in containers — specifically hanging containers — is a great way to keep pests at bay. Tender green lettuce leaves are very susceptible to damage from slugs and snails. They're also a favorite of pests like rabbits and deer, though admittedly those are not a problem for me here. To combat the damage from snails and slugs, I've opted for planting lettuce in containers up off the ground.
Read more about growing different types of lettuce to help you decide what to grow!
Growing lettuce in containers and baskets
Lettuce tends to be a small plant and one that's easy to grow in small spaces. Take note, balcony gardeners! This means that it can thrive in relatively small containers. When planting lettuce in containers, you'll need to provide a soil depth of at least four inches for the lettuce roots to expand into.
Choose a good quality potting mix. When growing lettuce in containers like wire baskets, it's a good idea to incorporate some coconut coir to help with water retention, as the baskets tend to dry out quickly. A three-to-one mix is a good ratio to aim for.
Hanging your lettuce
There are plenty of ready-made hanging containers that will work for growing lettuce. You can also get clever with upcycling containers that make their way through your household. To transform large coffee cans into a hanging planter, for instance, use a nail to poke several drain holes in the bottom of the can. Add three more nail holes near the rim of the can for hanging.
Keep your eyes open for metal colanders at the thrift store. Add some chain for hanging and they're a great inexpensive option for planting lettuce in containers. Here's how.
Grow Some Greens!
Ready to grow fresh greens, no matter WHERE you live? Sign up for my
FREE quick-start guide and start growing some of your own food!
Wooden box planters — or even old dresser drawers — are easy enough to alter so that they can be hung, too. Simply add three or four holes (you'll have to consider how the box will balance when hung), insert an S hook, and hang with chain.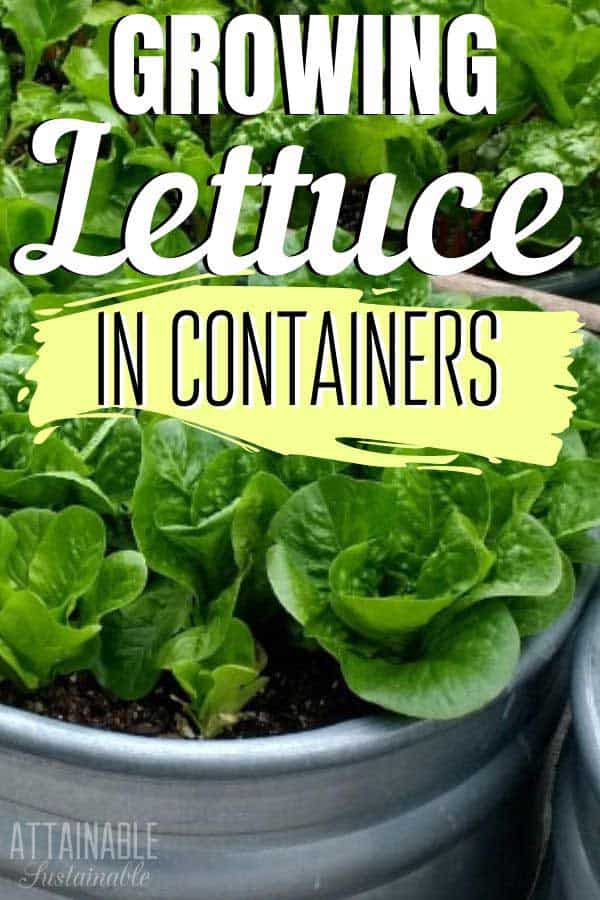 Related: Harvesting Leaf Lettuce: How to Make Yours Produce for Months
Where to hang your lettuce
When choosing a location for your hanging containers, there are a few things to consider. Make certain that the containers of lettuce are situated with at least several inches between the baskets and any vertical surface that a slug or snail could crawl. They will crawl up the side of a house or a trellis post; make sure they can't reach the hanging lettuce and move in for a free salad bar.
Lettuce actually prefers a little bit of shade, especially if you live in a very warm region. Think about sun exposure and situate the hanging baskets so that the lettuce gets a break from the sun during the warmest part of the day.
---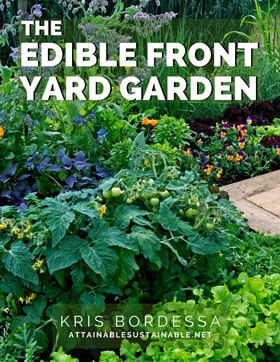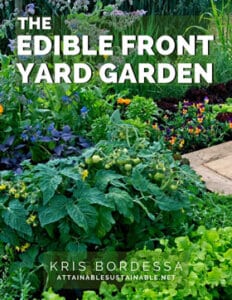 The Edible Front Yard Garden
Does your homeowners association prevent you from growing food in the front yard? What if they never even KNEW? My ebook, The Edible Front Yard Garden will show you how!
---
Preventing slugs and snails
Hanging baskets are a good option for deterring a variety of pests, but you can eliminate slug and snail damage in containers on the ground, too. Protect container-grown lettuce by creating a barrier that slugs and snails won't cross.
Setting containers in a tray of water is one way to do it. Just make sure that the tray is at least a couple of inches bigger in diameter than the outside of your pot so they can't stretch across the gap. You can also set containers of lettuce on a table, and use a similar water barrier method by putting each table leg in a container of water.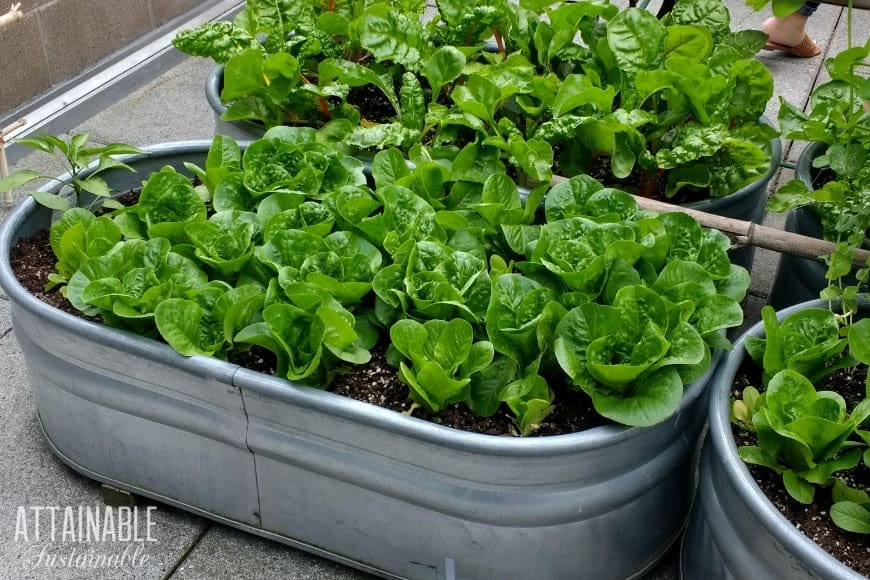 Watering containers of lettuce
Growing lettuce in containers means that you'll need to water it more frequently than if you were growing it in the ground. Depending on the outside temperature, watering it daily may be required. If you're concerned that you'll forget to water the containers, a small olla [like this] can be one solution. A drip system set up on a simple timer is another.
Fertilizing lettuce in containers
About once a week, I mix about two tablespoons of liquid kelp with a gallon or so of water (I don't actually measure) and water the containers with that.
Originally published January 2018, this post has been updated.