Hey there! I'm Kris Bordessa, and you've made your way to my little home on the web. Attainable Sustainable's mission is to educate and encourage readers to embrace a more self-reliant lifestyle in bite-sized pieces.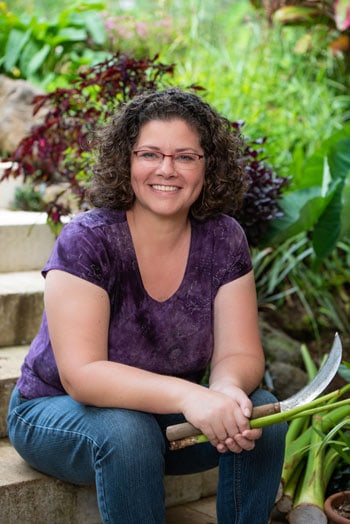 I launched the site back in 2011 to share my lifelong experience with growing, preparing, and preserving fresh foods. And has it been a wild ride! Turns out, a lot of people are yearning to get back to basics, but don't quite have the road map to get there. In a world where soup comes in a can, pudding from a box, and bread from a bag, it's easy to forget that just a few decades ago those items were made at home from scratch – maybe even from foods grown right outside the door.
Over the years, this site has become a bridge for people trying to make their way from "instant" and fast food to a slower way of eating, whether that's learning to grow their own garden, cooking from scratch, or preserving fresh produce from local farmers to stock their pantry with wholesome ingredients.
In 2020, National Geographic released my book, Attainable Sustainable: The Lost Art of Self-Reliant Living. It was named the Best How-To book of 2020 by the American Society of Journalists and Authors, and perhaps more importantly, it's garnered rave reviews from readers.
Writing is my jam, but a funny thing happens when you write a book: people want to talk to you. I've been a guest on numerous podcasts including Kansas Public Radio, Lady Farmer's Good Dirt Podcast, and The Tom Sumner Show, and featured in publications like Real Simple, The New York Times, Apartment Therapy, Acreage Life, and Elle.
What you read on the site and in my books (yes, plural – there's another one coming from National Geographic in 2025!) has been created for you by someone who knows their stuff. I've been cooking at home for decades, preserving food for almost as long, and I'm a certified Master Food Preserver, ensuring that the canning recipes I share are created with safety in mind. The gardening content on this site has been written by myself, a lifelong gardener, or contributed by Jodi Torpey, an author and certified Master Gardener. Previous contributors include:
The goal of this site is to provide you with the knowledge you need to tackle some old-fashioned skills no matter where you live.
I hope you find this site helpful and encourage you to rate your favorite recipes, leave a comment, ask a question, and be sure to save your favorites so you can find them again. And once you've mastered some new skills, think about passing that newfound knowledge on to the next generation!

But Wait, Who Am I, Actually?
I grew up in Northern California. While I usually say "on an apple farm," if I'm honest it was a bit more eclectic than that. Yes, we grew, harvested, and packed apples.
But depending on the year and my dad's latest wild idea, we also raised chickens for eggs, planted acres of tomatoes, had a pumpkin patch, raised and butchered pigs and a cow, produced apple juice on a commercial level, and started a Christmas tree farm. The only thing that really ever stuck though, was the annual vegetable garden where I learned to grow my own fruits and vegetables from a young age.
These days, I live in Hawai'i, with my husband and two grown sons who are off making music and shooting photos of pretty things.
"Hawai'i!" you might be thinking. "It must be nice to live where everything just grows as if by magic!" I hate to be the one to break it to you, but that's not exactly so. Yes, tropical fruit is easy and we are having great luck with bananas. But I can't grow a zucchini to save my life.
We're currently focusing on building our soil so maybe someday I can once again grow a vegetable larger than my leg. My flock of chickens thrives here. We have very few predators and year round green grass which means what I can't produce in zucchini is made up in spades with fresh eggs.
I'm glad you found your way here!
Updated in 2023.