These chewy dried bananas are a great healthy snack and dehydrating bananas couldn't be easier. Here's how to dry bananas, transforming brown bananas into a sweet treat for your pantry or even your emergency supplies.
Try making dehydrated strawberries or apples, too! Dehydrated fruit makes for a delicious snack right out of hand or added to trail mixes.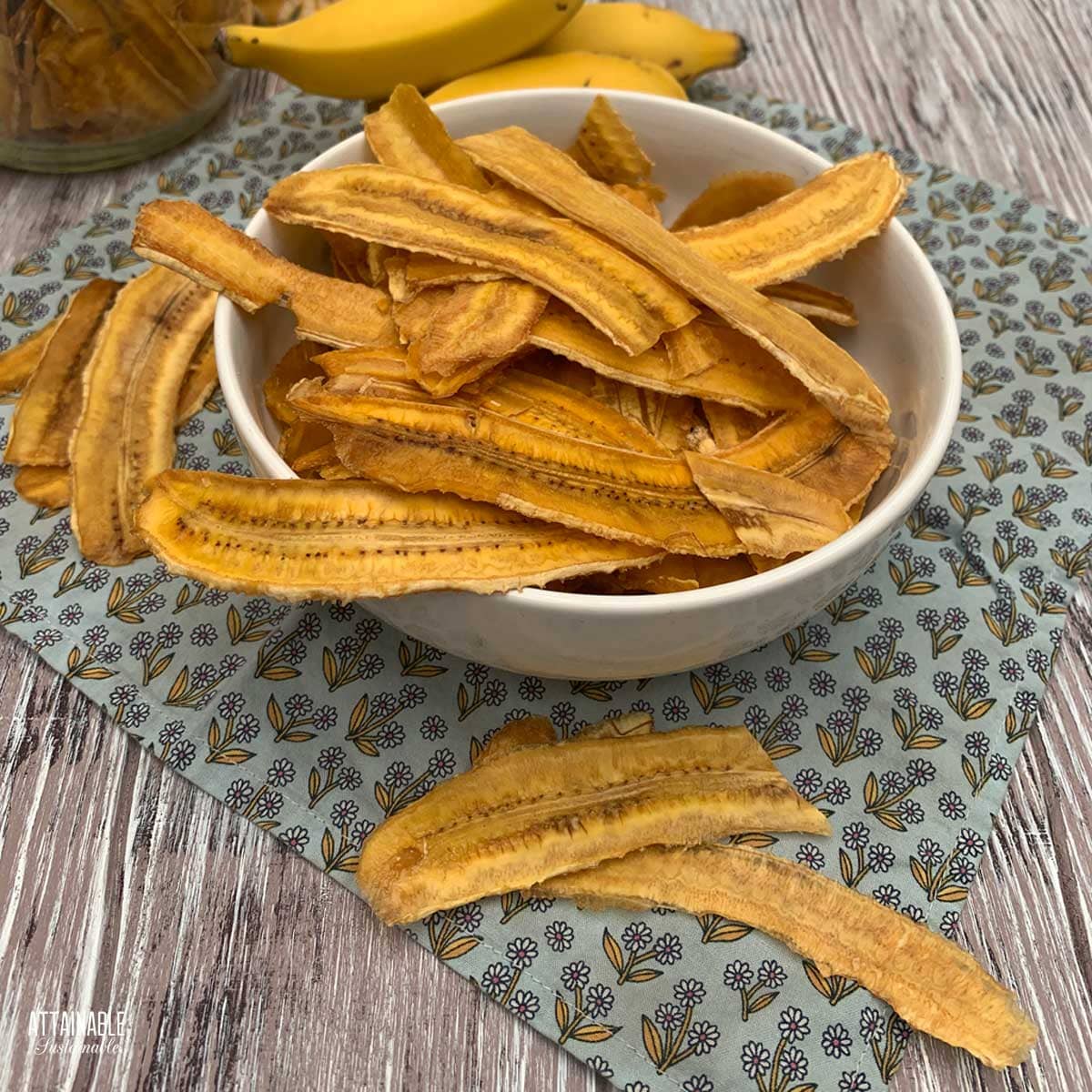 ---
The Handcrafted Pantry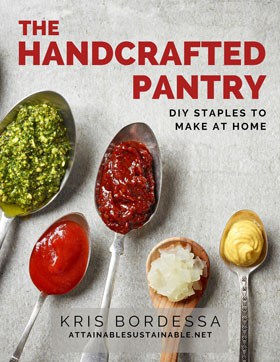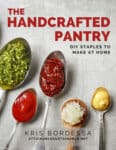 Ready to DIY your pantry with healthier ingredients? Check out my ebook, The Handcrafted Pantry! Filled with delicious recipes for some of your favorite condiments, snacks, and toppings, it's the guide you need to start skipping packaged products and embrace homemade.
---
Dehydrating Bananas: Not Your Usual Banana Chips
Years ago, our landlady used to bring us dehydrated bananas when she had an abundance. Personally, I am a "fresh banana or no banana at all, thanks" girl, but my guys loved them.
They were not the crunchy banana chips that are commonly sold in stores. These were chewy like Trader Joe's banana chips. It took them no time to snarf down those healthy snacks.
Drying bananas at home — especially with sale-priced bananas — is much less expensive than buying the tiny packs for snacking. Plus, it's a great way to extend the short shelf life of bananas and prevent food waste.
These days, we harvest 40-50 pounds of our own bananas at a time. There's no way we can eat that many fresh bananas before they go bad, so dehydrating bananas makes sense.
5 Easy Steps to Transform Your Pantry!
Ready to switch from store bought to homemade? Let me help you make some changes! Grab my FREE five-part guide to getting started.
If you don't have a banana crop like we do, keep your eyes open for overripe bananas on sale and use those to make these chewy dried bananas.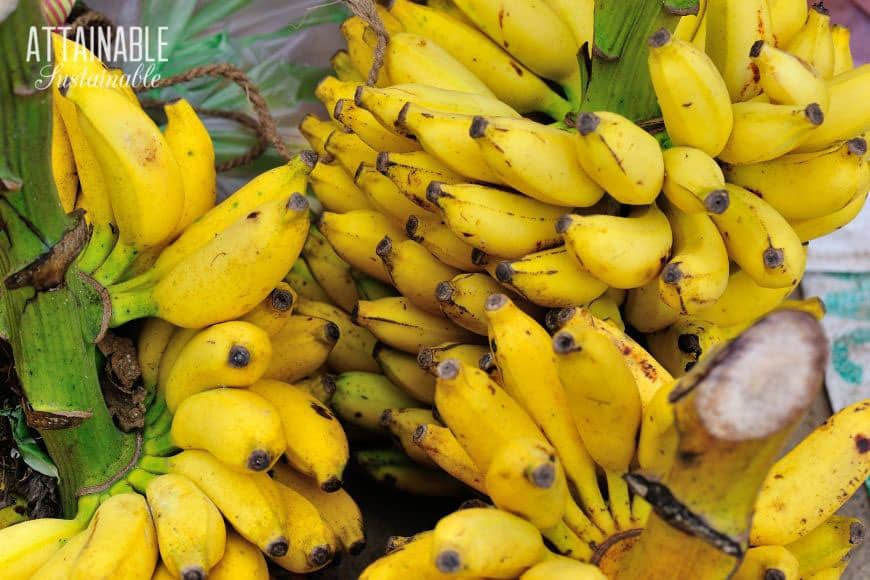 Ingredients
Ripe Bananas — Rich in potassium, these are often very affordable at the store if you can't harvest your own. Watch for bananas that are fully ripened but still easily sliced (not mushy). Save the really overripe bananas for this sourdough banana bread, these easy pumpkin banana muffins, or this gluten free banana bread that gets raves.
Lemon Juice — This can help prevent browning, but is also a great flavor enhancer and cuts the sweetness a bit. This is optional. You can absolutely make dried bananas without it.
Preparing the Bananas
Slice the bananas in your preferred manner. After a lot of experimenting we've landed on using a mandoline to slice ripe but firm bananas, laying them flat to cut them into thin slices lengthwise. We use cutting gloves to prevent us from slicing off a fingertip; the blade is really sharp!
A knife is also a perfectly acceptable method to cut bananas for the drying process. You can cut the banana pieces however you like. Slices or rounds, either is fine.
Transfer slices of banana to a shallow dish and pour on lemon juice if you're using it. When you've sliced enough to fill the dish, transfer to a tray to begin the drying process. I've listed three different methods; choose the one that works best for you.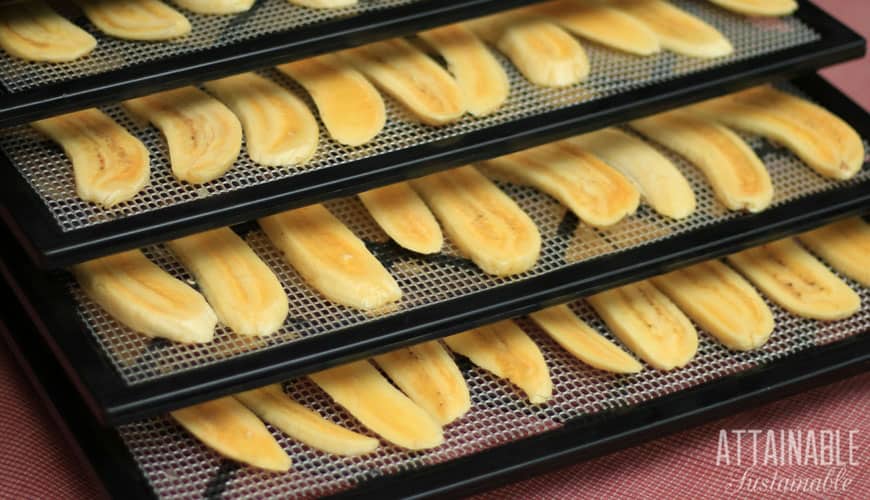 Making Dried Bananas in a Food Dehydrator
A food dehydrator is a specialized appliance specifically made for drying fruits, veggies, and meat. They come in a variety of shapes and sizes, but all include a number of trays that allow warm air to freely circulate.
This is my preferred method of drying fruit. My 9-tray Excalibur dehydrator holds the largest amount of fruit out of all three of the methods listed here, making the most of the energy used to dry them.
Place banana slices in a single layer, fitting as many as you can without overlapping, on the dehydrator trays and dry at 135ºF for 8-10 hours.
Oven Dried Bananas
Drying bananas in the oven utilizes equipment most people already have on hand. It's not the most energy-efficient method, but it does the trick in a pinch.
Set the oven to a low temperature. 135ºF is the ideal, but not all ovens offer that precise low heat. If you have an oven with a bread proofing setting you can try that. Older ovens that only go as low as 200ºF can be used, but you'll need to prop the oven door open.
Place sliced bananas on a wire rack on a baking sheet. This allows the air to flow around the slices. Alternatively, you can line each baking tray with parchment paper.
Dehydrating Bananas in an Air Fryer
If you have an air fryer, that can do the trick if it has a dehydrate function.
The air fryer doesn't hold as much as my large dehydrator, so you can only make one small batch at a time. It wouldn't be a great solution if you needed to dry a lot of fruit at once. Use it if you have one, certainly, but my money's still on a dehydrator for best use of energy and time.
Dry for 8-10 hours at 135ºF.
No matter which method you use, the drying time will vary depending on the humidity of the air and the moisture content of the fruit. My family likes the bananas best when they are still a little bit chewy. If you like crispy banana chips, by all means let them process for longer.
Conditioning the Fruit
Due to inconsistent thickness, some pieces of fruit may retain a bit more moisture than others. As a result, moisture levels can vary within a single slice of fruit.
Conditioning the dried fruit will help redistribute the moisture evenly. Cool fruit thoroughly and place loosely packed pieces in a sealed container. Seal the jar and let stand for a week, shaking it daily to break up the fruit.
The excess moisture in some pieces will be reabsorbed by drier pieces. If any condensation appears on the inside of the jar itself, there's still too much moisture in the fruit. Return it to the dehydrator to remove more moisture.
Storage
For long term storage, place conditioned dried fruit in an airtight container at room temperature. I'm a fan of Mason jars coupled with the reusable leak-proof Ball lids. They are more air tight than both the metal lids or the white plastic lids.
FAQs
How can I slice my bananas?
However you like! The mandoline makes it easy to slice lengthwise. You can do this with a knife, too, but if you're using a knife, the fastest way is probably to cut them into rounds. Whatever you choose, just ensure they are all about the same thickness so they dry evenly.
Can I prevent browning?
I coat the sliced bananas with fresh lemon juice. This can help prevent browning, but the lemon imparts a nice tangy flavor to the bananas. When I've skipped this step, there have been complaints. Your mileage may vary.
If you've got an abundance of dried bananas in the pantry, chop some into this healthy waffle recipe!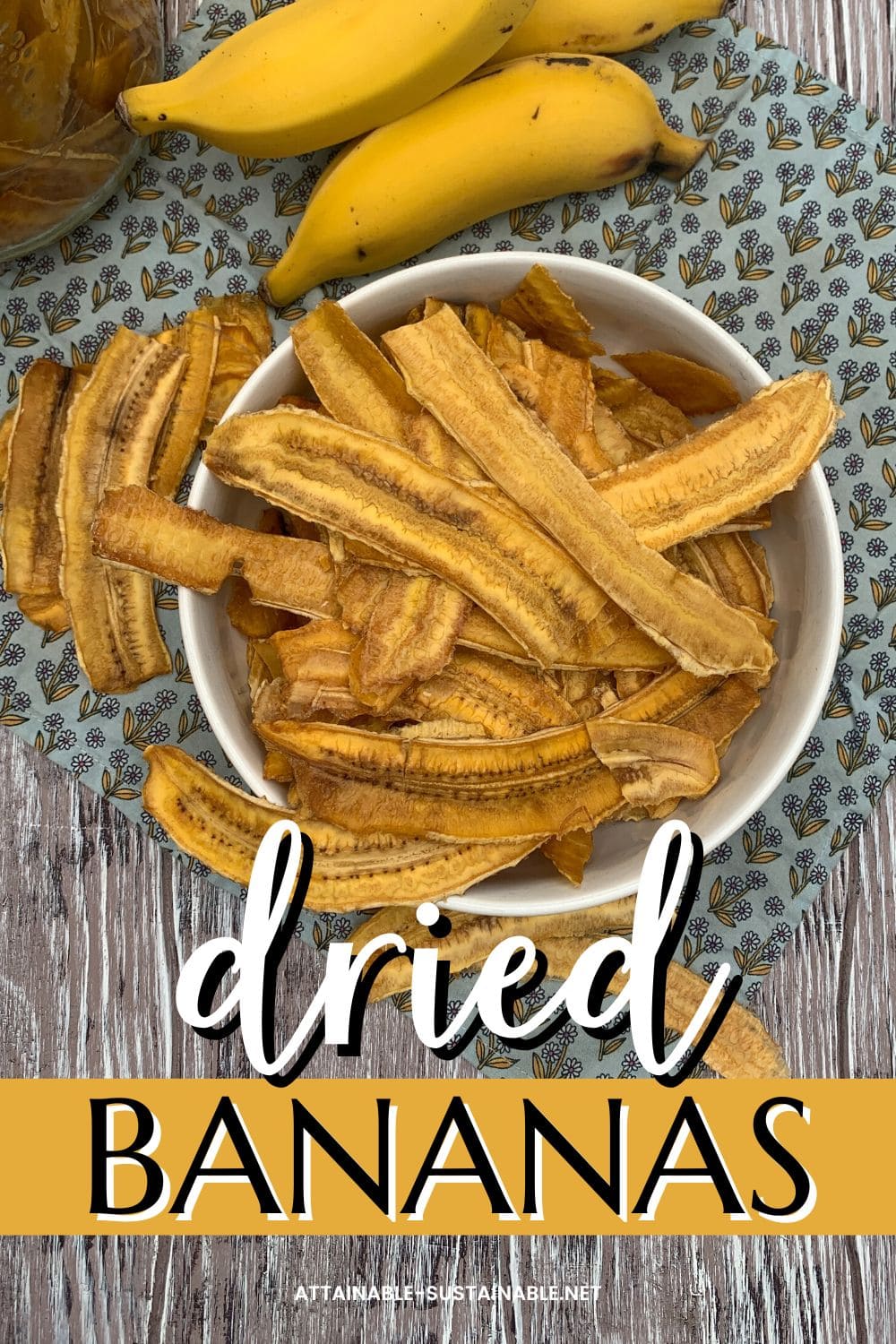 ★ Did you make these chewy dehydrated bananas? Don't forget to give them a star rating below!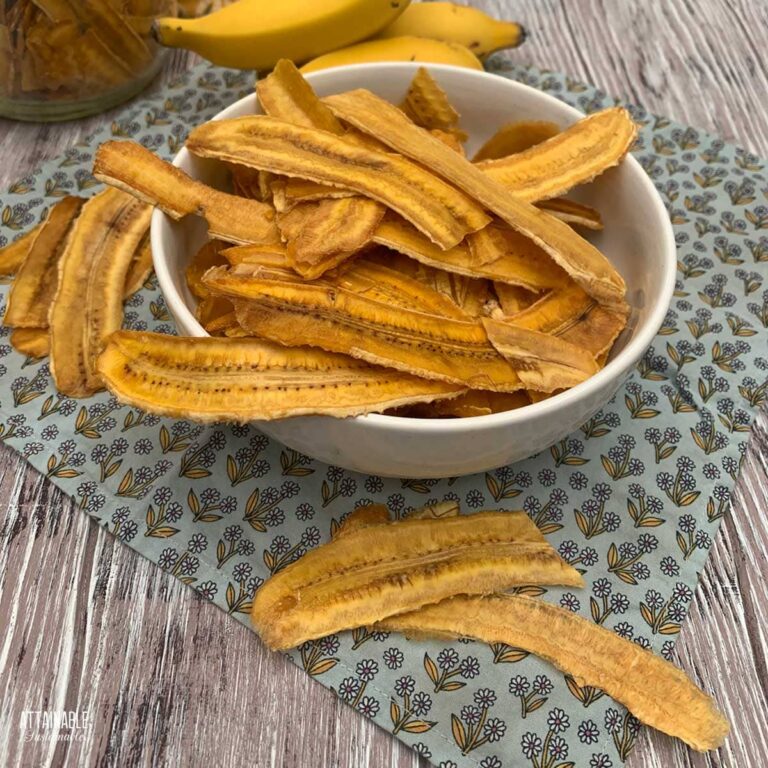 Chewy Dehydrated Bananas
Yield:
2 half-gallon containers
Total Time:
8 hours
15 minutes
These chewy dehydrated bananas are a great healthy snack and they're easy to make. Transform brown bananas into chewy dried bananas for your pantry or emergency supplies.
Ingredients
20-25 pounds ripe bananas
2 cups lemon juice
Instructions
NOTE: the listed ingredients are enough to fill a 9-tray dehydrator. Adjust the amount to suit your needs.
Before you start, make sure you have a container in which to put the peels. I use a 5-gallon bucket to tote the peels out to the compost when I'm done.
Peel the bananas, collecting the peeled fruit into a large bowl. It will be fastest if you can peel them all at once.
Slice the bananas 1/4" thick. Believe it or not, a mandoline works great for this. Place sliced bananas into a bowl or tray with lemon juice. Toss the sliced bananas in the juice.
When you have about four cups of sliced bananas, spread them out on a dehydrator tray, then repeat. I like to fit as many as I can on each tray without letting them overlap. (Touching slightly is not a problem.)
Once your dehydrator is full, or you've sliced all the bananas you'll be drying, turn it on to 135 degrees Fahrenheit for 8-10 hours. This of course depends on your climate and humidity and dehydrator. Plan to be around to check them during those last couple of hours.
Notes
It helps to have a lovely assistant. If you can wrangle someone into peeling the bananas while you slice, it will go much more quickly.
Timing is important. For chewy dried bananas, plan to turn the dehydrator on in the morning so the bananas can be put away that evening, or start them in the evening so they can dry overnight. You can let them go longer, absolutely, but they might be a bit more on the crispy side.
I have a 9-tray Excalibur dehydrator. It takes about 20-25 pounds of bananas to fill it. Dehydrated, those bananas will fill a gallon jar or thereabouts.
Nutrition Information:
Yield:

64
Serving Size:

1/4 cup
Amount Per Serving:
Calories:

159
Total Fat:

1g
Saturated Fat:

0g
Trans Fat:

0g
Unsaturated Fat:

0g
Cholesterol:

0mg
Sodium:

4mg
Carbohydrates:

41g
Fiber:

5g
Sugar:

22g
Protein:

2g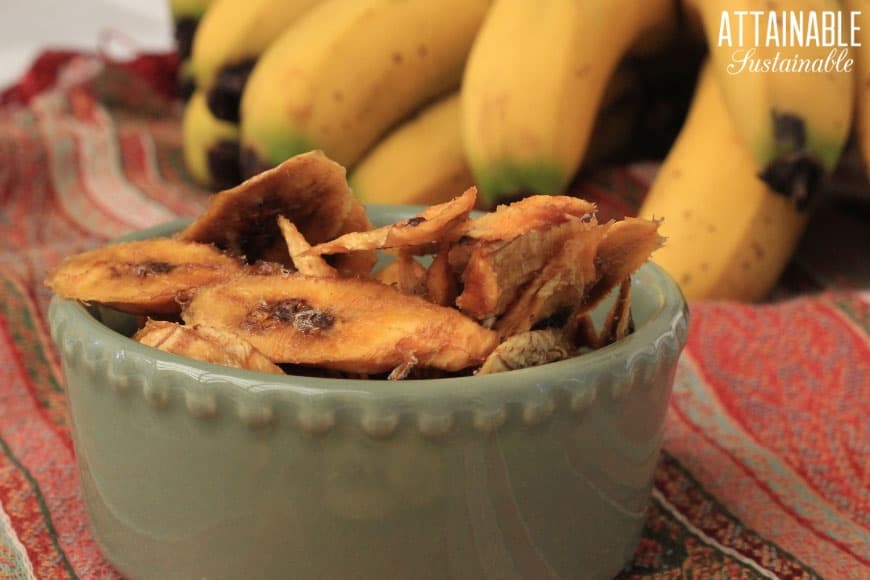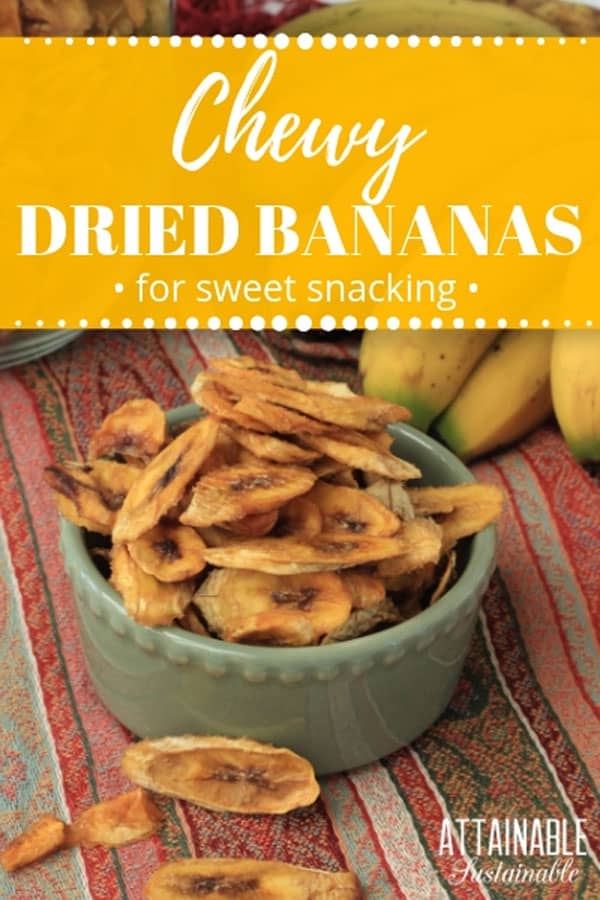 Originally published February, 2019; this post has been updated.