These homemade desiccant packs are a great way to preserve the quality of your bulk dry goods. Using a moisture absorber to keep foods fresh can prevent a tremendous amount of food waste. And these moisture packs? They're reusable!
You know that little white moisture absorber that come in food and supplement packages? That is a desiccant. For years, I didn't give them a second thought. They were just another bit of packaging that I disposed of. Then my wily two-year-old (who is now an adult) found a packet in a shoe box. And ate it.
Poison control assured me that while it's probably not something I'd want to add to my daily menu, the silica gel inside the moisture pack was non-toxic. Whew.
Reconsidering that moisture absorber
Many years later, those little moisture packs came into my awareness again. I was lamenting the loss of bulk oats to our humid climate. Even stored in a five-gallon food grade bucket, moisture was causing them to go "off" and eventually mold.
One of my readers–who happens to live on this island and is familiar with the climate–shared her successful storage secret with me: Homemade desiccant packs. It took me an embarrassingly long time to implement her tactics and make some of these moisture packs, but here I am, finally sharing it with you. (Thanks, Flavia!)
Moisture packs
First, you should know that if you don't sew or just can't be bothered, regular ole Joe Consumer can buy desiccant packs for food storage. This was news to me.
Take a Peek Inside My Book!
Get a free excerpt from my book, Attainable Sustainable: The Lost Art of Self-Reliant Living! You'll also get my free weekly newsletter, complete with recipes, gardening tips, and a little peek at what's going on around here — both the zany and the mundane.
You can even (I'm told) reuse these moisture absorbers by following the method I outline below. But if you store a lot of food, homemade desiccant packs can be more cost effective, and I suspect they'll last longer.
Make a homemade moisture absorber
Materials needed:
Cotton fabric
Silica gel beads (the ones I used are no longer available — these non-toxic clay beads would be a good substitute)
Pinking shears
Wooden chopsticks (optional, but helpful)
Instructions:
Basically what you'll be doing here is creating little bean bags. Instead of making one bag at a time, though, you can do many at once.
I started with a length of fabric roughly 4″ wide and 24″ long. This made a dozen desiccant packs, about 2″ square. You can use whatever scrap fabric you have at hand, but a long narrow piece will allow you to make many desiccant packs at once as I did.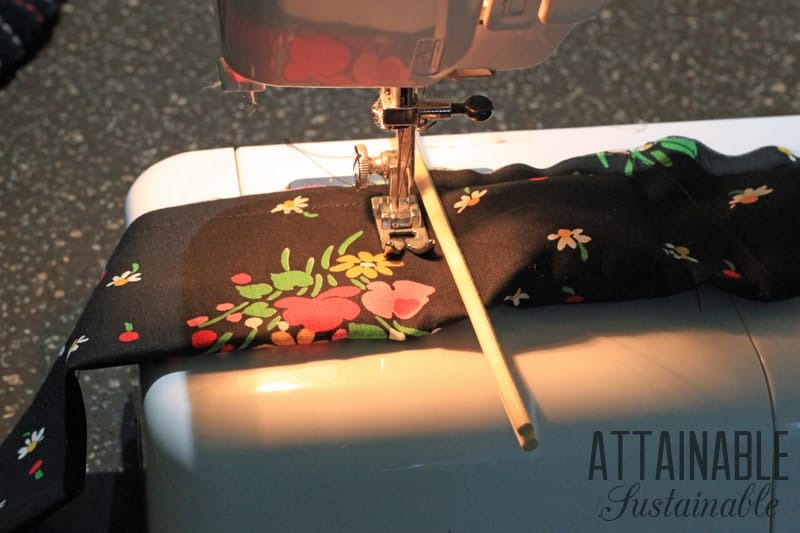 Related: Bulk Food Storage: How to Buy (and Store) Natural Foods
Fold fabric in half lengthwise, wrong sides together. Using a basic straight stitch, sew up the long side and across one end. You now have a long, skinny tube with a closed end.
Spoon one tablespoon full of silica gel beads into the tube. Hold the tube upright so the beads fall to the bottom. Use the chopsticks to hold the beads in place, then sew across the tube near the chopsticks. Sew a second seam across the tube about 3/4″ from your first seam.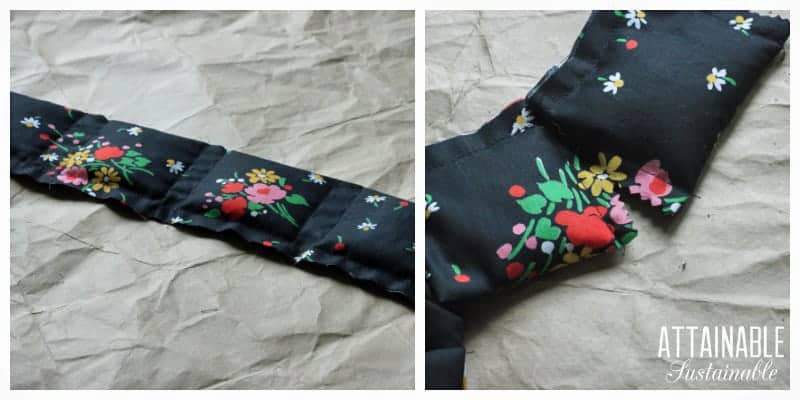 Remove from the sewing machine, and spoon another tablespoon full of beads into the tube. The two seams you made will keep the beads secure in a new "pocket." Again, use the chopsticks to hold the beads in place, and sew as above. Continue in this manner, adding beads and double seams, until you reach the end of the tube.
Use pinking shears to cut between each double set of seams. This will create individual desiccant packs.
Trim the final sewed edge with pinking shears to reduce fraying.
How to use homemade desiccant packs
Place your homemade desiccant packs in containers of dry goods to absorb wayward moisture. Items like dry beans, oats, and flour will all benefit from being stored with homemade moisture packs, especially in humid climates.
When you reach the bottom of the barrel (so to speak) simply dust off the fabric and place the desiccant pack in an oven set to low (250 degrees Fahrenheit) for 4-5 hours to dry it out. You could also dry these out in a food dehydrator.