At their peak of ripeness, fresh strawberries are quite possibly the perfect fruit. Trouble is, their peak is short-lived. Dehydrated strawberries capture the sweet and wonderful flavor so you can enjoy them for months (and months). Add dried strawberries to your favorite trail mix or a bowl of granola.
Be sure to give this strawberry compote recipe a try, too!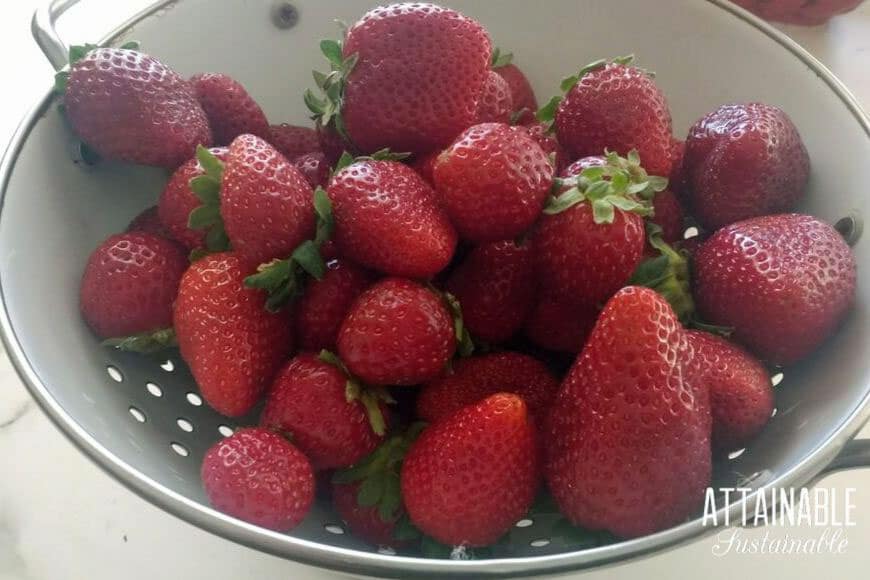 If you've grown strawberries or have access to farm fresh berries, you know that they can go from "still too green" to overripe in the blink of an eye. When you hit it just right, though? Fresh fruit nirvana.
---
The Handcrafted Pantry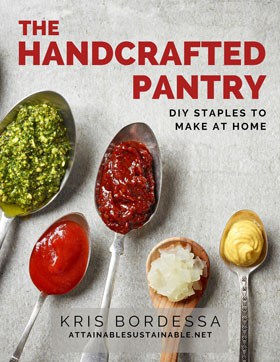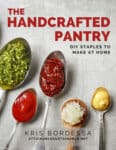 Ready to DIY your pantry with healthier ingredients? Check out my ebook, The Handcrafted Pantry! Filled with delicious recipes for some of your favorite condiments, snacks, and toppings, it's the guide you need to start skipping packaged products and embrace homemade.
---
Dehydrated strawberries
When there are more perfectly ripe strawberries than you can devour fresh, dehydrating them is a great solution. (You should also try your hand at making strawberry mead!) With dried strawberries, there's no need for added sugar, making for healthy snacks that are great for popping into the lunch box or taking on a hike.
Some people like to make fruit leather out of summer ripe fruit, but if I'm honest? I'm too lazy for that. I find simple dried fruit slices to be much easier — it requires just slicing and drying, skipping the pureeing and rolling steps.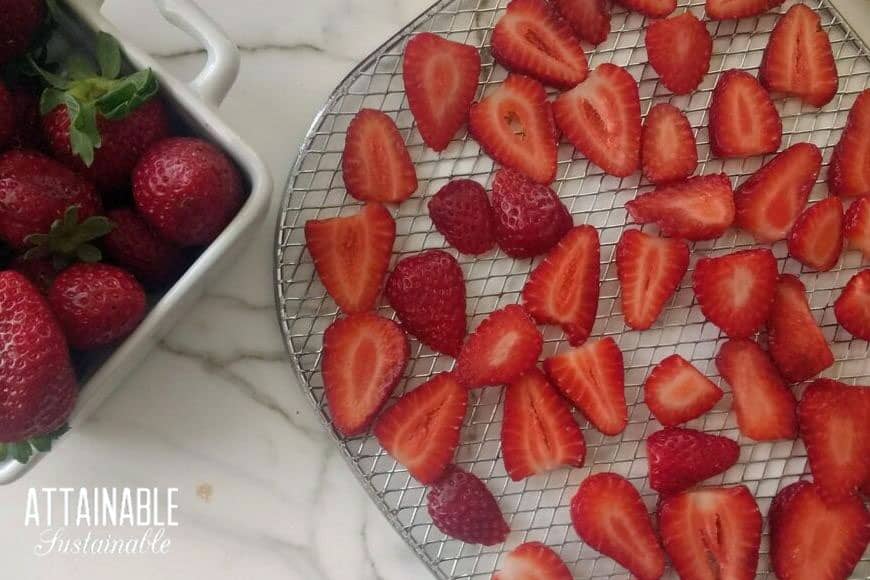 5 Easy Steps to Transform Your Pantry!
Ready to switch from store bought to homemade? Let me help you make some changes! Grab my FREE five-part guide to getting started.
Dried strawberries in a dehydrator
A dehydrator is a specialized appliance specifically made for drying fruits, veggies, and meat. They come in a variety of shapes and sizes, but all include a number of trays that allow warm air to freely circulate.
I've had an Excalibur 9-tray dehydrator for years. We use it frequently for dehydrating bananas and apples and making beef jerky (check my book for that recipe). That said, you don't need a dehydrator to make these dried strawberries. There are a couple of other ways to save that flavor.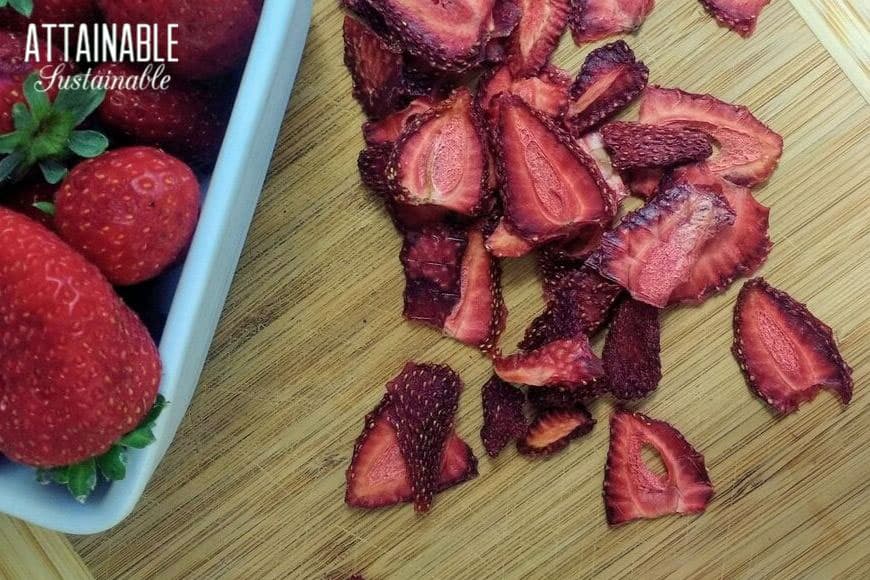 Oven dried strawberries
Drying strawberries in the oven uses equipment most people already have on hand. It's not the most energy-efficient method, but it does the trick in a pinch.
Drying fruit requires low heat. On newer ovens, the "bread proofing" setting is probably the best way to dry fruit.
Using an air fryer to make dehydrated strawberries
While I was visiting mom, I picked up some absolutely perfect strawberries at the farmers market. I ate lots fresh, but I also used her air fryer to preserve some to bring home. The air fryer worked much like my dehydrator, resulting in tasty dried berries.
One caveat: The air fryer doesn't hold as much as my large dehydrator. It wouldn't be a great solution if you needed to dry a lot of fruit at once. Use it if you have one, certainly, but my money's still on the dehydrator for best use of energy and time.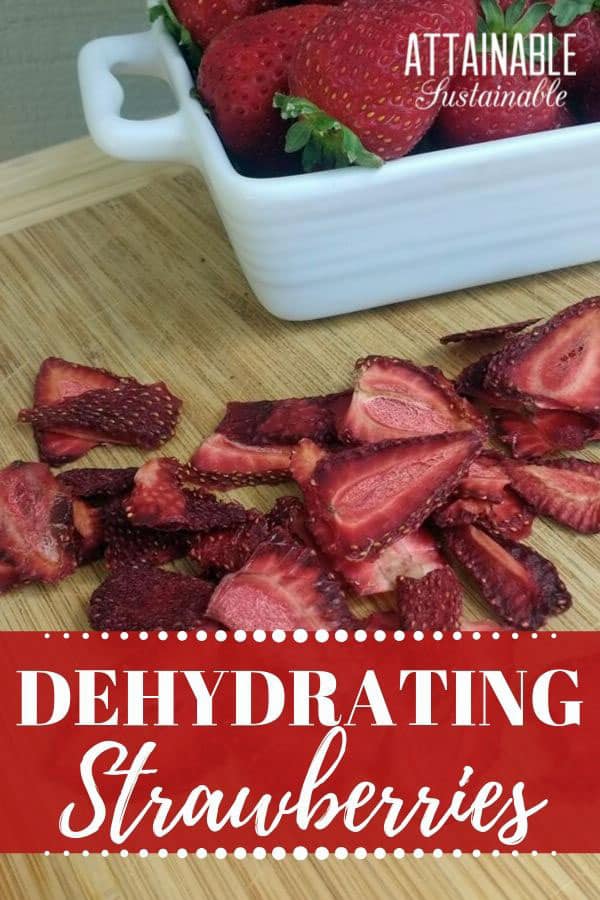 ★ Did you make these dehydrated strawberries? Don't forget to give them a star rating below! ★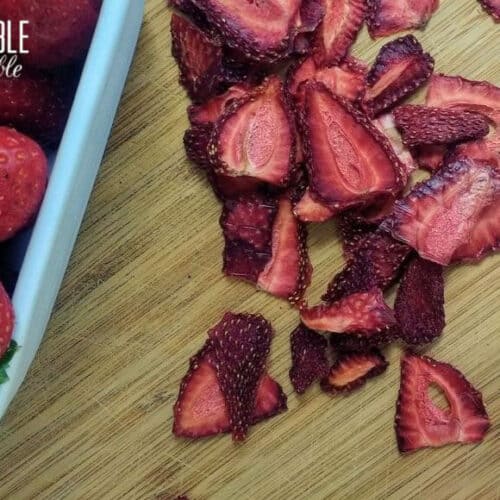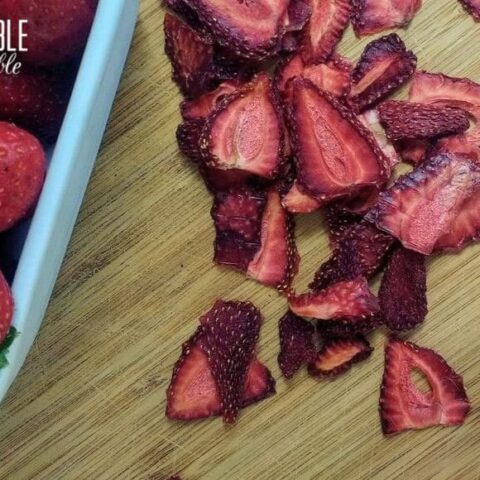 Homemade dehydrated strawberries
Total Time:
4 hours
15 minutes
These dried strawberries are healthy snacks with no added sugar. Perfect for the lunchbox!
Instructions
Wash strawberries and remove greens. (There are special strawberry hullers, but I just use a knife.)
Slice the strawberries about 1/8 inch thick. Aim for uniform thickness so all of the slices will dry at the same rate.
In the dehydrator
Place sliced strawberries on trays, close together but not touching. Dry on 135ºF for 4 to 6 hours or until strawberries are leathery.
In the oven
Place wire racks on a rimmed baking sheet. Place sliced strawberries on racks, close together but not touching.
Set oven to 200 degrees or lower, with the ideal temperature being 135ºF. This will depend upon your oven. The bread proofing setting on newer ovens works well. On older ovens, you'll likely have to set it at the lowest temperature. Even then, you may need to prop the door open to prevent it from getting too hot. (You don't want to cook the strawberries!)
In the air fryer
Place sliced strawberries on trays, close together but not touching. Dry on 135ºF for 4 to 6 hours or until strawberry slices are leathery.
Notes
Cool completely, then store in an air tight container at room temperature for months. (You can extend their shelf life by adding one of these DIY desiccant packs to the storage container.)
Adjust the quantity of strawberries according to how many you have on hand. You'll use the same cooking time no matter how full your dehydrator or air fryer is.
Nutrition Information:
Yield:

4
Serving Size:

1 grams
Amount Per Serving:
Calories:

38
Total Fat:

1g
Saturated Fat:

1g
Unsaturated Fat:

0g
Sodium:

1mg
Carbohydrates:

9g
Fiber:

2g
Sugar:

6g
Protein:

1g