What if you could preserve the flavor of summertime berries in a jar? You can! This homemade strawberry jam recipe is easy for beginners, sweetened with honey, and you'll be able to savor the goodness of garden fresh berries all year long!
You should also try making this strawberry cobbler when berries are in season!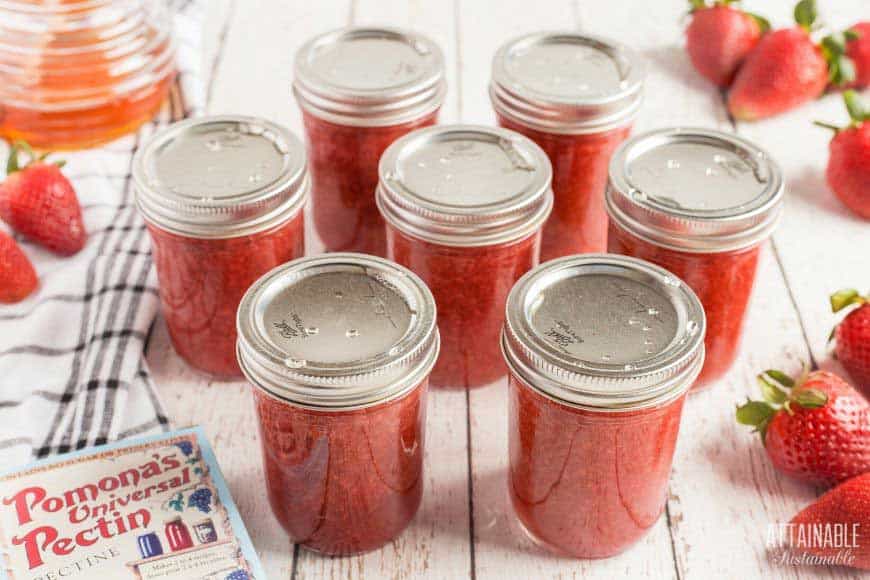 Making — and preserving — jams and and jellies is one of the easiest ways to get started with home canning. I won't go so far as to say it's foolproof, but it's pretty hard to make a mess of homemade jam. It's one of my favorite projects to suggest for people who are just toying with the idea of canning at home.
---
The Handcrafted Pantry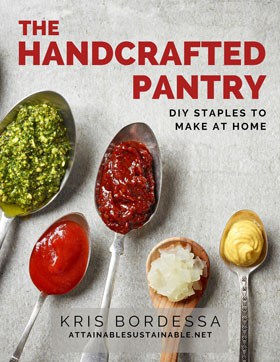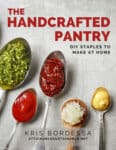 Ready to DIY your pantry with healthier ingredients? Check out my ebook, The Handcrafted Pantry! Filled with delicious recipes for some of your favorite condiments, snacks, and toppings, it's the guide you need to start skipping packaged products and embrace homemade.
---
Strawberry jam recipe – make it at home!
Whether you're growing your own little strawberry patch, taking advantage of u-pick farms, or supporting your local market farmers, when strawberries are in season it's a chance to indulge in fresh berries. But if you've got extra berries, this fresh strawberry jam recipe gives you a chance to preserve some of that flavor. Just imagine how happy you'll be to pop the lid off a jar of homemade strawberry jam in the middle of winter! Ahhh!
So, making strawberry jam — or any jam recipe — is easy. It's a matter of smashing berries and adding a sweetener. Old fashioned pectin brands (like Sure Jell) require crazy amounts of sugar in order to create the "gel" for a thick jam. I prefer to use Pomona brand, since it allows me to use much less sweetener. There are a couple of steps when using this brand, but they're easy steps.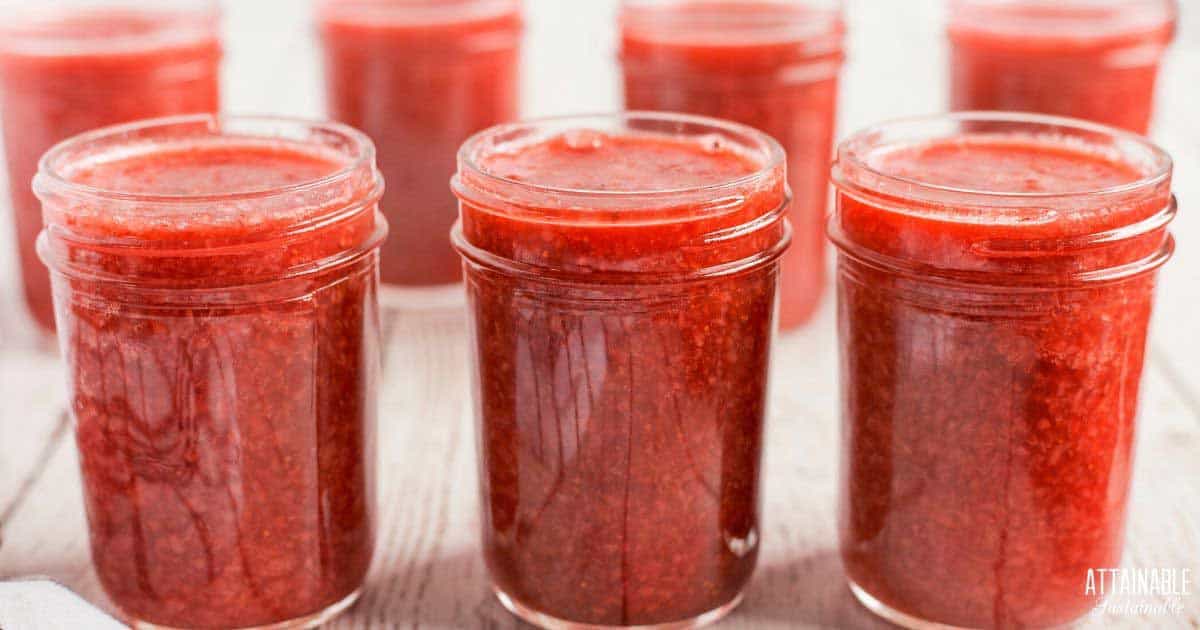 5 Easy Steps to Transform Your Pantry!
Ready to switch from store bought to homemade? Let me help you make some changes! Grab my FREE five-part guide to getting started.
First, you'll use the calcium powder (in the small packet), and mix 1/2 teaspoon powder with 1/2 cup water. This will result in what we'll call calcium water. You'll have more calcium water than you need. Keep the leftovers in the fridge for your next batch of homemade jam. [This collection of 100 jam and jelly recipes might inspire you.]
You'll add this calcium water to the crushed strawberries.
The pectin powder (in the large packet) is then combined with the sweetener, in the case of this recipe, honey. You want to make sure that it's thoroughly combined before adding to the cooking berries.
That's it. You've just made homemade strawberry jam. Easy, right?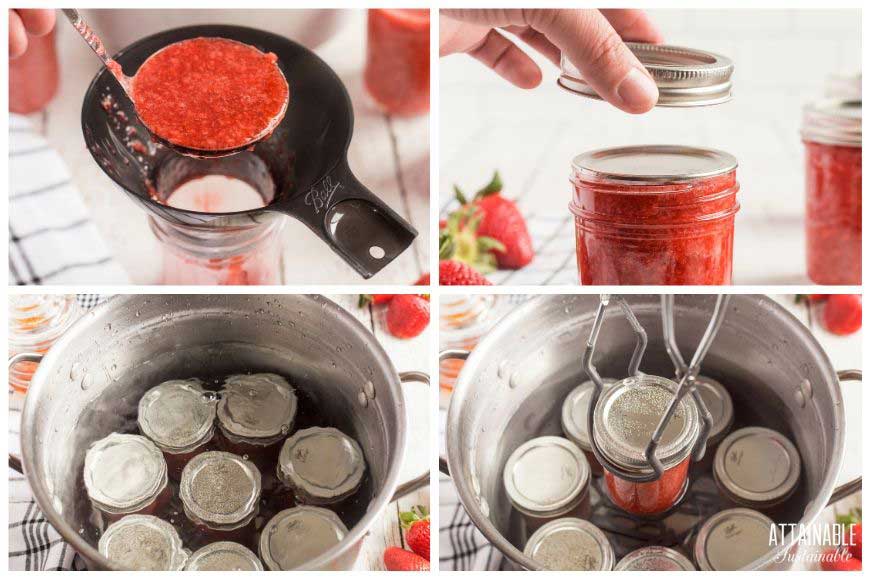 Canning Safety
Canning is an excellent way to preserve food for the pantry, but there are some important safety considerations to keep in mind.
Know the difference between water bath canning and pressure canning. Low acid items must be pressure canned for safety.
Altering ingredients may change the recipe's pH, posing a safety issue. I highly recommend investing in pH paper to test your products for acidity level when canning. Note: The Hawaii Master Food Preservers suggest a pH of 4.2 or lower in the tropics. In other regions, the recommended pH is 4.6 or lower.
Use the proper jars and lids. Never reuse lids, with the exception of the Tattler lids that are intended for such a purpose.
For more on canning equipment, please go here.
The recipes on this site have been made following safe canning procedures by a certified Master Food Preserver.
Canning jam
This is often the sticking point for people who have never canned before. It's something "new" and why is it that we think "new" is difficult?? It's not! You'll need special canning jars, lids, and rings (read more about canning equipment here).
Once the jars are filled, you'll process them in a water bath. What this means is you'll put the filled and sealed jars of strawberry jam into boiling water and heat them for ten minutes. This assures that the jars will seal well. Remove the jars to a towel-covered countertop and allow to cool fully. As they cool, you'll hear the little "tink" sound of the jars sealing. Store any unsealed jars in the fridge and use those first. (This is unusual, but it does happen once in awhile.)
Remove the ring from each sealed jar, rinse to remove any jam residue, and store (without the ring) in the pantry.
Here's a more detailed look at canning jam and jelly.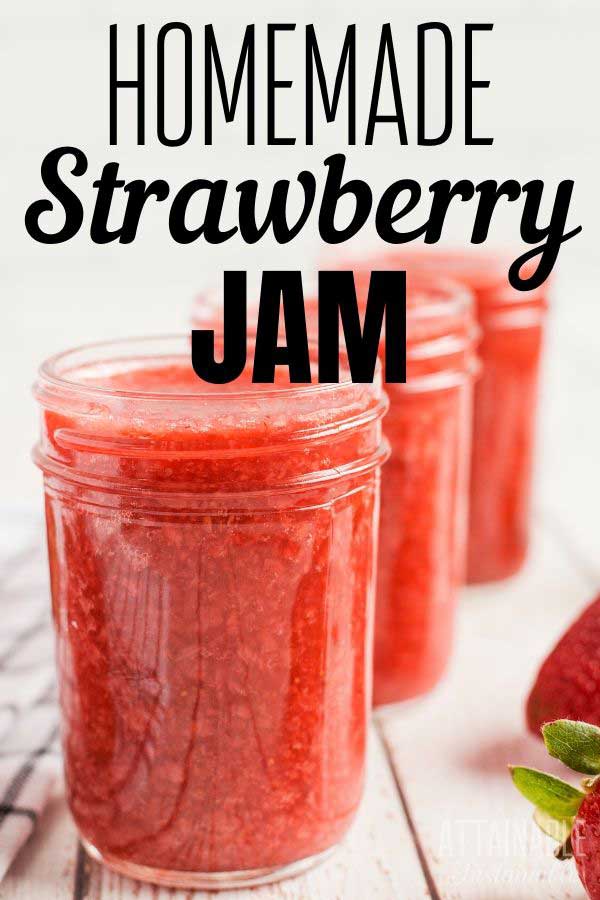 ★ Did you make this strawberry jam recipe? Don't forget to give it a star rating below! ★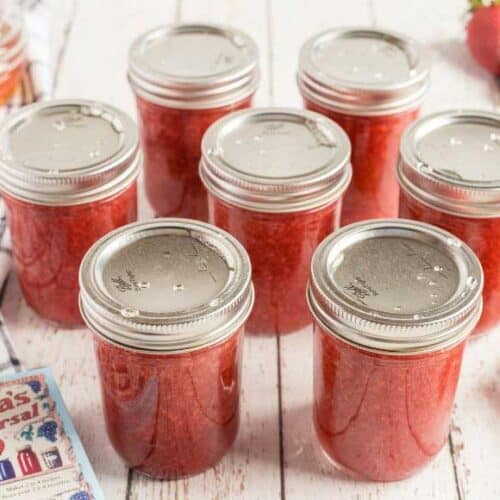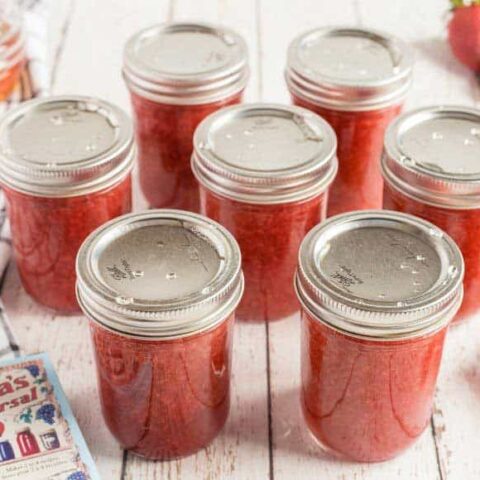 Easy Homemade Strawberry Jam
Total Time:
1 hour
10 minutes
What if you could preserve the flavor of summertime berries in a jar? You can! This homemade strawberry jam recipe is easy for beginners, sweetened with honey, and you'll be able to savor the goodness of garden fresh berries all year long!
Ingredients
8 cups mashed fresh strawberries
1 cup honey , (or 1-1/2 cups sugar)
1 box Pomona brand pectin
Instructions
Prep ahead:
Prepare calcium water from Pomona pectin. Put 1/2 tsp calcium powder (the small package) and 1/2 cup water in a small jar with a lid. Shake well before using.
Fill a canning pot with water, set the lid in place, and heat on high heat until just boiling while you're cooking the jam.
Make the jam
Measure mashed strawberries into a large pot along with 4 teaspoons of the prepared calcium water.
In a separate bowl, combine the honey (or sugar) with 4 teaspoons pectin powder (the large envelope) until thoroughly combined.
Bring strawberries to a full boil. Add sweetener, stirring vigorously for a couple of minutes to dissolve the pectin. Once returned to a full boil, remove from heat.
Canning strawberry jam
Ladle hot strawberry jam into half-pint jars to within a quarter inch of the rim. A canning funnel makes this easy.
Wipe jar rims to remove any jam that may have spilled. A clean rim is essential to a good seal.
Set jar lids in place. Screw bands on finger tight.
Use a jar lifter to gently submerge jars into hot water in canning pot. Water should cover the top of the jars by an inch. The water will cool somewhat in reaction to the addition of the jars. Return the water to a low boil and then set the timer.
Process in a boiling water bath for 10 minutes. Add a minute to the boiling time for every 1,000' above sea level.
Check seals. Lids should be solid and pulled down tight. (if they flex and pop, the jar didn't seal; put unsealed jars in the refrigerator and use those first).
Remove rings and wash outsides of jars. Store in a cool, dry place.
Notes
You can mash strawberries by hand or a use a food processor to make a finer jam. 
Makes 9-10 half pints
Nutrition Information:
Yield:

80
Serving Size:

1 grams
Amount Per Serving:
Calories:

50
Unsaturated Fat:

0g
Sodium:

323mg
Carbohydrates:

12g
Fiber:

2g
Sugar:

6g
Protein:

1g