Pressure canning can seem intimidating when you are just learning how to preserve food. You've probably seen scary canning disasters on the internet or heard old granny tales of canners exploding in the kitchen.
Still learning about canning? Please visit this page to learn about the various canning equipment and how the process works.
Today's pressure canners are much safer than the canners our grandmothers used prior to 1980. With the scientifically tested recipes that we have at our disposal, the risk of botulism from home canned food is minimal, too. Follow these tips and you'll be well on your way to confidently pressure canning in your kitchen.
1. Your canner won't blow up.
Pressure canners manufactured since 1980 are safe when used correctly. Modern canners are equipped with a pressure fuse. If the pressure inside the canner grows to a dangerous level, the pressure fuse will blow off the canner. This releases that pressure inside the canner, preventing a disaster. Modern canners won't blow up.
2. Low acid foods must be canned in a pressure canner to be free of botulism risk.
Low acid foods include:
Vegetables
Poultry
Sea Food
Dairy
Meat (including broth)
Some fruits such as figs, dates, bananas, Asian pears, papaya, melons, ripe pineapples, (acidify for water bath canning)
Some tomatoes (acidify for water bath canning, see step 3)
3. Low acid fruit including tomatoes can be acidified.
Add 2 tablespoons of lemon juice, ½ a teaspoon of citric acid, or ¼ cup of vinegar per quart jar. Use the pressure canning method for tomato recipes that are lower acid.
5 Easy Steps to Transform Your Pantry!
Ready to switch from store bought to homemade? Let me help you make some changes! Grab my FREE five-part guide to getting started.
4. Vegetables other than tomatoes must be pickled to be safe for water bath canning.
If you wish to preserve vegetables without pickling, pressure canning is the method you'll need to use. For pickling, follow recipes developed after 1994 by a reputable test kitchen. Prior to 1994, home canning recipes did not reliably account for botulism risks in pickled vegetables.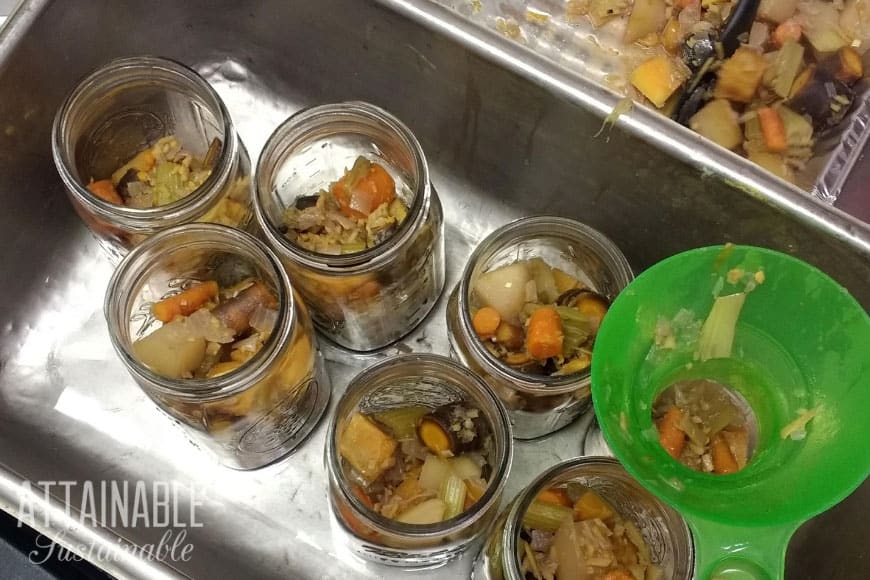 5. All low acid food should be processed at 240°F to 250°F.
A pressure canner at 10 to 15 lbs. pressure is the only reliable way of attaining a consistent temperature to kill botulism spores. The time varies with the type of food, from 15 minutes to 100 minutes. The way the food is packed into jars and the size of jars used also changes the amount of time the jars need to be processed.
The safest practice is to use canning recipes developed after 1994 from a Ball Blue Book® or from government test kitchens. These recipes have been scientifically tested to control bacterial growth.
Home Canning with Confidence
If you're new to canning but love the idea of filling your pantry with shelf-stable pantry items, consider investing in this Home Canning with Confidence e-course with my friend Melissa Norris from Pioneering Today.
In it, Melissa covers everything from basic canning safety to pressure canning your own meat. (Yes, you can do that!) Head over to Home Canning with Confidence to learn how to embrace this method of food preservation and keep your pantry stocked with homegrown produce!
6. Pressure doesn't destroy micro-organisms.
It's the higher temperature that the pressure allows the canner to obtain that destroys the organisms, and higher pressure increases the temperature.
7. Higher altitude canning requires more pressure, because water boils at a lower temperature at higher altitudes.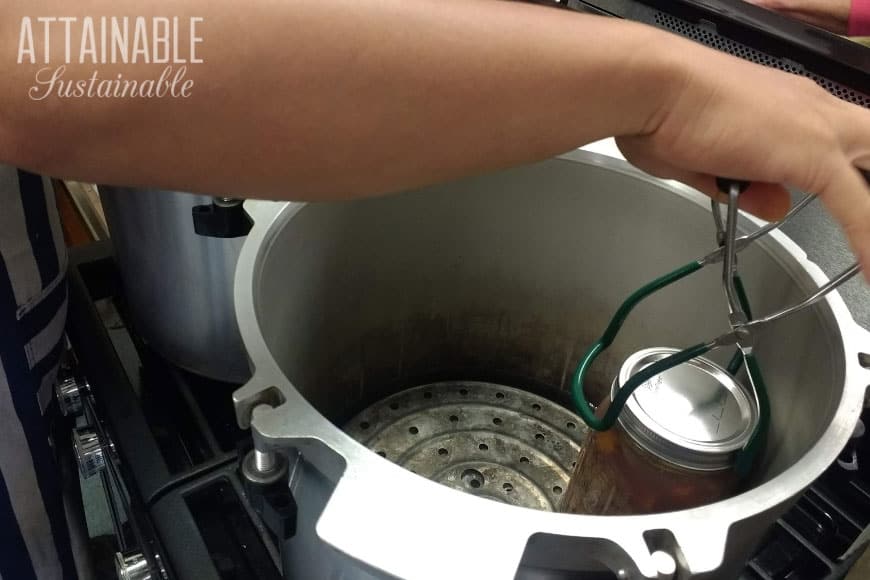 8. There are two kinds of pressure canners on the market.
Weighted gauge canners and dial gauge canners maintain the pressure and temperature differently.
Weighted gauge canners exhaust a tiny amount of air and steam each time the rocker jiggles. They maintain the temperature exactly. They do not need to be tested to see if the 5 lbs gauge is actually maintaining 5 pounds of pressure inside the canner. If the rocker is jiggling the pressure inside the canner is maintained.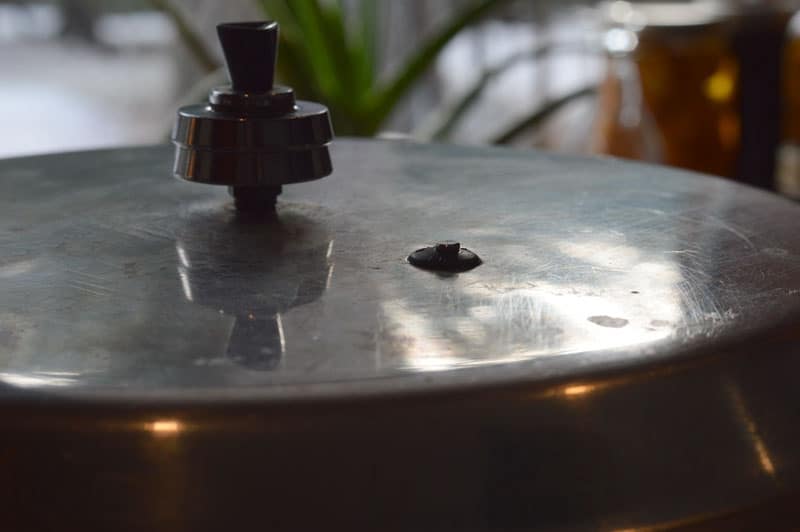 However, weighted gauge canners can't compensate for changes in elevation. Therefore at altitudes over 1,000 feet the pressure needs to be increased, by using 10 pounds of pressure when the recipe calls for 5 pounds, or by using 15 pounds of pressure when the recipe calls for 10 pounds.
With weighted gauge canners you choose your weight based on your altitude.
Dial gauge pressure canners must be checked for accuracy annually. This can be done at your county extension office if you live in the USA.
If the gauge reading is inaccurate by more than 2 pounds it should be replaced. Canning with a faulty gauge will result in unpredictable canning results, and increase your risk of food borne illness.
9. Older pressure canner models require a light coating of vegetable oils on the gasket at least once a year.
Newer model pressure canners are pre-lubricated and do not require additional oil.
10. Canners made prior to 1970 may be safe to use.
They should be checked for accuracy by your local extension office, to ensure that the pressure gauge is working properly. Your extension office will also check the canner for warping, which may prevent a proper seal from forming.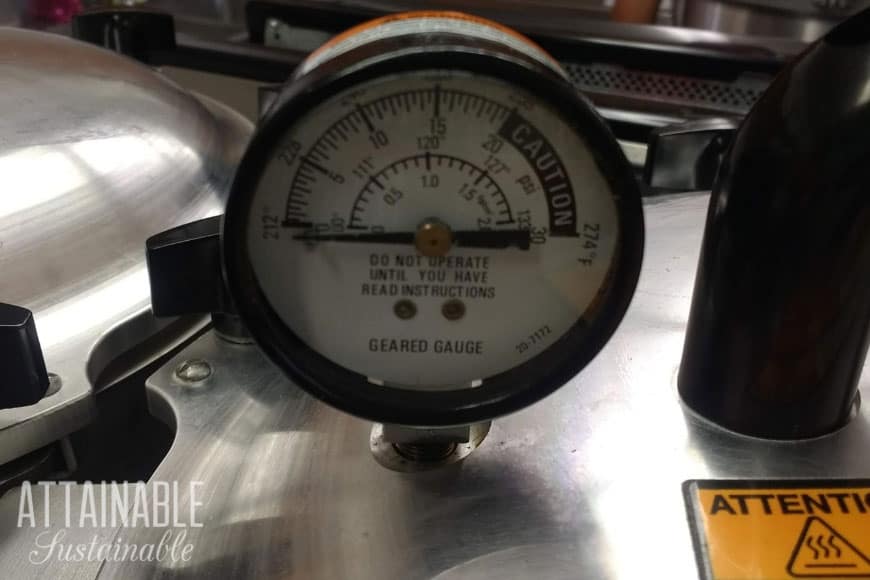 11. Both dial gauge and weighted gauge pressure canners are equipped with a safety fuse, to prevent overheating and excess pressure.
See tip number 1.
12. The lid of dial gauge canners should not be immersed in water.
There is some risk of water getting into the gauge and causing rust, if the gauge is immersed. Weighted gauge canner lids can be thoroughly immersed and cleaned in water.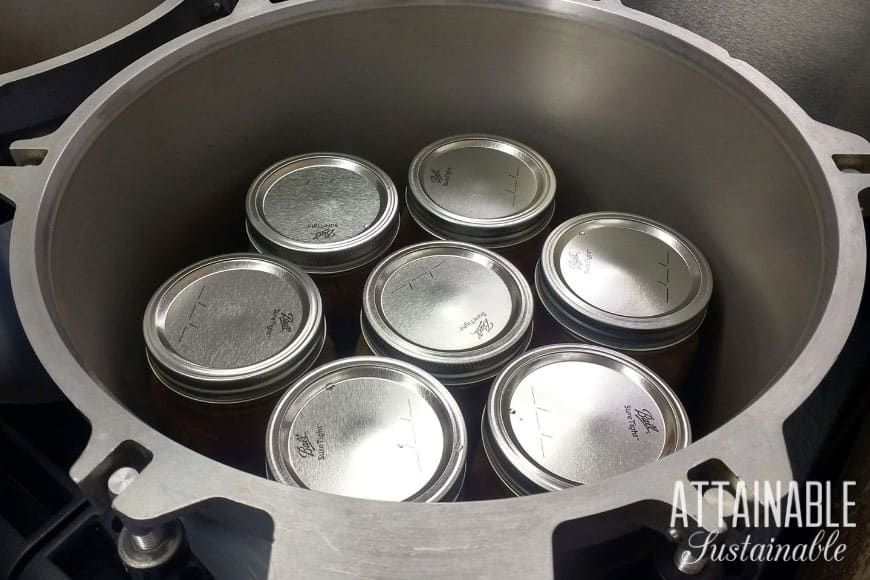 13. Some stove top surfaces are inappropriate for pressure canning.
Newer Presto and Mirro brand pressure canners are not designed to be used over the high BTUs of propane burners. The high heat can warp the bottom of the canner. Glass and ceramic stove tops are not made for the weight and high heat of the pressure canner. The stove top can be damaged. Use them only on solid fuel stoves, electric ranges with coil burners, or gas ranges.
14. Air trapped in the canner lowers the internal temperature of the canner.
This causes under processing and increases botulism risk. Always vent the pressure canner for 10 minutes before pressurizing it.
15. Don't begin to time the processing time until the canner reaches the appropriate pressure for the food you are canning.
If at any time the pressure in the canner drops below the appropriate pressure, increase the heat to bring your canner back up to pressure. Then begin timing the processing again. You will need to process for the full processing time in order to ensure a safely canned product.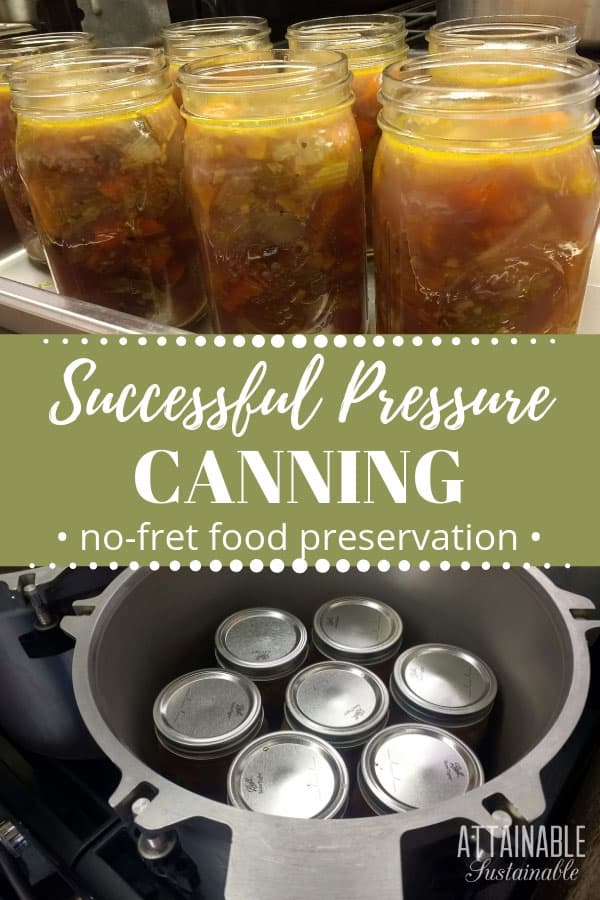 Pressure Canner Instruction Manuals
When processing food in a pressure canner, follow the manufacturer's instructions for your pressure canner. If you purchase a used pressure canner and didn't get an instruction manual, one of these might help. Older owner's manuals can sometimes be ordered from these companies as well.
Presto Pressure Canner Instruction Manuals
You can order older manuals from the Presto Company at no charge, through their online store. You will need to know the model number of your canner.
All American Pressure Canner Instruction Manual
Mirro Pressure Canner Instruction Manual
Granite Ware Pressure Canner Instruction Manual
Use your pressure canner with confidence
While the first few times you use a pressure canner can seem complicated and intimidating, the process is straight forward. Canners made since 1970 are equipped with safety fuses to prevent over pressurizing, so the fears of exploding canners are needless. If you are still unsure and don't know where to begin, taking a class or finding a mentor can help you feel more comfortable with pressure canning.
Canning Safety
Canning is an excellent way to preserve food for the pantry, but there are some important safety considerations to keep in mind.
Know the difference between water bath canning and pressure canning. Low acid items must be pressure canned for safety.
Altering ingredients may change the recipe's pH, posing a safety issue.
Use the proper jars and lids. Never reuse lids, with the exception of the Tattler lids that are intended for such a purpose.
For more on canning equipment, please go here.
This recipe has been made following safe canning procedures.
Originally published February 2016; this post has been updated.