Homemade stock is a pantry staple that you can make right at home. Canning chicken broth or turkey broth requires a pressure canner, but you'll love having shelf-stable chicken stock (or turkey broth) at the ready for cooking.
When you live off-grid, storing food without freezing or refrigeration becomes the norm. A root cellar, loads of fermentation vessels, and a pressure canner will be your means of food preservation.
Because turkey and chicken broth is such a staple food and because butchering chickens means more broth than we can eat up at one time, I turn to pressure canning. The process for canning chicken stock is dead simple once the broth is made. Then when soups, stews, and sauces are on the menu, it's easy to pop open a jar when we need it.
Just a quick note that broth, like all other low-acid foods, must be canned using a pressure canner. A water bath canner is not sufficient to safely preserve low-acid foods.
Related: A Day of Food Preservation (Just for Fun)
Canning chicken stock with a pressure canner
Prepare the broth by covering turkey or chicken bones with cool, filtered water in a large stock pot. You can add vegetable scraps or parsley as well. Cover the pot and allow to simmer for at least one hour, or up to twelve hours. Allow the broth to cool slightly, strain and skim the fat, and return to a pot and bring to a boil.
For more on making homemade stock, read this.
Meanwhile prepare your pressure canner by adding water and beginning to heat the water according to the manufacturer's directions. Carefully fill the jars, leaving 1-inch of headspace.
Related: Easy Canning Recipes for the Novice Home Canner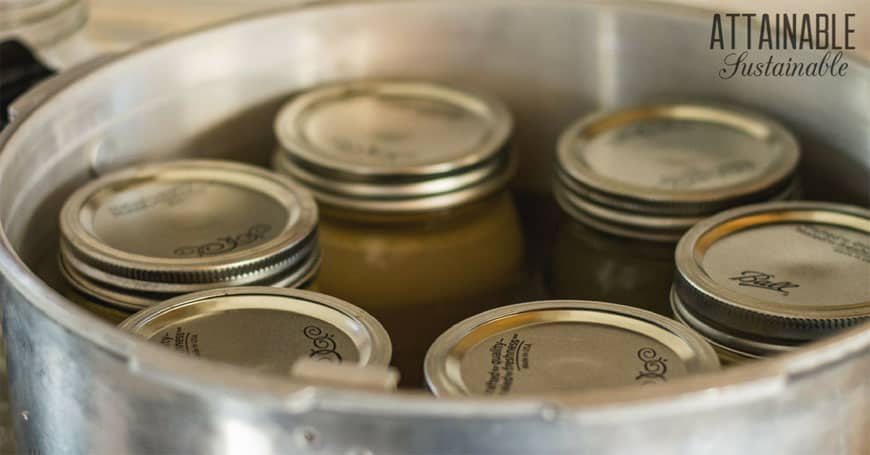 Related: Home Preservation: Canning Equipment and How to Get Started
Wipe the rim of the jars with a cloth dipped in soapy water. Place clean lids and rings on jars and process as follows:
For a dial-gauge canner:
Process time          0-2000       2,001-4000      4,001-6,000    6,001-8000
Pints   20 minutes            11 lbs         12 lbs              13 lbs              14 lbs
Quarts 25 minutes           11 lbs         12 lbs              13 lbs               14 lbs
For a weighted-gauge canner:
Process time           0-1000 ft       above 1000 ft
Pints   20 minutes             10 lbs            15 lbs
Quarts 25 minutes            10 lbs            15 lbs
Allow canner to completely depressurize before opening canner. Remove jars and allow to cool completely. Remove rings and wash the outside of the jars with a cloth before storing in a cool, dark place. Use your homemade turkey or chicken stock in recipes like this DIY Cream of Mushroom Soup or Easy Lentil Soup. Canning chicken stock for your pantry is a great convenience!