Canning dried beans at home makes them ready to use for fast weeknight dinners and it means you can skip the BPA-lined cans from the supermarket.
Have you ever come across some dried beans deep in the recesses of your kitchen cabinets? When they're years old, they can take forever to cook. But even if you know this, you put them to soak so you can try to make your favorite bean soup anyway. After hours they are still a bit crisp and completely unpleasant to eat so you think of just tossing them to the compost.
But wait!
This happened to me just last week and thankfully I had this trick up my sleeve for canning dried beans in about five minutes prep time (plus 90 minutes of listening to the canner as I caught up in the kitchen). Yes, processing them in canning jars softens them like a dream.
The only catch is that you must pressure can them instead of water bath canning them. The lack of acidity in beans means water bath canning does not do a sufficient job in preserving them.
Safety First!
Canning is an excellent way to preserve food for the pantry, but there are some important safety considerations to keep in mind.
Know the difference between water bath canning and pressure canning. Low acid items must be pressure canned for safety.
Altering ingredients may change the recipe's pH, posing a safety issue. I highly recommend investing in pH paper to test your products for acidity level when canning. Note: The Hawaii Master Food Preservers suggest a pH of 4.2 or lower in the tropics. In other regions, the recommended pH is 4.6 or lower.
Use the proper jars and lids. Never reuse lids, with the exception of the Tattler lids that are intended for such a purpose.
For more on canning equipment, please go here.
The recipes on this site have been made following safe canning procedures by a certified Master Food Preserver.
Related: Homemade Refried Beans Recipe
5 Easy Steps to Transform Your Pantry!
Ready to switch from store bought to homemade? Let me help you make some changes! Grab my FREE five-part guide to getting started.
Canning dried beans in the pressure cooker
This recipe makes seven quarts of beans. You'll need to soak the dried beans for 8-to-12 hours. If you do this overnight, the beans will be ready for canning in the morning. Before you start, prepare seven quart-sized canning jars by washing them thoroughly, and make sure that you have compatible lids and rings.
---
The Handcrafted Pantry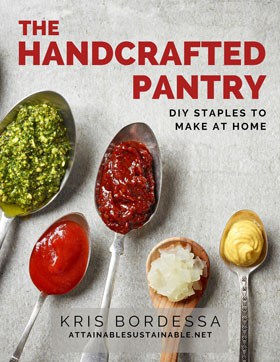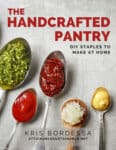 Ready to DIY your pantry with healthier ingredients? Check out my ebook, The Handcrafted Pantry! Filled with delicious recipes for some of your favorite condiments, snacks, and toppings, it's the guide you need to start skipping packaged products and embrace homemade.
---
Once processed, these beans are shelf stable and can be stored in the pantry. Use as you would canned beans from the grocery store. If you can black beans, you can use them in this black bean dip. White beans? Add them to our favorite white chicken chili. You can even use dried garbanzo beans in this easy canning recipe and you'll be all set for making hummus.
Related: How to Cook Pinto Beans in a Pressure Cooker: Instant Pot Refried Beans
★ Did you make this recipe? Don't forget to give it a star rating below! ★
Canning dried beans in the pressure cooker
Total Time:
2 hours
30 minutes
Having these ready to eat legumes in the pantry makes for fast and inexpensive weeknight dinners.
Ingredients
3 pounds dried beans
filtered water
Instructions
Pour the dried beans to be canned into a large pot and cover with enough water to give the beans a chance to at least double in size and still stay submerged.
Soak for 8-12 hours.
Drain off the soaking water and cover with fresh water by several inches. Bring beans to a boil and simmer 30 minutes.
Transfer beans and cooking liquid to clean jars, leaving 1" head space.
Carefully fasten the lids and rings. Fill your pressure canner with water as indicated by the manufacturer's instructions.
Move the filled jars to the canner and fasten the lid to the canner. Turn the heat on high under the canner and allow the canner to heat up until the top begins to steam out. Set a timer to allow the canner to steam out for ten minutes.
Once ten minutes have passed, place the weight on the canner and allow the pressure to begin to build in the canner. Let the pressure build to 10 pounds (15 pounds if your elevation is above 6500 feet). Process at this pressure for 90 minutes for quarts or 75 minutes for pints.
Once the process time is complete, turn the burner off and leave the canner to depressurize on its own.
Only when the canner's pressure has completely come down to zero should you remove the weight. The jars can then be lifted carefully from the canner and placed on a towel to cool and dry.
Leave jars to cool completely (and seal!) before moving. Remove the rings before storing in a cool, dry place. Use as you would canned beans from the grocery store.
Nutrition Information:
Yield:

18
Serving Size:

1 grams
Amount Per Serving:
Calories:

254
Unsaturated Fat:

0g
Sodium:

9mg
Carbohydrates:

46g
Fiber:

11g
Sugar:

1g
Protein:

17g
Note for the lectin-free crowd
: Pressure canning dried beans is recommended for reducing the lectins in beans. This method of canning beans fits with what Dr. Gundry suggests in
The Plant Paradox
.