This easy hummus recipe is fabulous served with a bit of feta cheese and kalamata olives or on a vegetable platter. It's a great high-protein appetizer or light lunch.
For something a little bit different, try this fava bean hummus. It's beautiful AND tasty!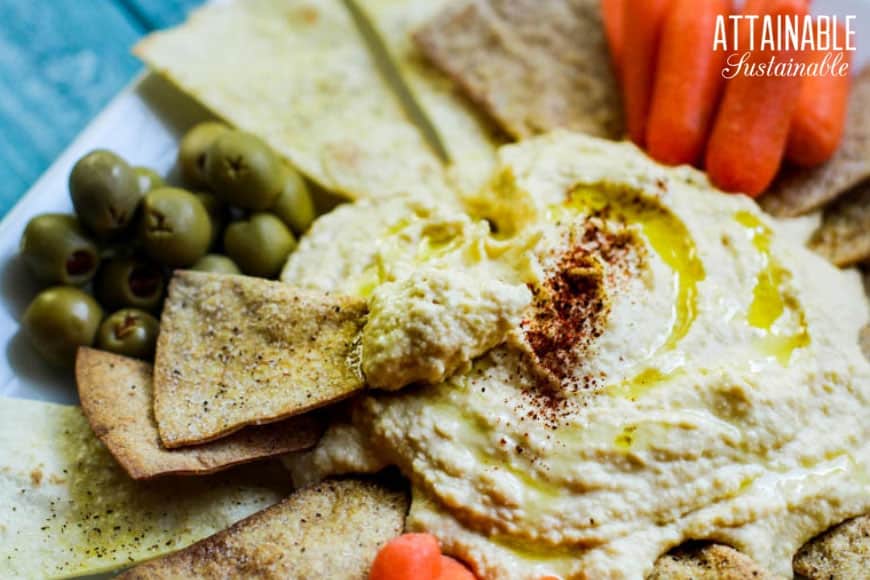 It kind of blows my mind that so many people buy hummus out of the refrigerator case. But then it occurred to me that maybe it's because that's the only hummus they've ever had. Maybe they don't know how easy it is to make!
Case in point:
Recently, my son came home with a friend of his. They were hungry, so he decided to make a batch of this easy hummus. His friend was in awe. "You can make your own hummus?" She had no idea this was a possibility. All she'd ever known was the store-bought, plastic tubs of hummus.
She didn't realize hummus was made from garbanzo beans.
5 Easy Steps to Transform Your Pantry!
Ready to switch from store bought to homemade? Let me help you make some changes! Grab my FREE five-part guide to getting started.
And of course, once it was made, her comment was not surprising: "I can't believe it's that easy!"
Not to mention, friends, how much less expensive it is to make your own hummus! Protein-packed homemade hummus is a college student's dream. [More on cooking with inexpensive dry beans here.]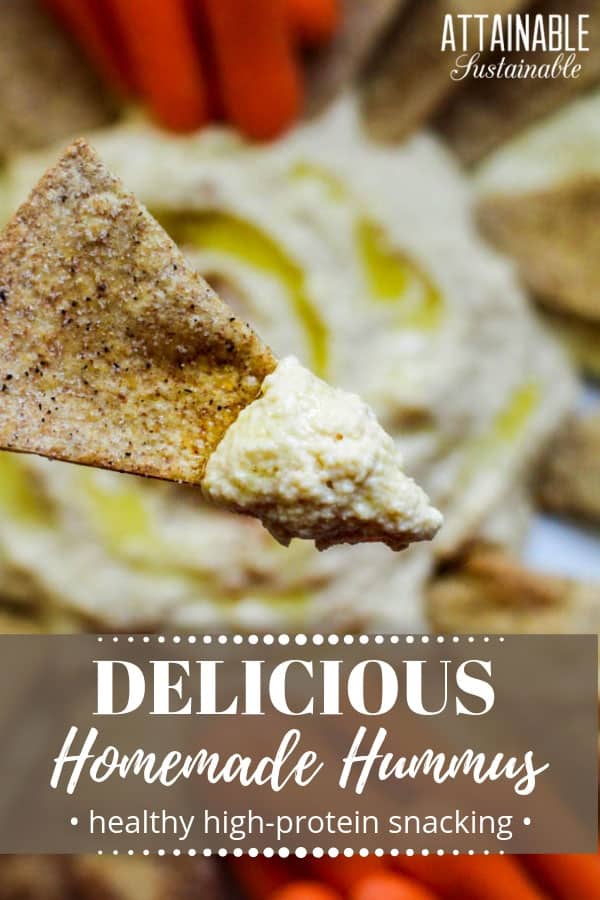 ---
The Handcrafted Pantry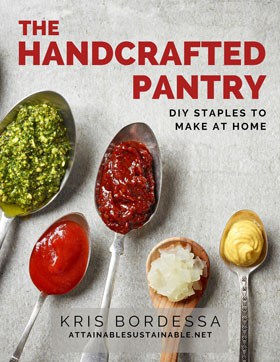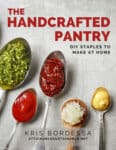 Ready to DIY your pantry with healthier ingredients? Check out my ebook, The Handcrafted Pantry! Filled with delicious recipes for some of your favorite condiments, snacks, and toppings, it's the guide you need to start skipping packaged products and embrace homemade.
---
I can't believe it's that easy hummus recipe
The first time I had hummus it was homemade by a woman who was hosting a toddler playgroup at her home and she graciously shared her easy hummus recipe. Eons ago.
I've been using that easy hummus recipe ever since.
I daresay, that was before hummus was even sold in most stores, so at the time, if I wanted to have it again making it was my only option. (And that toddler I was attending with? Official adult!)
Hummus ingredients:
Garbanzo beans: Traditional hummus is made with a base of finely processed garbanzo beans, aka chickpeas. It's the standard ingredient for making hummus, but a person could also experiment with using white beans or black beans for a different flavor.
Tahini: This sesame seed paste can be expensive to buy, though a jar does go a long way. It's also a hummus ingredient that many households won't have on hand. (Once you get in the habit of making this garlic hummus recipe, you'll make sure it's in your pantry! I know a woman who dislikes the flavor of tahini and uses ricotta cheese instead.
Lemon juice: Use fresh lemons if you have them. If not, bottled is fine. The amount on this is variable, depending on just how tangy you like your hummus spread. If you need more liquid for the recipe but don't want to use the full amount of lemon, add some reserved water from the beans.
Garlic cloves: Definitely use fresh garlic for this — garlic powder just won't cut it. I'm a fan of a very garlicky hummus recipe and often add a few extra cloves for extra kick.
Cumin: This seasoning gives this easy hummus recipe a little earthy depth.
Sea salt: Let your tastebuds determine how much salt the hummus needs. If the beans are salty, you might need less.
Serve it up!
I love this hummus recipe served with flatbread and a bit of feta cheese, kalamata olives, and sliced tomatoes. Pita chips are another common way thing to serve with hummus. If you love high-protein hummus as much as we do, be sure to try this spicy hummus recipe and this roasted red pepper hummus.
★ Did you make this easy hummus recipe? Don't forget to give it a star rating below! ★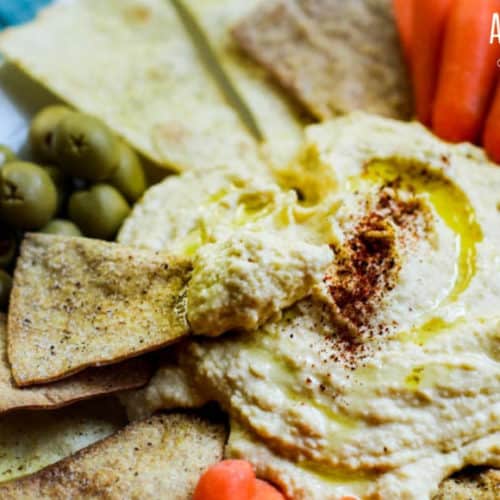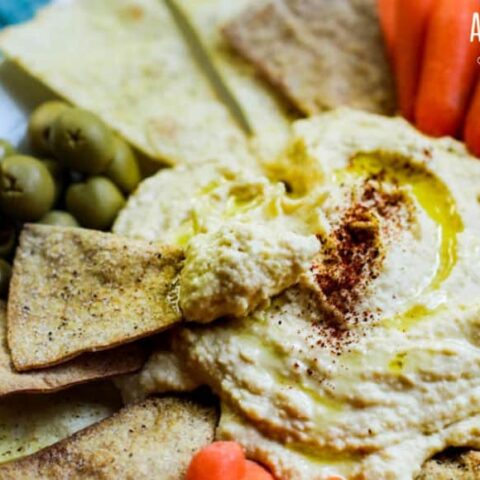 Easy Hummus Recipe
This easy hummus recipe is fabulous served with a bit of feta cheese and kalamata olives. It's a great appetizer or light lunch.
Ingredients
4 cups cooked garbanzo beans, (canned or prepared dry beans, see below)
3 Tablespoons tahini
1/2-2/3 cup lemon juice
4 large garlic cloves, coarsely chopped
Instructions
Drain beans, reserving some liquid.
Measure all ingredients except salt into the bowl of a food processor.
Process until smooth, adding a little more lemon juice, some of the reserved liquid, or water if necessary. (My husband thinks it's too lemony if I use the full amount of lemon juice; I like it that way – this totally depends on your preference.) Add salt to taste. Store in fridge.
To use dry garbanzo beans in this easy hummus recipe:
Soak one pound of beans overnight, making sure they're covered by about 4″ of water. Drain and rinse beans. Put beans in a stock pot, again covering them with about 4″ of water. Gently boil for about an hour or until beans are soft. Drain. Use four cups of cooked beans in recipe and freeze the rest for next time.
Notes
If you don't have a food processor, you can still make this easy hummus recipe, though it will take a bit more effort to smash the garbanzo beans. You can use a pastry blender, a potato masher, or the back of a wooden spoon.
Nutrition Information:
Yield:

12
Serving Size:

1 grams
Amount Per Serving:
Calories:

122
Total Fat:

2g
Unsaturated Fat:

0g
Sodium:

6mg
Carbohydrates:

20g
Fiber:

5g
Sugar:

3g
Protein:

6g
This easy garlic hummus recipe was originally published in August 2011; it has been updated.