Making ricotta cheese at home is easy to do anytime, but it's especially frugal when you can salvage milk that's nearing its 'use by' date.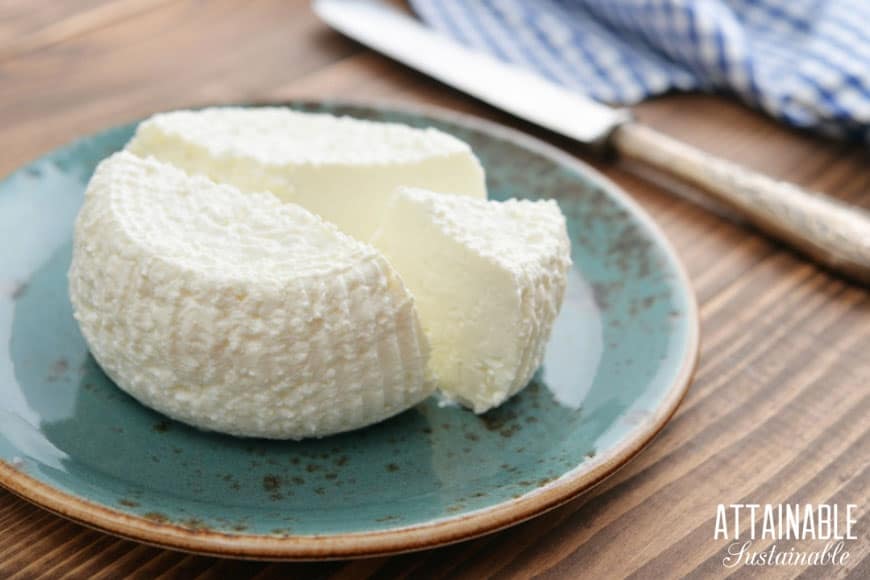 Normally we go through the milk we have on hand with no problem, but occasionally it starts to sour before we can use it. This week I found myself with three quarts of milk just starting to turn and I didn't want it to go to waste.
I started thinking: What about ricotta cheese? Is that something I could do easily? I found two ricotta cheese recipes that looked doable. One at Eggs on Sunday and the other in my copy of Home Cheese Making: Recipes for 75 Delicious Cheeses by Ricki Carroll.
The recipe from Home Cheese Making called for citric acid, which I didn't have, but the process seemed really simple. The recipe from Eggs on Sunday used lemon juice (but also cream, which I didn't have). Because I was born with a gene that prevents me from following any recipe exactly, I kind of fiddled around with a combination of the two recipes for making ricotta cheese.
Experimenting with homemade ricotta cheese
It took me less than an hour to get to the "hanging" point, but much of this was just spent waiting for the milk to warm. This was really very easy.
I think the biggest hurdle for most people would be that they don't have cheesecloth on hand. I happened to have some, but I really think this could work in a fine sieve, too.
Related: Make Your Own Kefir at Home
Related: Homemade Yogurt: No Measuring Required
This was easy enough that I'd do it again. Actually, I'm surprised that I've made it this far in life without knowing that making ricotta cheese at home is so easy. Of course, mine didn't turn out exactly like the ricotta I'd get in a store. This batch is actually firm enough to slice.
To use this to make lasagna or a cheesecake, I'd need to thin it out with heavy cream. Instead, we're just slicing it and eating it as is – nobody's complaining!
And now, about that whey leftover from making ricotta cheese
You can use the leftover whey in place of the liquid in just about any recipe that calls for milk (think: muffins, pancakes, bread). I used mine to make several batches of foccacia bread, and still have a bit more in the refrigerator. I've also heard of it being used to replace water for cooking rice and in place of milk in an au gratin potato recipe.
★ Did you make this ricotta cheese recipe? Don't forget to give it a star rating below!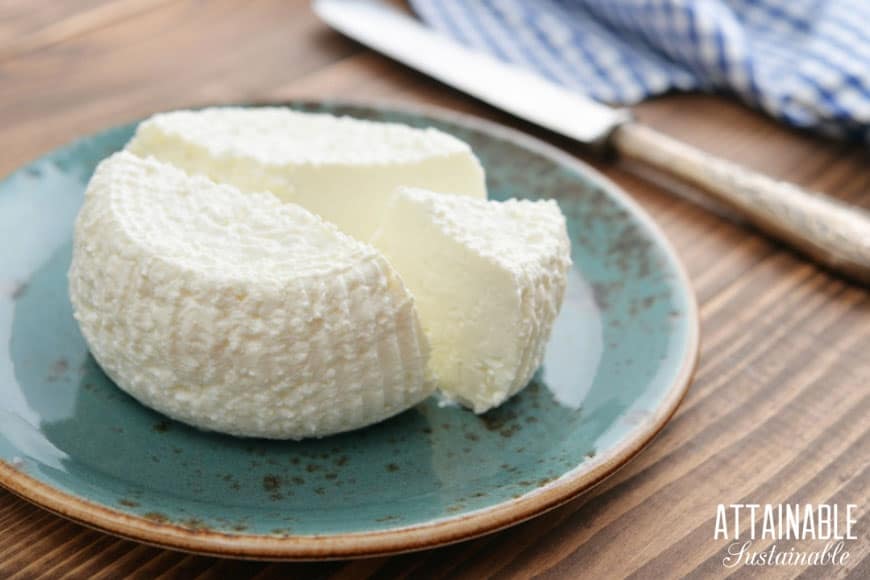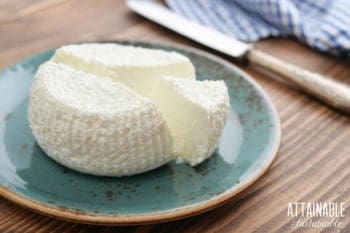 Making Ricotta Cheese
Making ricotta cheese at home is easy to do anytime, but it's especially frugal when you can salvage milk that's getting ready to go off!
Total Time
1
hour
10
minutes
Ingredients
3

quarts

whole milk

(I used raw milk but whole pasteurized milk will be fine)

1

tsp.

sea salt

3

T.

lemon juice
Instructions
Mix milk and salt in a pot. Cook over medium high heat, stirring every few minutes, until the milk reaches 185 degrees. (If you don't have a candy thermometer, bring the milk to a simmer but do not let it boil.)

Stir in the lemon juice, turn the heat down to medium, and let sit for one minute. As soon as you stir in the lemon juice, you'll see the milk start to curdle and separate into curds and whey.

Gently stir again and turn off the heat. Let sit without stirring (it's hard not to keep checking it!) for ten minutes.

While the pot sits, line a colander with several layers of cheesecloth. Place the colander in a bowl to catch the whey. The whey is the liquid byproduct of making the cheese, and you know I'm not going to let that go down the drain!

Pour the contents of the pot into the colander. Pull opposite corners of the cheesecloth together and tie a knot. Repeat with the other corners, then hang this little bag-o-cheese on the handle of a wooden spoon suspended over the dirty pot to catch any drips. Allow to drain for a couple of hours, then transfer your homemade ricotta cheese to a glass container and refrigerate.
Recipe Notes
I used raw milk but whole pasteurized milk will be fine. Just try to find milk that hasn't been *ultra-pasteurized.