This homemade mayonnaise recipe is easy to make at home — emulsification is a snap, as you'll see — and is free of GMO ingredients. This version is quite similar to Best Foods brand mayonnaise.
Want to try replacing another common condiment? Be sure to try this ridiculously easy homemade mustard.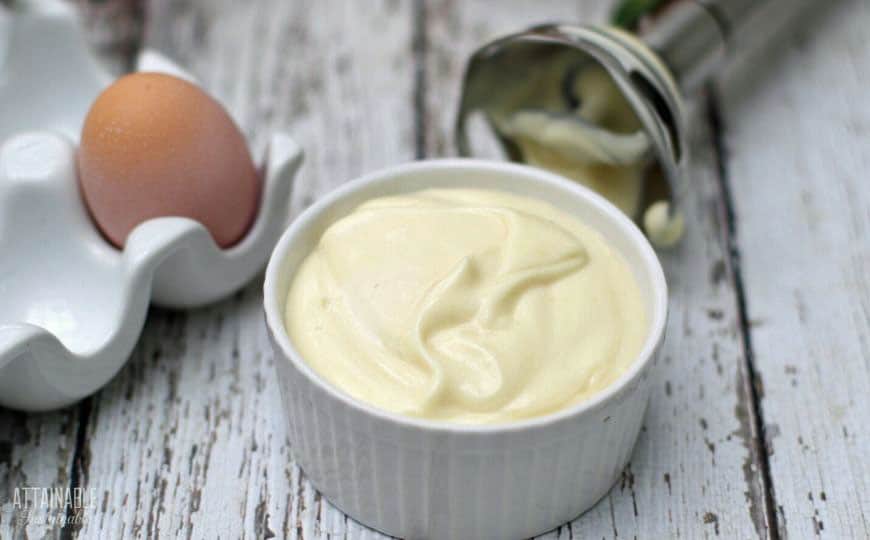 ---
The Handcrafted Pantry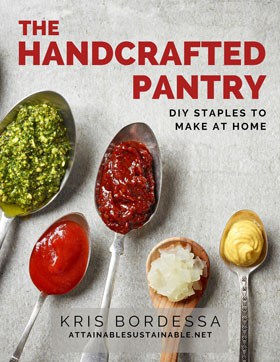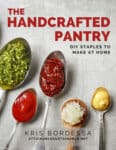 Ready to DIY your pantry with healthier ingredients? Check out my ebook, The Handcrafted Pantry! Filled with delicious recipes for some of your favorite condiments, snacks, and toppings, it's the guide you need to start skipping packaged products and embrace homemade.
---
Why homemade mayonnaise?
I've been avoiding famous mayonnaise brands because they're typically made from canola or soy oil, both products made from crops that are commonly genetically modified.
I spent a small fortune on a "certified non-gmo" canola mayonnaise a couple of months ago, only to find it was terrible a really good replication of Miracle Whip. NOT what I was looking for. So I started making my own, experimenting a bit with different ingredients until I found a combination that tasted like the spread we're used to.
Emulsification
If you were paying attention in science class, you know that oil and water don't mix. Put the two in a container and the oil will rise to the top, creating two very distinct layers. Even when you shake a jar of vinaigrette salad dressing, the ingredients will separate after sitting for a time.
Oil and water don't mix — unless they're emulsified.
5 Easy Steps to Transform Your Pantry!
Ready to switch from store bought to homemade? Let me help you make some changes! Grab my FREE five-part guide to getting started.
Emulsification is the process of blending oil and water (or other liquids) so that they remain cohesive. The main ingredients for this homemade mayonnaise recipe are egg and oil. Plop them together in a container and they'll separate. But the egg yolk is an emulsifier. Force that egg yolk into the oil with a blender or food processor and the two will become one, making a lovely, thick, creamy mayonnaise.
There is a certain margin of error with the need to emulsify the ingredients, but using a room temperature egg really seems to increase the rate of success. Out of the dozen or so batches I've made, all but one have emulsified into a nice thick spread. The one that didn't emulsify? Was turned into a splendid salad dressing.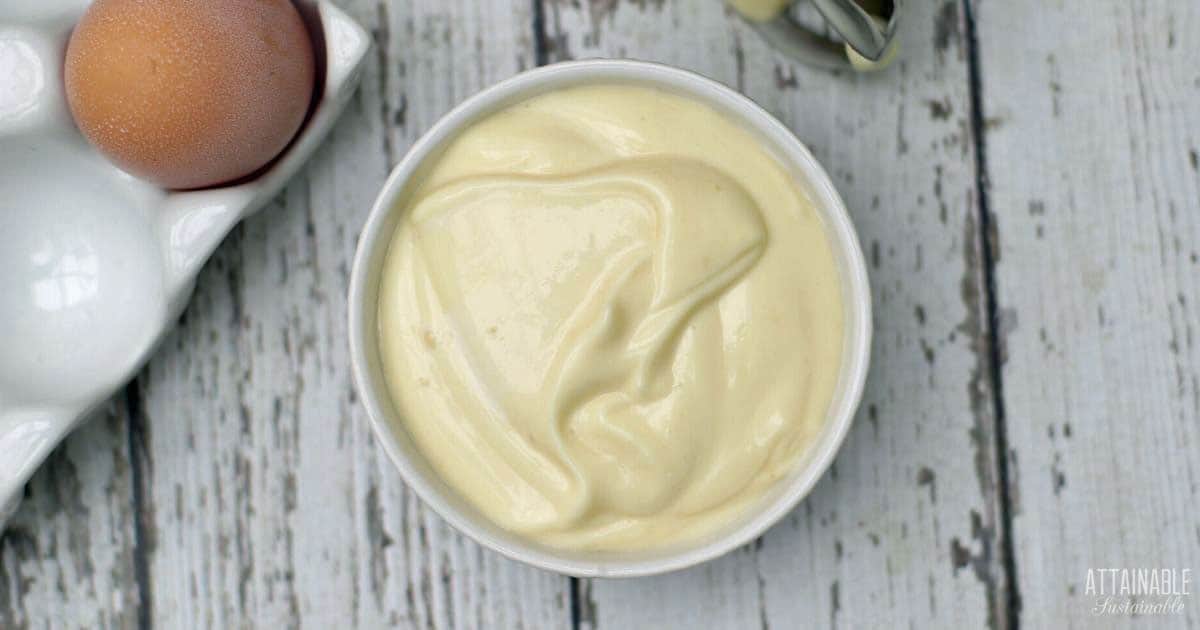 UPDATE:
After having great success with this homemade mayonnaise recipe, I found myself making failed recipe after failed recipe. The egg and oil combined to make a thin, runny mixture. Definitely NOT what I was going for.
What was wrong? Why did the emulsification process stop working?
Turns out, I had been using a room temperature egg during the summer months to make successful batches of homemade mayonnaise. The temperatures were around 80 degrees Fahrenheit. A room temperature egg when the temperature is 60 degrees? Simply isn't warm enough. I combated the problem by letting the egg sit in a bowl of very warm water for 10-15 minutes.
While I don't know the science behind it, that simple trick put me back on track to a thick, emulsified mayonnaise.
Related: Related: Zucchini Relish Recipe for Topping Burgers and More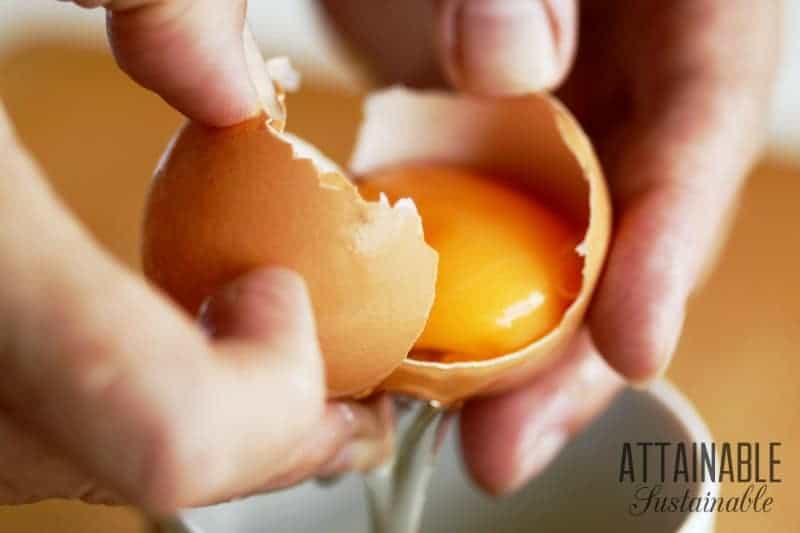 Homemade mayonnaise recipe
Depending on your equipment, it can take from 60 seconds to 15 minutes to make this mayonnaise, start to finish.
My favorite (read: the easiest) way to make this homemade mayonnaise is with an immersion blender. It's faster, since there's no need to slowly drizzle the oil into the egg mixture. And it's easier to clean up. Simply combine the ingredients in a wide mouth glass jar, pulse the immersion blender a few times, and then blend it into a creamy dressing.
The food processor and blender methods require a bit more patience. To use either of these methods, you'll combine all of the ingredients except the oil and then slowly drizzle the oil into the other ingredients. Slowly.
A successful batch of mayonnaise will net a thick, spreadable condiment that's great for spreading in sandwiches, making this spicy mayo, or for adding to homemade potato salad.
★ Did you make this homemade mayonnaise recipe? Don't forget to give it a star rating below!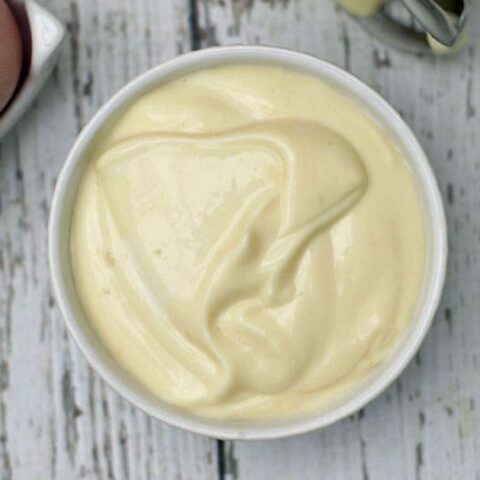 Homemade Mayonnaise Recipe
This homemade whole egg mayonnaise recipe is easy to make at home and is free of GMO ingredients. This version is quite similar to Best Foods brand mayonnaise.
Ingredients
1 large egg, room temperature, (this is critical)
2 teaspoons apple cider vinegar
1 cup avocado oil OR extra light olive oil
Instructions
There are three different ways to make this homemade mayonnaise recipe.
With an immersion blender:
Pour the oil directly into a quart-sized, wide mouth canning jar to the one-cup mark (no measuring cup to wash).
Add remaining ingredients.
With the blade portion of the blender sitting at the bottom of the jar over the egg, pulse 10-12 times. You should see the beginnings of the emulsification process happen below the blade.
Now hold the power on while moving the blender up and down in the jar until the oil and egg are completely combined. You'll have nice, thick mayo within 30 seconds.
In a blender:
Add all ingredients except the oil to the blender container.
Turn machine on (I use a medium low speed on my Vitamix) and s l o w l y pour in the oil through the feed tube. I mean drip by drip. Or at the very least, the thinnest stream you can possibly pour without adding it drip by drip. Adding the oil slowly is the key to emulsification. It should take about 10 minutes to add the oil.
In a food processor:
Many food processors have a feature that most people don't even know about. The little push tube? Look to see if it has a hole in its base. This is for slowly adding oil! Same drill as above - all ingredients except oil go into the food processor bowl. Put lid in place, turn the machine on and pour the oil into the push tube; it will regulate the flow of oil. It's easier on the arms, faster because of the steady oil stream instead of my hit and miss pouring, and easier to get all the mayo.
This homemade mayonnaise recipe makes a little more than a cup. It lasts a week or so in the fridge.
Notes
If it's cool at your place, drop the egg into warm water to bring it up to about 80 degrees in temperature. If the egg is too cool (as your home may be during winter months) you'll have a hard time emulsifying this homemade mayonnaise.
Nutrition Information:
Yield:

16
Serving Size:

1 grams
Amount Per Serving:
Calories:

16
Total Fat:

1g
Unsaturated Fat:

0g
Cholesterol:

11mg
Sodium:

11mg
Originally published in December 2012; this post has been updated.