Genetically engineered food is creeping into our diet, often without us knowing about it. GMO ingredients are hidden in plain sight in some of the most common grocery store products. You may be eating GMOs without even knowing it!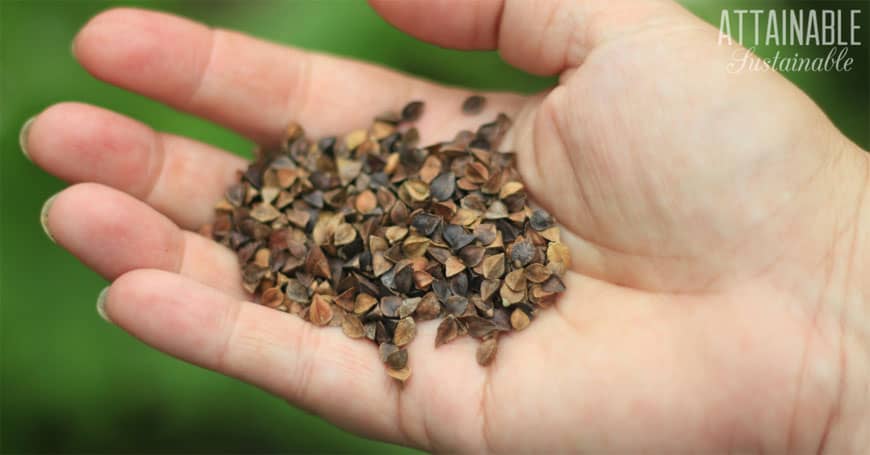 Historically speaking, we're seed savers.
For hundreds of years American farmers have been growing crops, saving seeds from one year to plant the next. Remember Almanzo Wilder and his hidden wheat during The Long Winter?
From seed potatoes to corn and wheat, keeping a portion of the crop to be planted for the next growing season is a perfect example of being self sufficient. Once a grower harvests his first crop, he or she will never have to purchase seeds again, barring any natural disasters. That all changes though, when we add transgenic seeds into the mix. (Also called genetically modified organisms or GMO ingredients.)
Vote with your pocketbook:
Farmers who plant transgenic seeds aren't allowed to save them.
There's plenty of debate about the health and safety of GMO ingredients, but one thing is certain: crops that require farmers to purchase seeds from the patent owner every year are not very sustainable. When we buy genetically engineered foods made from these crops, we support the notion of unsustainable farming. (Who could have imagined such a concept a generation or two ago?)
Take a Peek Inside My Book!
Get a free excerpt from my book, Attainable Sustainable: The Lost Art of Self-Reliant Living! You'll also get my free weekly newsletter, complete with recipes, gardening tips, and a little peek at what's going on around here — both the zany and the mundane.
How much of a problem is genetically engineered food?
It's estimated that currently, over 90 percent of U.S. corn, upland cotton, and soybeans are produced using GE varieties. Other genetically modified crops on the market include sugar beets, canola, cotton, and papaya. (There are questions about transgenic squash, wheat, and potatoes being on the market, but I've yet to find anything definitive.)
Unless you're buying organic, odds are good that many of the products you're eating include GMOs. Many states are pushing for mandatory labeling, but what if you want to avoid GMO ingredients now? Unless you've been successful at becoming completely self-sufficient, it's tough. Really tough.

You might be surprised where GMO ingredients are hidden in your diet
Want to take a closer look at where GMOs are hiding in your food? Check out this list of obvious and not so obvious culprits.
CORN
My understanding is that while most sweet corn is not a genetically engineered food, there is high potential for GMO cross-contamination
Obvious:
Corn on the cob
Frozen corn
Corn meal
Corn tortillas
Tortilla chips
Corn oil
Popcorn
Hidden GMO ingredients:
Drinks and desserts sweetened with high fructose corn syrup
Cornstarch (check ingredients lists for this, too)
Potato chips
Battery raised meat fed corn
Factory farmed eggs from chickens raised on corn
Dairy products from cows raised on corn
Specialty coffee drinks
Cat and dog foods
Related: Spotting Food Irradiation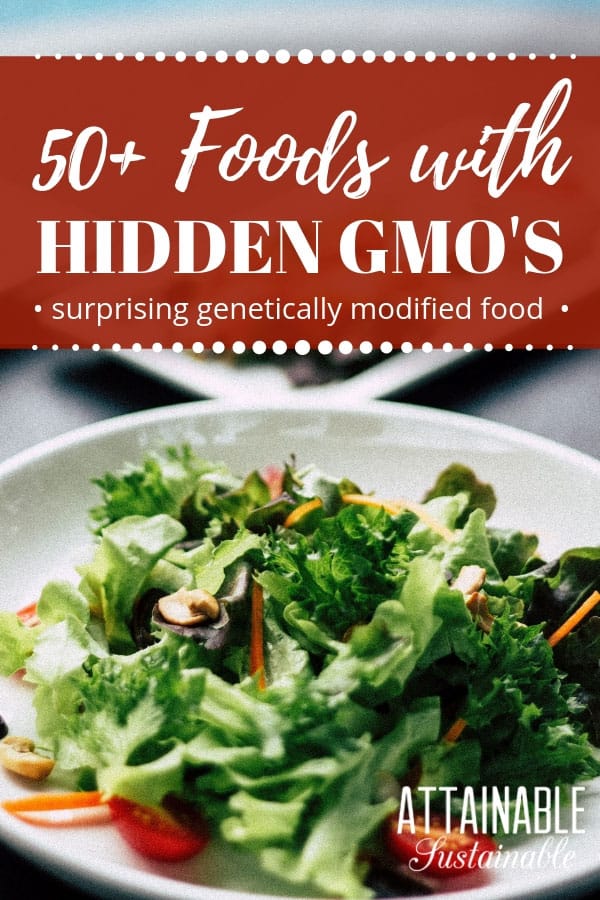 SOY
Soy is one of our prominent genetically engineered food crops (91% of soy is estimated to be genetically engineered!). It's also hidden in many, many food products.
Obvious:

Edamame
Soy milk
Soybean oil (check ingredients lists)
Soy sauce
Soy oil
Hidden GMO ingredients:
Bottled salad dressing
Vegetable oil
Lecithin
Tofu
Non-dairy frozen desserts
Teriyaki sauce
Battery raised meat fed soy
Factory farmed eggs from chickens raised on soy
Dairy products from cows raised on soy
Texturized vegetable protein, a meat substitute commonly found in canned chilis, soups, and sauces
Cat and dog foods

CANOLA
Canola oil can hide in products under the guise of "vegetable oil." As GMO ingredients go, this one is pretty insidious and can be found in both sweet and savory products.
Obvious:
Hidden GMO ingredients:

SUGAR BEETS
Obvious:
Granulated sugar – Any granulated sugar that doesn't specifically say 'cane sugar'
Hidden GMO ingredients:
Yogurt
Baked goods made with sugar
Soda
Candy
Jams and jellies
Prepared salad dressing
Specialty coffee drinks (how to make your own here)
COTTON
Obvious:
Textiles made from cotton
Cottonseed oil
Hidden GMO ingredients:
Battery raised meat fed cottonseed
Factory farmed eggs from chickens raised on cottonseed
Dairy products from cows raised on cottonseed
Baked and prepackaged items that include cottonseed oil
This is by no means a comprehensive list of genetically engineered food. But it made you think, didn't it?
Want to know more about transgenic seeds?
Read my post about GMOs.
Read Seeds of Deception.
Watch Genetic Roulette: The Gamble of our Lives.