Here's how to make pesto from garden fresh basil to flavor pasta, sandwiches, and more. While there are plenty of variations, this homemade pesto with macadamia nuts will knock your socks off!
If you're looking for another way to preserve your abundant crop, try dehydrating some basil for the pantry or making this dairy free basil sauce.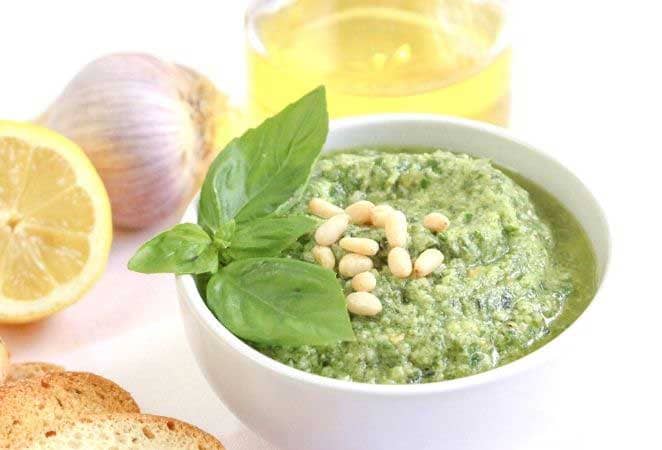 I've coaxed two basil plants to thrive in my very mediocre garden this year, so we've been having fresh homemade pesto for the past couple of months. (I've also been making it from radish leaves!) This is one of our favorite garden-grown condiments — a jar in the refrigerator doesn't last long. (Scroll down for suggestions on ways to use it.)
The Handcrafted Pantry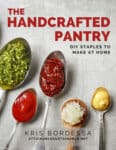 Ready to DIY your pantry with more wholesome ingredients? Check out my ebook, The Handcrafted Pantry! Filled with delicious recipes for some of your favorite condiments, snacks, and toppings, it's the guide you need to start skipping packaged products and embrace homemade.
How to make pesto at home
What we consider to be pesto — a sauce made from fresh basil and several other ingredients — is just one of many kinds of 'pesto' you might find in an Italian market.
5 Easy Steps to Transform Your Pantry!
Ready to switch from store bought to homemade? Let me help you make some changes! Grab my FREE five-part guide to getting started.
The word pesto is derived from the Italian verb pestare, meaning to crush.
So while you might think 'basil' when you hear the word pesto, you'd find broccoli, or artichoke, or any other number of flavors in Italy. It is made by crushing ingredients together, or often in this day and age, using a blender or food processor to puree them.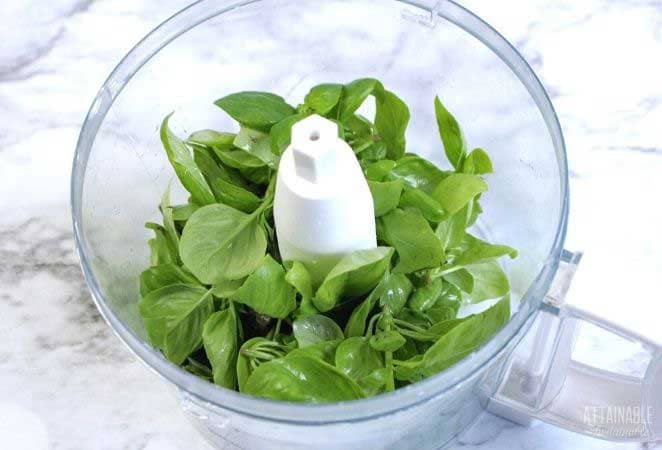 Simply combine ingredients and process until pureed. If you're using a blender, it's helpful to have a tamper or pusher that you can safely use to push the ingredients down while the blender is running.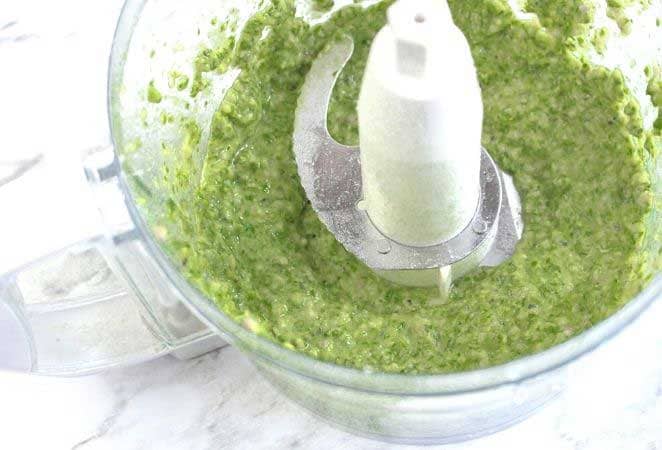 Ingredients for a traditional basil pesto
You'll only need a handful of ingredients to make pesto. Garden fresh basil is the star here, so if you're not growing your own, find a friend or farmer who is.
Fresh basil: Opt for an Italian sweet basil or even Genovese basil. Wash and dry the basil and remove the leaves from the stems. Use only the leaves for making pesto.
Garlic cloves: Use whole fresh garlic cloves.
Parmesan cheese: We're talking freshly grated Parmesan here, not the canned stuff. You could also substitute Pecorino cheese if you like. If you prefer a vegan, non-dairy pesto, you can omit the cheese. Add several tablespoons of nutritional yeast instead.
Olive oil: Choose a good quality extra virgin olive oil.
Nuts: Traditional pesto calls for pine nuts. Pine nuts are expensive and often hard to find. I use macadamia nuts because they're readily available to me locally. You can, of course, substitute walnuts, pecans, or even sunflower seeds. The flavor will vary as you change the type of nut you use.
How to store homemade pesto
If you plan to use this within a day or two, store it in the refrigerator.
To preserve for a longer amount of time, freeze the it. Portion this sauce into jars or fill an ice cube tray for smaller flavor bursts to add to soups. When I freeze pesto, I usually make it without the cheese and add it in upon use.
Whether freezing it or keeping it in the refrigerator, to prevent browning you can drizzle a layer of olive oil onto the surface.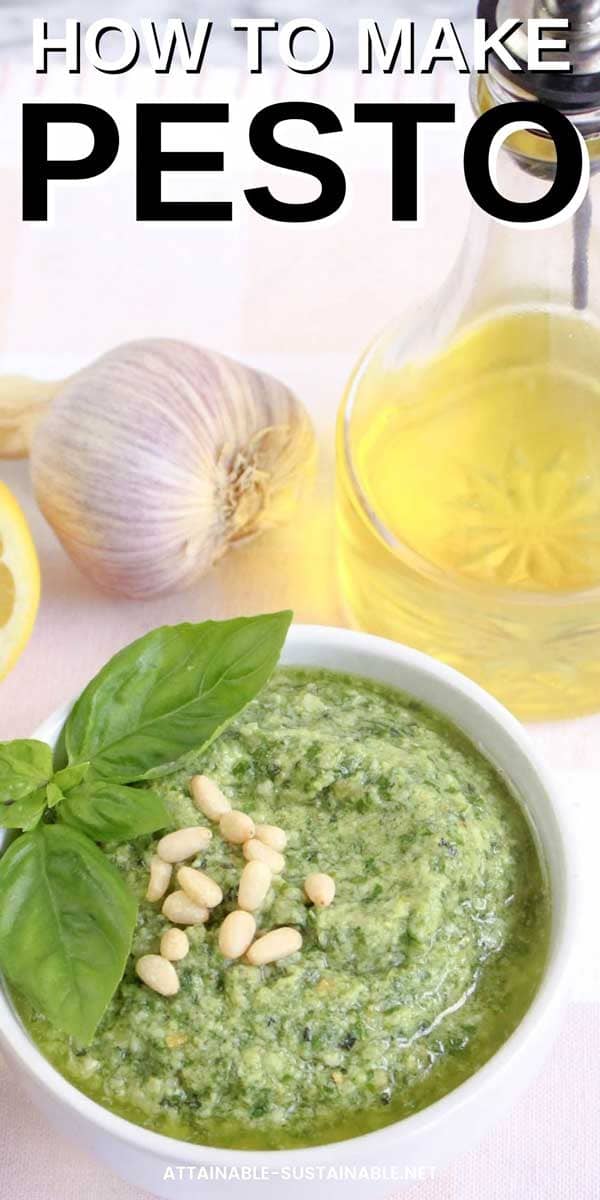 ★ Did you make this recipe? Don't forget to give it a star rating below! ★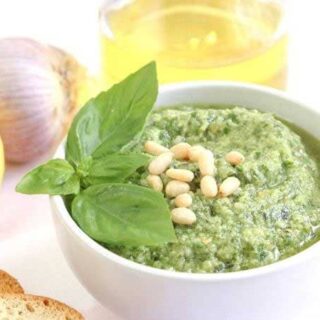 Homemade Macadamia Nut Pesto
This recipe calls for fresh basil and macadamia nuts. Not to worry, though. If you don't have mac nuts readily available, you can substitute a variety of nuts and the recipe will be just as delicious!
Ingredients
5 cloves garlic
4 cups freshly picked basil leaves
3/4  cup macadamia nuts
1 cup extra virgin olive oil
1 cup Parmesan or Pecorino cheese
Instructions
Wash and dry basil. Separate leaves from stems.
Drop garlic cloves and macadamia nuts into blender or food processor. Pulse until chopped coarsely
Add remaining ingredients. Process on high until nicely pureed.
Use immediately or store in the refrigerator for up to two days.
To freeze, transfer to freezer safe storage containers.
Notes
I use macadamia nuts because they're readily available to me locally. You can, of course, substitute walnuts, pine nuts, almonds, or pecans. 
Nutrition Information:
Yield:

8
Serving Size:

1 grams
Amount Per Serving:
Calories:

169
Total Fat:

15g
Saturated Fat:

3g
Unsaturated Fat:

0g
Cholesterol:

8mg
Sodium:

201mg
Carbohydrates:

3g
Fiber:

1g
Protein:

5g
Using your freshly made homemade pesto
The obvious way to use your pesto is to toss it with pasta. Or serve it up over low-carb spaghetti squash for a healthy vegetarian meal.
You can use it as is, or make a creamy sauce by stirring 1/2 cup of pesto into a cup of heavy cream.
But you can also use it many other ways!
Spread some on your tortilla when you're making wraps.
Mix it into mayonnaise for a sandwich spread.
Add it to a sun-dried tomato quiche.
Toss a cube in for flavoring when you're making marinara sauce or minestrone soup.
Slather it on pizza (it's great with cubed chicken). My pizza dough recipe is here.
Brush some onto focaccia.
Add a spoonful or two when you make hummus for a different flavor.
Make a pesto/mozzarella quesadilla.
When you're making an egg salad sandwich, slather one slice of bread with this green goodness. Sounds weird, but trust me.
Stir a spoonful into your favorite vinaigrette salad dressing.
Top a baked potato.
Slice a ciabatta roll, spread the cut sides with pesto and fill with chopped sun-dried tomatoes and sliced mozzarella. Broil to melt the cheese (or use a panini maker).
Add a dollop to your morning omelet.
Serve it over bowtie pasta made from scratch.
Originally published September 2015; this post has been updated.