Are radish greens edible? You bet they are! While most of us use the root, the radish tops are a delicious bonus crop, meaning we can eat the entire plant. This radish leaf pesto is one of our favorite ways to use them, but I've included even more ideas below for using peppery radish greens on your table.
For another flavorful topping or spread, try this easy 5-ingredient cilantro sauce!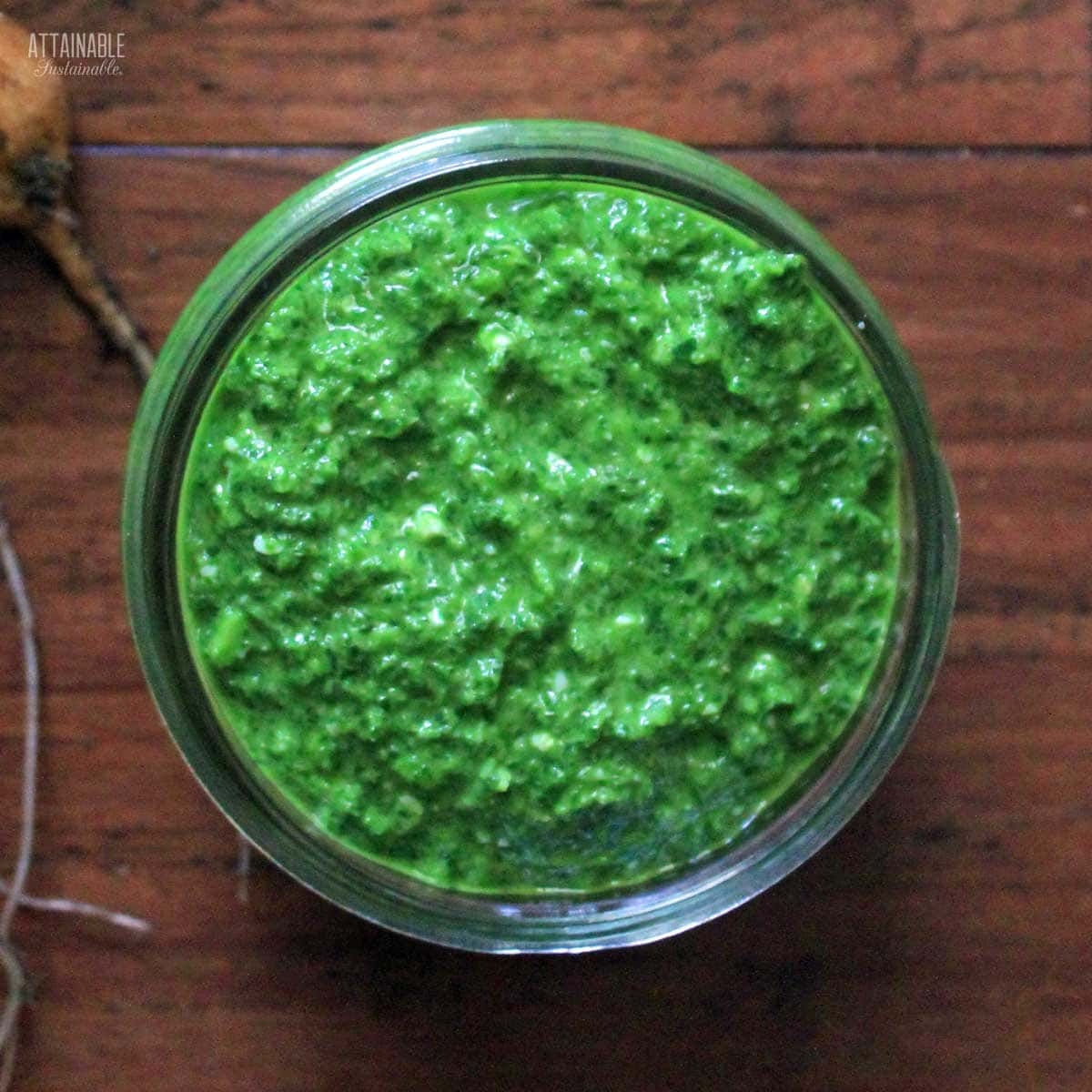 Radishes are one of the fastest growing crops a gardener can plant. If you're aching to have something – anything – that you grew yourself on the dinner table, radishes are a good starting place. (Here's more on growing radish plants in your garden.)
But good news! You don't have to grow your own radish roots to enjoy these bonus leafy greens. When you bring a bunch of radishes home from the grocery store or farmers market, separate the red head from the leafy greens.
I like to wash and prepare the radishes by removing the root and stem ends and storing them in the fridge. That makes it easy to grab them for snacking.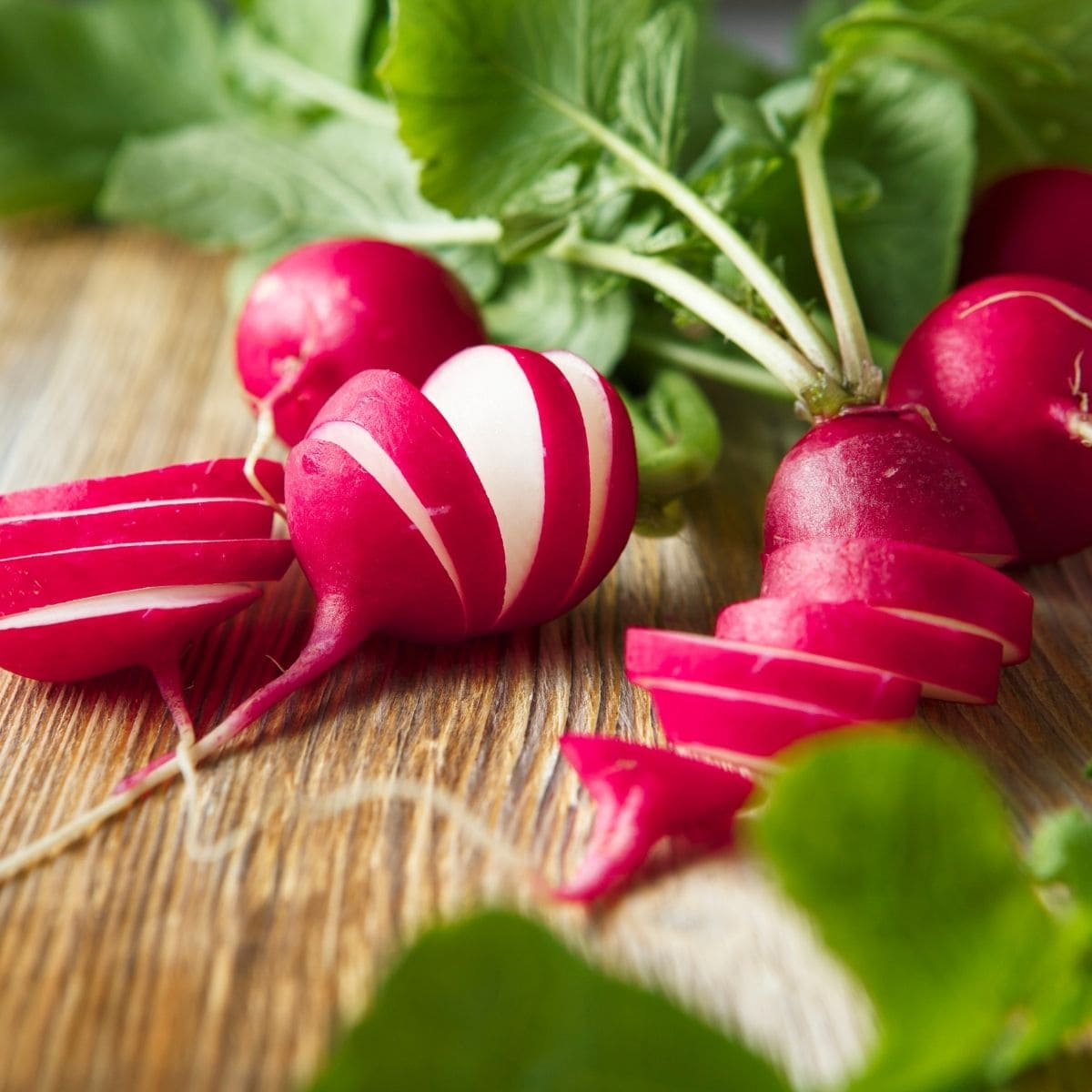 5 Easy Steps to Transform Your Pantry!
Ready to switch from store bought to homemade? Let me help you make some changes! Grab my FREE five-part guide to getting started.
Preparing Edible Radish Leaves
With the roots removed (use them to make these delicious quick pickled radishes!) wash the leafy tops of the radish plant as you would your favorite salad greens and dry thoroughly. If you have a salad spinner, that's a great way to remove excess moisture.
To keep the greens ready for use, I roll them in a damp kitchen towel rather than putting them in a plastic bag, for a couple of reasons. One, I try to avoid using a lot of plastic in my kitchen. But two, I find that the leaves tend to get mushy quickly when placed in a bag.
What About that Fuzzy Texture?
The leaves of all radishes are edible, but some can have a somewhat coarse texture and be a bit prickly, so they're not a great addition to a salad. They're better if they're processed a bit to remove the coarseness of the leaves. If you're making up a batch of this flavorful pesto, this will not be noticeable at all.
The Handcrafted Pantry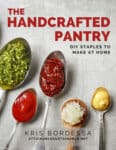 Ready to DIY your pantry with more wholesome ingredients? Check out my ebook, The Handcrafted Pantry! Filled with delicious recipes for some of your favorite condiments, snacks, and toppings, it's the guide you need to start skipping packaged products and embrace homemade.
Radish Leaf Pesto
When it comes to using all the parts of a plant and reducing food waste, this delicious pesto is a great solution. Combining just a few ingredients results in a nutritious puree, similar in texture to basil pesto but with a little bit of a spicy kick.
The radish greens in this pesto have a tendency to maintain their bright green hue without discoloring like traditional pesto does, so it's a nice bet for a pretty springtime appetizer.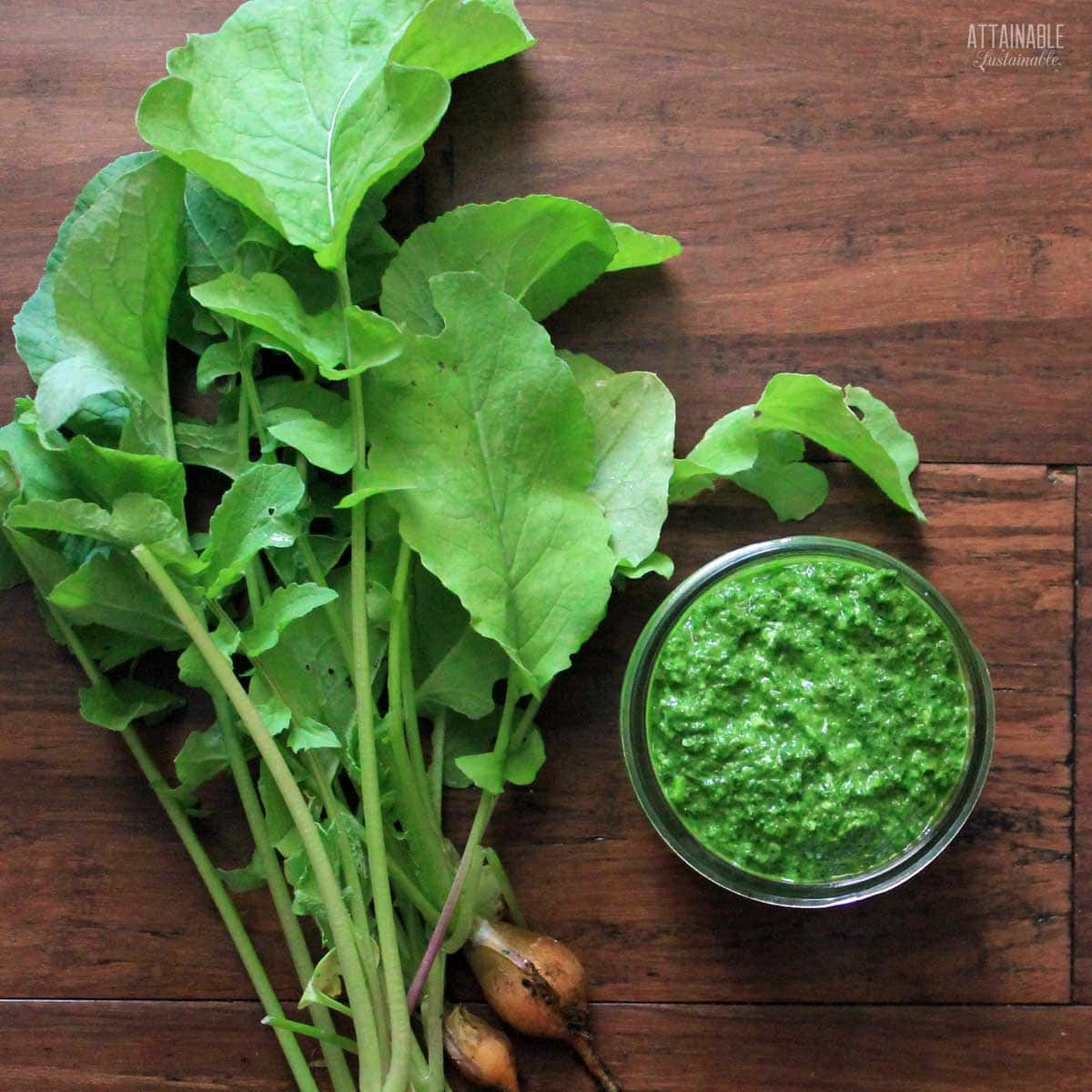 Ingredients
Radish greens — The leaves from all radishes are edible, whether red, pink, or white icicle radish. Use what you have!
Olive oil — Use a good quality extra virgin olive oil. The recipe doesn't call for much, but the flavor of the oil will shine through.
Garlic — This pungent ingredient adds a little extra spice to the mix. Peel the cloves, but there's no need to crush them before adding to the recipe.
Cheese — The recipe calls for Pecorino Romano cheese, which is a sheep's milk cheese. If you don't have this, Parmesan cheese is a perfect substitute.
Cilantro — This optional ingredient adds just a little extra flavor to the pesto, for those of us who love cilantro.
Making Pesto
Prepare fresh radish greens and remove any woody stems. Place greens in a blender with the remaining ingredients and process until smooth. So simple!
Using this Pesto
I serve it over pasta, and my kids love to spread it on crackers or in mozzarella grilled cheese sandwiches. It's a nice, flavorful addition to your favorite panini sandwich, too.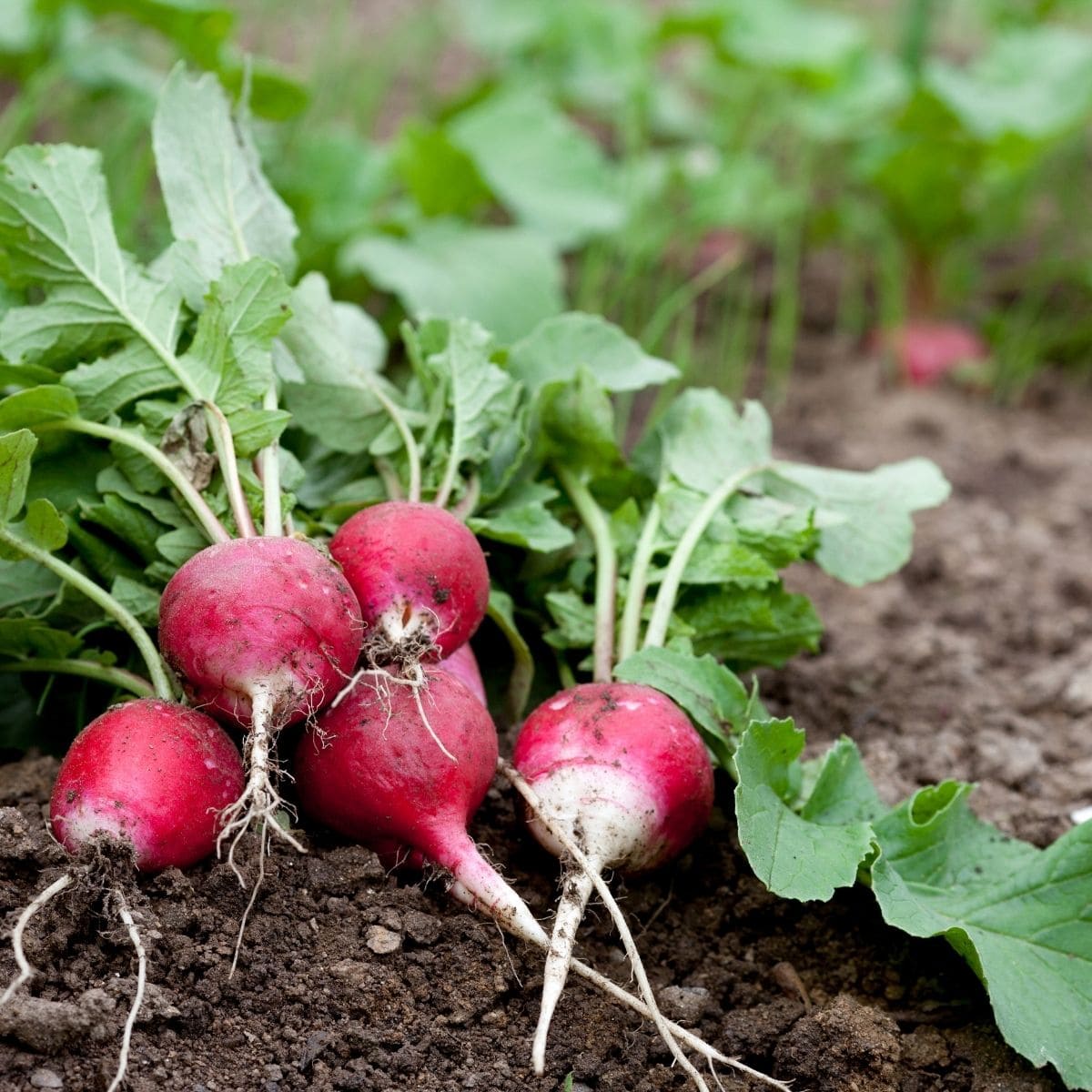 Other Ways to Use Edible Radish Leaves
Sauté radish greens in a little olive oil as you would any garden green.
Chop them and stir them into soups.
Young radish leaves are a great addition to green salads.
Make this radish leaf salad dressing.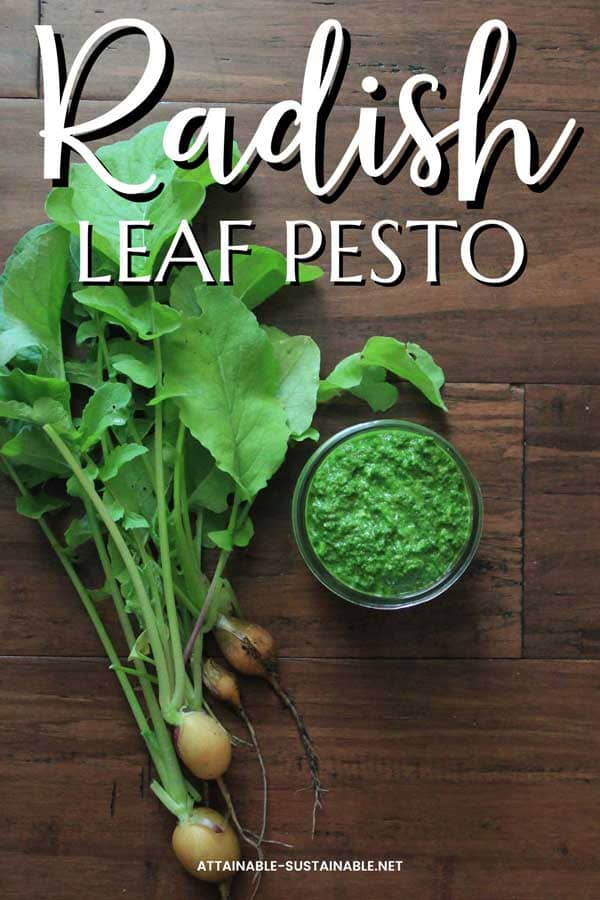 ★ Did you make this radish leaf pesto? Don't forget to give it a star rating below! ★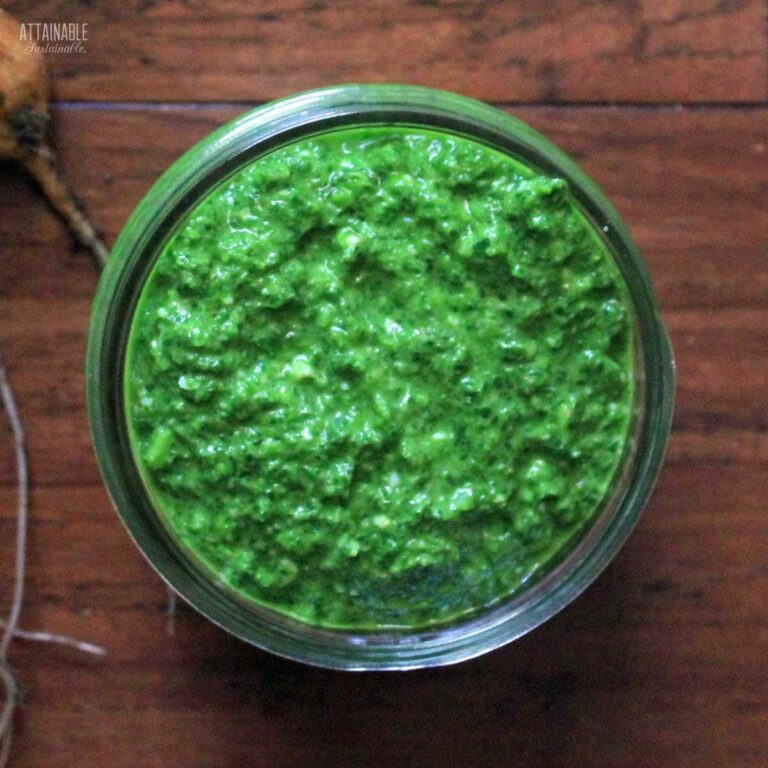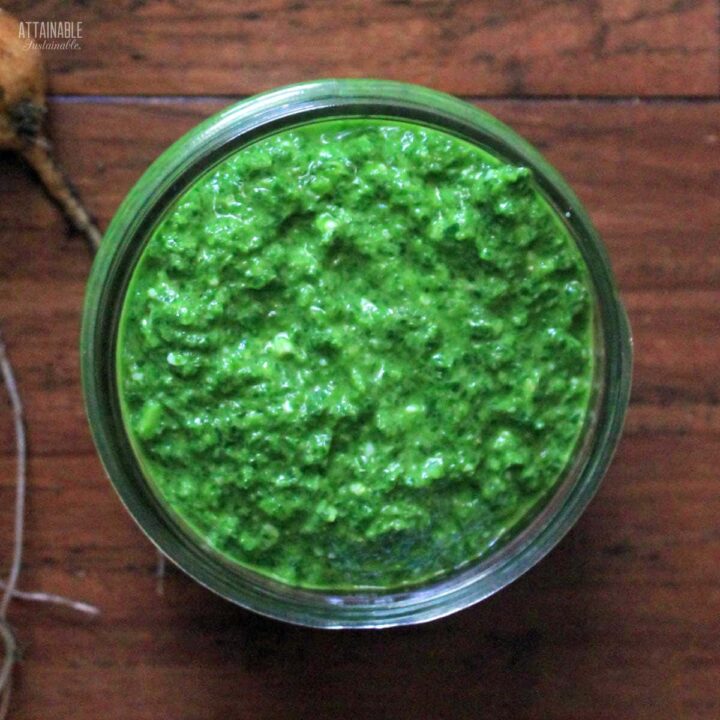 Radish Greens as Pesto
This pesto is made from radish greens rather than the more traditional basil. The peppery leaves of radish plants offer a spiciness that will wow your tastebuds!
Ingredients
3 cups Radish greens (about two bunches)
2-3 cloves garlic
1/4 cup extra virgin olive oil
1/3 cup shredded Pecorino Romano cheese
small handful of fresh cilantro leaves, optional
Instructions
Thoroughly wash and dry radish greens.
Remove woody stems and put in blender or food processor with remaining ingredients.
Blend until smooth, scraping down the sides as necessary.
Notes
Parmesan cheese is a good substitute for the Pecorino Romano if you don't have that on hand.
Serve this radish greens pesto over pasta, spread it on crackers, or slather it inside mozzarella grilled cheese sandwiches. It's a nice, flavorful addition to your favorite panini sandwich, too.
Nutrition Information:
Yield:

4
Serving Size:

0.25 cup
Amount Per Serving:
Calories:

178
Total Fat:

16g
Saturated Fat:

3g
Trans Fat:

0g
Unsaturated Fat:

12g
Cholesterol:

7mg
Sodium:

356mg
Carbohydrates:

7g
Fiber:

3g
Sugar:

1g
Protein:

5g
Originally published in March 2015; this post has been updated.