Planting and growing radishes in your home garden is a quick and accessible endeavor that is fun for the whole family. Radishes add a delicious and slightly peppery crunch to any meal you add it to and the leaves are edible, too!
Another root vegetable that is easy to grow in your garden is turnips!
Contributed by Jodi Torpey
All about radishes
The ordinary radish isn't ordinary at all. As one of the first cultivated vegetables in recorded history, radishes are one of the easiest and fastest root vegetables to grow. A member of the cabbage family, radishes mature quickly and many types can be ready to harvest in about 30 days. Radishes also make a good crop for young gardeners because seeds are big enough for small hands.
While round red radishes are the most familiar, there are many other kinds of radishes (Raphanus sativus). They can be long and white, thick and black, oval, or even two-toned. Radishes can vary in size from ½-inch in diameter to Daikon radishes that are shaped like carrots and can grow to 1 ½-feet long.
Radishes are one of those double-duty vegetables because radish leaves are edible and delicious, too. They're also good for giving gardeners some help in their gardens.
You can mix radish seeds when planting beet, carrot, or parsnip seeds to mark the rows for these slower-growing crops. Radish roots loosen soil and help protect these companion plants from weeds and pests.
Grow Some Greens!
Ready to grow fresh greens, no matter WHERE you live? Sign up for my
FREE quick-start guide and start growing some of your own food!
Radishes are also planted to keep insect pests away from other more valuable vegetables. For example, radishes can attract flea beetles to feast on their leaves while keeping them away from more expensive crops like broccoli.
Plant radishes in early spring when soil temperatures reach between 40-45 degrees and the soil isn't too soggy. Plant seeds ½ inch deep, a few inches apart in rows that are 12-18 inches apart.
For continuous radish crops, keep planting at regular intervals every 7-10 days until the weather gets too toasty. Then plan a fall planting for a second season of radishes by planting about a month before the date of the first frost in your area.
---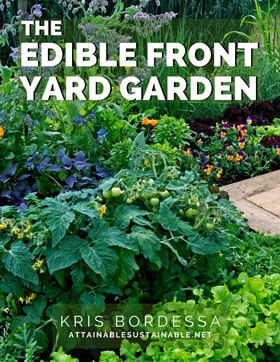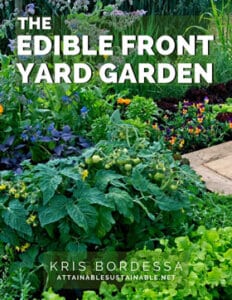 The Edible Front Yard Garden
Does your homeowners association prevent you from growing food in the front yard? What if they never even KNEW? My ebook, The Edible Front Yard Garden will show you how!
---
5 Radish Varieties Ready for Planting
New radish cultivars are introduced almost every year and bred for improved quality, bolt resistance, or sweeter flavor. There are also a surprising number of heirloom radish varieties that are reliable old favorites. Gardeners really relish these five radish varieties:
French Breakfast is one of the old favorites for its elongated and bicolor roots of pink and white. Roots are 3-4 inches long; 25-30 days to maturity.
Cherry Belle is probably the most familiar of all the radishes for the bright red color and perfectly round shape. Cherry Belle is an heirloom, an All-America Selections winner, and early-maturing. Roots are ¾-1-inch diameter; 22 days to maturity.
Watermelon is a beautiful heirloom radish, worth waiting for. The roots are round, with a white exterior and a rosy watermelon pink inside. Roots are 3-3 1/2 inches long; 60 days to maturity.
Roxanne is a hybrid and a 2015 All-America Selections vegetable winner for its bright-red outsides and creamy-white insides. Roxanne is valued for its looks, taste, and ability to hold its flavor even if it gets oversized. Round roots are 1 ½ inch in diameter; 27 days to maturity.
Easter Egg radishes are a mix of white, red, pink, and purple round roots with crisp-tender flesh. Roots are 1 ½ inch in diameter; 25-50 days.
Requirements for Growing Radishes
Soil Requirements
Radishes are one of those root vegetables that can grow in a variety of soils, although a rich, loose and well-draining soil will make it easier for rooting.
Loosen the soil with a cultivator and amend with compost or well-aged manure so radish roots can grow down without any difficulty. Be careful not to walk on the garden soil once it's loosened. If the soil is too dense or clayey, roots can grow in odd shapes and may develop tough lateral roots.
Light Requirements
Plant radishes in full sun for the best results; however, plants can grow in partial sun to protect them from harsh sunlight and temperatures that warm too quickly in spring. That's also true if you want to grow radishes in the summer.
Fertilizer and Water Requirements
If the soil is well-amended at planting, there's no need for additional fertilizing. More important is keeping the soil moist so radish seeds germinate quickly and start growing. Ensure regular watering to keep the soil consistently moist. After radishes start to grow, add a layer of organic mulch to help keep the soil evenly moist.
Prevent Radish-Growing Problems
The keys to a delicious radish harvest are to ensure plants receive adequate water, the radish sprouts are thinned right away, and weeds are kept down. Even if problems crop up, you can replant because radishes grow so quickly.
Once plants sprout, thin to about one or two inches apart in the row. Wash and use the thinnings in early spring salads. After this, radishes will grow quickly without much care.
Keep the radish bed weeded by pulling weeds or clipping at soil level instead of cultivating to prevent damage to delicate roots.
Exclude insect pests that can damage leaves by covering plants with row cover cloth.
Why are Radish Bulbs Not Forming?
One common problem with radishes happens when radishes fail to develop into bulbs. There are a couple of possible reasons.
Overcrowding is one, which is solved with thinning and weeding, as mentioned above.
Nitrogen is typically a good thing in a garden, but too much nitrogen can cause radishes to form lots of leafy greens and not much root.
Too much heat can cause problems with root formation, as well, which is why radishes are recommended for spring and fall plantings.
And finally, not enough light. While radishes can grow in dappled shade, too little light can impact the formation of roots.
How to Grow Radishes in Containers
Radishes grow well in containers, window boxes, half-whiskey barrel planters, or other large pots as long as there are drainage holes in the bottom.
Fill containers with good-quality potting soil meant for containers and water before planting radish seeds. Follow the seed packet instructions for seed depth and spacing between plants. Keep soil moist and mulch containers after radishes start to grow.
Just like radishes planted in a garden bed, make sure to keep up with watering and thin plants to 1-2 inches apart in their rows. Harvest when the time is right for the radish varieties you've planted; days to harvest can vary.
How to Harvest Radishes
Keep an eye on the early radishes you planted. Gently brush soil aside from a radish or two to check for the root size. One-inch diameter is a good size for eating. If large enough, gently pull the radishes up. The attached leaves should also be crisp and a nice green color.
Be sure to harvest radishes as soon as they're mature to keep them crunchy and to avoid pithy roots. If the weather turns hot or if radishes are left in the garden too long, they can turn bitter and the roots can split.
After harvest, remove the leaves from the roots and refrigerate them separately. Wait to wash and trim roots until right before preparing them.
Using Radishes in the Kitchen
Most people enjoy radishes in their raw form, either sliced or whole. However cooked radishes take on a different taste. Try baking or roasting radishes for a surprising vegetable with a deep flavor.
Some other ways to prepare radishes include:
Sautéing radishes in butter.
Thinly slicing radishes (especially French Breakfast radishes) and eating on bread, toast, or crackers with a bit of sweet butter.
Sauteing radish leaves for a spinach-like side dish.
How to Save Radish Seeds
Radish seeds can be saved from either heirloom or hybrid plants. Keep in mind that heirloom radish seeds will grow into the same plant as the parent; hybrid seeds will revert to one or the other parent plant and may offer a surprise for you.
To save seeds, allow radish plants to flower and form seed pods. When pods turn brown, pull up the radish plant, cover the pod with a brown paper bag and hang to dry in a warm, dry place.
Pods will open on their own and drop seeds into the bag. Be sure the seeds are thoroughly dry before storing them in an airtight container for the next radish-planting season.