Considering growing carrots in your garden this year? They aren't too tricky to grow and they yield a delicious result.
When you have a successful harvest, be sure to freeze carrots for use in baking during the off-season.
---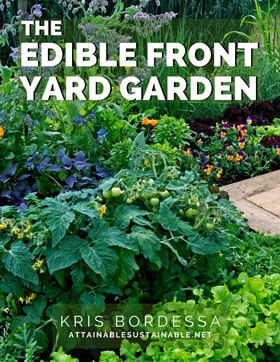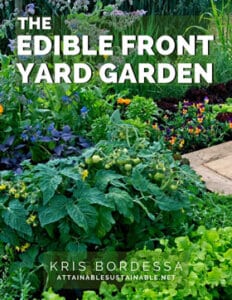 The Edible Front Yard Garden
Does your homeowners association prevent you from growing food in the front yard? What if they never even KNEW? My ebook, The Edible Front Yard Garden will show you how!
---
Introduction to growing carrots
Carrots are root vegetables that live beneath the earth's surface, leaving their green, leafy tops exposed to the sun as they develop. The most common varieties are bright orange, but carrots come in a variety of colors, from pale yellow to deep purple. Known for their high beta-carotene content, carrots are packed full of lots of vitamins and minerals necessary for a healthy diet.
Carrot plants have very fine, feathery foliage. They're quite beautiful in a garden.
Carrot varieties to grow
When choosing which kind of carrots you'd like to grow, there are numerous varieties to choose from. These are a few of the more common.
Nantes –

Nantes carrots are named for the French city where these carrots thrive, and they've grown in popularity over the years for home gardeners due to their short grow cycle and tasty flavor.

Danvers –

Danvers carrots reach up to eight inches in length and are what you likely think of when you visualize a perfect carrot – thick at the top with a tapered bottom and a bright reddish-orange exterior.

Mini –

Mini carrots are perfect for container gardens, as their short roots only reach a few inches in length. Often served whole with the tops attached, they're a great addition to any upscale dinner or home-cooked meal.

Chantenay –

These carrots are perfect for rockier soils that other varieties struggle in. They grow up to six or seven inches in length and are quite thick in diameter compared to other carrots, so they're suitable for standard gardens or large containers. Don't let them grow too long or they'll lose their flavor.

Imperator –

Imperator carrots are likely the carrots you've purchased at your local grocer. They're thick and long, and many find them to taste sweeter than other carrots.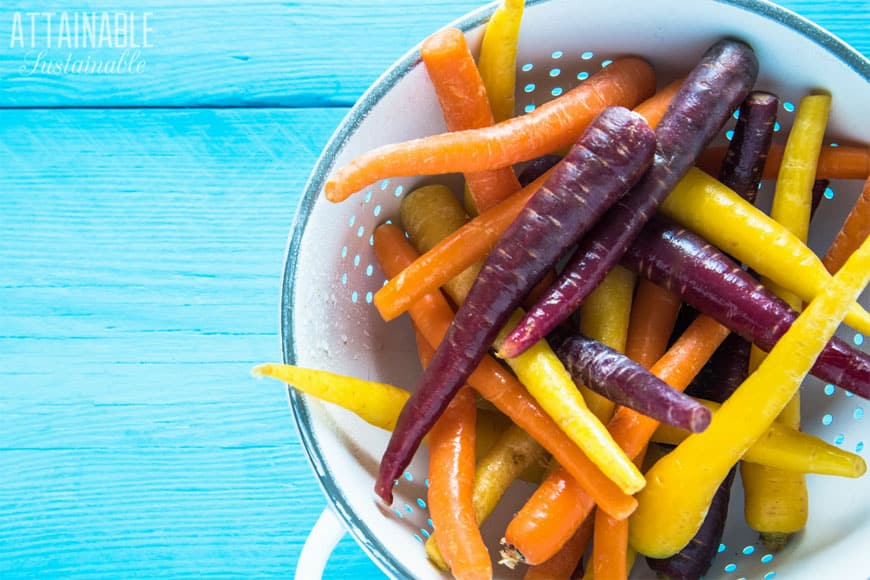 Grow Some Greens!
Ready to grow fresh greens, no matter WHERE you live? Sign up for my
FREE quick-start guide and start growing some of your own food!
Requirements for Growing Carrots
Carrots grow best in cool weather, so plant them early in the season, before the heat of the summer really sets in. Most varieties of carrots can survive a frost or two. Check a local calendar to find the optimal planting time in your area. In terms of light requirements, carrots thrive in sunny environments. Full sunlight is ideal, but they'll do just fine under partial sun as well. [More vegetables that grow well in shade here.]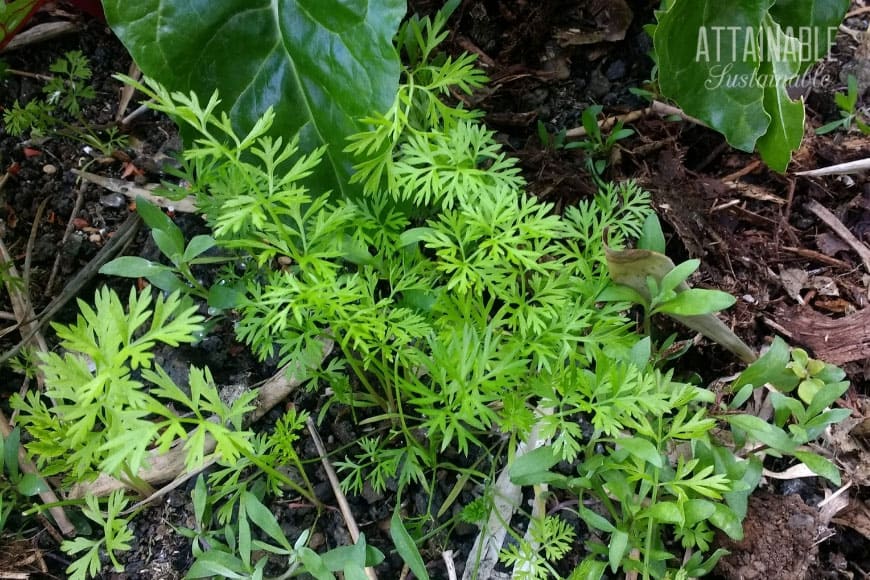 Soil
Ensure your carrots are planted in loose, loamy soil. Give your growing carrots room to breathe, and ensure the soil is free of rocks and other debris that may cause your carrots to morph into a strange shape! While adding manure provides much-needed nutrition for some vegetables, the excess nitrogen added to the soil can cause carrots to fork and split at the end.
When preparing and maintaining your soil, you should also strive to achieve a neutral pH. Carrots are fairly hearty where the soil is concerned, but you'll want to keep an eye on the acidity of your soil nonetheless.
You can plant your carrots in the ground, in a raised bed, or in containers. No matter where you plan to grow carrots, the technique is largely the same. Scatter your seeds, and cover them with a very thin layer of soil.
Carrot seeds are tiny, so they're a pain to plant one by one. Ideally, your carrots will have an inch or two of room on either side to grow – you'll likely need to thin them out later if your seeds really take hold.
Give growing carrots plenty of water and keep your soil moist until you see your seedlings emerge.
Grandpa's secret for sprouting carrot seeds
The most difficult part of growing carrots is getting them started. One thing that's crucial when growing carrots is that they have constant moisture for sprouting.
This little trick from my grandpa solves that problem!
Seed your row of carrots and water them in well. Place a 1″ x 4″ board over the row. That's right, right on the ground on TOP of the row of newly planted seeds. Check on the row daily as you water and as soon as your seeds sprout, place bricks under each end of the board so that it's not directly atop the new sprouts, but still shading them. Once the seedlings are tall enough to touch the board, you can take it away.
Keeping the carrot seeds moist and shaded as they're getting situated in the garden is the ticket.
My grandpa swore by this method, and he was the king of growing carrots!
Growing carrots in containers
To grow carrots in containers, pick up some potting soil and a suitable container to plant them in. Most carrots only grow to around five inches in length, but pay attention to the variety and ensure you've left enough room for the root to fully develop. Add soil to your container until only a few inches are remaining.
Sprinkle your seeds across the top and add a light layer of soil on top to cover them up. Keep your soil moist by watering frequently as your plants begin to take hold. (Grandpa's two-by-four trick won't work in small containers. Instead, try this.) Once your carrots have begun to grow, keep them well-watered throughout the growing season.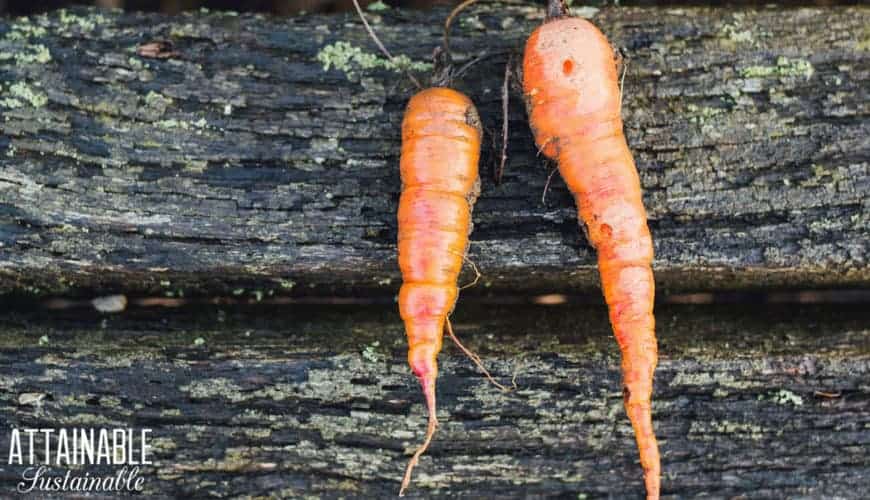 Combating pests and other problems
Carrots are surprisingly resistant to many common pests, diseases and blights, making them a great choice if your garden is prone to problems or you're fairly new to growing your own crops. However, they are susceptible to several tricky pests and problems you'll need to stay on guard for.
Nematodes
Root knot nematodes are a serious pathogen that impacts carrots in many gardens. While carrots suffering from root knot nematodes are still edible, they aren't too pretty to look at. The infection manifests as split, hairy, misshapen roots, so it's easy to spot. However, you won't be able to see the actual nematodes themselves – they're far too small. You'll just be able to admire the work they've left behind.
Some varieties of plants are developed to resist this particular type of nematode. Unfortunately, carrots aren't one of them. Planting marigolds nearby may help, but the best way to prevent root knot nematodes is to take preventative steps before you begin growing carrots.
Rotate your crops – growing carrots in the same place twice is asking for trouble. Instead, plant something else in that area – ideally, something nematodes don't really enjoy.
Cavity spot
In addition to root knot nematodes, carrots can fall victim to cavity spot, which is brought on by a fungus that infects the roots of the plant. This can be a tricky one to prevent or address – since the damage is done beneath the surface, you often won't know your carrots are damaged by cavity spot until you've pulled them from the ground as you harvest. Carrots harmed by cavity spots aren't edible, so it's important to do everything you can to prevent its onset. The best way to prevent cavity spot is to rotate your crops when planting.
Wireworms
Carrots are also vulnerable to wireworms, which are a type of beetle larvae. They grow up to 1 ½ inches long and are darker in color than most wormy pests. They thrive underground, irreparably damaging the roots and tubers hiding beneath the surface of your garden.
If you find that wireworms are a problem in your garden, you may want to thoroughly till your soil before planting and look for any of these pests before you begin. This is the best way to prevent wireworms. The little bugs don't do well above ground, as they're vulnerable to predators, like birds, as well as the weather.
Unfortunately, once wireworms have taken hold, there isn't much you can do to combat an active infestation while preserving your crops.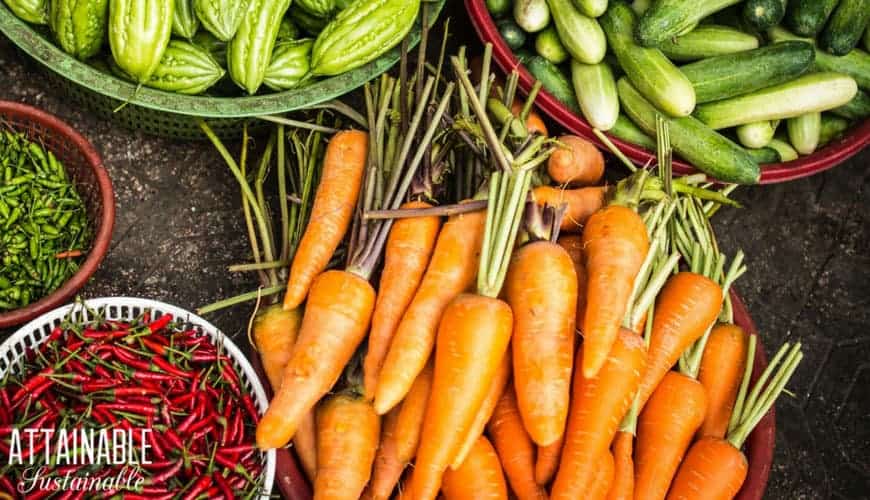 When to harvest carrots
Young carrots — baby carrots — can be harvested a couple of months after sowing seeds. Let them grow a few more weeks for mature carrots. Since the carrot is growing below ground, it can be challenging to know just when to harvest carrots. Especially if you're poor at tracking this sort of thing, as I am. But here's a trick:
Feel around the base of the carrot, where the greens come out of the ground. If a carrot is mature, you should be able to feel its "shoulders." If the top of the carrot is half to three-quarters of an inch or so, it's ready to pull.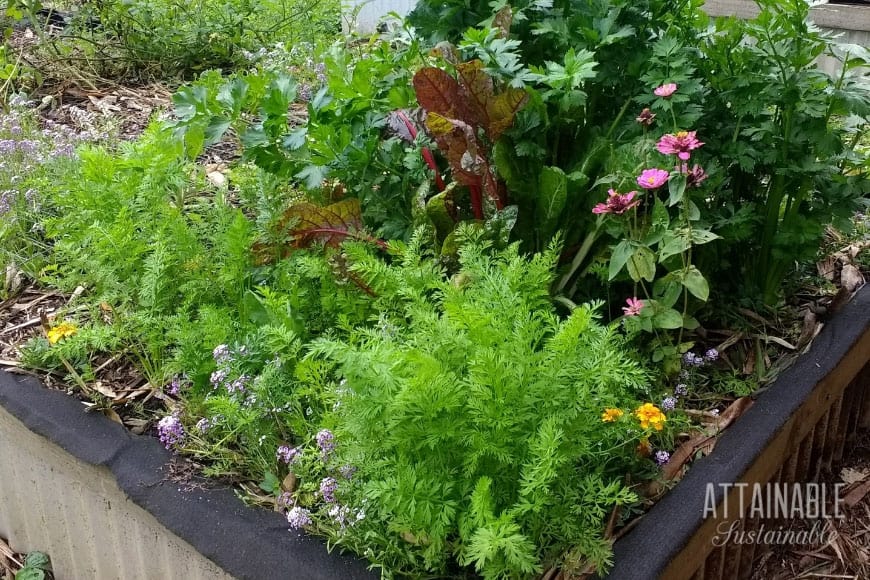 Harvesting carrots
Carrots get soft after a few weeks in storage. For fresh eating, don't pull more than you plan to eat in a fairly short period of time. Unlike many vegetables, you can leave carrots in your garden for weeks after they're ready to harvest with no real negative impact. Keep your garden free of weeds and ensure your soil isn't too moist (or too dry) and you'll be perfectly safe to wait until the weather starts to cool before you pull your plants from the ground.
Different varieties of carrots take different lengths of time to mature – anywhere from 50 to 75+ days. Baby carrots, of course, are pulled when they're quite small, but standard carrots often measure a half inch in diameter when they're ready to be eaten.
Make sure the soil is loose by using a fork or other tool to loosen any compact dirt. Otherwise, you'll find yourself with a handful of leaves and stem – and a carrot stuck in the ground.
Using garden fresh carrots
Carrots offer lots of nutritional value and can be used in the kitchen in a wide variety of recipes. From salads to carrot cakes, you'll find plenty of ways to enjoy your harvest.
Carrots can be roasted or steamed, boiled or baked, shredded over salads or eaten whole as a snack. You can incorporate carrots into healthy juices, pickle them for a fun side dish, or freeze them to use later. You can event ferment carrots!
For long-term storage, cut the leafy green tops off of your carrots before placing them in the vegetable crisper in your refrigerator. If you have grown carrots than you can handle, you can always freeze some for later or pickle them for a tasty snack later on.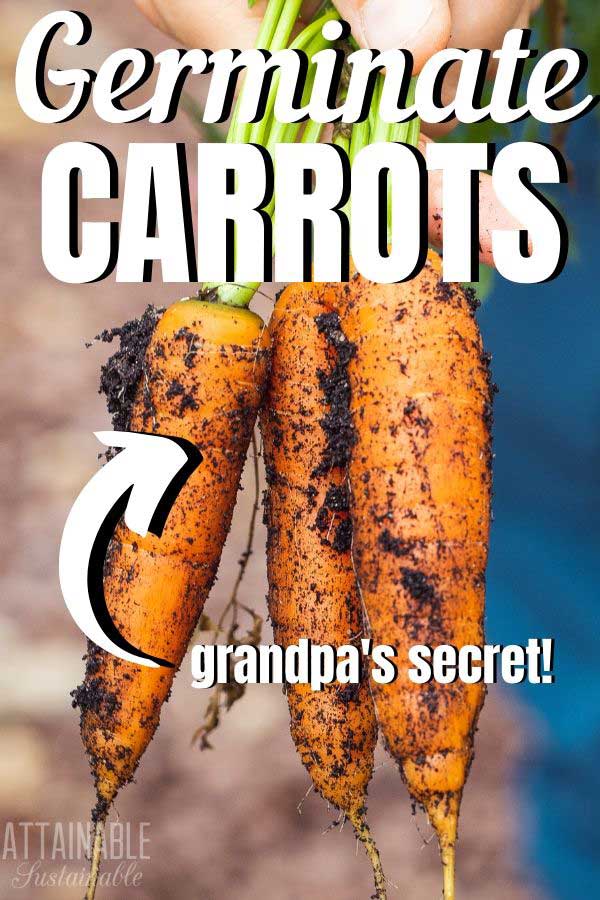 Originally published in 2012; this post has been updated.