If you live in a neighborhood with a homeowners association (HOA), you probably know all too well how restrictive they can be in what's allowed—or more frustratingly—not allowed. What's required for a front yard garden can be restrictive, but this list of vegetables that are pretty as well as tasty is just what you need to embrace edible landscaping and install a front yard vegetable garden.
Be sure to expand on your edible landscaping prospects by planting some productive trees, too!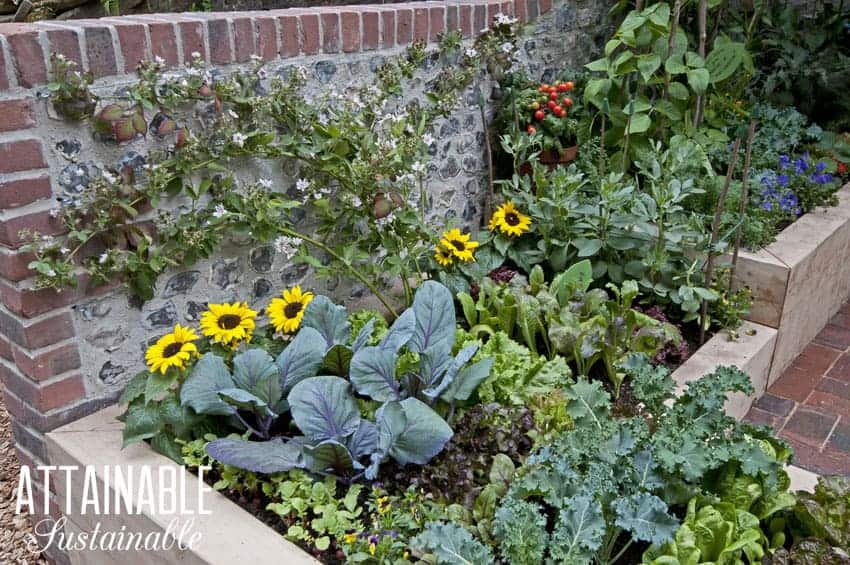 HOAs often don't allow chickens. Or painting your home outside of a very narrow color spectrum. Or planting a vegetable garden in the front yard. Hold the phone. How ridiculous is this?
Instead of growing food, they insist that you maintain a certain amount of lawn, requiring regular mowing and intensive fertilizing to achieve that lush green swath and a sense of conformity. But hey — what if you could put in edible front yard landscaping with nobody the wiser? How's that for some front yard curb appeal?
Growing a Front Yard Vegetable Garden
If you're facing micro-management via your HOA but would really like to grow some of your own food, take heart. You can maintain that requirement of 70% lawn in the front yard and still harvest some veggies mixed into your flower border with edible landscaping.
The trick is to create a beautiful, lush front yard border that—unbeknownst to the "board"—is actually feeding your family.
Grow Some Greens!
Ready to grow fresh greens, no matter WHERE you live? Sign up for my
FREE quick-start guide and start growing some of your own food!
The trick is to combine nice looking crops with flowers and shrubs, mixing the vegetables in with more "acceptable" landscape plants.
Do that and you'll have a secret kitchen garden right outside the front door!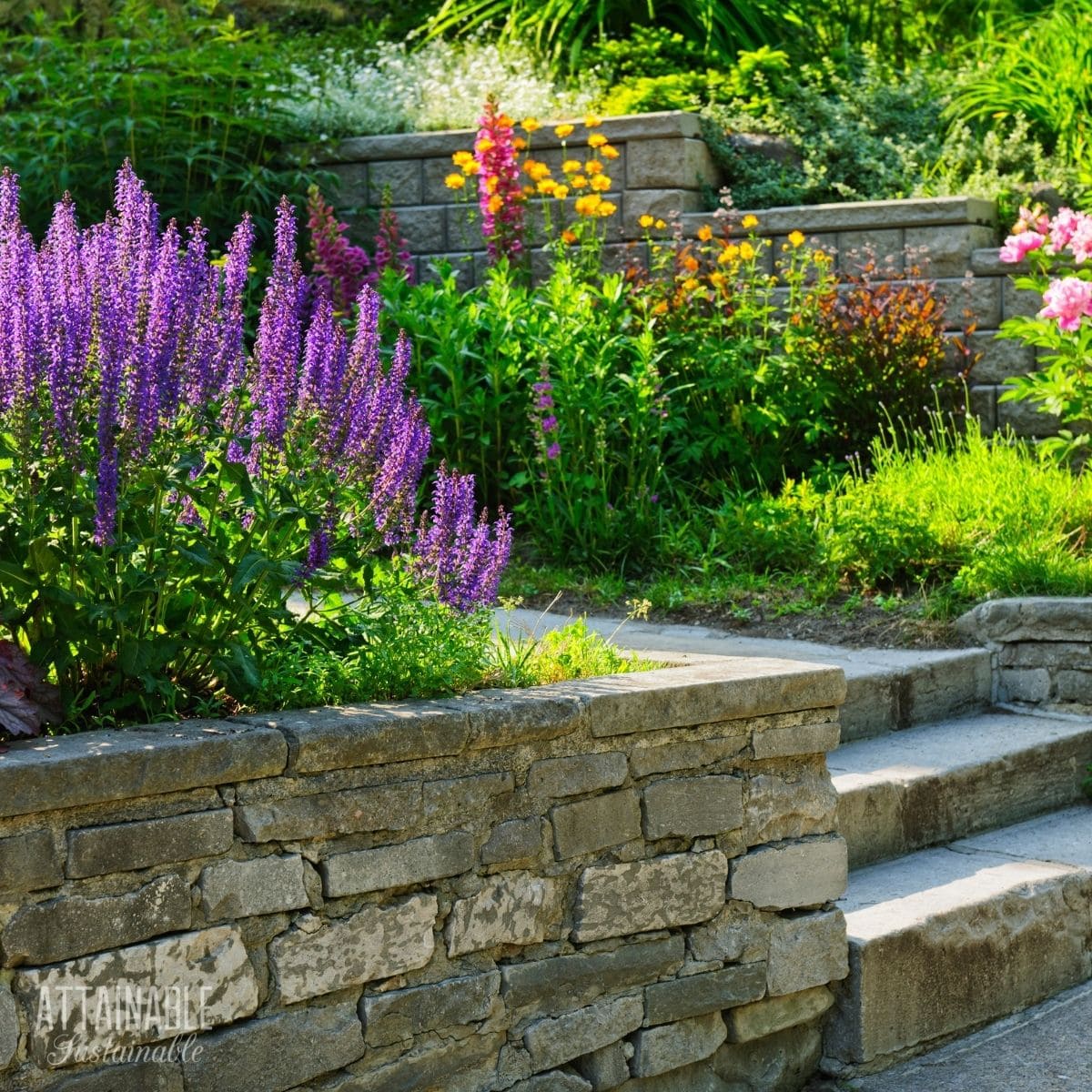 Growing in Raised Beds
A raised bed in the front yard can be a little more obvious if you set up a standard square box. But there are ways to create a raised garden without alerting the HOA to your plans.
Creating raised beds as part of the hardscape, as you see above, allows you to have the benefits of raised beds — easy access, fewer weeds, control over the soil — with the beauty of a well-designed garden landscape.
Of course, a project like this can get expensive quickly. But if you're in your forever home and need to use the front yard for growing food, the investment may be worth it.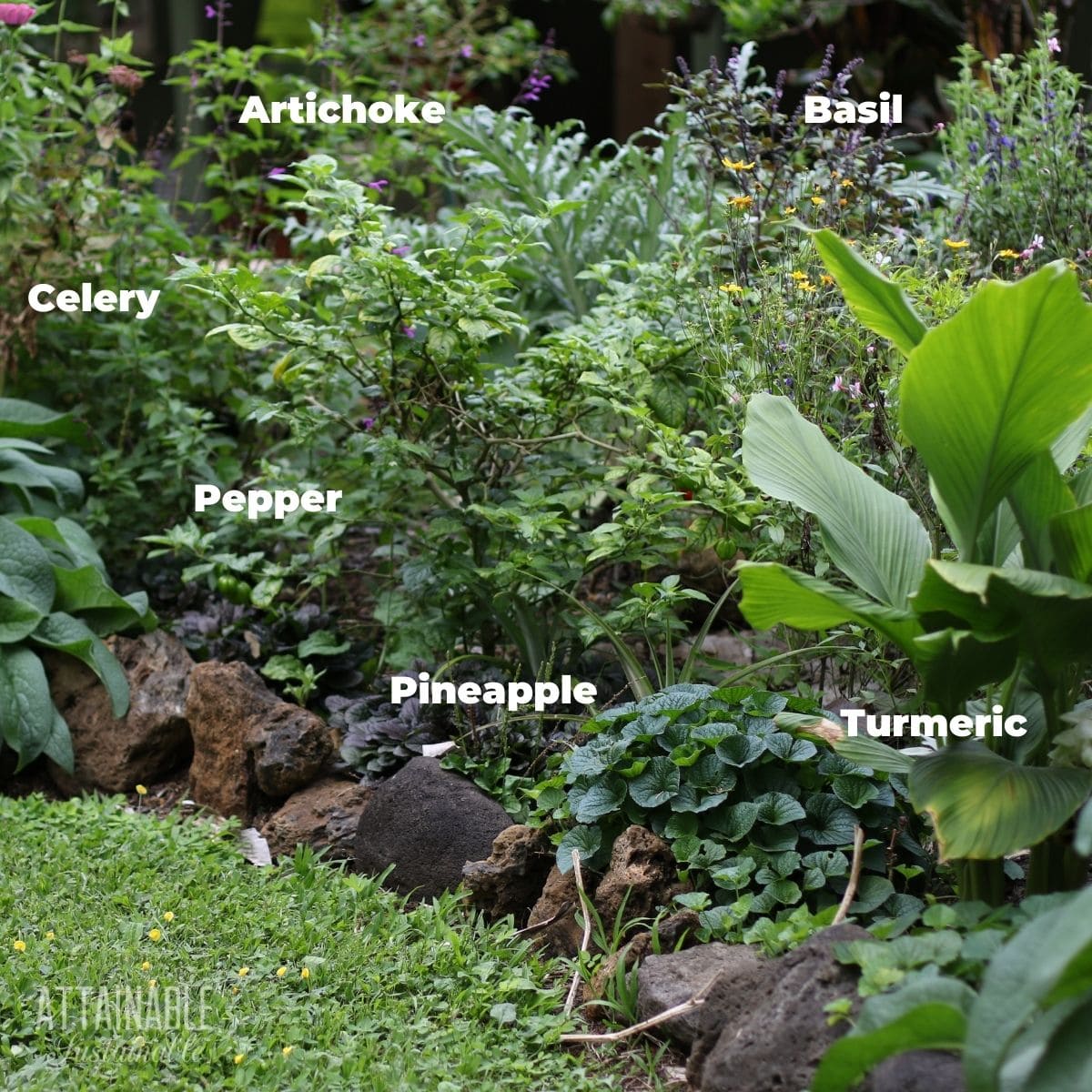 Creating a Border
The image above is from my place. I've used rocks from on site to create garden beds that are home to both edible crops and ornamentals. While these beds are raised off the ground by about 6″ or so, the rock border is more ornamental than functional.
Front yard vegetable gardens are, of course, less permanent than a landscape installation of perennials and shrubs. You'll have gaps to fill each season, as your veggie crops complete their life cycle.
Creating a plan for a front yard veggie garden allows you to grow more food in the space you have.
The Best Plants for a Front Yard Vegetable Garden
Growing vegetables in visible spaces like the front yard requires choosing crops that are nice looking. You'll want to choose plants that are tidy through the growing season. These vegetables and fruits are so pretty, nobody will know the difference.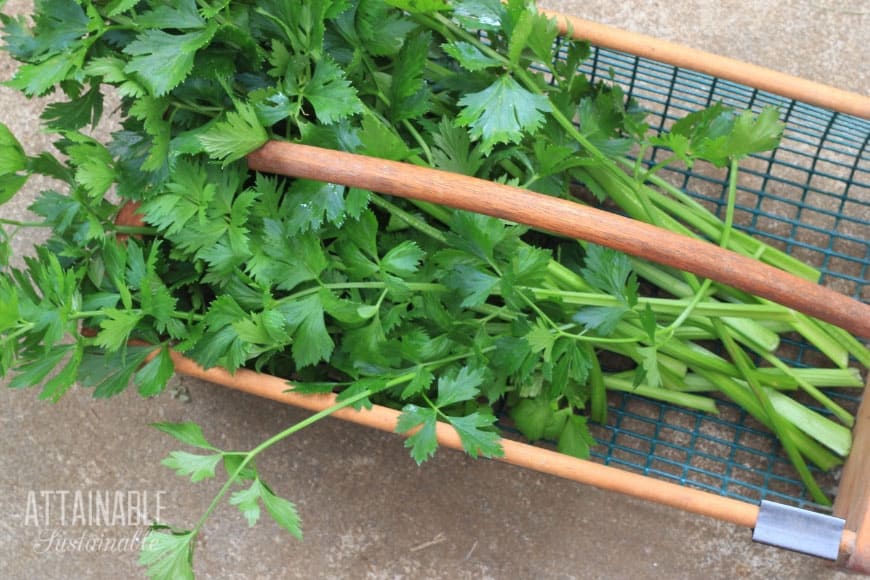 Celery
Growing celery in the home garden provides crunchy snacks and flavor for homemade soups and stews. It will provide a harvest – both leaves and stems – for an entire season, making it a worthwhile addition to your front yard garden plans.
It grows upright, with bright green, leaf-topped stalks about 18" tall. Celery is a biennial that is grown as an annual in most home gardens.
Eggplant
If you've not ever grown eggplant, you're in for some fun. The fruit is so beautiful and can come in dark purple—almost black— or light purple; striped or solid. The handsome plant itself has grey-green leaves and stands one to two feet high or taller.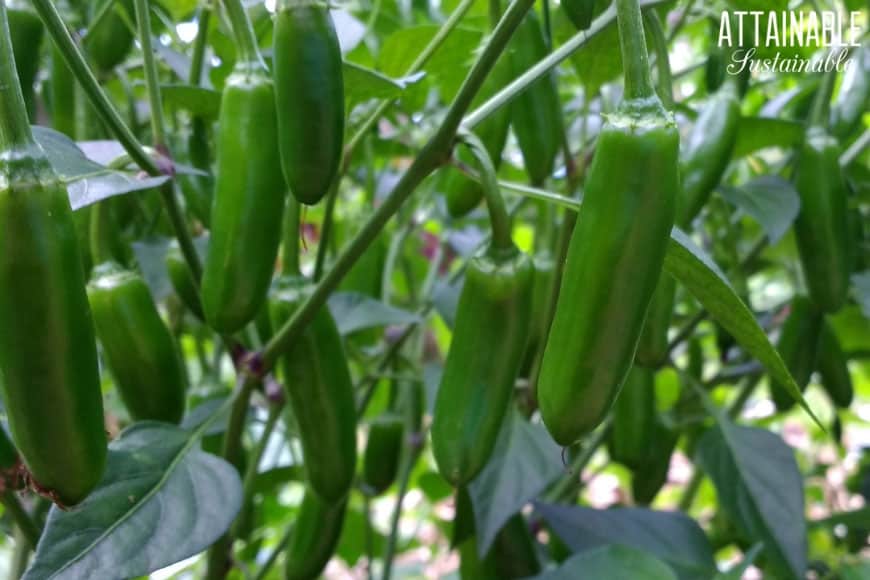 Peppers
Whether you like 'em hot or sweet, peppers grow on a sturdy plant that stays nice and green all summer long. The peppers themselves can range from green to yellow to red — there's even a purple bell pepper — and from small to large, adding a pop of unexpected color to your edible landscaping. Most pepper plants grow to about 12-15″ high.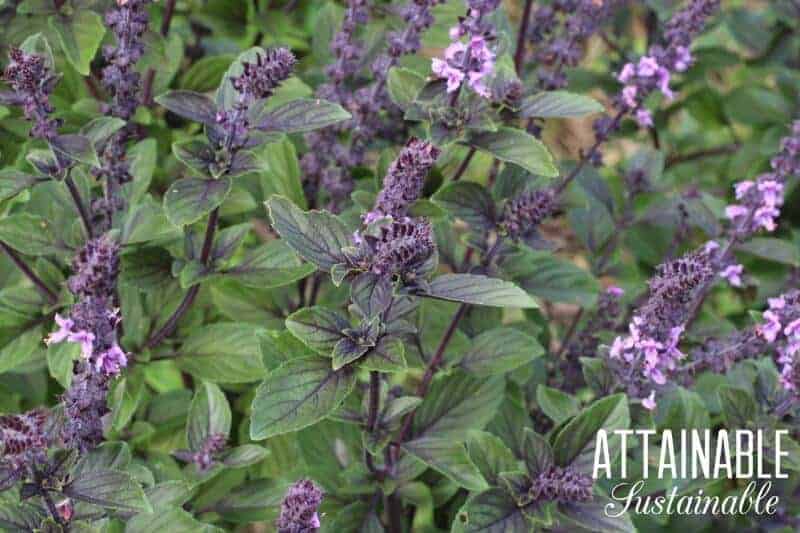 Basil
A summer staple for a lot of gardeners, basil is prolific and pretty — it comes in both green and purple varieties. Tuck some into your flower garden. The leaves can be harvested all summer long for pesto or as an addition to salads and Italian dishes and nobody will be the wiser.

Artichokes
Unlike most summer vegetables, artichokes are a perennial. Use them as part of your edible landscaping plan and you'll plant once and harvest veggies for years. The grey-green foliage grows about two feet high and produces many artichokes in a season.
Grow Swiss Chard right in the front yard
While I don't love Swiss chard on my dinner plate, my husband does. I do love it for the fact that one seed results in a plant that produces for months and this edible plant looks beautiful as part of an edible landscaping plan. It grows about 12″ high and relatively erect. One of the edibles that can easily be tucked into small bare spots in your front yard garden border, add this one to your must-grow list of vegetables for the front yard.
Summer Squash for a prolific front yard crop
While prolific zucchini plants can tend to overwhelm a small space, a summer squash variety like Patty Pan grows on a more compact plant that makes a great background for annual blossoms like marigolds and petunias.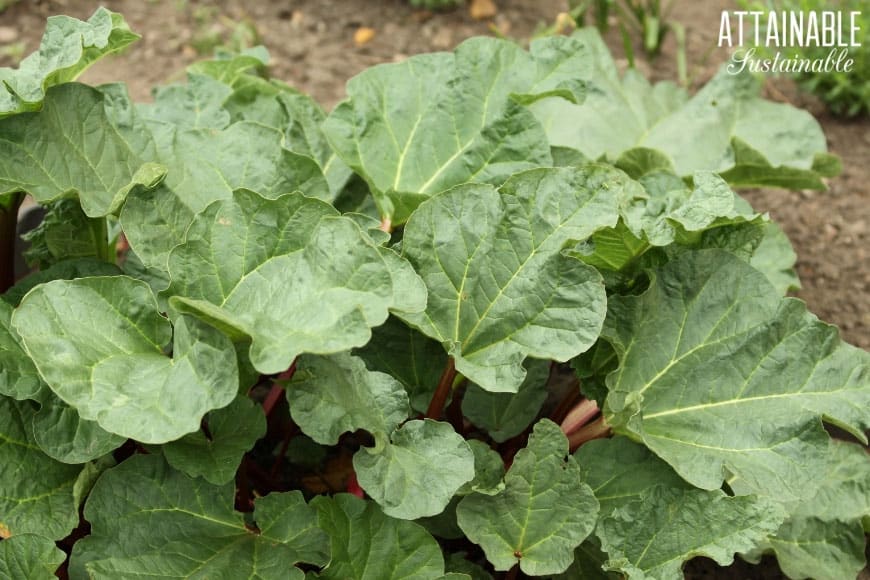 Rhubarb is amazing
Another perennial plant that just keeps on giving. The oversized leaves of a rhubarb plant add almost a tropical feel to the edible landscape. They'll likely die down during your cold winter months, but come springtime an established plant will provide lots of rhubarb stems.
Rhubarb leaves are high in oxalic acid and can cause unpleasant side effects and in some cases, poisoning — don't eat those! You can, however, use them as mulch in your front yard garden.
Lettuce
If you have bare spots in your border, fill them with lettuce! Sprinkle a mix of lettuce seeds, keep them moist, and in no time those bare spots in your front yard garden will be filled with pretty, edible greens.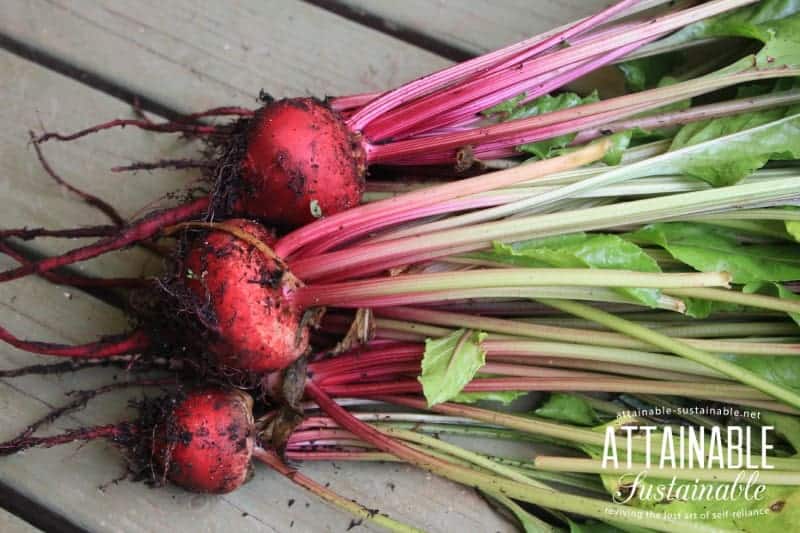 Add beets to your front yard garden
You'll probably grow beets for the bulbous root, but while it's busy growing underground it will make pretty (and edible) leaves in your flower bed.
Edible landscaping with asparagus
Another perennial vegetable that looks as good as it tastes, asparagus is a good choice for edible landscaping. You'll need to prepare a really rich bed for this one, but once it's established, plants will produce asparagus spears for several weeks each Spring. After harvest season, spears are left in place and develop a wispy, fern-like foliage.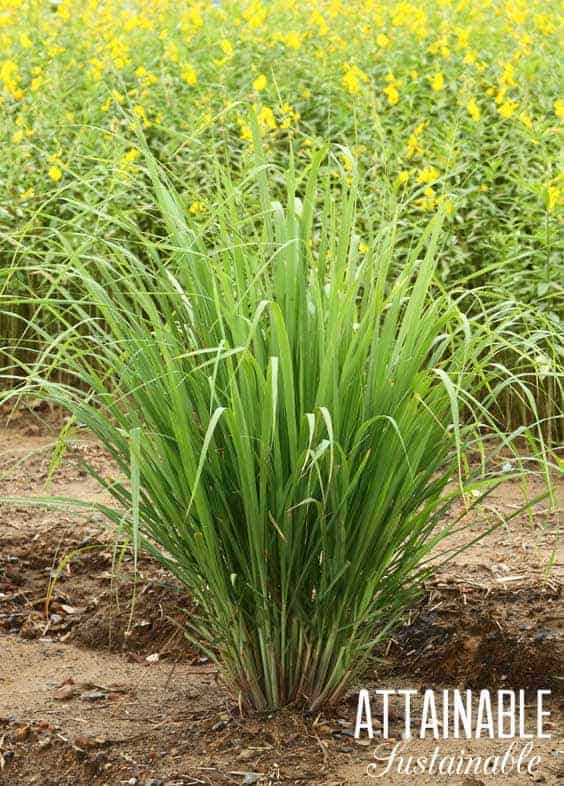 Lemongrass for the landscape
This sturdy perennial will fool most everyone into thinking it's a landscape plant. It's great for tea and it keeps mosquitos at bay.
Okra
Related to hibiscus, okra grows into a taller shrub-like plant, good for the back of the border in a front yard garden. The pretty flowers are eye-catching but the edible okra that follows the flower won't give anything away!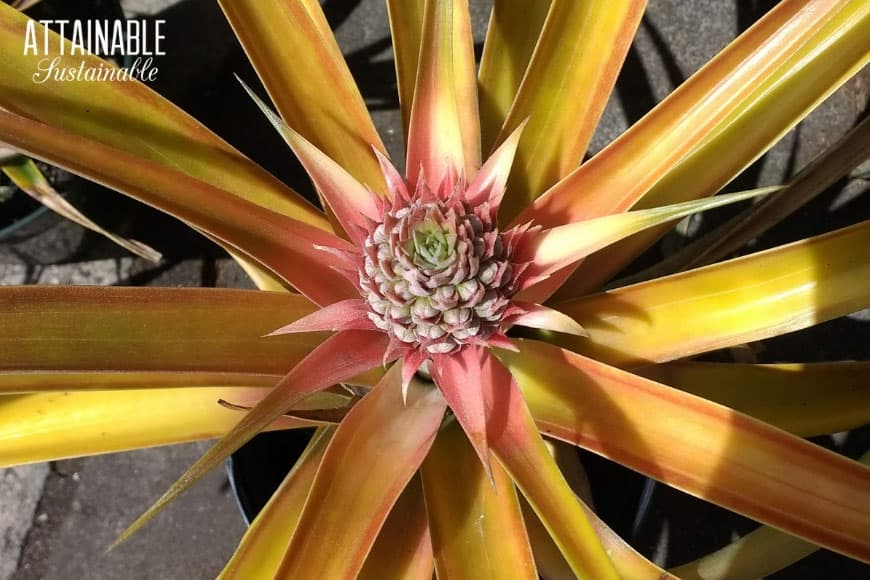 Pineapples for edible landscaping
Pineapple plants can take up to two years to produce a crop. Which means that if you plant one of these pretty plants in your garden as a focal point, it will be there through two seasons. Of course, pineapples thrive in very warm regions, but you can easily plant one in a patio container to enjoy its beauty and an eventual harvest.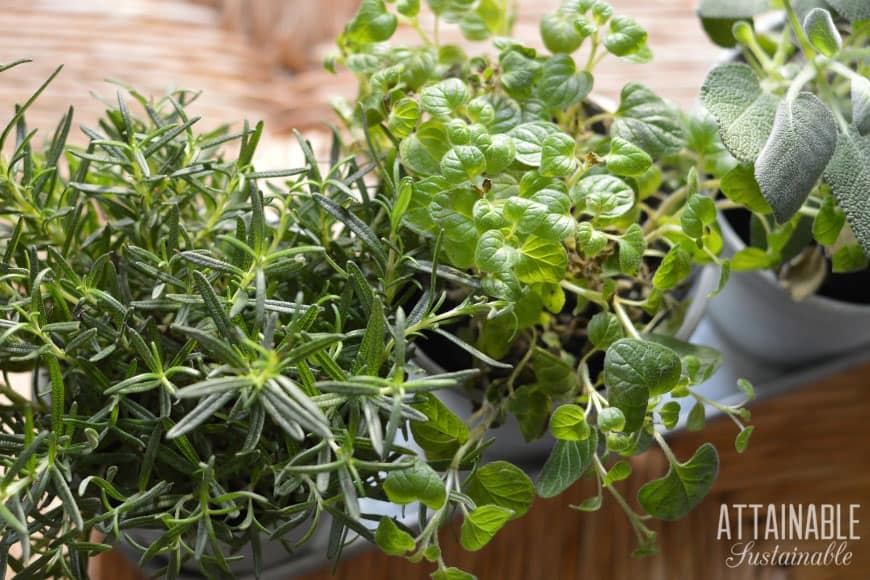 Herbs
Oregano, thyme, and mint all make great ground covers when you're working on an edible landscaping plan. If you need to cover some bare ground with a low-maintenance plant, these are the ones to consider. Some herbs — like mint — can be invasive, so choose your spot for them wisely, but once they're established you'll be all set for spicing up your favorite dishes or making freshly brewed tea.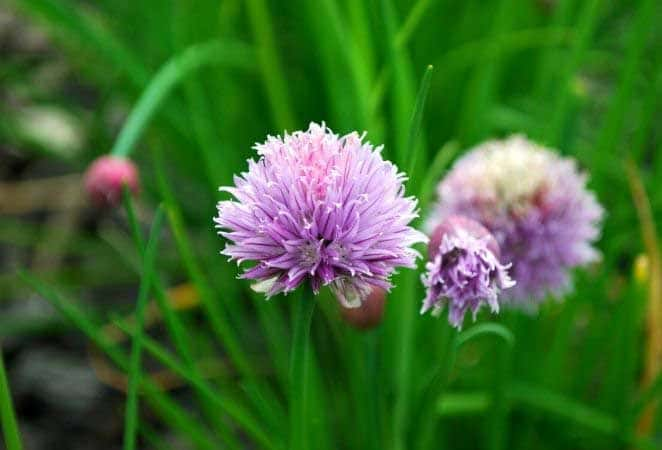 Need more garden ideas? You can find all of my posts about gardening and growing food here.
Originally published June 2014; this post has been updated.