I live in a region that's perfectly suited to growing pineapples, but even if you don't, read on to learn how to grow a pineapple in a container indoors.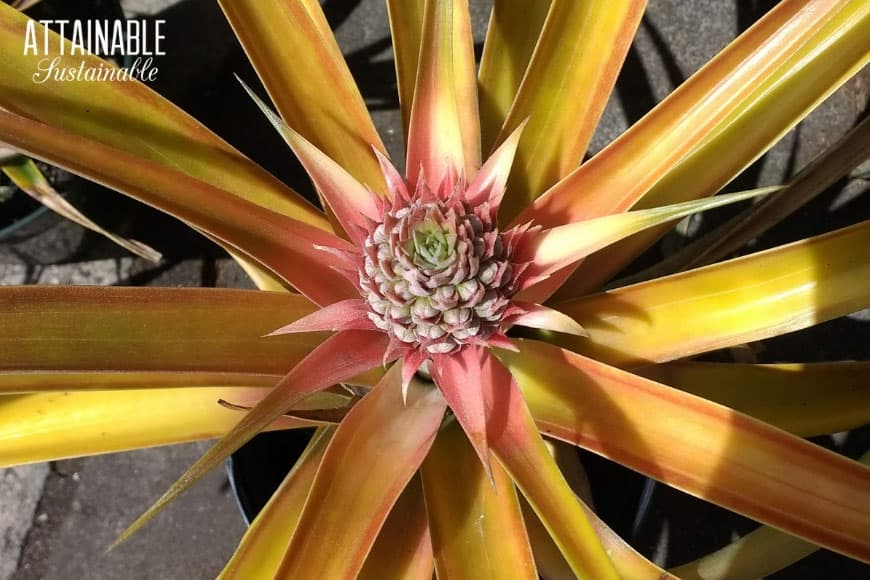 How do pineapples grow?
Pineapples are a weird fruit, right? If you've never seen a pineapple plant growing, it's likely that you've wondered how they grow. First let's answer this important question: Do pineapples grow on trees?
No. Pineapples do not grow on trees. But a pineapple tree sure would be something to see, wouldn't it?? A pineapple plant is a little less exciting than an entire tree filled with giant fruit, but it's still pretty cool.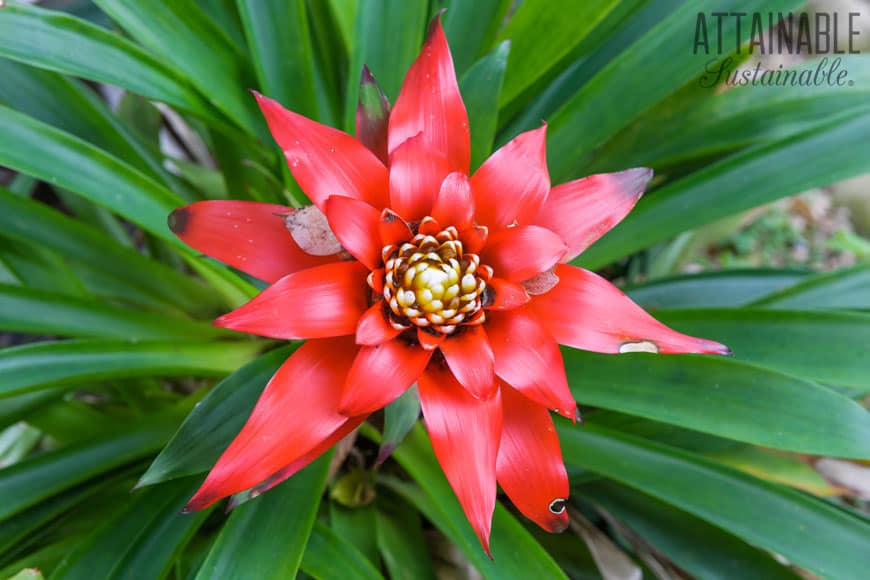 Pineapple plants are bromeliads. Most bromeliads are ornamental, and can be grown indoors or out. The leaf blades grow from a central base, eventually flowering in bright colors like red (above), purple, or orange. When the main flower finishes blooming, the center of the bromeliad plant dies off and new plants emerge from the base.
Like other bromeliads, a pineapple plant grows from a central base, with stiff blades emerging from the center. Instead of a bright flower, though, a tiny little pineapple emerges from the center of the plant, and grows in size until it's fully mature. A pineapple plant grows two to three feet tall, and almost as wide.
Grow Some Greens!
Ready to grow fresh greens, no matter WHERE you live? Sign up for my
FREE quick-start guide and start growing some of your own food!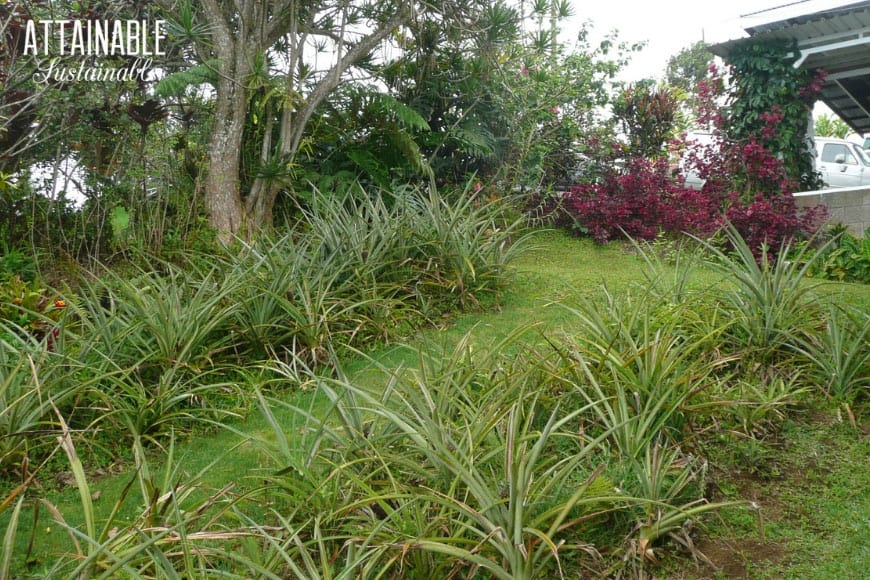 How long does it take to grow a pineapple?
This is the bummer part of growing pineapples. Pineapples grow for 18-to-24 months before they'll produce a harvest. And in that time they only produce one pineapple. That's a lot of waiting for a single fruit. When we moved into our former place, the front yard had two large pineapple plantings (above). We ended up waiting until all of the fruit had ripened, and then changing that area into a terraced vegetable garden. The pineapples worked well to utilize the sloped front yard, but I really wanted a more productive area. [Read about how I made my yard more productive here.]
These days, we tuck pineapple plants into gaps in our more permanent plantings, rather than setting aside an entire area to grow them.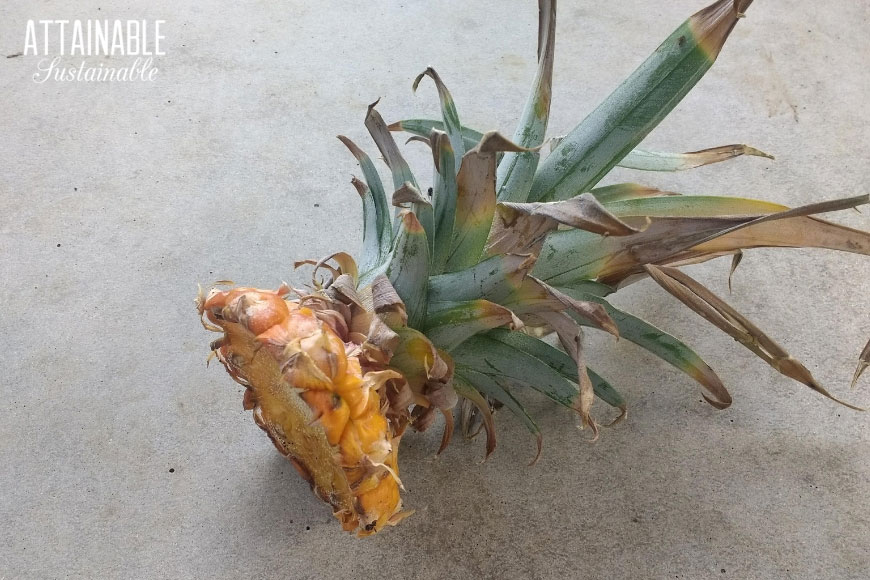 How to grow a pineapple
Pineapple plants are easy to grow! To plant a pineapple, you'll need to eat one. A regular ole pineapple from the grocery store will do. Pineapples are not grown from seed. Instead, you'll propagate a new plant from the crown of a ripe fruit. This also means that the pineapple variety you just ate is what you'll harvest. There are a few named varieties of pineapple, but they're not generally labeled. You probably won't know what kind of pineapple you're planting if you pick one up at the supermarket.
Hot tip: If you ever have the opportunity to taste a white pineapple, do. These are grown here in Hawai'i, but I'm not sure how readily available they are outside of the islands. They're a low acid fruit, with such an amazing sweetness.
When you remove the pineapple top from a fresh pineapple, save it. Set the crown aside until it dries out a bit. What you see above is a crown that's been sitting for a couple of weeks. It's ready to go into the ground. You can plant it just like this, but if you'd like to grow more than a single plant, you can use a sharp knife to cut this crown into quarters, giving you four starts.
Note: Some people suggest trimming off the leftover bits of fruit. I've not seen that make a difference in production or how long it takes to grow a pineapple, but it certainly won't hurt!
Whether you plant the top in fours or singly, simply dig a hole that's three-to-four inches deep and set the base of the crown in the hole. Backfill the hole with soil and press it around the crown of the pineapple to hold it in place. Then you wait. I've noticed that it can take months before a pineapple plant starts growing new leaves from the base. Don't imagine that it's not working, just because it's not producing new growth right away.
Requirements for growing pineapples
Soil: Pineapples are not picky about the type of soil they grow in. However, be sure that you plant them in well-drained soil. If you're growing pineapples in a container, but sure that it has a drainage hole to allow excess liquid to flow out.
Water: Again, they're not picky. Pineapple plants are drought tolerant. That said, they will tolerate a good amount of water as long as the soil is well drained.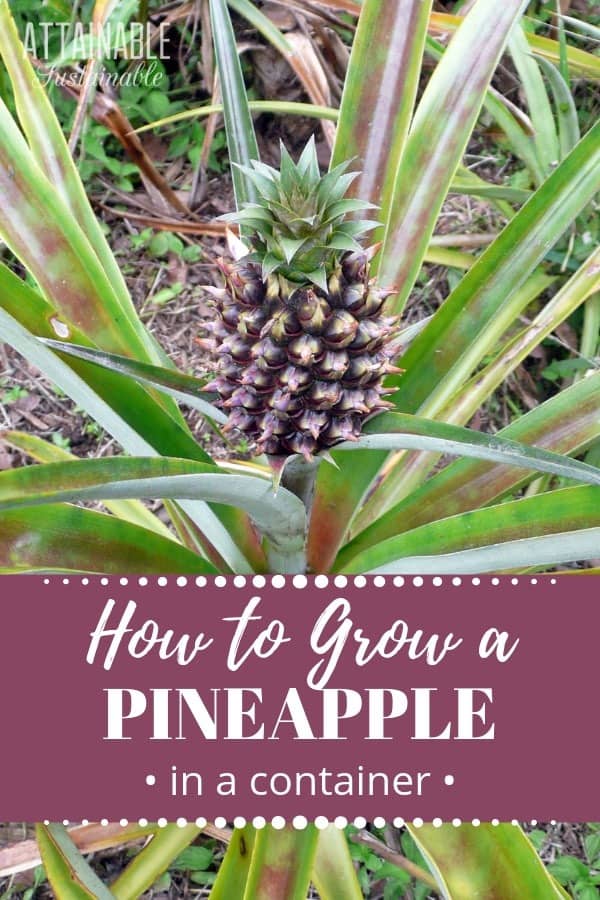 Growing pineapples in containers
Pineapples have a very small root system that emerges from the base of the leaves. I've often found young plants toppled over in the garden courtesy of a curious cat or duck. All I have to do is tuck it back into the soil and it's no worse for the wear.
This means they'll do just fine growing in a container. You can plant a pineapple in a container and keep it in your backyard all summer long. Pineapples thrive in sunshine. When the weather turns, bring the pineapple plant indoors and set it near a sunny window. If you have a bright indoor space, you can try growing the pineapple indoors all year round, but it may be slow to fruit.
Once a pineapple is harvested, the plant will begin to send out suckers. Left alone, these suckers will produce a second, albeit much smaller, pineapple fruit. If you're interested in multiplying your plantings, these suckers can be pulled and planted when they're a couple inches high. The original plant will continue to put out suckers, giving you the gift of more pineapple plants.
Harvesting pineapples
Since you're growing it at home, you have a bit more flexibility than plantation owners. While farms harvest pineapples when they're still somewhat green, allowing them to ripen off the plant, you can wait until the fruit begins to show just a bit of yellow. You may notice a pineapple fragrance coming from the base of the fruit.
Use a sharp knife or hand held pruners to cut the pineapple fruit where it meets the stalk. Once cut, let the pineapple ripen fully at room temperature and enjoy it out of hand or make up a batch of this delicious pineapple salsa. Then, of course, you'll enjoy the sweet flesh of this tropical fruit — and save the pineapple top for planting a new one!