The flavors in this pineapple salsa will wow you. It's sweet and spicy, perfect for serving with your favorite chips. It's great on salmon or chicken, too.
Love pineapple? Try this pineapple jalapeno jam, too!
Easy pineapple salsa
For an easy appetizer, this pineapple salsa can't be beat. Pineapple is the star ingredient here, so it's best made with fresh pineapple if you have it. Choose a ripe, juicy one! Of course, you could use canned pineapple if you're really craving a sweet and spicy salsa.
---
The Handcrafted Pantry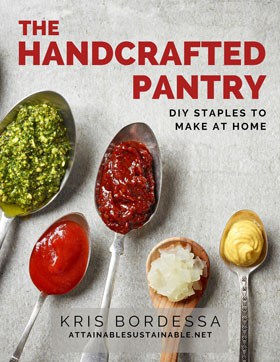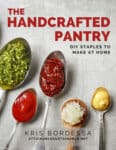 Ready to DIY your pantry with healthier ingredients? Check out my ebook, The Handcrafted Pantry! Filled with delicious recipes for some of your favorite condiments, snacks, and toppings, it's the guide you need to start skipping packaged products and embrace homemade.
---
How to peel a pineapple
Fresh pineapples can be a little bit daunting, especially if you've never cut one open before. Start by cutting off the green crown and the bottom of the pineapple. Set the crown aside; plant it to grow your own pineapple!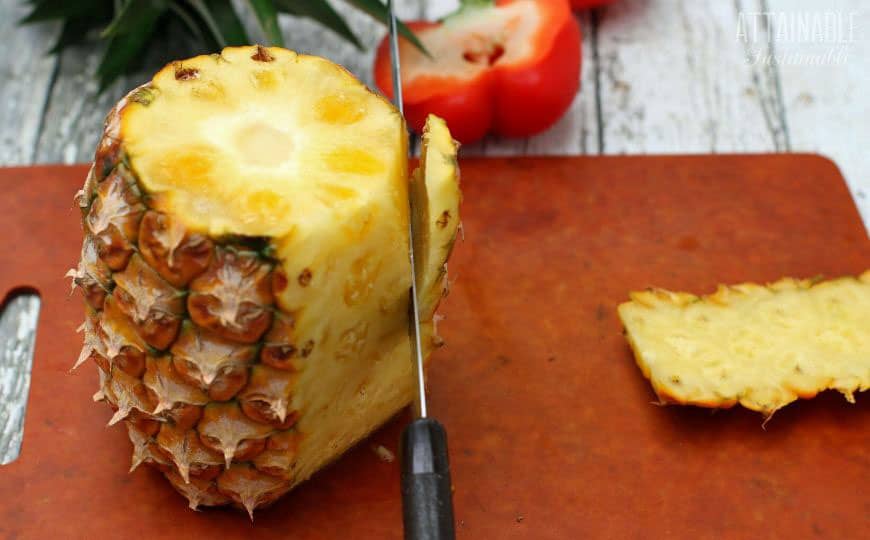 Set the pineapple on one of the cut edges and use a sharp knife to trim just under the rough skin, from top to bottom. Repeat until all of the pineapple peel is removed. Save the skins and core to make pineapple tepache.
5 Easy Steps to Transform Your Pantry!
Ready to switch from store bought to homemade? Let me help you make some changes! Grab my FREE five-part guide to getting started.
If there are any hard "eyes" remaining, trim those away.
Cut pineapple vertically into quarters. Trim off the hard core. Dice the remaining pieces of pineapple for salsa.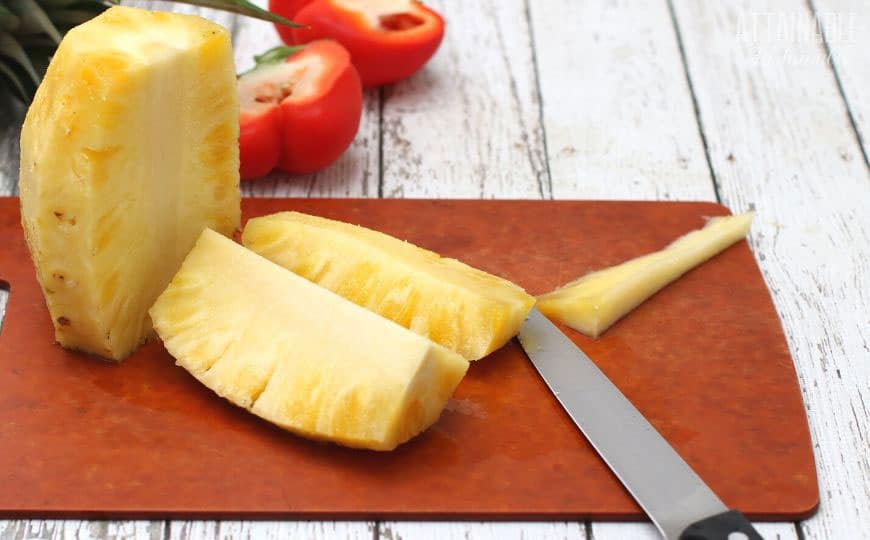 One bowl pineapple salsa
Adding diced red pepper to the recipe gives the salsa a little bit of crunch. The onion, garlic, and hot pepper add a savory flavor to the mix. And of course, cilantro is incredibly controversial! Add it if you love cilantro like I do, skip it if you don't.
Combine all of the ingredients in a bowl. Making this pineapple salsa an hour or so in advance of serving allows the flavors to meld a bit, but it's not entirely necessary. Store leftover salsa in the refrigerator for up to a week.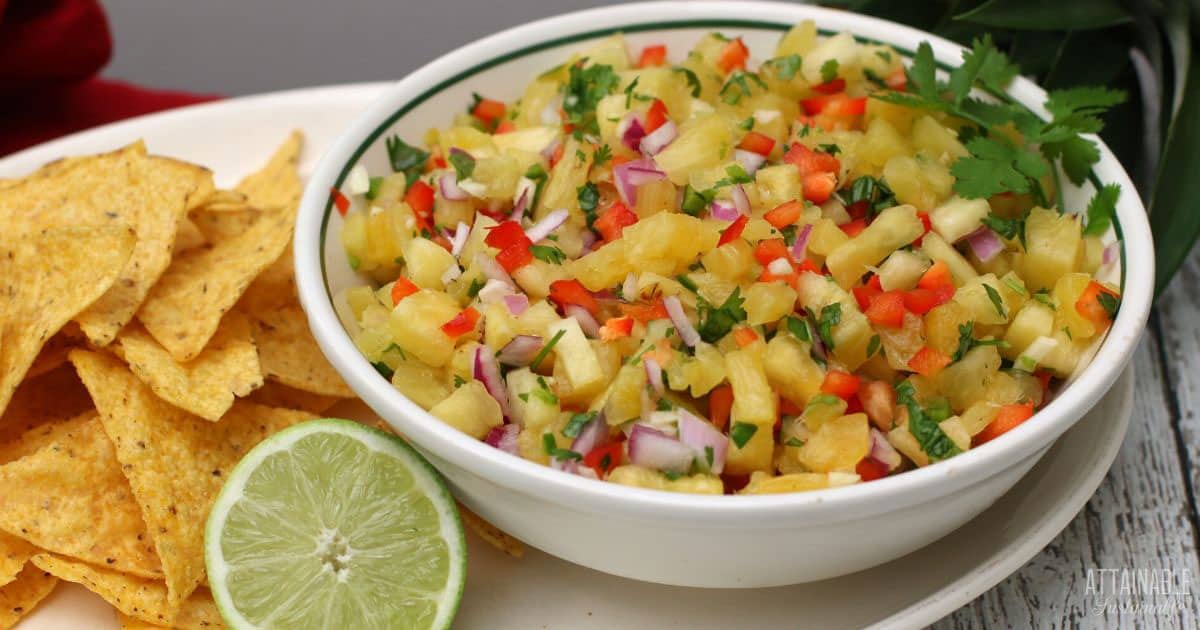 Fermenting this pineapple salsa
If you'd like to ferment this salsa, it's easy. Just stir in some whey to help the fermentation process along and allow the salsa to sit at room temperature for several days. You can get whey from yogurt with live cultures — it's that liquid that floats on top. You can also use some brine from another one of your ferments, if you've got it. If you don't have either, double the amount of salt.
Municipal tap water
contains chlorine, which can inhibit fermentation, so be sure to use filtered or distilled water instead. A
Berkey water filter
provides clean water that's free of toxins. Great for making your drinking water free of chemicals, but perfect for fermentation, too.
The fermentation process will take several days, or as long as a week, depending somewhat on the temperature in your kitchen. Warmer days are conducive to faster fermentation. It's a good idea to set the jar of pineapple salsa on a tray to capture any potential overflow. If the jar overflows a lot, keep an eye on the level of the liquid. The salsa need to remain completely submerged under liquid. Add a splash of filtered water to top it off if you see the brine level drop too low.
When you start to notice that the pineapple salsa has taken on a bit of a tangy odor, it's ready to taste. Sample a little spoonful; if it tastes suitably tangy to you, eat up. If you'd prefer it to have a bit more tang, let it ferment for another day or two.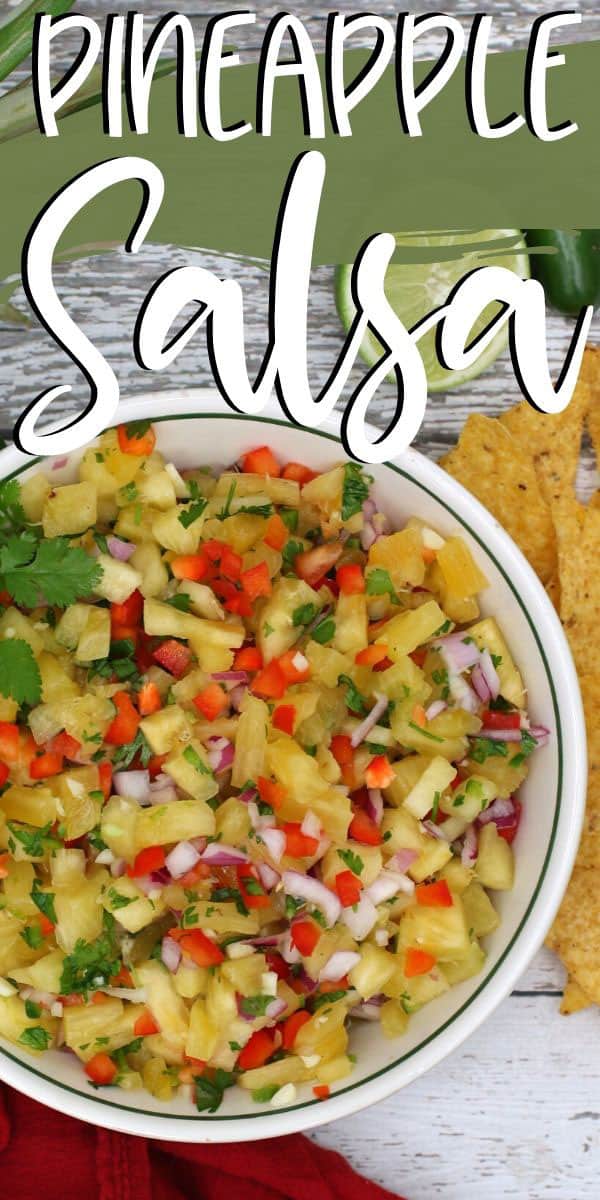 Either way — fresh or fermented — this salsa recipe is a nice addition to a summer barbecue. Serve it with chips or as a side dish with chicken or fish.
Be sure to try this fresh peach salsa recipe, too!
★ Did you make this pineapple salsa? Don't forget to give it a star rating below! ★
Lacto-Fermented Pineapple Salsa
This pineapple salsa is sweet and savory. Make it as an appetizer, serve it as a salad, or top chicken or fish with this flavorful mix.
Ingredients
1  small pineapple
2/3 cup red pepper, diced
1 cup red onion, diced
1 clove garlic, diced
1 jalapeño pepper, diced
Juice of 1/2 a lime
1/4 cup whey, (optional, for fermenting)
Handful of chopped cilantro, (optional)
Instructions
Peel and core pineapple.
Chop pineapple into 1/4" to 1/2" pieces and place in mixing bowl.
Stir in diced red pepper, red onion, garlic, and jalapeño pepper. Add lime juice and salt.
Serve with chips, chicken, or fish.

To ferment this pineapple salsa:
Transfer salsa to wide mouth canning jars. Allowing for a 1" headspace, this recipe makes about 3 pints of fermented salsa.
Add about a tablespoon of whey (or brine from another ferment) to each jar. This helps kickstart the fermentation process. If you don't have either, add a teaspoon of salt to each jar.
Press salsa into jar until the chopped ingredients are submerged in juice. Place a glass weight on top of salsa, again pressing to make sure the juice covers the chopped ingredients. (If you don't have enough natural juice, add a few tablespoons of distilled water to cover the ingredients.)
Place a lid on the jar (loosely) or use a fermentation airlock.
Let the salsa sit at room temperature for three or four days, then serve. It's great with fish, chicken, chips -- or dare I say it -- even just on a spoon!
Notes
Whey can help the fermentation process along a little bit faster, If you don't have whey, add an extra teaspoon of salt to each one-pint jar.
Nutrition Information:
Yield:

10
Serving Size:

1 grams
Amount Per Serving:
Calories:

129
Total Fat:

1g
Unsaturated Fat:

0g
Cholesterol:

1mg
Sodium:

403mg
Carbohydrates:

28g
Fiber:

3g
Sugar:

20g
Protein:

3g
Originally published February 2015; this post has been updated.