This pineapple jalapeño jam recipe is the perfect accompaniment to chicken and fish. Plus? It's a breeze to make!
Give this delicious pineapple salsa a try for something different. Or make this straight up jalapeno jelly recipe!
Contributed by Devon Young
Somewhere between sweet and savory, there exists another flavor profile. Shall we call this flavor sweevory? Saveet?
Nonsensical words aside, the marriage of sweet and savory flavors awakens virtually any dish and adds creativity to even the simplest snack. This pineapple jam recipe is a perfect example.
Fruity and spicy flavors play well together, and the pairing of pineapple and jalapeño is especially harmonious! Pineapple seems more than happy in all kinds of savory meals.
5 Easy Steps to Transform Your Pantry!
Ready to switch from store bought to homemade? Let me help you make some changes! Grab my FREE five-part guide to getting started.
In this recipe, the tropical, syrupy sweetness offsets the green, hot pungency of the jalapeños, elevating both flavors to something complex and enjoyable.
While it would be a stretch to qualify any jam as healthy, pineapples are packed with vitamin C and manganese. They're also high in fiber and bromelain (an enzyme associated with reduction in pain and inflammation).
Jalapeños are also abundant in vitamin C and offer capsaicin, which is associated with anti-inflammatory and pain relieving properties. So while the addition of sugar may negate some of the health benefits of these fruits, the jam itself isn't entirely devoid of nutrition.
Making this pineapple jalapeño jam
As pineapple (and jalapeños, for that matter) is considered low in pectin, you'll need to add pectin to ensure a good set to your jam. I prefer to use Pomona's Pectin for all of my jams.
🍅 Safety First!
Canning is an excellent way to preserve food for the pantry, but there are some important safety considerations to keep in mind. The recipes on this site have been made following safe canning procedures by a certified Master Food Preserver.
Know the difference between water bath canning and pressure canning. Low acid items must be pressure canned for safety.
Altering ingredients may change the recipe's pH, posing a safety issue. I highly recommend investing in pH paper to test your products for acidity level when canning. Note: The Hawaii Master Food Preservers suggest a pH of 4.2 or lower in the tropics. In other regions, the recommended pH is 4.6 or lower.
Use the proper jars and lids. Never reuse lids, with the exception of the Tattler or Harvest Right hard plastic lids that are intended for such a purpose.
For more on canning equipment, please go here.
For canning safety, all water bath canned foods must have a pH of less than 4.2. Thanks to the high acid content of the pineapple, this recipe registers well under with a freshly calibrated pH meter.
Here's a more detailed look at canning jam and jelly.
In order to have enough pineapple for this recipe I used two small pineapples, peeled, cored, and chopped. Roughly three large jalapeños provided me with the needed half cup of peppers.
Be sure to save the skins to make this delicious pineapple tepache fermented drink.
Related: Tangerine Marmalade Recipe with Ginger and Vanilla
Preparation of this pineapple jam recipe is quick and easy. It complements a variety of meals.
Mixed into ground turkey or pork, it lends a distinctly tropical flavor to meatballs. I have mixed this jam into cream cheese and shrimp to fill phyllo "cigars," and I am dying to pour a jar over fresh goat cheese for slathering onto crunchy rye crackers.
---
The Handcrafted Pantry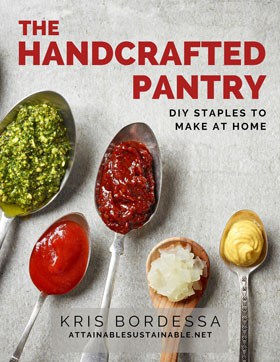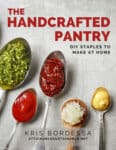 Ready to DIY your pantry with healthier ingredients? Check out my ebook, The Handcrafted Pantry! Filled with delicious recipes for some of your favorite condiments, snacks, and toppings, it's the guide you need to start skipping packaged products and embrace homemade.
---
Preparing the pineapple
Fresh pineapples can be a little bit daunting, especially if you've never cut one open before. Start by cutting off the green crown and the bottom of the pineapple. Set the crown aside; plant it to grow your own pineapple!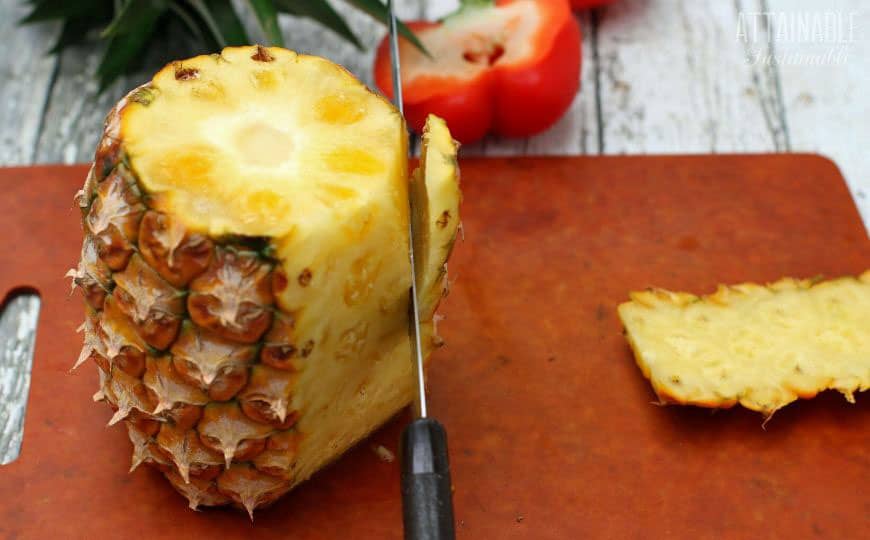 Set the pineapple on one of the cut edges and use a sharp knife to trim just under the rough skin, from top to bottom. Repeat until all of the pineapple peel is removed.
If there are any hard "eyes" remaining, trim those away.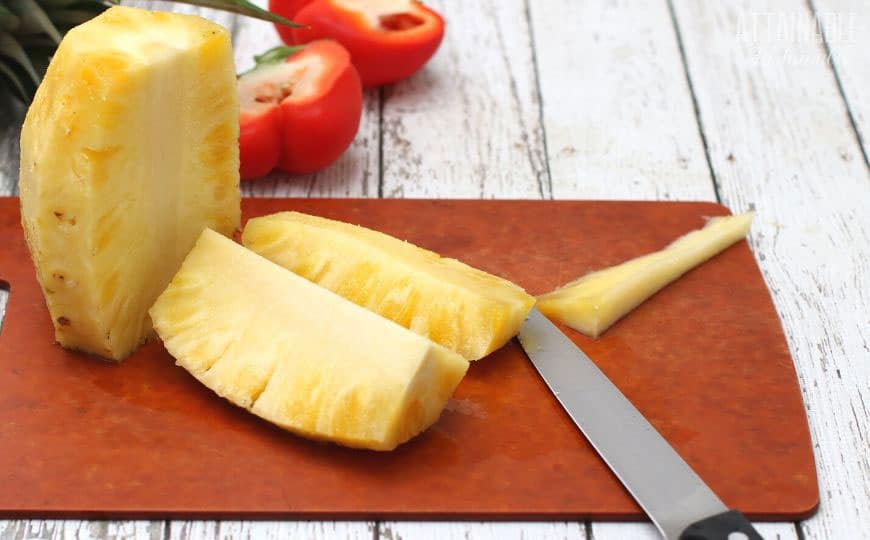 Cut pineapple vertically into quarters. Trim off the hard core and discard. Dice the remaining pieces of pineapple according to how chunky you like your jam.
You can pulse the pineapple in a food processor for a finer jam, or simply hand chop it into 1/4″-1/2″ pieces.

★ Did you make this pineapple jam recipe? Don't forget to give it a star rating below!
Pineapple Jam Recipe with Jalapeño Peppers
Sweet, spicy, and a little sassy, this pineapple jam will brighten up cold winter days after you preserve it.
Ingredients
4 cups pineapple, peeled, cored, and chopped 
½ cups jalapeños, de-seeded and minced
3/4-1 cup granulated organic cane sugar
2 teaspoons calcium water, (see Pomona's directions)
2 teaspoons Pomona's Pectin
Instructions
In a large saucepan, combine pineapple, jalapeños, and calcium water. Over medium heat, bring to simmer, stirring frequently. Cook until the pineapple softens and takes on some translucency, about 20-25 minutes.
Meanwhile, mix the sugar and pectin together in a small bowl. When the pineapple mixture is adequately cooked, add the sugar/pectin mixture to simmering fruit and stir until completely dissolved, about two minutes.
Ladle into sterilized half-pint jars leaving ¼" headspace. Wipe rims clean, and place prepared lids and rings onto jars finger-tight. Process in a water bath canner at a full rolling boil for 15 minutes.
After processing, remove jars from canner and allow to cool on a towel for 24 hours. Before storing, check for seal. Sealed jam will keep for a year in the pantry; store opened or unsealed jars in the refrigerator.
Notes
Two small pineapples will net about the right amount of pineapple for this recipe.
Nutrition Information:
Yield:

45
Serving Size:

1 grams
Amount Per Serving:
Calories:

30
Unsaturated Fat:

0g
Carbohydrates:

8g
Sugar:

6g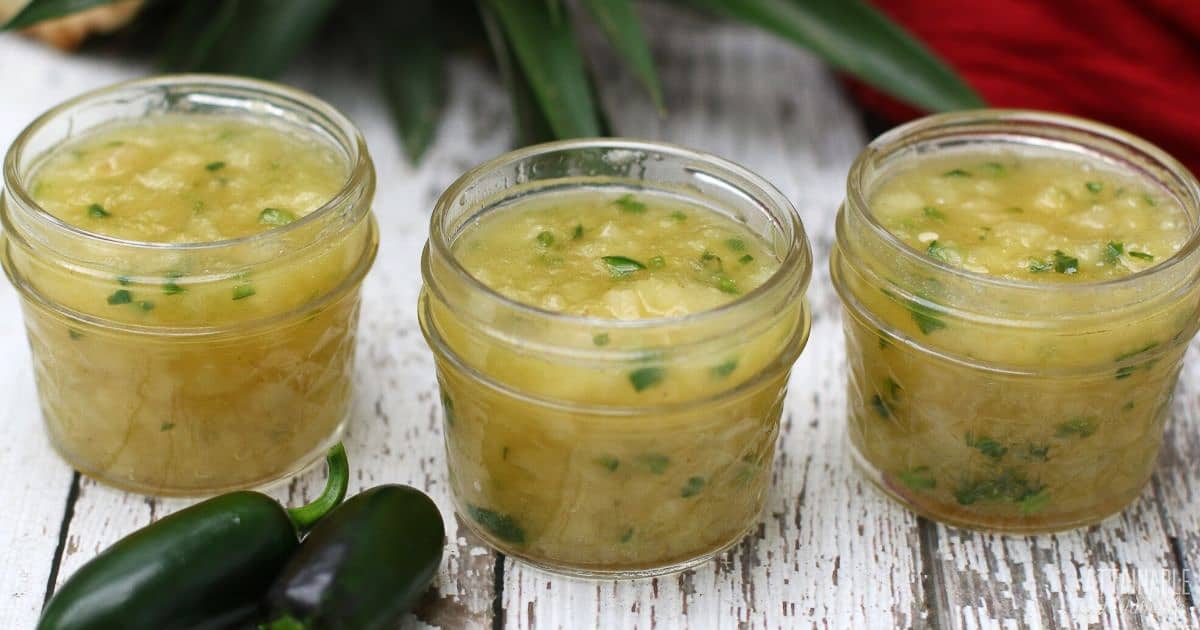 Originally published June 2017; this post has been updated.