A twist on the usual, this tangerine marmalade recipe is made without the peel, so it's less bitter than standard marmalade. You might even call it tangerine jam. Without the bitter peels, this becomes a much smoother spread.
Let me be honest: I'm not a fan of marmalade. Those little bitter bits of peel? Very off-putting to me. Yeah, ick. I decided to modify the orange marmalade recipe from Pomona Pectin just a bit to see if I could come up with a less bitter citrus spread.
Since our tangerine tree is loaded every year with a crop that we can't eat fresh fast enough, I wanted a way to preserve some of that citrusy flavor. Of course there's my salted citrus, but I wanted something a bit sweet in the pantry, too.
Tangerine marmalade recipe (without peels)
I peeled the fruit before chopping it up, and of course used tangerines instead of oranges since that's what I had an abundance of. Where the Pomona recipe called for water, I used tangerine juice for more flavor, and I added a bit of ginger and vanilla.
It's like a tangerine marmalade recipe, but without the peels. Maybe we should call it tangerine jam.
Related: Must-Have Pantry Essentials: 10+ Items to Stop Buying & Make at Home
Free Printable Recipe Cards!
Let me send you a collection of recipe cards to help you get started with a homemade pantry! You'll also get my free weekly newsletter, complete with recipes, gardening tips, and a little peek at what's going on around here — both the zany and the mundane.!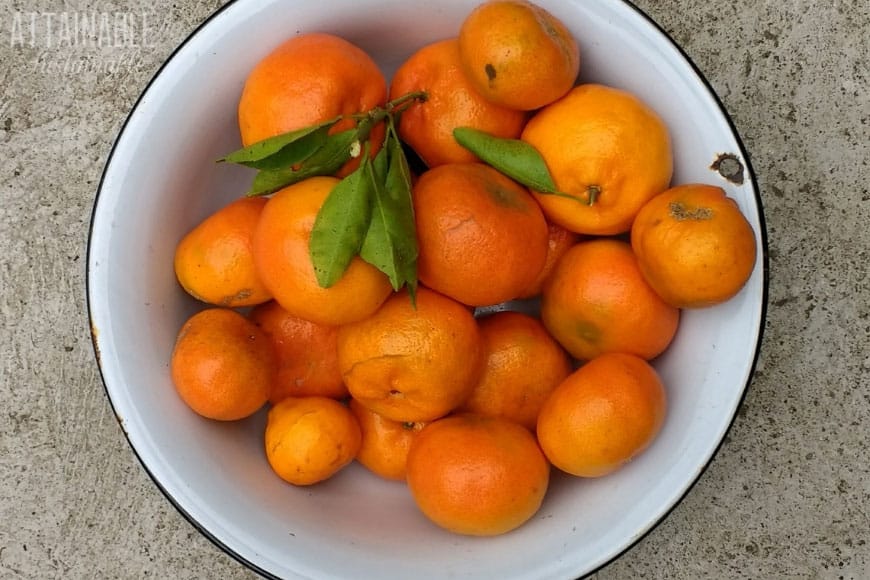 Related: Easy Canning Recipes for the Novice Home Canner
Is it a winner?
The final analysis: I like it. The vanilla really helps to cut the residual bitterness of the tangerines. It will be good with butter on toast, but also as a pantry staple for baking or to flavor chicken dishes.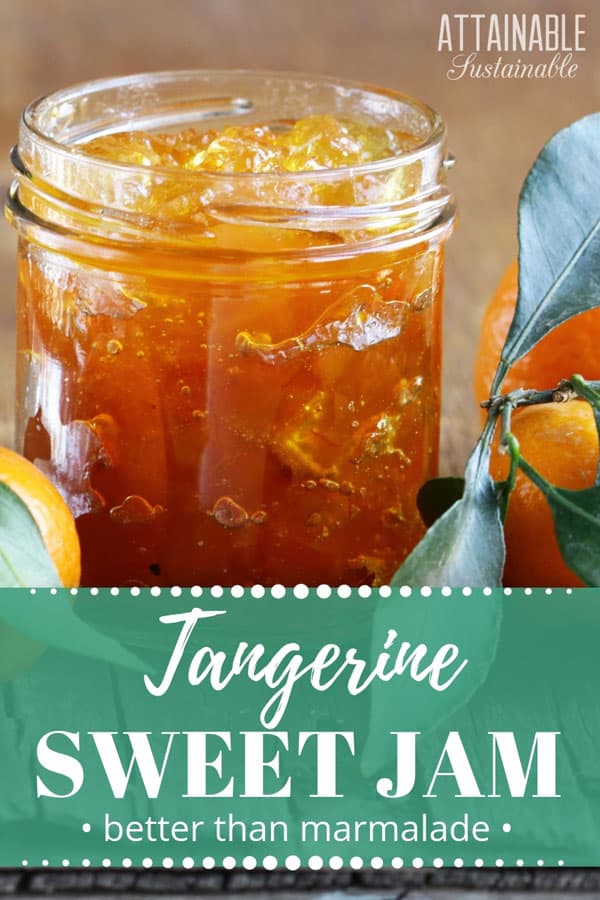 ★ Did you make this tangerine marmalade recipe? Don't forget to give it a star rating below!
Tangerine Marmalade with Ginger and Vanilla
Less bitter than marmalade made with the peels, this version without the peels is a bit like a tangerine jam.
Ingredients
16 tangerines, peeled and seeds removed, (this should net about 12 cups of segments)
6 cups tangerine juice
6 cups granulated organic cane sugar
Juice from a 2" piece of fresh ginger
1 package Pomona's pectin
Instructions
Prepare the calcium water from the Pomona package. Put 1/2 teaspoon calcium powder (the small packet) and 1/2 cup water in a small jar with a lid. Set aside. Shake well before using.
Fill your water bath canner to a level that will cover your jars. This varies depending upon jar size. Heat water to boiling, while proceeding with next steps.
Wash and rinse jars. Bring lids and rings to a boil; turn off heat and let stand in hot water.
Finely chop the tangerines. I cheated and used a food processor. Much faster, if you have one. Put chopped tangerines, tangerine, juice, ginger juice, and 2 tablespoons of the calcium water into a large stock pot.
Measure 6 cups sugar into a separate bowl. Thoroughly (and I mean thoroughly) mix in 3 tablespoons of pectin (the large packet from Pomona).
Bring tangerines and juice to a boil, stirring frequently. Add sugar mixture and stir vigorously for a couple of minutes to dissolve the pectin. Return to a boil and then remove from heat.
Stir in vanilla.
Fill jars to within 1/4″ of top. Wipe rims clean with a damp cloth. Screw on 2-piece lids/rings and place in boiling water bath. Bring water back to a boil (it doesn't need to be a hard boil) and set the timer for 10 minutes. Remove jars to a towel-covered counter top to cool.
Check seals. Lids should be solid and pulled down tight. (if they flex and pop, the jar didn't seal; put unsealed jars in the refrigerator and use those first).
10. Remove rings and wash outsides of jars. (You don't need to store the jars with rings.)
Nutrition Information:
Yield:

48
Serving Size:

1 grams
Amount Per Serving:
Calories:

129
Unsaturated Fat:

0g
Sodium:

3mg
Carbohydrates:

32g
Sugar:

31g