Salted citrus an easy way to have that fresh flavor on hand for cooking all year long. Try salted lemons, tangerines, and salt preserved oranges to keep a variety of flavors on hand.
You can preserve the flavors of citrus in sugar, too — check out this easy orange sugar recipe.
Early in the year, our local citrus trees are bursting with fruit. Wanting to preserve some of that goodness, I decided to try salted citrus. Well, it worked. Because guess what? One* of the tangerines in the image below is two years old. Isn't that wild??
Related: Tangerine Jam Recipe with Ginger and Vanilla
Let's be clear – preserved lemons and other salted citrus is not for eating out of hand. The preserved fruit is incredibly salty and best reserved for cooking. But people. This is a super easy way to preserve citrus of any kind. Salted lemons and salted tangerines will keep for years at room temperature.
5 Easy Steps to Transform Your Pantry!
Ready to switch from store bought to homemade? Let me help you make some changes! Grab my FREE five-part guide to getting started.
Related: Easy Canning Recipes for the Novice Home Canner
---
The Handcrafted Pantry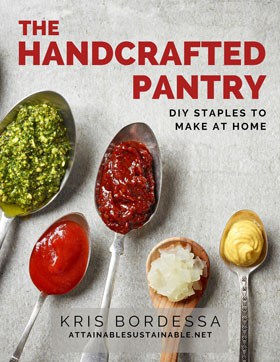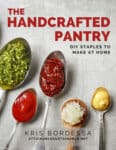 Ready to DIY your pantry with healthier ingredients? Check out my ebook, The Handcrafted Pantry! Filled with delicious recipes for some of your favorite condiments, snacks, and toppings, it's the guide you need to start skipping packaged products and embrace homemade.
---
Making salt preserved lemons and tangerines
While my salted lemons and tangerines remained very true to color for the first couple of years, it's actually quite common for the fruit to turn brown as they age further.
Some people even put their jars of fruit out in the sun to hurry the preservation process; that seems to contribute to the browning of the fruit.
One lesson I learned the hard way: Don't use one of your nice jars. The combination of salt, moisture, and time will cause the lid to rust. Opt for a recycled jar that you won't mind getting rid of once your batch of preserved oranges is used up.
Related: Tangerine Season: Homemade Simple Syrup

Related: Tangerine Season: Homemade Simple Syrup
How to use salt preserved oranges, tangerines, or lemons
Add to salted lemons to marinades and salad dressings.
Stuff preserved oranges inside a chicken before you roast it.
Use in Moroccan dishes like this tagine.
Chop finely and add to a pasta dish or couscous.
*If you haven't figured it out already, the two-year-old salted tangerine in the top image is on the right.
★ Did you make this recipe for preserved citrus? Don't forget to give it a star rating below!
Salted Lemons, Tangerines, or Oranges
Yield:
25 flavor fusions for cooking
Let's be clear - salted citrus is not for eating. These preserved oranges, lemons, and tangerines are incredibly salty and best reserved for cooking.
Ingredients
Enough citrus to fill a gallon sized jar, tangerine, lemon, orange, grapefruit - whatever you like!
Instructions
Make four equally spaced, vertical cuts almost to the center of the fruit. You want the core to hold the fruit together, but the deep cuts allow salt to enter the fruit.
Or you could simply quarter the fruit.
Get salty
Sprinkle a layer of salt on the bottom of your jar. Set a layer of fruit on top of the salt and shake around a bit. Continue alternating layers and shaking until the jar is full. Make sure that the fruit is well-coated with salt.
Secure lid in place and set in an out of the way spot. The fruit will begin to release juice; occasionally turn the jar over and back gently, just to redistribute the salt and juices. Set aside for a couple of months. Or years.
Nutrition Information:
Yield:

25
Serving Size:

1 grams
Amount Per Serving:
Calories:

24
Unsaturated Fat:

0g
Sodium:

4528mg
Carbohydrates:

7g
Fiber:

2g
Sugar:

2g