These fermented sugar snap peas are healthy snacking at its best. They're a great addition to your home preservation plans, too.
Try your hand at home grown peas for the freshest crop!
Fermentools sent me a kit to experiment with. I've found them to be an excellent and easy way for me to start fermenting successfully. This is a sponsored post.
The Handcrafted Pantry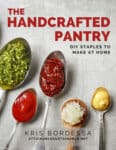 Ready to DIY your pantry with healthier ingredients? Check out my ebook, The Handcrafted Pantry! Filled with delicious recipes for some of your favorite condiments, snacks, and toppings, it's the guide you need to start skipping packaged products and embrace homemade.
Fermented sugar snap peas
Have you tried fermenting yet? It took me a long time to give it a try, but now that I've done it? It's so easy!
Fermenting sugar snap peas (or any veggie, really) requires that you submerge the fresh veggies in a salt brine. It's important that the veggies remain completely covered.
5 Easy Steps to Transform Your Pantry!
Ready to switch from store bought to homemade? Let me help you make some changes! Grab my FREE five-part guide to getting started.
If they're exposed to oxygen, they can mold. And then you would think that fermenting doesn't work, and that's totally not true! You just have to do it right.
Tip: When the sugar snap peas are actively fermenting, there's a chance that the brine will bubble up and overflow. Placing the jars on a plate or tray will prevent a leaky mishap.
Municipal tap water
contains chlorine, which can inhibit fermentation, so be sure to use filtered water or distilled water instead. A
Berkey water filter
provides clean water that's free of toxins. Great for making your drinking water free of chemicals, but perfect for fermentation, too.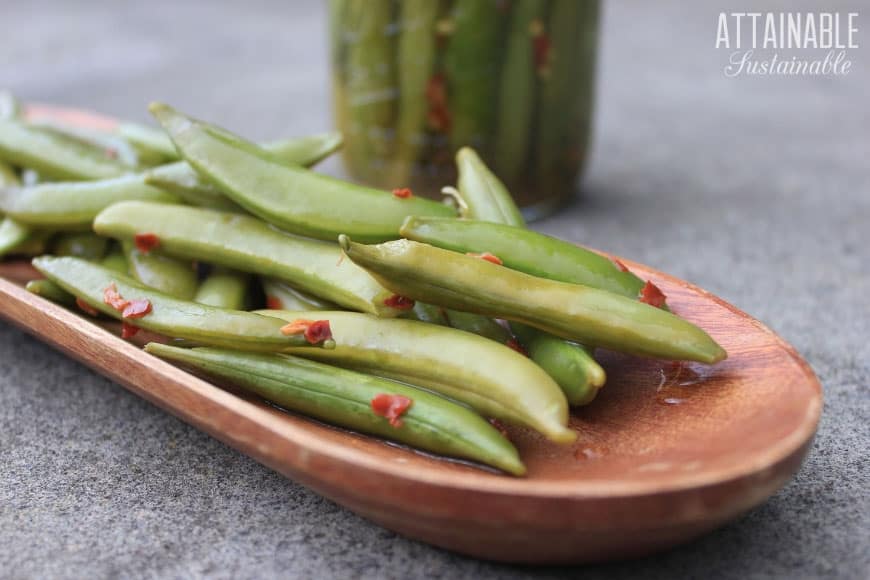 When your garden is overflowing with snap peas, be sure to make up several jars – you'll love them. I used herbs that were available fresh from my garden—cilantro and basil—but you can alter the flavor to suit your taste. [Learn more about what vegetables are in season when and embrace them in your fermenting!/
These fermented sugar snap peas are crispy and spicy. Add them to a salad, chop them in small bits and add to your deviled eggs, or serve them alongside a cold beer.
Love these spicy sugar snap peas so much that you're ready to dive into more fermenting? Check out this collection of recipes!
★ Did you make these fermented sugar snap peas? Don't forget to give it a star rating below! ★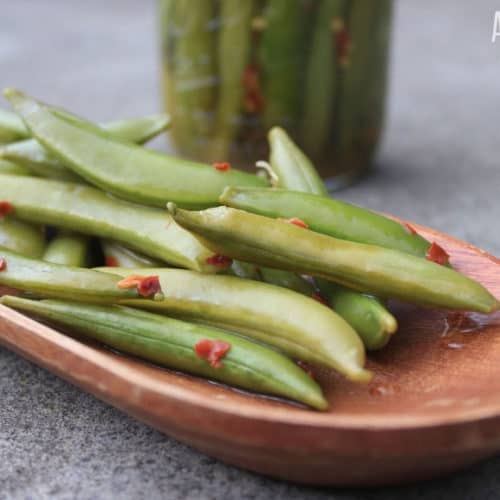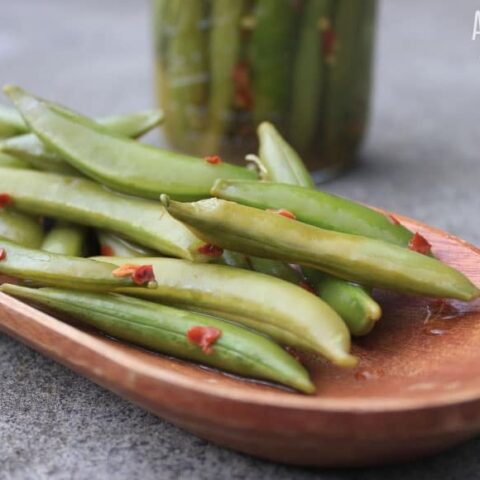 Fermented Sugar Snap Peas
These fermented sugar snap peas are a great spicy snack, and healthy too!
Ingredients
2 cups distilled water
2-3 cups fresh sugar snap peas
fresh herbs, dill, basil, cilantro, rosemary
Instructions
Make the brine:
Stir sea salt into water until dissolved.
Pack your jars:
Place a sprig or two of your chosen herb in the bottom of two pint-sized, wide rim mason jars. Pack snap peas into jar tightly. To do this, I find it's easier to hold the jars almost horizontally, stacking the peas in one direction until the jar is full. Use smaller peas to fill any gaps. Leave 1.5″ space at top.
Sprinkle 1/2 teaspoon red pepper flakes into each jar. Add another sprig of your fresh herb. Pour brine over peas until they are submerged.
Place glass weight on top of peas to prevent floating, then cap jars with a Fermentools seal and air-lock. Set aside for several days or a week, then dig in. Crispy, spicy, snappy.
Once fermented to your liking, store peas in the refrigerator.
Notes
Water: Municipal tap water contains chlorine, which can inhibit fermentation. Be sure to use spring or distilled water instead.
Salt: Salt with iodine or anti-caking agents can inhibit fermentation.
Nutrition Information:
Yield:

4
Serving Size:

1 grams
Amount Per Serving:
Calories:

21
Unsaturated Fat:

0g
Sodium:

1760mg
Carbohydrates:

3g
Fiber:

1g
Sugar:

1g
Protein:

1g