If you like your food with a little spice, you might be in the habit of sprinkling dried chile pepper flakes onto your meals. Or in your favorite recipes. Why not try making your favorite spice at home, from locally grown garden fresh peppers?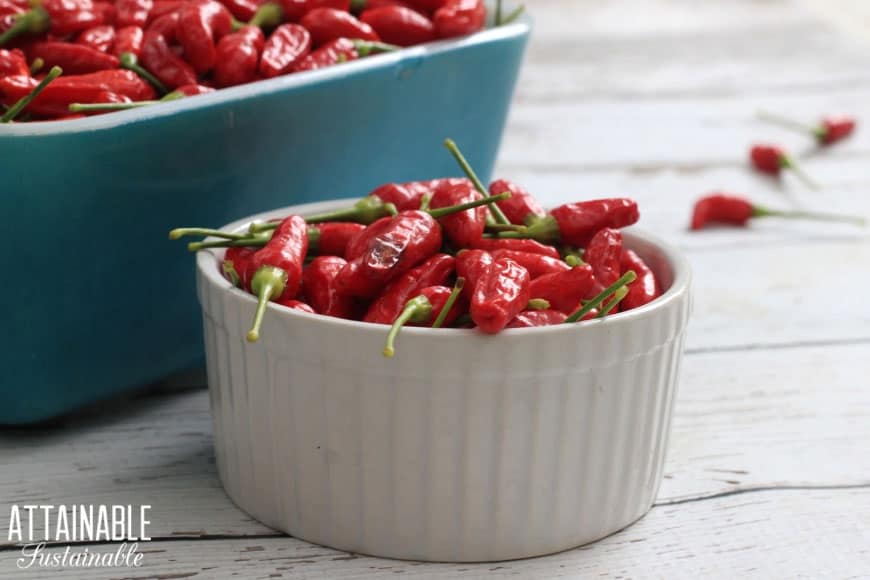 We like our food with a bit of spiciness. Not crazy hot, but just enough heat to make our mouths happy. Growing hot peppers in our garden just makes sense. I like to grow jalapeño peppers, but since we've moved to the island, we also grow Hawaiian chile peppers. The plants are prolific and they're perennial, so we almost always have fresh hot peppers at our disposal.
Even so, it's handy to have a shaker jar of dried chile pepper flakes on hand for cooking. We use them in our homemade Italian sausage recipe, stir them into soups, and add them to my homemade taco seasoning. I also like to package these chile pepper flakes into small jars to give as gifts from the garden.
What's the difference between chile peppers and chili peppers?
Nothing and everything. Chile peppers are hot peppers. There are countless varieties of chile peppers, all with a different heat intensity, color, and shape. When people type out "chili peppers" they're referring to this group of spicy capsicum, but have mistakenly used an i where an e should go. The term chili usually refers to a chili recipe made with beef and beans.
---
The Handcrafted Pantry
Ready to DIY your pantry with healthier ingredients? Check out my ebook, The Handcrafted Pantry! Filled with delicious recipes for some of your favorite condiments, snacks, and toppings, it's the guide you need to start skipping packaged products and embrace homemade.
---
Making dried chile pepper flakes
When working with chile peppers, be mindful that they burn. Don't accidentally rub your eye after you've been working with them. You may want to protect yourself from that possibility by wearing rubber gloves when you're making these dried chile pepper flakes.
5 Easy Steps to Transform Your Pantry!
Ready to switch from store bought to homemade? Let me help you make some changes! Grab my FREE five-part guide to getting started.
Depending on the size of the peppers you're working with, you can either dry them whole (as I did, with the Hawaiian chile peppers) or slice them.
In order to make chile peppers shelf stable, you'll need to remove all of the moisture from fresh peppers. Slicing them into smaller portions can help this process move along more quickly. Once sliced, it will take six to eight hours in a dehydrator until they're ready to crush.
You can make as much or as little of these dried chile pepper flakes as you like; you'll end up with about half as much dried pepper as the amount you start with. One cup of fresh hot peppers will net about a half cup of dried chile pepper flakes.
(The cool long-handled wooden measuring spoon you see here was a gift from Andrea, the founder of Utensi, whom I met at a conference awhile back. Isn't it great??)
★ Did you make these dried chile pepper flakes? Don't forget to give it a star rating below! ★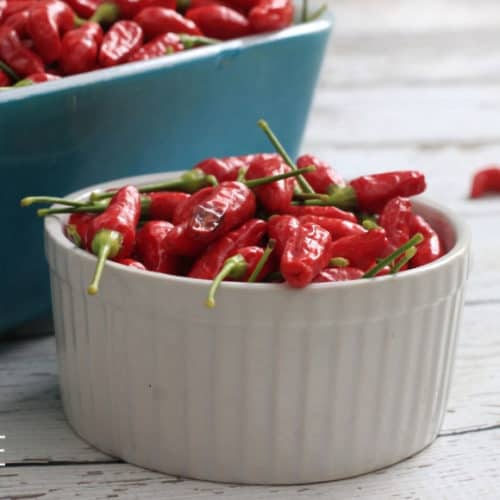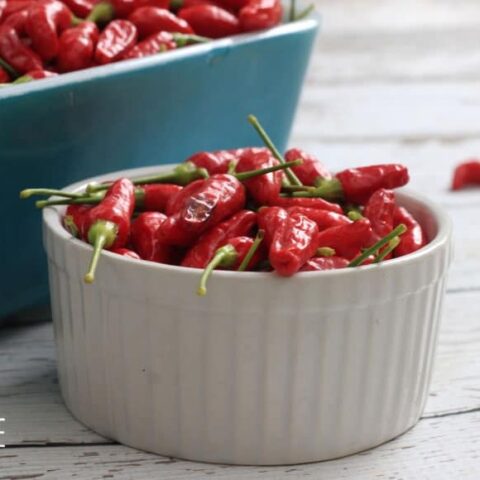 Dried Chile Pepper Flakes
Total Time:
6 hours
15 minutes
Preserve fresh hot peppers by dehydrating them into dried chile pepper flakes perfect for sprinkling on pizza or seasoning recipes.
Instructions
Wash and dry hot peppers.
Cut off stem end. For larger peppers, cut into discs, about an eighth of an inch thick. You can leave smaller peppers whole or halve them lengthwise.
Place chile peppers on a dehydrator tray, with space between them.
Dry at 135 degrees for 6 to 8 hours.
When thoroughly dry and brittle, transfer to a food processor bowl and pulse until the dried chile pepper flakes are a size you like.
Notes
If you don't have a food processor, put the dried chile peppers in a bowl and crush with a heavy wooden spoon. Or use a mortar and pestle. 
Nutrition Information:
Yield:

50
Serving Size:

1 grams
Amount Per Serving:
Calories:

2
Unsaturated Fat:

0g